The Swiss approach to health and beauty is positioned as the perfect marriage between nature and science. Overlooking the crystal clear waters of Lake Geneva, immersed in the cleanest mountain air, Clinique La Prairie fits this vision perfectly. The clinic first opened it's doors in the 1930s and has a well established reputation as one of the world's leading medical spa destinations. As pioneers of longevity, award-winning Clinique La Prairie promises 'balance, harmony and wellbeing' and claims to hold the secret to living longer. These are certainly big claims, particularly for those of us living busy lives in today's stressful, toxic world. So how does it measure up? Nutritionist Kim Pearson reports… 
Clinique La Prairie Review
The clinic recently launched their Master Detox Programme. Far from the pseudoscience so common with anything labeled 'detox', Clinique La Prairie's programme takes a functional medicine approach, overseen by doctors and qualified nutrition experts. Once checked in, the first port of call is a review with your dietician. The dieticians work with clients to discuss their goals and look at the food options together to determine what's on the menu in the days to come. With choices like orange and turmeric nage with Venuezuelan chocolate cream, it's seems contrary for something so healthy to be quite so decadent. Certainly a far cry from most green juice detox holidays.
The Master Detox is not just about the food. Far from it. It's a curation of treatments and therapies designed to support the body's natural detoxification processes. Bringing together traditional holistic healing systems and the latest health innovations, the spa offers a wide range of results-focussed treatments, from Ayurvedic therapies, traditional Thai massage and a hammam, to a photo-stimulation booth and cryotherapy. In addition to it's reported health benefits, which include reducing pain and inflammation and speeding up muscle recovery, cryotherapy claims to burn 800 calories in three minutes. A welcome thought for anyone looking to lose weight while they detox.
Nigel Franklyn: The Spa Whisperer
It takes special people to create special things. Nigel Franklyn, better known to his Instagram followers as The Spa Whisperer, is La Prarie's in-house expert. As a spa consultant, Nigel spends his time between Clinique La Prairie, a brand new Ayurvedic spa in Goa and various Aman and Four Seasons resorts around the world. He is the media's go-to for hot news and trend predictions in the world of luxury wellbeing. Nigel is special – he has a Peter Pan like energy about him. He is one of those people whose age you would struggle to guess. He has perfectly coiffured grey hair which contrasts his immaculate, 20-year-old's complexion. In order to thoroughly assess everything on offer in the world of spa treatments, you have to try them out for yourself, and Nigel is committed to the cause.
The clinic's hotel is a five star affair and the gold taps and stunning bouquets of fresh flowers serve as constant reminder of this. The bed comes complete with a pillow menu offering a variety of options that include 'the relaxing pillow', 'the youth restoring pillow' and 'the organic vegetal pillow'. Can you really claim to be into wellness if you've never slept on an organic vegetable pillow?
Wellness Activities at Clinique La Prairie
A variety of activities accompany the detox, including early morning Nordic Walking. Naomi, the fitness trainer and Nordic Walking expert, explains what it is that draws people to the clinic. Often, their stressful lifestyles have become too much, Naomi explains. Sometimes they've lost a loved one and are suffering terribly with grief. Other times, they simply want a break, the opportunity to restore and recalibrate. The one commonality is that most guests are longing for a fresh start. Overlooking Lake Geneva with it's snow capped mountain range backdrop and clearest of clear blue skies, it's hard to imagine that there is anywhere on earth more perfect for a fresh start.
Clinique La Prairie attracts guests from all over the world, with 40% coming from Asia. Many Asian employees only get between 7-10 days of annual leave per year, the fact they choose to spend those precious days at Clinique La Prarie year after year is a testament to it's appeal. The clinic runs a number of different health and wellness programmes which include weight loss, beauty and sleep.
No Pain, All Gain
So what makes this detox programme stand out from the countless other detox holidays on offer? One of the key differences is that you in no way feel as though you're suffering for results. There are no insane workouts that make you feel near death. There is no staring at small glasses of murky green juice thinking 'is that it?' It's all gain, no pain. The food is exquisite. The surroundings are beautiful. At dinner you could be forgiven for thinking you were dining in Jason Atherton's latest opening, were it not for the guests dressed in Givenchy tracksuits and post spa treatment hairdos.
Part of La Prairie's charm is the element of magic. The you-can't-get-this-anywhere-else uniqueness – from hydrogen water to their bespoke blends of detoxifying tea and their Michelin star worthy 'Nutella'. Head chef Filippo Tawil explains how they make the raw 'Nutella'. It's made from just three ingredients. Hazelnut puree made by artisan producers, the perfect dates from Israel (which they spent over a year sourcing) and Valrohna 80% chocolate (they tried six different types before deciding on the perfect one). It's clear that the team have gone to painstaking lengths in order to source the freshest, most organically produced and delicious ingredients.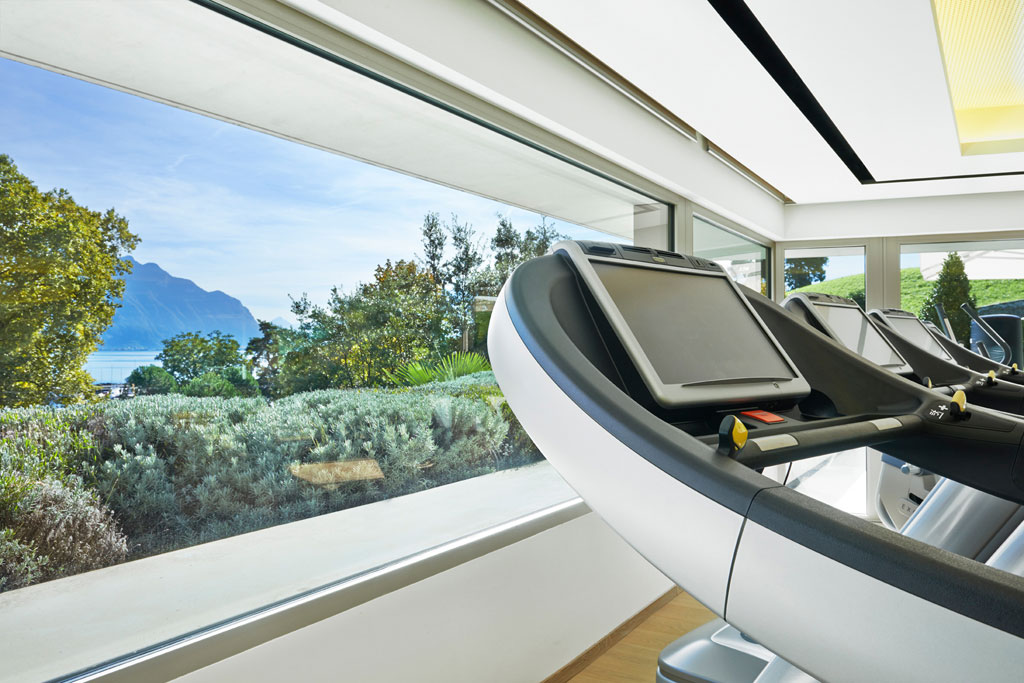 The Results
The Swiss nature and science ethos combined with Clinique La Prairie's innovation and touches of magic merge to create something truly special. On leaving the clinic you feel less as though you are walking, and more as if you're floating. The food, the teas, the treatments, the air… it all combines to leave you relaxed and refreshed with clear, glowing skin and a spring in your step. Truly a fresh start. It's no wonder visitors return year after year.
Book It
Email [email protected] or call +41 21 989 34 07 to be put in touch with a Clinique La Prairie expert, who will advise which programme will best suit your needs. cliniquelaprairie.com
---