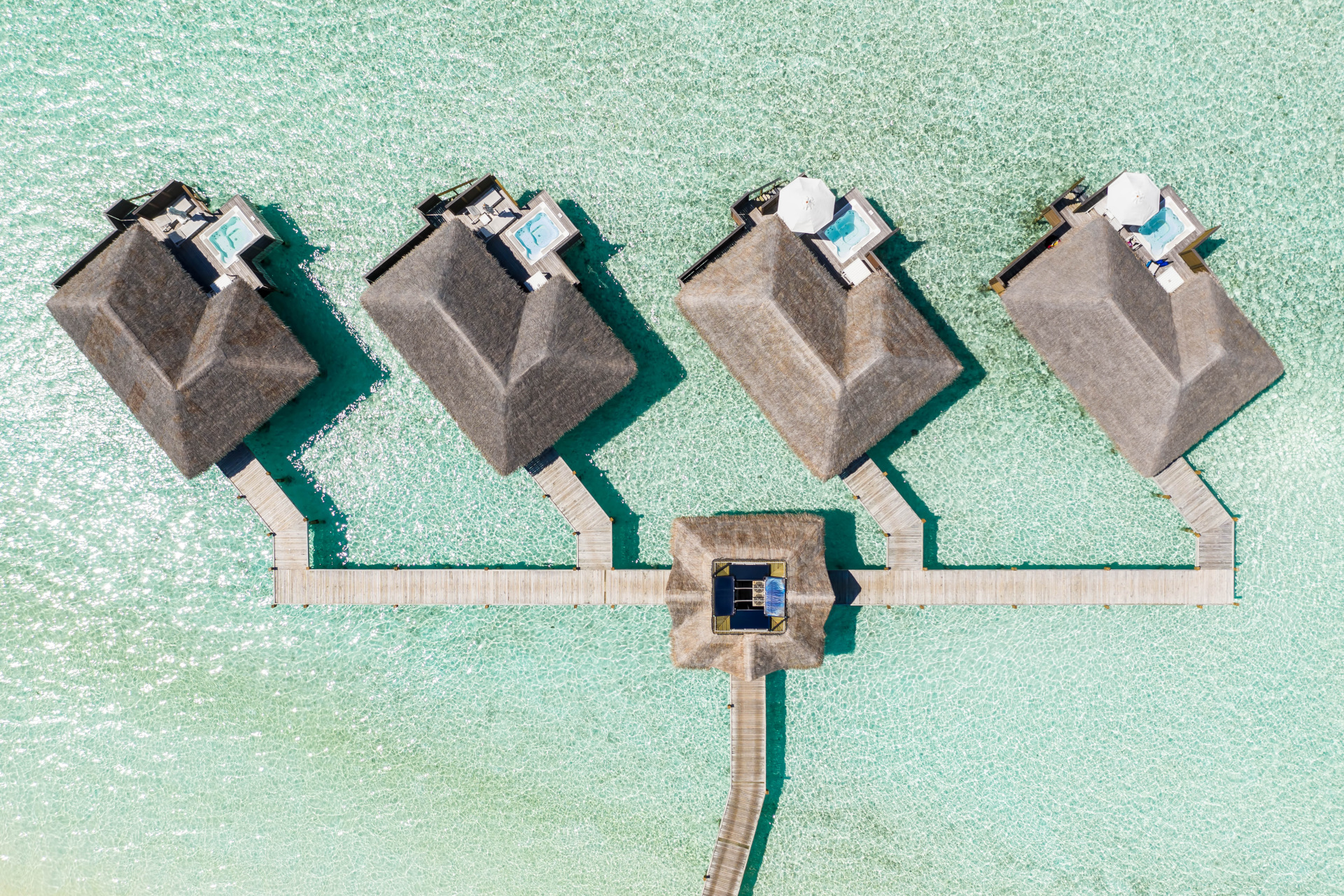 Review: Conrad Maldives, Rangali Island
---
As close as you'll get to heaven on Earth
Escape to paradise with Conrad Maldives, a haven characterised by copious luxury and tranquility. With its stunning accommodation, plentiful amenities and breathtaking location – think white sand beaches and turquoise seas – this resort is a clear winner, says Juliet Herd.
Review: Conrad Maldives, Rangali Island
STAY
Arriving at Conrad Maldives Rangali Island is an otherworldly experience. From the minute you step off the sea plane – exhilarating in itself – to a joyous drum-beating welcome, you are completely and utterly seduced. The colours are dazzling – from the hyper blue hues of the crystal-clear lagoon to the rich jungle greens of the twin islands. Enveloped in the warm sea breeze, you can feel the city tension drain from your body.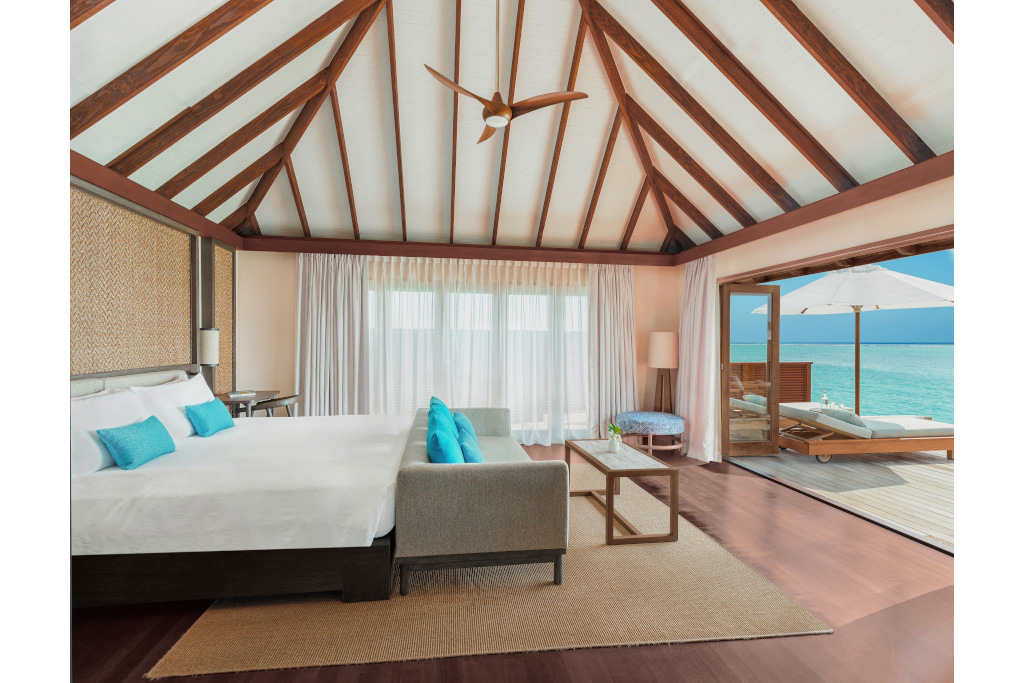 This is as close to a storybook version of paradise as you'll get. Located in the heart of the Indian Ocean, Conrad Maldives was one of the first resorts to open in this bewitching archipelago of a country made up of more than 1000 coral islands, and the first to build overwater villas. Now, 50 of these villas on tiny adult-only Rangali Island (connected to the larger main island by a 500m bridge) have been transformed following a multi-million-dollar refurbishment.
It's no wonder some visitors – particularly honeymooners! – choose not to venture far from their rooms: designed for indoor-outdoor living, the thatched-roof wooden-stilt villas afford uninterrupted ocean views and come complete with private sun deck and pool. You've even got your own staircase for accessing the inviting turquoise waters below.
The resort features a total of 151 deluxe villas, a mix of beach and overwater, including the spectacular two-level The Muraka, described as the world's first undersea residence (did we mention it's a hotel of 'firsts'?), and all yours from $9,999 per night, complete with 24-hour butler. It's where Paris Hilton honeymooned and where guests can sleep five metres below sea level in the master bedroom or, if they don't fancy waking up to reef sharks, in one of the two spacious bedrooms above.
DO
Rejuvenate your 'mind, body and soul' at Rangali Island's newly renovated Over Water Spa, featuring four ocean-view suites – you'll be lulled to sleep by the lapping of the waves – and sunset yoga deck. Off the tip of the main Rangalifinolhu Island is the award-winning Spa Retreat, which boasts nine couple's treatment rooms: opt for the signature Maldivian Indigenous treatment, consisting of coconut scrub, Indian-inspired head massage and full body massage using heated coconut sticks.
From catamaran sailing, whale shark swimming and cruising aboard the resort's luxury yacht (watch out for dolphins zipping alongside) to windsurfing, diving and snorkelling safaris, there's no shortage of activities. Explore the house reef with the resident Ocean Group marine biologist and take part in a coral planting exercise, one of the resort's environmental Travel with Purpose initiatives in this marine-protected area. For exercise bunnies, there's a brand new, fully equipped gym, plus tennis courts and daily fitness classes. Those who just want to flop with a good book can take up residence at one of two infinity pools or find the perfect beach spot – and enjoy the silky soft feel of pristine white sand between your toes.
EAT 
Where to start when there are 12 world-class restaurants and bars at your disposal? Highlights include the surreal Ithaa Undersea restaurant, five metres below the surface of the ocean (another first!) and offering panoramic coral garden views and marine life cabaret as you dine fusion-style; Japanese restaurant Koko Grill, romantically situated on the beach with Wagyu beef and local lobster prepared à table; Mandhoo spa restaurant with an organic menu designed to "energise, nourish, detoxify and fortify the body", and Ufaa by Jereme Leung, famed for its handmade noodles, dim sum and chef Leung's signature hot pots. For more casual dining, enjoy a barefoot buffet breakfast or dinner among the frangipani trees at Atoll Market, featuring Indian, Asian and European cuisine, or sip cocktails poolside at Rangali Bar.
BOOK
Carrier (0161 492 1358, carrier.co.uk) offers 7 nights B&B from £9,705 per person, based on 2 sharing a Premier Water Villa with private pool, including return World Traveller flights with British Airways and shared seaplane transfers. Price is based on an early booking offer and valid for travel between 01 October – 01 December 2022. conradmaldives.com
READ MORE:
Matthew Williamson's Guide To The Maldives / The Best Resorts in the Maldives