Wellness at its most luxurious, Shangri La's Villingili ticks all the boxes. Nutritionist, Kim Pearson, checks out the Maldives' wellness scene. 
The Maldives isn't somewhere you'd naturally associate with health and fitness holidays, but Shangri La's Villingili resort is challenging the stereotype of this honeymoon hotspot. Nutritionist Kim Pearson reviews for Country & Town House.
In 2017 the global wellness industry was worth $4.2 trillion, with $639 billion of that attributed to wellness tourism. The desire for health focused holidays is growing and things have evolved well beyond boot camps and juice cleanses, with resorts like Villingili offering luxury retreats in paradise-like surroundings.
The Fitness
Shangri-La's Maldivian resort offers an extensive array of options for those who desire a fitness focussed holiday. In addition to the daily workout and yoga classes running year-round, the resort has a Masters in Residence programme where experts in the field of health and wellbeing are invited from around the world to host programmes of classes, talks and events on the island. Those who prefer to organise their own exercise have access to a Technogym equipped gym, tennis courts and three jogging trails.
It addition to the activity you consciously commit to, there's the stealth exercise that's so fun you're barely aware you're getting a workout. Villas are equipped with bikes for cycling around the resort and it's easy to rack up a few kilometers a day making your way to mealtimes and your day's activities.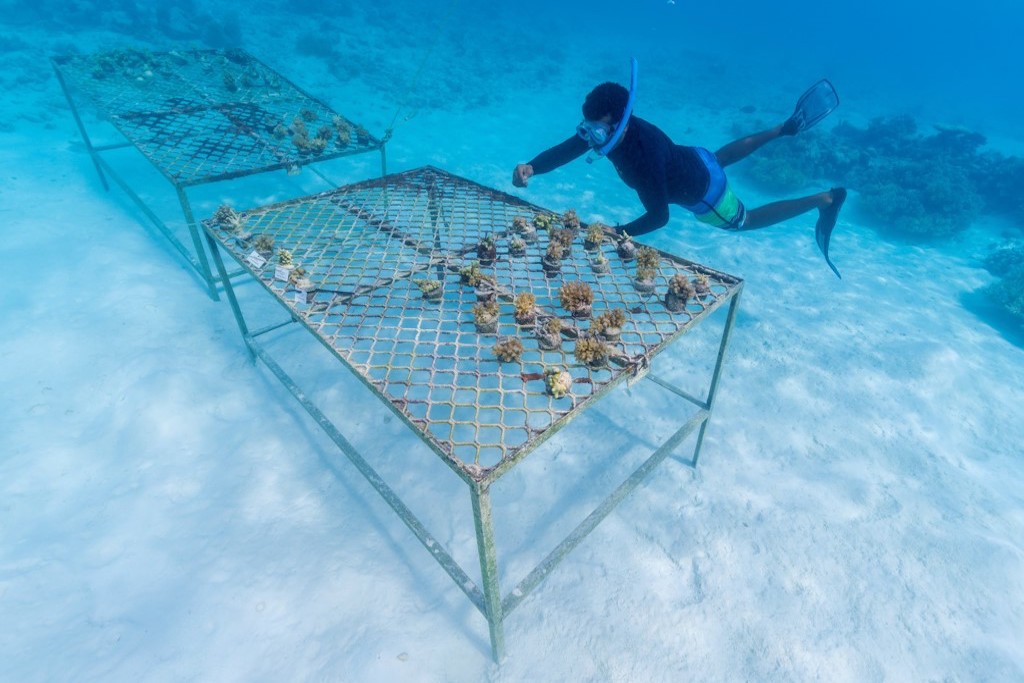 The guided snorkeling trips out to the reefs will have you so mesmerized by the shoals of technicolour fish that you'll forget all the swimming you're doing, until you return to the boat seriously ready for lunch. As well as the fitness, activities on offer also include dolphin boat tours, jet skiing, kayaking as well as traditional Maldivian night fishing.
The Food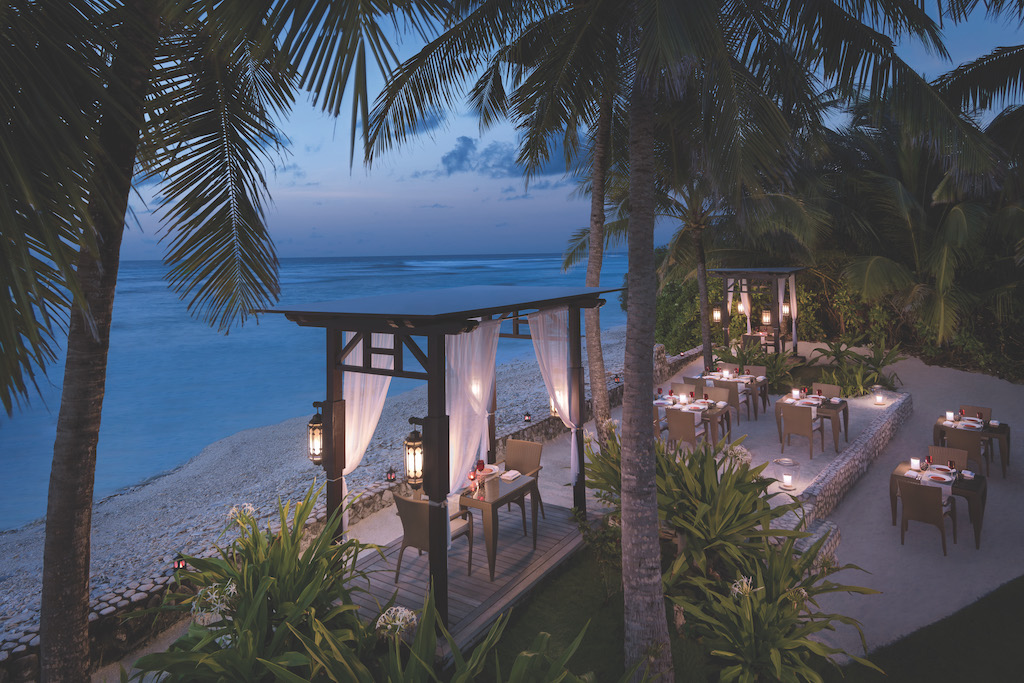 Luxury resort food doesn't typically leave you feeling lighter and healthier at the end of your holiday but that's not necessarily so on Villingili. While all of the usual indulgent options are available, care has been taken to make sure that healthy holidayers have been well catered for.
The Shangri-La offers a wide varity of dining options from Dr. Ali's fine dining restaurant to the Meditteranean-inspired Fashala and Javuu, located along the turquoise shoreline offering stunning ocean views to accompany your breakfast. Not to be missed is the weekly seafood BBQ offering the freshest options from the day's catch, including the sweetest, most succulent lobster. Surely the most delicious way to get your post workout protein fix.
As well as the made to order pancakes you might expect, the breakfast buffet offers a wide range of healthy options too. Alongside the more typical fruit and salad options sits local Maldivian vegetable curries and a traditional dish of tuna, shallot and coconut. Not forgetting the obligatory fresh coconut water and jasmine tea to wash it all down with.
The Stay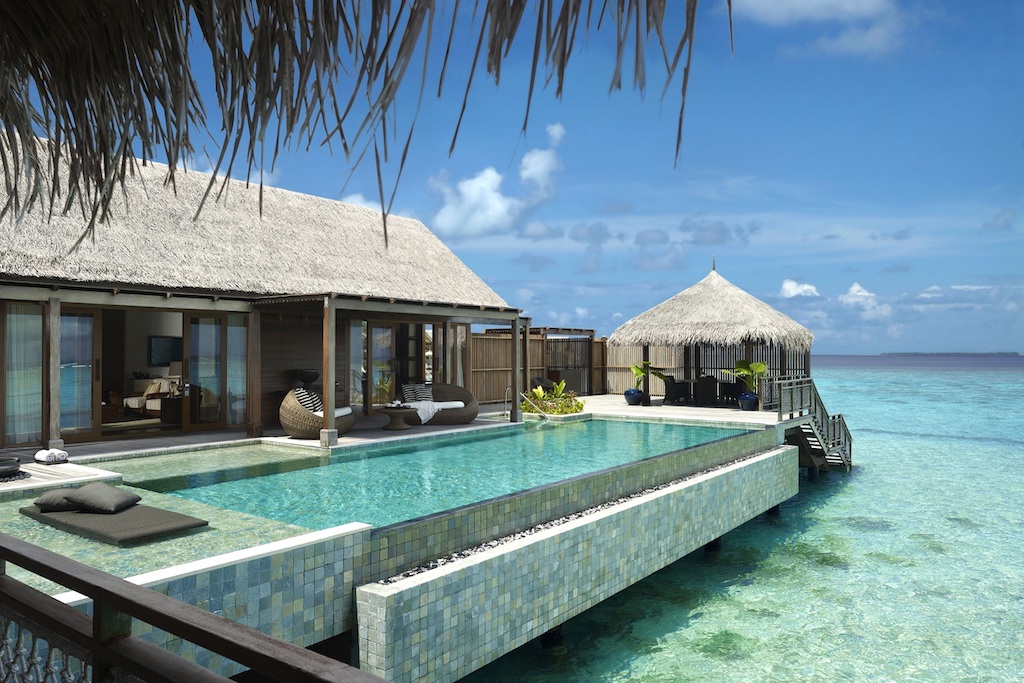 Shangri-La Villingili offers luxury accommodation in a range of private villas, including their world famous water villas. Whichever option you opt for, you can be assured of the privacy and high standards that you would expect from a resort who owns the entire island it exists on. Villas are spacious and light with luxurious décor in keeping with the beautiful nature they're surrounded by. We highly recommend staying in a water villa which have decks have steps leading directly into the clear azure waters.
The staff are kind, professional and ensure your every need is met. The beauty of the Maldives is beautifully preserved, the crystal clear waters soothing for mind and body. Whether visiting for your honeymoon, with family, friends or with a view to focusing on your health and fitness, Shangri-La Maldives will not disappoint.
Book it: [email protected]; (096) 689 7888 or book online at shangri-la.com
DISCOVER MORE
Review: The Conrad Maldives, Rangali Island / The Best Resorts in the Maldives: The C&TH Guide
---