There's more to an African adventure than chasing the Big Five. We bring you the best safari encampments, coolest beach bums hang-outs and slickest city stopovers on the continent. Edited by Daisy Finer
Best for Tented Luxury: Tuludi, Okavango Delta, Botswana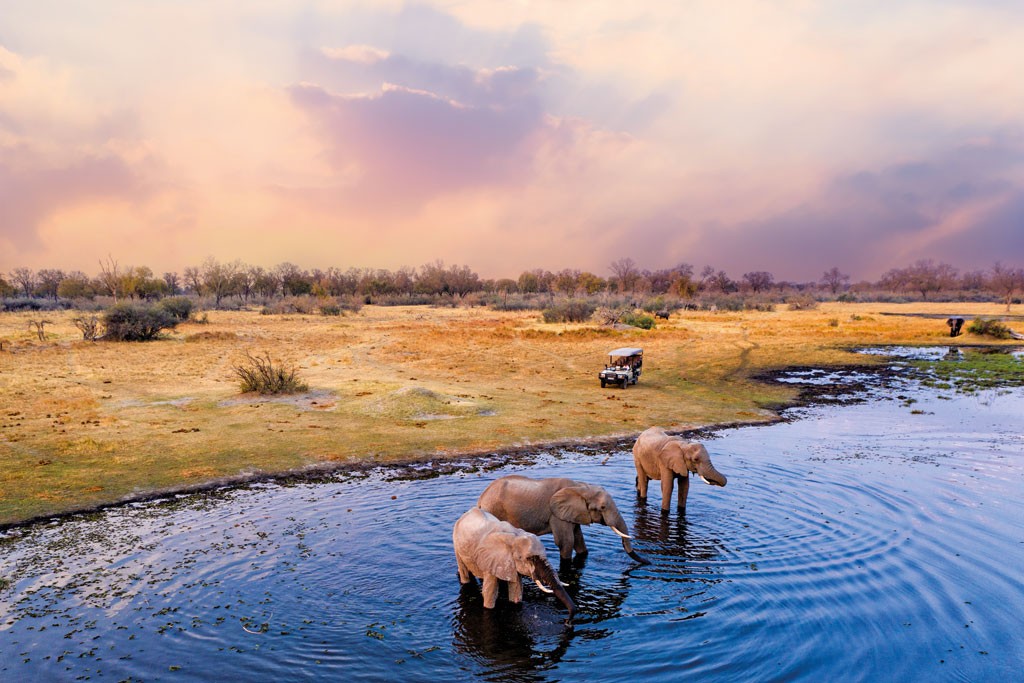 Hidden within the game-rich Khwai Private Reserve, in the northern reaches of Botswana's lush Okavango Delta, you'll find Tuludi. Peeking out amongst towering termite mounds, on land criss-crossed with leopard tracks and elephant footprints, the camp blends seamlessly with its woodland surroundings. But get close enough and you'll see that this is a seriously good-looking safari spot. Seven palatial stilted tents (each over 100 sq/m in size) come with sprawling private decks – furnished with plunge pools, claw foot bathtubs and cosy swinging seats hanging from gnarled mopane trees – as well as giraffe-high canvas ceilings and décor ranging from jacaranda wood chandeliers to marble and gold bedside tables. The multi-level communal spaces are set out treehouse-style, with a cosy treetop library, al fresco lounge scattered with monkey-print Ardmore cushions and an eye-popping mosaic-tile bar decorated with gleaming pangolins, ground hornbills and thirsty leopards. You could simply sink into one of the squishy zebra-print sofas, icy gin and tonic in hand, and watch as elephants trudge across the surrounding wetlands, but head out on a game drive and you'll be rewarded with packs of rare wild dog on the hunt, mighty big-maned lions and all manner of bird-life speckling the gleaming Delta channels. Back at camp, settle in for a sundowner on the romantic private platform, watching as hippos grunt and bluster in the water in front of you, then tuck into a dinner of smoked salmon, tender beef and South African Sauvignon Blanc under the (shooting) stars, while the throaty calls of distant lions fill the air.
BOOK IT: Tuludi Camp booked with Africa Exclusive from £806 per person, safari.co.uk; South African Airways flies from London to Maun via Johannesburg from £1,138 return flysaa.com
Best for Privacy: Cheetah Plains, Sabi Sands Private Game Reserve, South Africa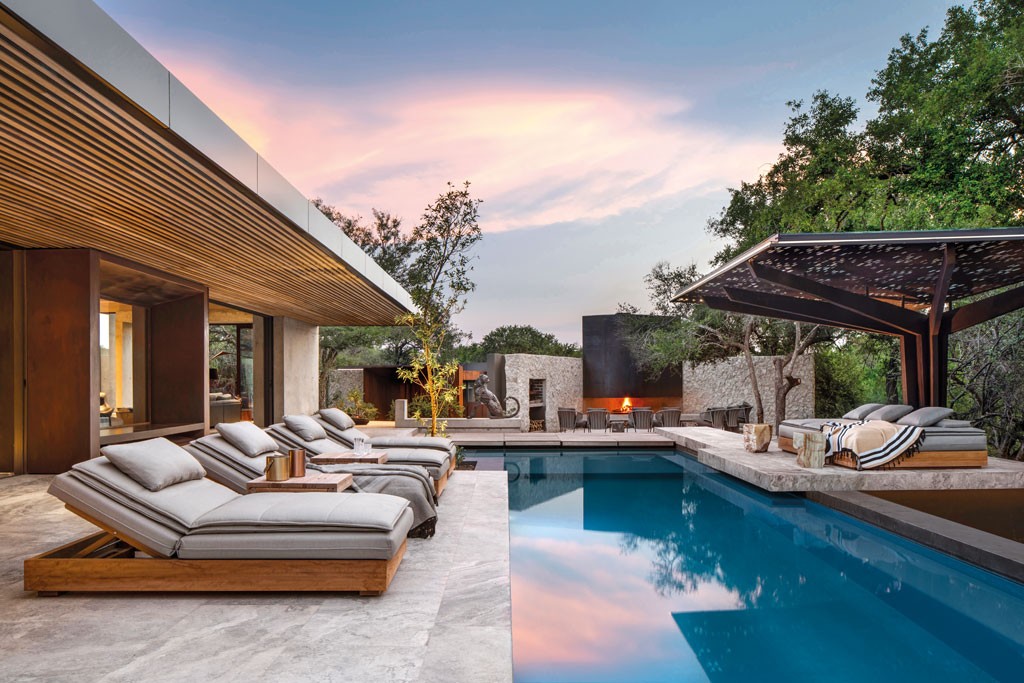 It may be a safari lodge, but you'll find no canvas or zips at Cheetah Plains. Instead, three sprawling ultra-luxury safari houses sit among pea green grass and pretty tamboti trees, surrounded by warthogs, jewel-hued birds and willowy giraffes who drink at the sun-baked watering holes. Each house – filled with sculptural Tom Dixon light fittings, carved travertine tables and contemporary South African art – has four separate bedrooms, as well as a private pool, private chef, private spa therapist and personal host, who will look after your every need, whether that be a pair of binoculars for watching mongooses skitter about the grounds, or a glass of small batch South African Pinotage to sip on as you gaze at stars on lantern-lit nights.  But it's not the exquisite design that's most remarkable about Cheetah Plains. Instead, it's the fleet of near-silent, eco-friendly electric safari vehicles. Gone is the boisterous rumble of a heavy-duty 4×4; these vehicles allow you to crawl silently behind stalking leopards in the dead of the night, and to hear nothing but the sound of teeth on bone as you pull up alongside a pride of lions feasting on a kill. Magnificent.
BOOK IT: From £4,775 for four guests, per night. cheetahplains.com; Fly to Johannesburg with South African Airways from £621 return. flysaa.com
Best for Lounging Around: Chikwenya Mana Pools, Zimbabwe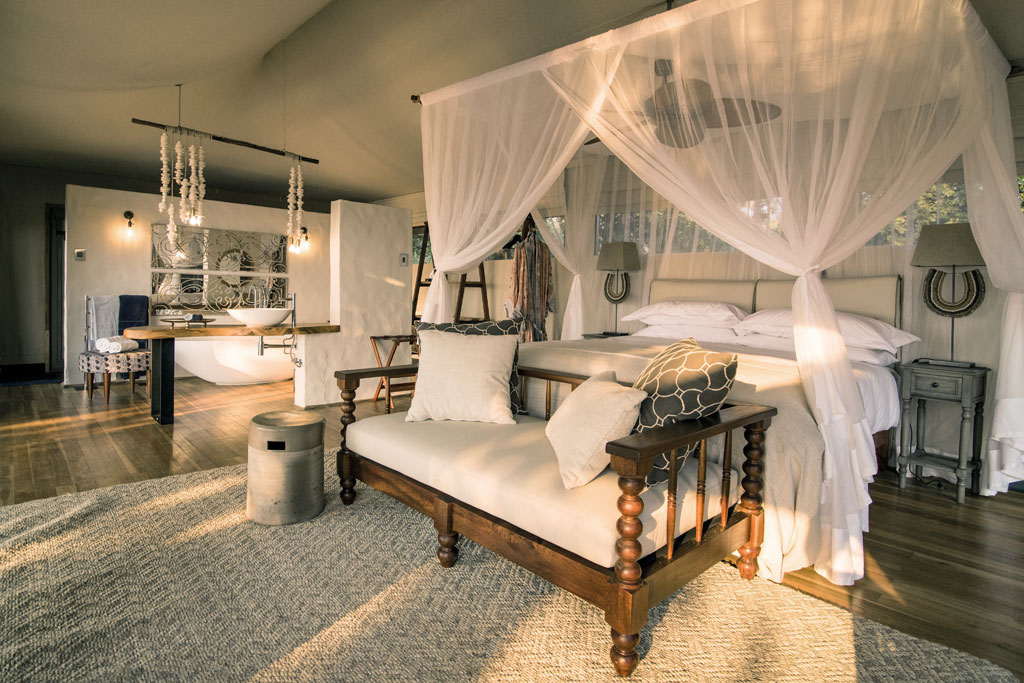 At the confluence of the Sapi and Zambezi Rivers, on the eastern fringe of Zimbabwe's Mana Pools National Park, Chikwenya is part of Wilderness Safaris' 50-strong portfolio of luxury eco camps spread throughout southern Africa. Set around a series of communal spaces including indoor-outdoor dining and lounge areas, a campfire and a perfectly-positioned swimming pool overlooking the grassy wildlife-scattered floodplains, Chikwenya comprises just seven tents – including two family suites with their own pools – that are generously spread along a wooden boardwalk that lines the river. Diversions are focused on the region's diverse wildlife, so outside of activities like game drives, bush walks, birding and fishing, there is happily not much more to do than nap, read and indulge in the impressive brunch spreads, hearty suppers, afternoon tea, and snack sessions. We suggest starting your evening with a cocktail, as the brilliant pastel wash of the sunset fades from the sky and the wildlife comes out to play.
BOOK IT: Doubles from $1,352 per person sharing. wilderness-safaris.com
Best for Monkey Magic: One&Only Nyungwe House, Rwanda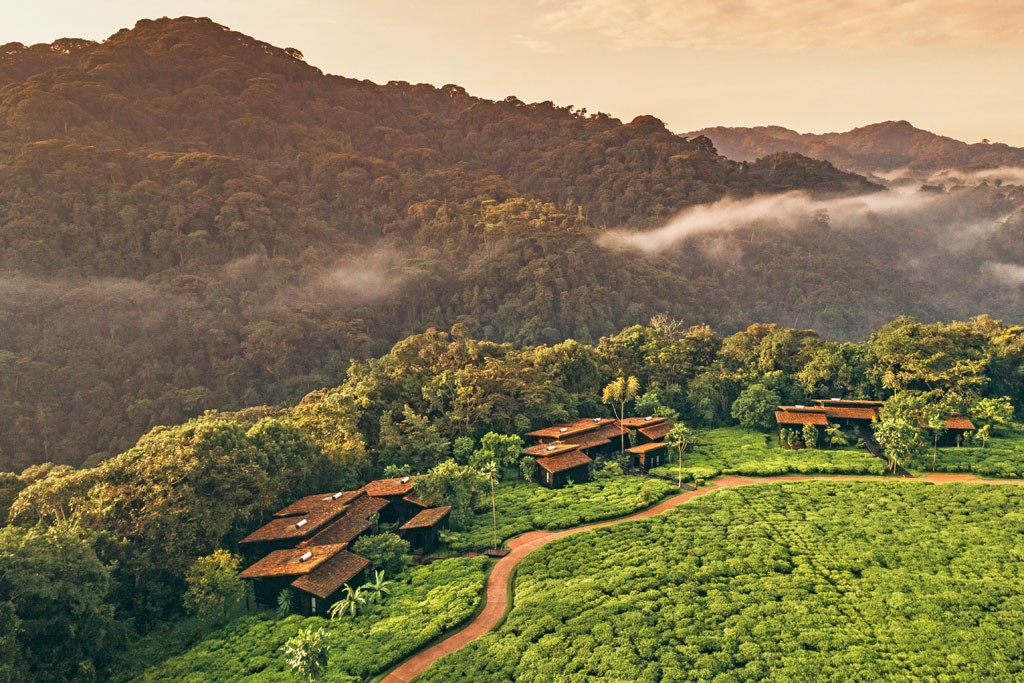 Peeping out among sprawling tea plantations and bordering the ancient mountain rainforest, Nyungwe House is a haven of tranquility in a relatively unexplored part of Rwanda. All villas and suites are decked out with woven African textiles and dazzling pops of contemporary art, and open up onto forest-facing balconies (giving prime views of the long-limbed colobus monkeys that sweep from tree to tree). Those in pursuit of Zen can rise early to perform sun salutations on the forest deck before surrendering to knot-busting Intonga Amasatchi stick massages using locally foraged ingredients at the airy spa. More adventurous sorts can busy themselves with mountain biking, archery, and even rainforest 'bootcamps', to sweat it out among wild magnolia and giant corkscrew ferns. Gorillas can be found in Volcanoes National Park to the north, but Nyungwe is theplace for chimp trekking. Terrain is tough – you might find yourself scrambling through dense forest on your hands and knees – but seeing family groups vocalise, play and crash through the canopy is more than worth it. Back at the House, food is exquisite. Overseen by executive chef Treasure, the ever-evolving menu features fresh tilapia from nearby Lake Kivu, intriguing cassava chapatis and chocolate fondant garnished with edible flowers from the chef's garden.
BOOK IT: Three nights in a double room from £3,995 per person, including international flights and private transfers. abercrombiekent.co.uk
Best for Desert Island Charm: Fundu Lagoon, Pemba Island, Zanzibar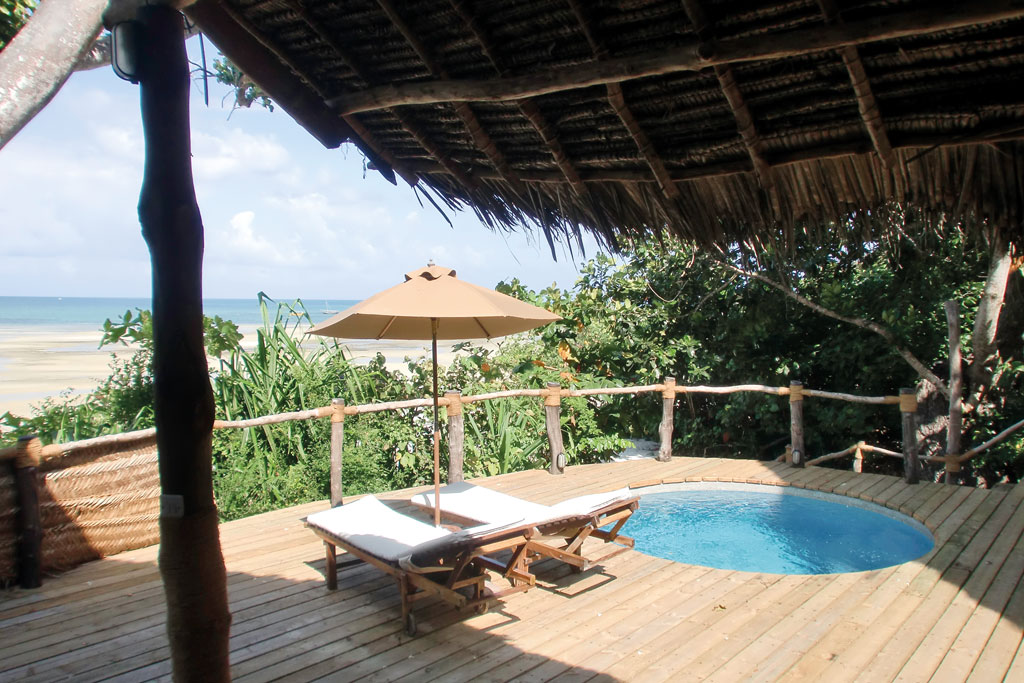 This laid-back bolthole on the island of Pemba is real Robinson Crusoe territory. Its barefoot charm is spot-on if you are looking for somewhere to flop after a safari; to rest, relax, dive and dine in one of East Africa's most romantic hotels. The 18 makati-thatched tented rooms and suites are connected by wooden walkways and sandy paths, either along the wild and wonderful beach where the jungle touches the sand, or on the hillside for fantastic views of the ocean, and a cool breeze at night. Dine out on the daily fisherman's catch and spectacular ocean views. We loved that 'all-inclusive' also meant mangrove canoe safaris and village treks, beyond just the usual dining, drinks and snorkelling, and if you visit between August and November keep your eyes peeled for sightings of migrating humpback whales and the resident dolphin pods.
BOOK IT: Turquoise Holidays offers seven nights from £2,539pp all-inclusive, including canoe safari and village trek, transfers and flights with Qatar Airways. turquoiseholidays.co.uk 
Best for Eco Points: &Beyond Tengile River Lodge, South Africa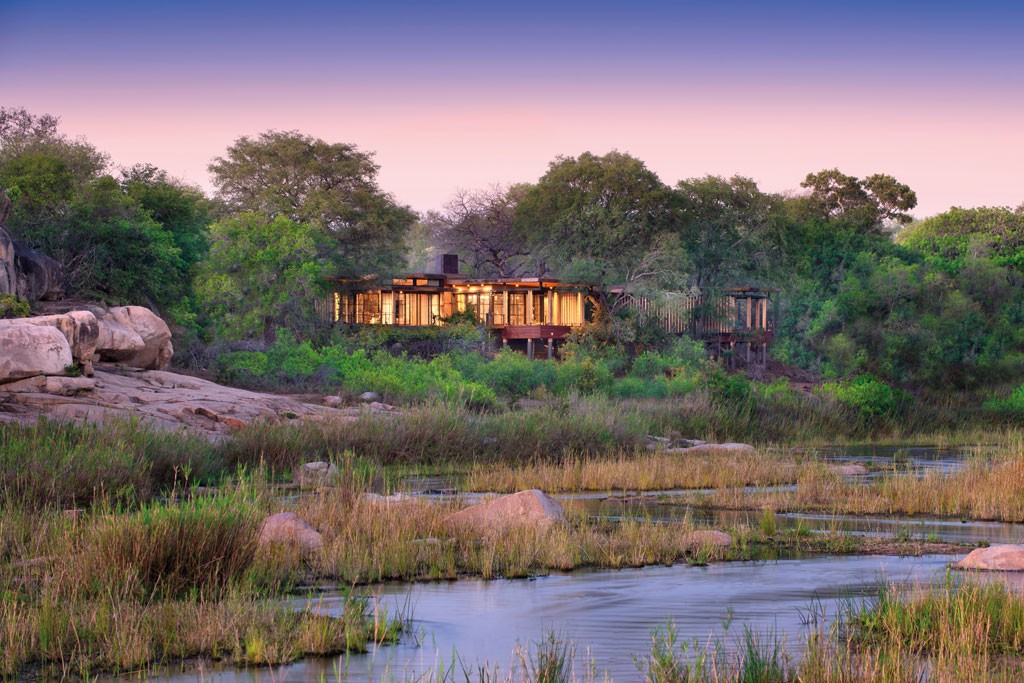 Right on a bend of the Sand River in the Sabi Sands game reserve, this slick new lodge blends in seamlessly with its surroundings. Nine wood-clad contemporary suites each come with floor-to-ceiling windows facing the water, a private deck and dipping pool, and an Instagram-worthy bathroom. Days are bookended by game drives where close-up encounters with extraordinary wildlife are practically guaranteed: perhaps a pair of male lions snoozing on a dirt track, a herd of elephants playing in the reeds or a lone leopard feasting on its kill high up in a tree (learning about the birds is equally fascinating). In between, feast on delicious help-yourself lunches – bobotie spring rolls, aubergine fries, mango salsa – prepared by head chef Tamarin van Zyl (she cut her teeth working with Jamie Oliver in London); book in for a cooking class or shea butter massage in the spa or go for a refreshing swim in the main pool. Special, stand-out touches include gin and tonics served in thick crystal-cut glasses under a 600-year-old sycamore fig at sunset and a boma barbecue with gospel singing under an inky night sky.
BOOK IT: Mahlatini Luxury Travel offers four nights from £5,500 per person sharing all inclusive. Includes international flights from London, road transfers as well as scheduled camp activities. mahlatini.com
Best for Craft Chic: Jao, Okavango Delta, Botswana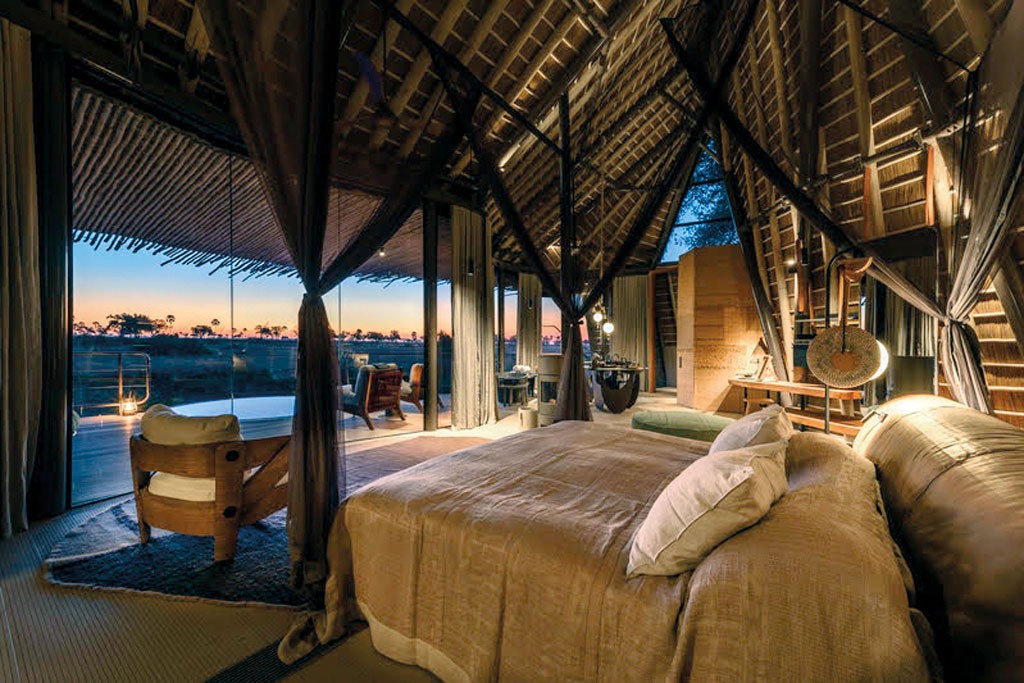 When this forward-looking camp in the Okavango Delta first opened 20 years ago it caused waves with its cutting-edge architecture based on a long house in Bali. Now, it has re-opened after a radical re-build with a new, sculptural central space on steel stilts high up in the tree canopy and five thatch suites (plus a pair of two-bedroom villas, ideal for families), each with an open-plan kitchen, living and dining space, and a bedroom that can be closed off with the swish of a grey, gauzy curtain. The look is handcrafted chic, achieved using raw, honest materials (cork, tan leather, the softest bed linens); outside, there's a terrace with a lily pad-inspired, round swing seat and a plunge pool for a cooling post-lunch dip. This is a water-based lodge so tranquil days are spent slow-mo exploring along the meandering channels on a mokoro (traditional dug-out canoe), spotting malachite kingfishers and pels fishing owls, or taking a motorboat to Hunda Island for thrilling game drive sightings of lechwe, lion and elephants on the open floodplains. But there is plenty to do during downtime too, from spa treatments to tastings in the wine cellar and looking round the turreted gallery, which features African plant pressings named after the owner's great-grandfather, a respected botanist, a display cabinet of animal bones and a real giraffe skeleton. This is the kind of camp where staying put and relaxing is as integral as the wildlife itself.
BOOK IT: Two nights at Wilderness Safaris King's Pool Camp and two nights at Jao Camp on an all-inclusive basis, including internal transfers, from £4,375 per person sharing. trackssafaris.co.uk
Best for City Spa: The Saxon, Johannesburg, South Africa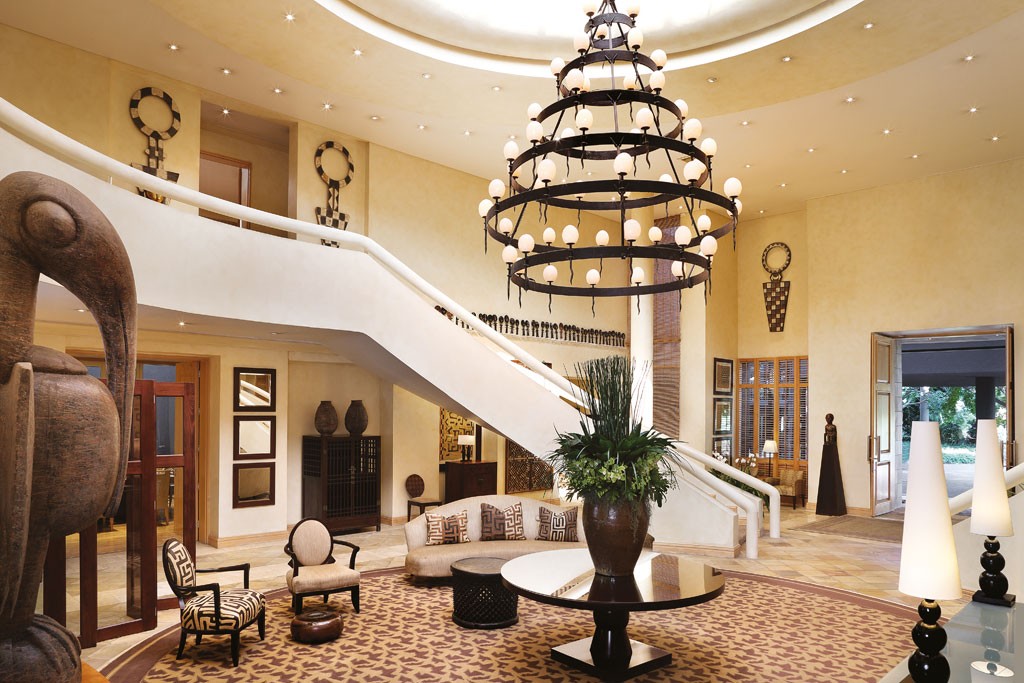 This visually impacting property with sweeping lawns, a lake-like infinity pool and tumbling bougainvillea hedges is a haven amidst the throb of Johannesburg. Proud of its rich heritage, the Saxon pays homage to its most famous resident, Nelson Mandela. For six months after he left prison, Mandela rehabilitated himself here. Décor is stylish with an indigenous twist. Lunch on the terrace is to sit under a huge vaulted canopy with soaring greenery. The food is zeitgeisty modern African meets Amelia Freer. A rooftop herb and vegetable garden provides the three restaurants which serve seasonal and inspired dishes. Try the Saxon vitaboost for breakfast; an anti-inflammatory hit of turmeric tonic with coconut water, pepper, lemon and honey. While the sorghum pancake stack with fried banana compote is pure health nirvana. And unusually for a city hotel, the two-storey spa has destination qualities of excellence. Truly holistic, treatments take place under Himalayan salt crystal healing installations, while therapists employ firm yet intuitive touch.  Your slippers are warmed post-treatment. The Saxon represents the apogee of African luxury.
BOOK IT: Doubles from £473 per night. saxon.co.za
Best for Beach Break: Long Beach, Mauritius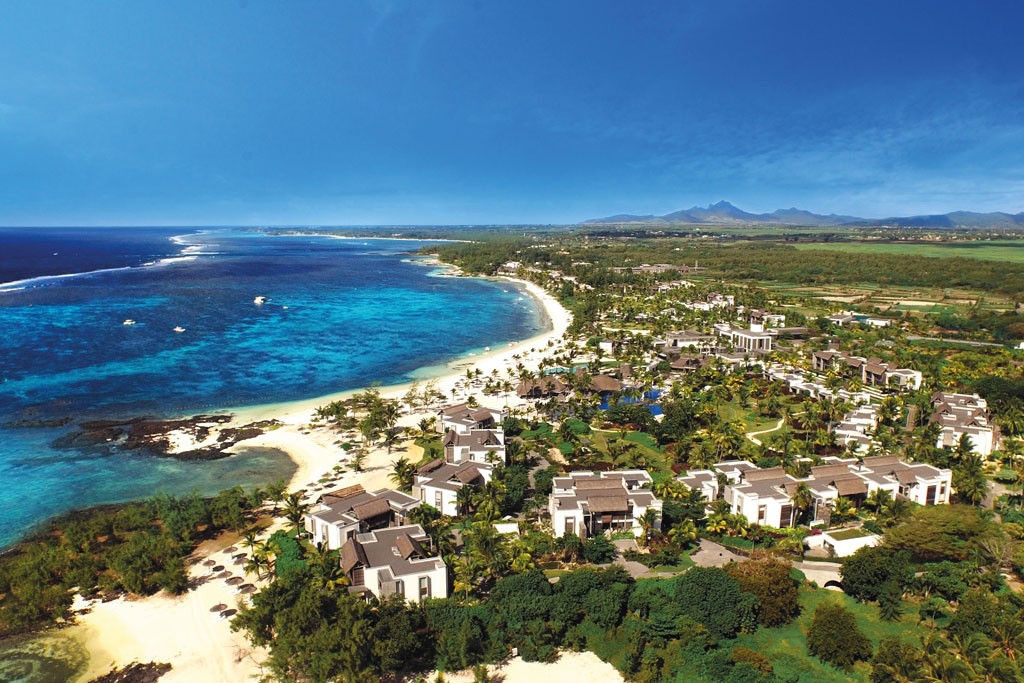 This island resort is a firm favourite with honeymooners and families alike who are attracted to the long stretch of white silky sand on the north-east of the island; it's no surprise where the resort got their name from. The refreshingly modern-chic hotel has light, breezy sea view rooms and offers sunrise kayaking and there's something euphoric about watching the sun rise above the waves breaking over the coral reef that makes getting up at five o'clock worth it. Glide down the secluded grass green path and you will find yourself in the private jungle bliss of The Cinq Mondes Spa and Wellness Retreat. If interested in total body regeneration, book in for their Udarabyangha Detox Treatment. The traditional Indian medicinal massage relaxes the core zones of the body and includes a full body massage and wrap for that overdue detox. There is a broad range of restaurants to cover all cravings but let the warm red glow of Chinese lanterns lure you to Chopsticks and try truly tender chicken rendang like you have never had before. For some evening fun, try out their home-infused rum and marshmallow tasting – not the most natural of parings, grated, but don't knock it until you try it.
BOOK IT: Doubles from £224 half-board. longbeachmauritius.com
Best for Animal Spotting: Earth Lodge, Sabi Sabi, South Africa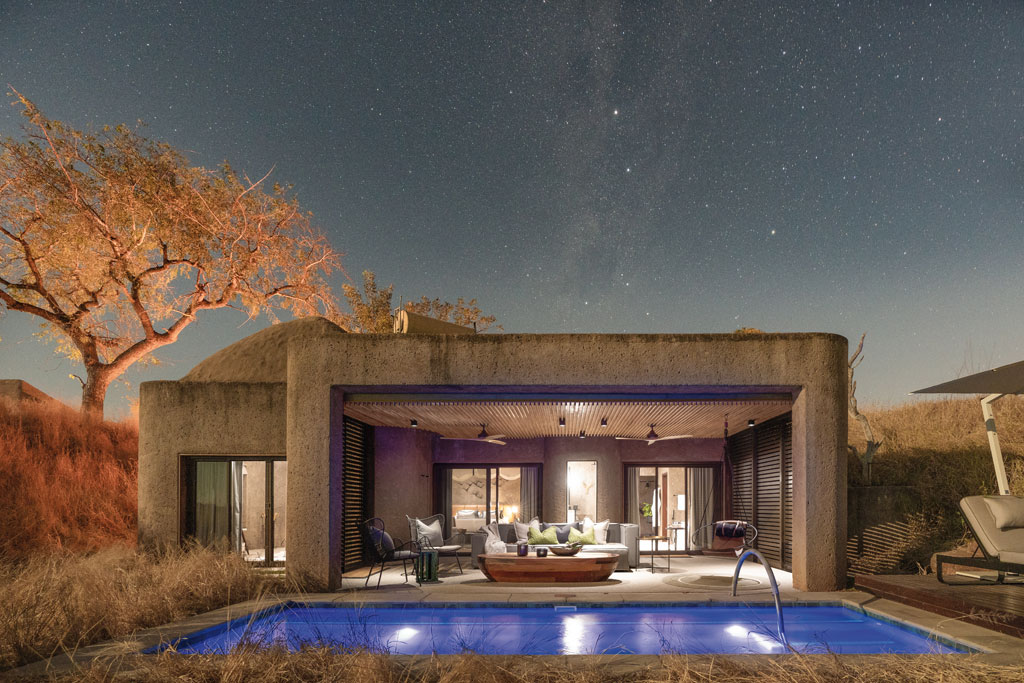 One of Africa's most respected safari destinations, Sabi Sabi's unfenced location within Greater Kruger National Park more or less assures encounters with everything from elephant, rhino, hippo, lion and buffalo, to zebra, giraffe, wild dog, hyena, kudu, warthog and impala, plus an astonishing variety of birdlife – and the fact that they all appear so casually unfazed by the presence of humans is testament to the reserve's decades-long commitment to conservation and preserving an environment in which the animals feel relaxed and unthreatened. The days follow a comfortable pattern, with morning and evening safaris, fuelled by three extravagant meals per day and plenty of time to relax in the hours between, whether in a deck chair or in the soothing spa. The newly refurbished Earth Lodge and its thirteen suites, each with private pool, blend tactile, earthy elements – effortlessly at one with the surroundings on to which they seamlessly open – with luxe highlights and decadent touches. Elsewhere in the reserve, Selati and Little Bush Camp game lodges are no less sumptuous, while, Bush Lodge, with its family-friendly set up, puts the 'life' into 'wildlife' for youngsters.
BOOK IT: Earth Lodge from around £1,207 per person per night, including safaris, meals and transfers. sabisabi.com
Best for Eclectic Decor: The Twelve Apostles Hotel & Spa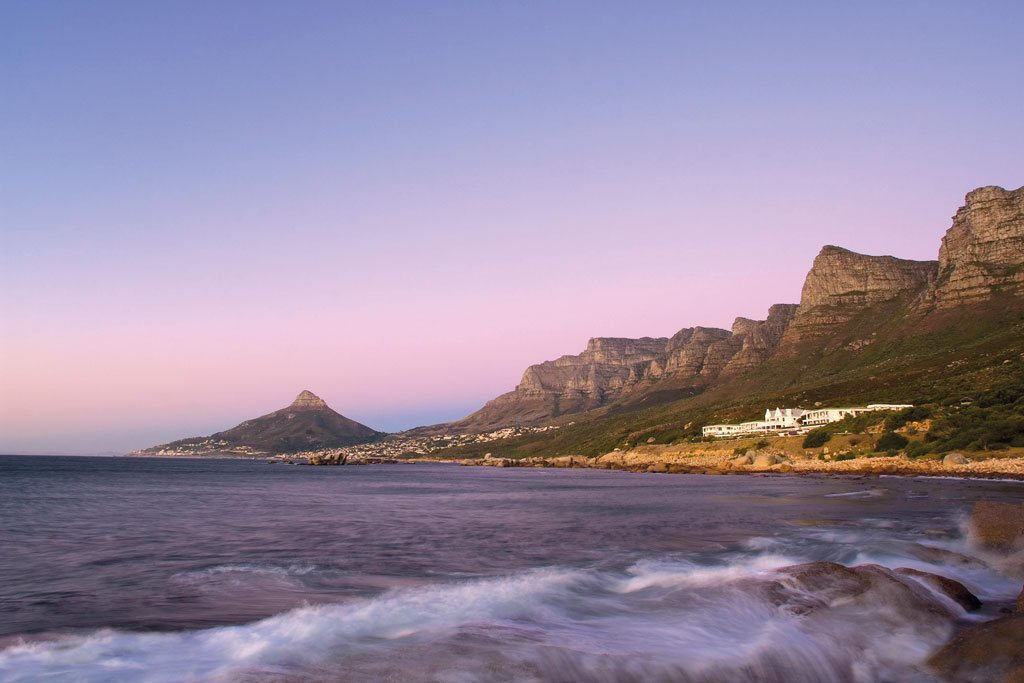 With the Twelve Apostles mountain range behind it and the Atlantic Ocean before, drama rules here on Cape Town's shoreline. The owner Bea Tollman, now 89, styles everything herself and isn't shy about flourishes that would be ironed into submission elsewhere. In the bar, ex-Nobu Sarawut Sukkowplang serves up tuna tartare and avocado rolls to plump leather sofas arranged on a leopard print carpet while outside, pink sunset light falls on guests clinking chilli and cucumber Martinis. After rooibos smoked ostrich, the bedrooms await with post-dessert pudding and huge squidgey cream sofas, linen upholstered walls and blackout blinds that banish the morning sunshine. Down the hall, eclecticism erupts – one four-poster bed is upholstered in William Morris-style print and another is even more delightfully OTT, entirely made of mirror. Outside, an enormous fig shades a deck by a pool that looks down to the sea, another surrounded by palms and fauna that faces the mountains. The gym is tiny but the landscape is unmatched, and staff are keen to hike to Table Mountain and marvel at the uniquely diverse fynbos fauna while seals yelp in the sea nearby. In the spa, Decleor, Elemis and the in-house brand are used in 90-minute treatments that use hot stones and finish with a 30-minute facial. A homely retreat at the edge of metropolitan life.
BOOK IT: Cox & Kings offers a nine-night West Coast Adventure self-drive tour from £2,965pp (based on two sharing), including B&B accommodation at The Twelve Apostles Hotel & Spa and three nights full-board at Bushmans Kloof Wilderness Reserve & Wellness Retreat, plus international return flights from London to Cape Town and car hire. coxandkings.co.uk
Londolozi Healing House, South Africa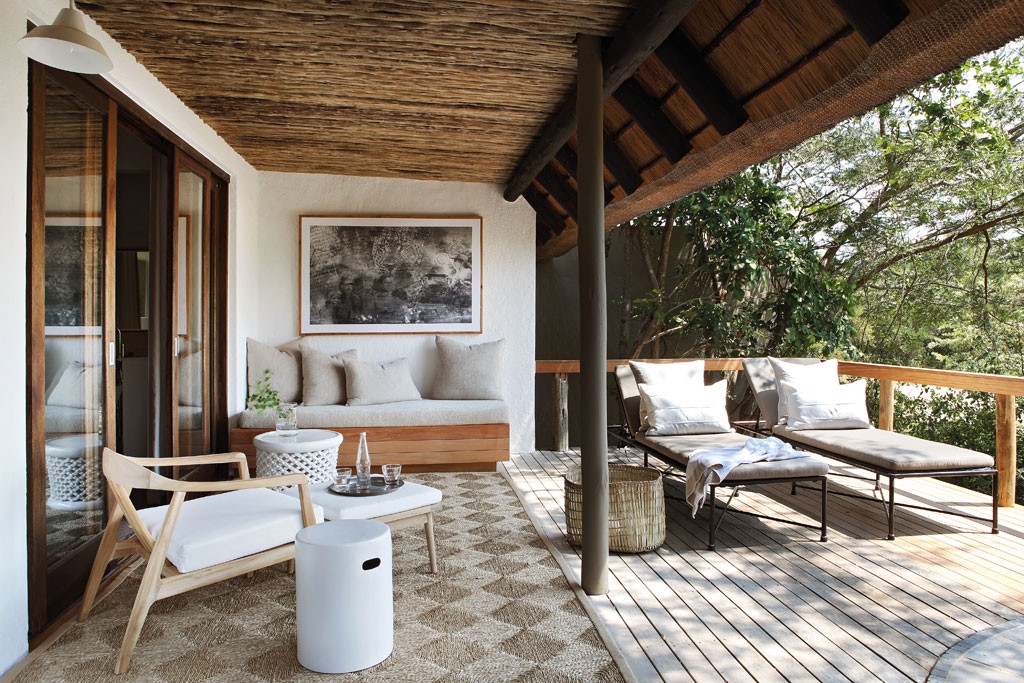 At Londolozi, safari gets spiritual. Every game drive is a moving meditation as you tune into the rhythm of the land, to then return to yourself. The owners of this private reserve, the Varty family, are boundless visionaries. As well as creating pitch perfect stylish camps, they now offer a stellar tiny spa. At the Healing House, a glass box atop a wooden deck, tucked amidst ancient ebony trees, you will never have felt more energetically held. Traverse the continent for the massage alone, which answers forgotten pleas of your body and psyche.
Intuitive, delicate yet profound, it is world class. Afterwards, sit spaced out and watch elephants plod past. Or try the Biophany machine, which floors you with shamanic sounds and frequencies that act as a stun gun to your nervous system. Wordlessly, the staff track your emotional journey, just as the rangers track the animals outside. They run spectacular retreats and individual programmes for loss, as well as transformative experiences just for men.  Come to acknowledge the wild call of your heart as you listen to the lions' roar.
BOOK IT: Doubles from £800. londolozi.com
Bushmans Kloof Wilderness Reserve & Wellness Retreat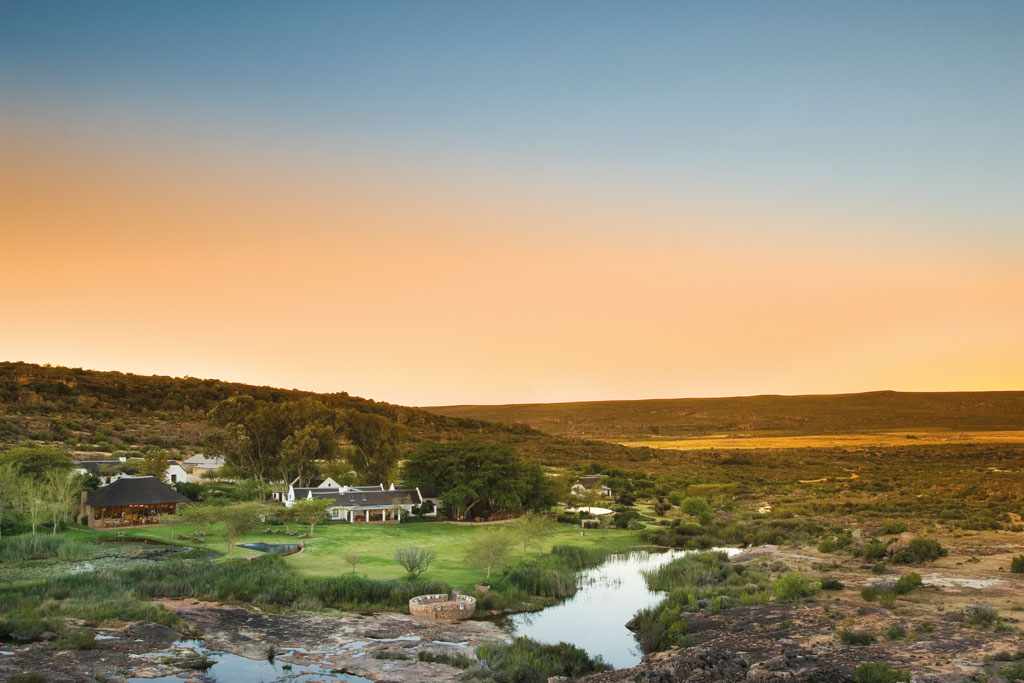 An enclave of fig trees and thatched cottages, four swimming pools and vast lawns, this hotel's bright gardens are surrounded by 18,532 acres of the Cederberg Mountains. Zebra and eland nibble UNESCO-designated fauna that spring from the red rocks, then run away from 4×4's with their young trotting behind. Inside the grounds, knackered guests sit by the pools – they've come from safaris where alarms ring at 5am for high-adrenaline trips to find lions and elephants. Here: none of that – and be glad of it. Once rallied, guests cycle off to canoe, follow hiking trails into the mountains or trek off with a guide to rock art sites, some of which are 10,000 years old. There are 16 rooms; vaulted bamboo ceilings over big iron beds, mahogany wardrobes and living rooms with fireplaces for winter. The spa uses Rooibos-infused oils and a gazebo for treatments is open to the pinky rock formations covered with grasses and flora.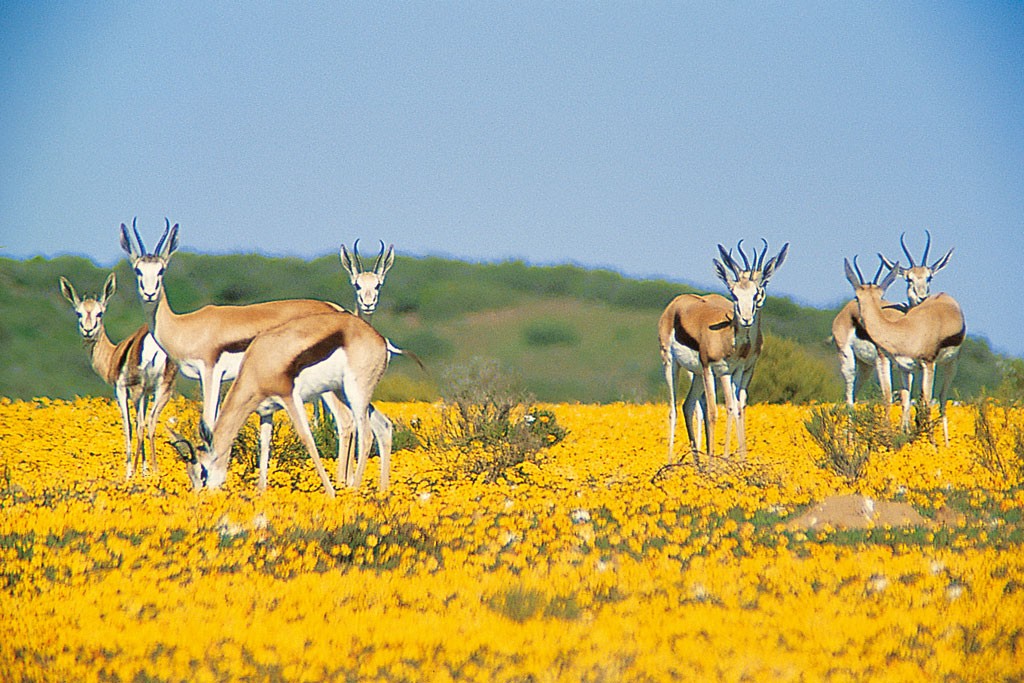 Rack of lamb or fillet of beef come with twirled courgette and grilled aubergine grown in the allotment, and are served in one of the restaurants or under a canopy of olive trees. Deeper in the valley, a chef serves curries and stews from a braai outside an old shepherd's hut lit entirely with candles, rural darkness revealing a glittering sky of stars. Equal amounts of drama and stillness – perfect.
BOOK IT: Cox & Kings offers a nine-night West Coast Adventure self-drive tour from £2,965pp (based on two sharing), including B&B accommodation at The Twelve Apostles Hotel & Spa and three nights full-board at Bushmans Kloof Wilderness Reserve & Wellness Retreat, plus international return flights from London to Cape Town and car hire. coxandkings.co.uk
MORE TRAVEL:
C&TH Guide to Sri Lanka / Adventures in the Antarctic / Road Trip in California 
---