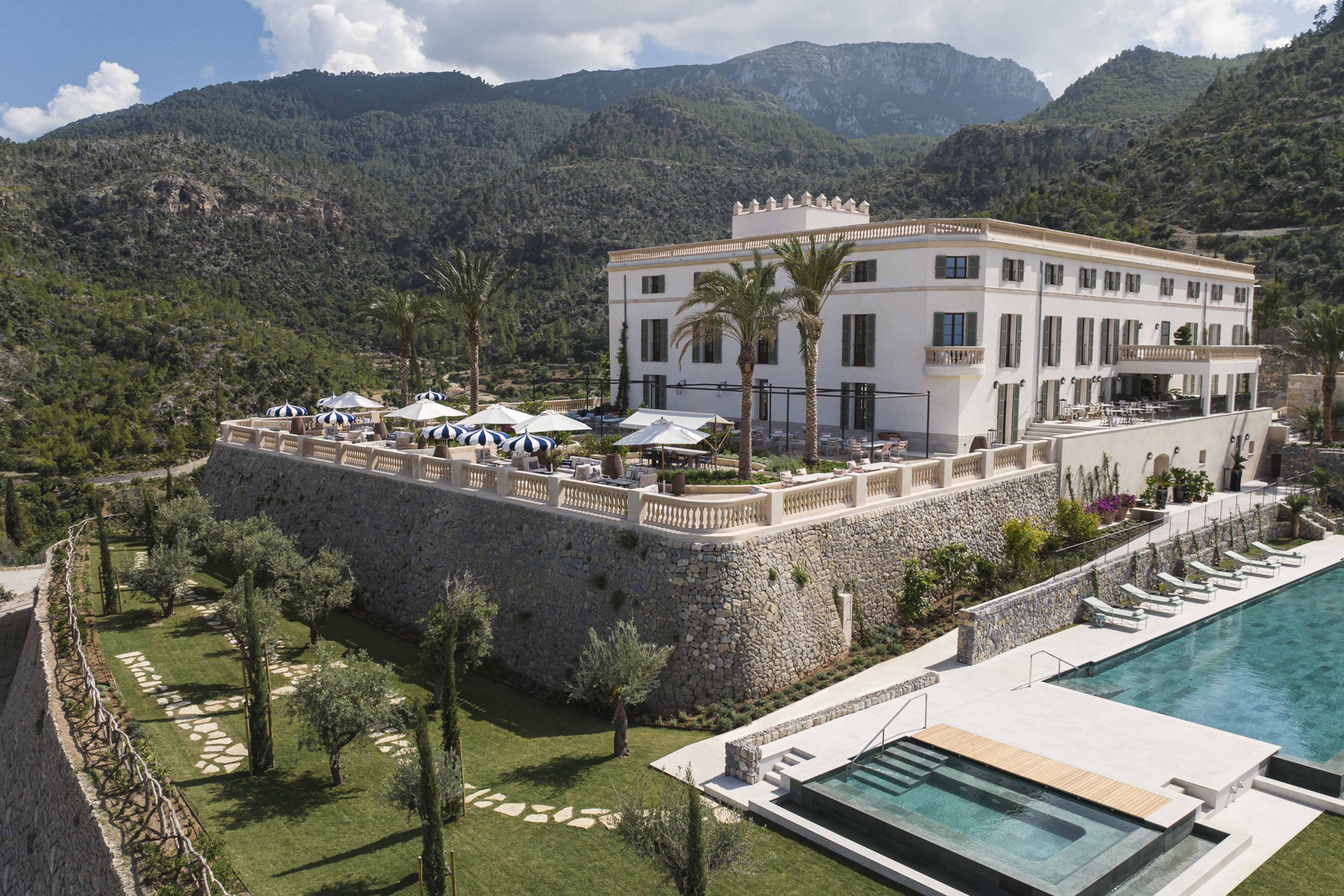 Exploring Son Bunyola Hotel & Villas, Mallorca's Newest Luxury Hotel – Review
Sir Richard Branson's passion project has finally opened its doors
Olivia Emily checks into restored Mallorcan finca Son Bunyola Hotel & Villas, the latest marvel in Richard Branson's luxurious Virgin Limited Edition collection.
Read the C&TH Guide to Responsible Tourism
Hotel Review: Son Bunyola Hotel & Villas, Mallorca
The journey to Son Bunyola is both breathtaking and nausea-inducing. You'll have to stomach winding roads and tight bends, ascending the cliff before sinking dramatically back towards the coast, hiker and cyclists occasionally emerging from the wayside. Trees burst from the craggy rock-face, pointing the way to the sea with their Storm Juliet-induced ragged branches. An occasional glimpse of the glistening ocean is all the more worth it as it swells into the coves on the north west Mallorcan coast.
Son Bunyola sits between the towns of Banyalbufar and Son Coll, and it has done since the 16th century. Nestled in a UNESCO World Heritage Site, there's a mediaeval defence tower dating back to the 13th century; now it houses stunning suites with sea and mountain views. It has been a working finca as recently as the 1970s, with agriculture firmly reflected in the terraced land with its interconnected waterways. Some of the Son Bunyola team lived here then as children while their parents farmed alfalfa, almonds and carob and kept sheep, goats and chickens.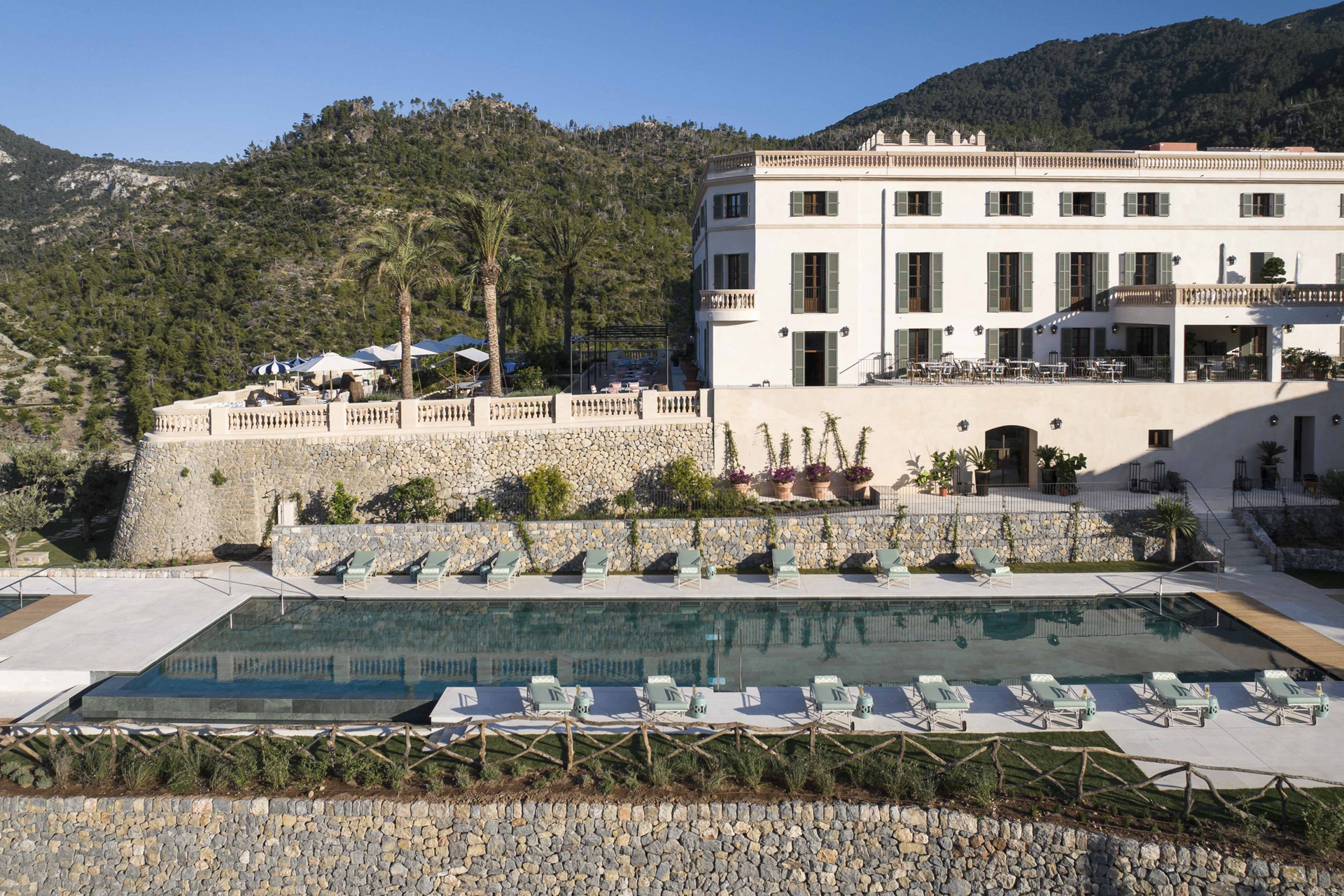 The land is thought to have been occupied for thousands of years with some buildings dating back to the 1500s, while others are brand spanking new – but you won't be able to tell which is which. Richard Branson, the man behind this boutique hotel (and many others) which opened only in June, has taken great care to blend his developments in with the existing property, and its surrounding environment. Well, at least his team has, namely local architect Gras, who has reimagined the estate with sensitivity and style.
It's 20 years in the making: two decades ago, Branson's plans to transform Son Bunyola into a luxury hotel – akin to his world-famous La Residencia hotel in Deia, further up the coast – were foiled when the local authorities disagreed with his plans. Hopeless and dejected, he sold the property and moved on, investing his time and energy (and money) into the ultra exclusive Necker Island in the apt Virgin Islands, the South African haven of Mont Rochelle, the luxurious Kenyan safari camp Mahali Mzuri, The Lodge perched in the Swiss Alps – and, in his business-polymath manner, many other things. Flash forward to 2015, and the local authorities look likely to change their minds; Branson returns, and work on Son Bunyola truly begins.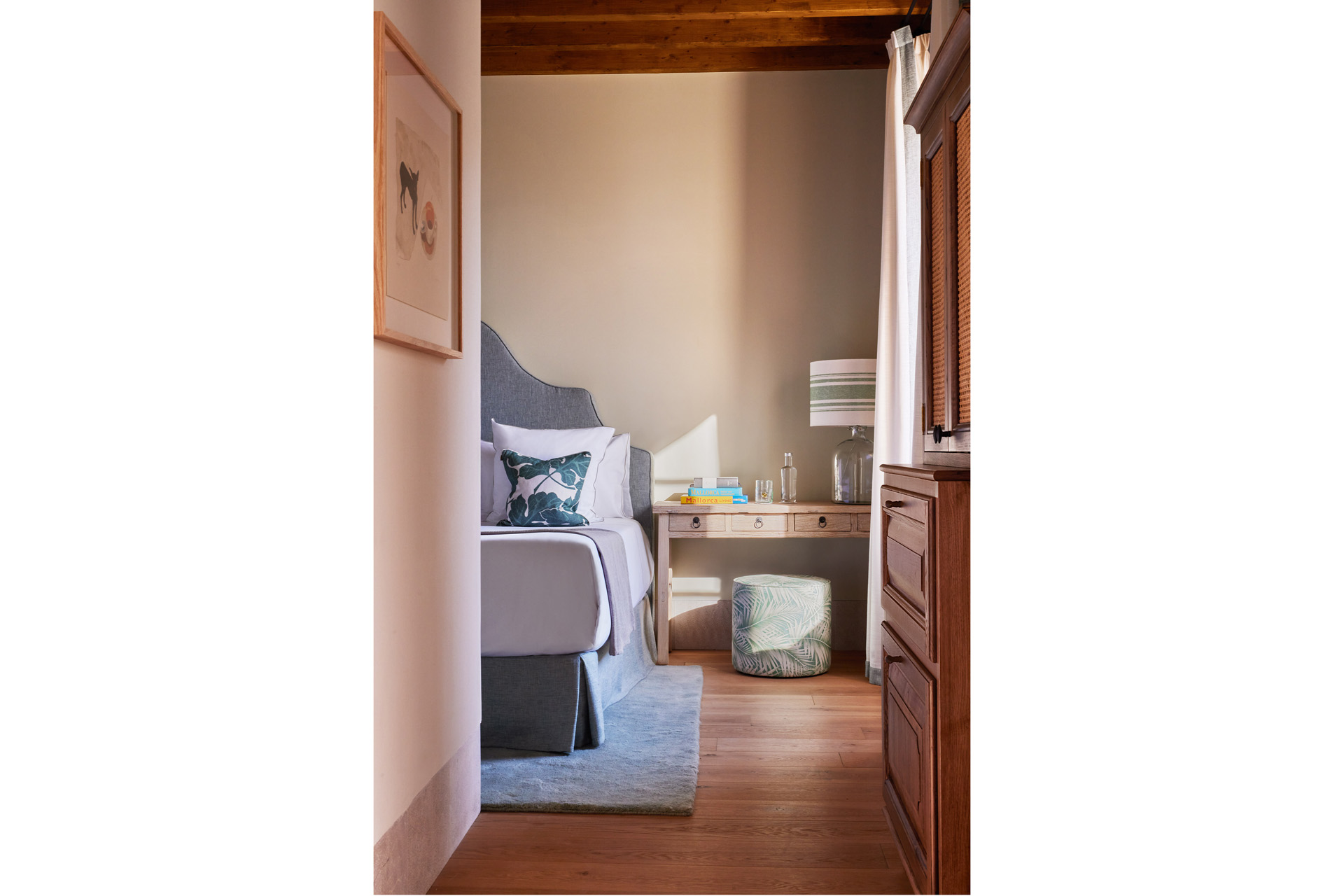 Once a working finca, you can find an ancient olive press in the spa and brick passages that collected olives travelling through to reach the press, as well as a stunning domed brick ceiling — all original, untouched features. But you'll also find a glimmering 28-metre infinity swimming pool flanked by an army of plush striped sun loungers, complete with the softest towels and cosy cushions which stretch round the corner into a pebble-pathed, secret garden style grassed area with olive trees. A posh white armchair of a lilo bobs along the pool's serene surface. Below, find legions of fledgling grape vines and olive trees, burgeoning to pull the finca back to its roots. Wine production is first recorded on the estate in 1275, when the finca housed 3,000 quartino bottles; Son Bunyola hopes to produce its own Malvasia wine again from 2026. It's a 1,300 acre estate in total – with almond and citrus fruit trees, too – and you can spend hours winding down its paths, on foot or scurried about in a golf buggy.
When I visit, each of the 26 rooms and suites (each named for a bird or a tree) is occupied, but there's still a homely, comfortable feeling to Son Bunyola. The cavernous corridors – some featuring original floor tiles, walls bedecked in subtle marble and stone in natural tones, interrupted by vibrant artworks – are never busy, and the expansive rooms are well insulated from the sound of any passing footsteps. But, for guaranteed privacy, book one of the three villas, each with its own pool, onsite team and chef, if you wish.
Inside your bedroom, find a bunch of flowers picked onsite next to the King size bed flooded with lovely neutral throw pillows, carefully selected by local interior designer Rialto Living. Hessian, linen and wood rule the day – pulling the sleekest of flat screen TVs down to earth – accompanied by subtle sea blues and greens. In the bathroom, find sumptuous bath mats and rugs (produced by the Eve Branson foundation) to keep bare toes toasty warm as you ready yourself for the day in front of the vast his and her sinks. Unwind in the rain shower with cascading warming water from the biomass-fuelled boiler, which will, after purification, water the plants in the hotel's gardens.
And on the bed itself find little hessian pouches of hot chocolate and olive leaf tea – just a taste of the many treats you'll be gifted during your stay, all specially selected from local companies, or companies local to or supported by Branson's other hotels. The real treat, though, is the terrace, where the main restaurant, Sa Terrassa, sits. Here, you'll dine on Spanish executive chef Samuel G. Galdon's exquisite cooking (who most recently has worked with Raymond Blanc at Le Manoir aux Quat'Saisons, but who cut his teeth at none other than Branson's La Residencia), sip expertly shaken cocktails and, frankly, struggle to pull yourself away. The centrepiece is a trickling fountain, and there are cute cove-style benches that jut out over the horizon – all untouched, original.
Breakfast is a buffet laid out just inside, with tables dotted across what used to be a chapel, signified in the arched ceiling and original altar. Around the corner, there's also La Tafona, a tapas restaurant occupying the old oil mill and retaining its original features. All of the delicious food is sourced as locally as possible – sometimes as nearby as the flourishing kitchen garden perched atop a hill opposite the hotel entrance.
Slip on your complimentary espadrilles to explore the surrounding area – or maybe don something a little more practical. The sandy undulating landscape takes no prisoners, especially not your calves on the descent to that shimmering sea you've been admiring; you can traverse three miles of coastline and pebble beach, staying within Son Bunyola's bounds the entire time, and hire kayaks to explore the clear waters. Or head up out of the hotel, preferably on a bike, to explore the cliffs that are oh so famous among cyclists. Don't worry: e-bikes can be rented through a local company connected with the hotel, too. You could also embark on a historical walk around the UNESCO site, play tennis on the on-site court, or join an outdoor yoga class (you'll find your own mat and block in your wardrobe). Or just lounge by that beautiful pool, cocooned by that (now much less nauseating) undulating landscape.
BOOK IT
Rooms at Son Bunyola start from 600 euros per night on a bed and breakfast basis.
Ctra. C, 710, 83km, 07191 Banyalbufar, Illes Balears, Spain