Caiti Grove has an epiphany under the Northern Lights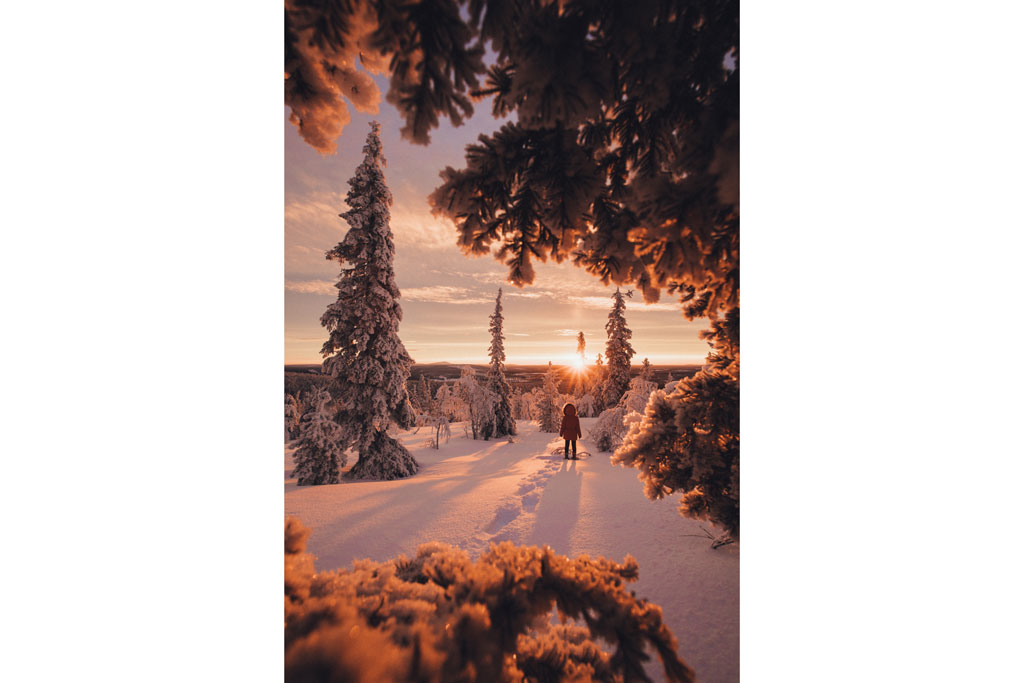 Stars flicker in the jet-black sky as we walk to the end of the jetty. An owl takes flight from a fir tree and shakes snow onto the ground below. The lake stretches out before us and we step past a swimmer's ladder and off the jetty onto the ice. We walk 10m towards the middle of the lake where the water is deeper, and choose a spot. Our guide presses 'On' and, with that, the silence is gone.
A juddering electronic whizzing whines through the air – he holds up a 5ft-long drill with more than a foot of a Fusilli-esque twisted blade. Pressing the drill to the surface, the ice quickly turns to crystals and a dent in the glassy surface emerges. He turns off the machine to clear grated slithers of new snow, before starting again. Once finished, a hole four inches wide reveals the lake's dark water beneath. From a camping chair 3ft from the hole, I thread a maggot onto a hook attached to a line and drop it through the aperture. Every so often, I shake it a few times to try and make this submerged treat tantalising to the carp beneath – but surely this wriggly meal should be an other-worldly treat? I look up at the sky and see a shooting star, and wonder if it might be time for a glass of sima as we had last night. I glance at my watch – 3.10pm. Nope – not even close.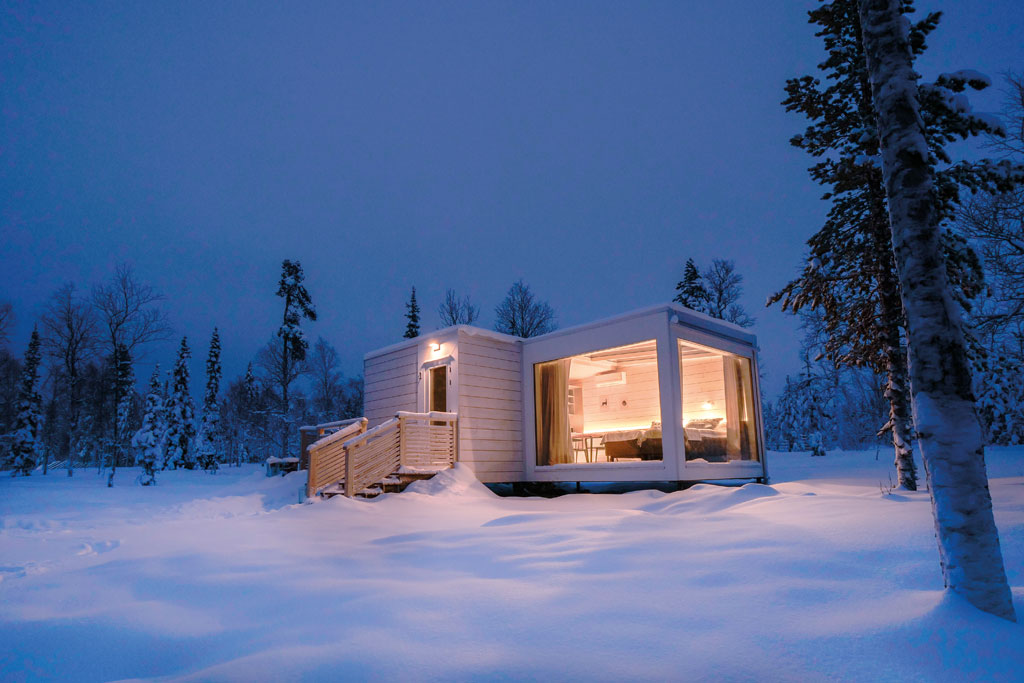 Up here in Finnish Lapland, mornings during the Polar Nights around Christmas begin with a dark dawn glow, before they brighten for a few hours and then plunge into pitch black in mid-afternoon. Laplanders don't restrict outdoor activities to daylight hours; they think nothing of a long hike and fishing expedition surrounded by a glittering sky of stars.
After a warming coffee in a nearby log cabin, we ride our snowmobiles back through the woods; we inch carefully on a track between trees and hurtle across frozen lakes, the moon illuminates everything as bright as a stadium floodlight. After we hand back several kilos of hardcore warm outerwear – a Batman-type jumpsuit, goggles, gloves and boots, we retreat to our hotel.
At the Northern Lights Ranch, bedrooms stand deep in the snow and proper boots and coats are essential for a snowy walk to the hotel's restaurant. After dinner of roasted moose and boar with loganberries, guests are openly eager to return to their rooms. Nordic-style bleached wood and grey woollen upholstery, these bedrooms are simple and minimalist, but their ceilings are the talking point; reinforced glass reveals a universe of stars which shine especially clearly as spectacular shooting comets stream across the sky.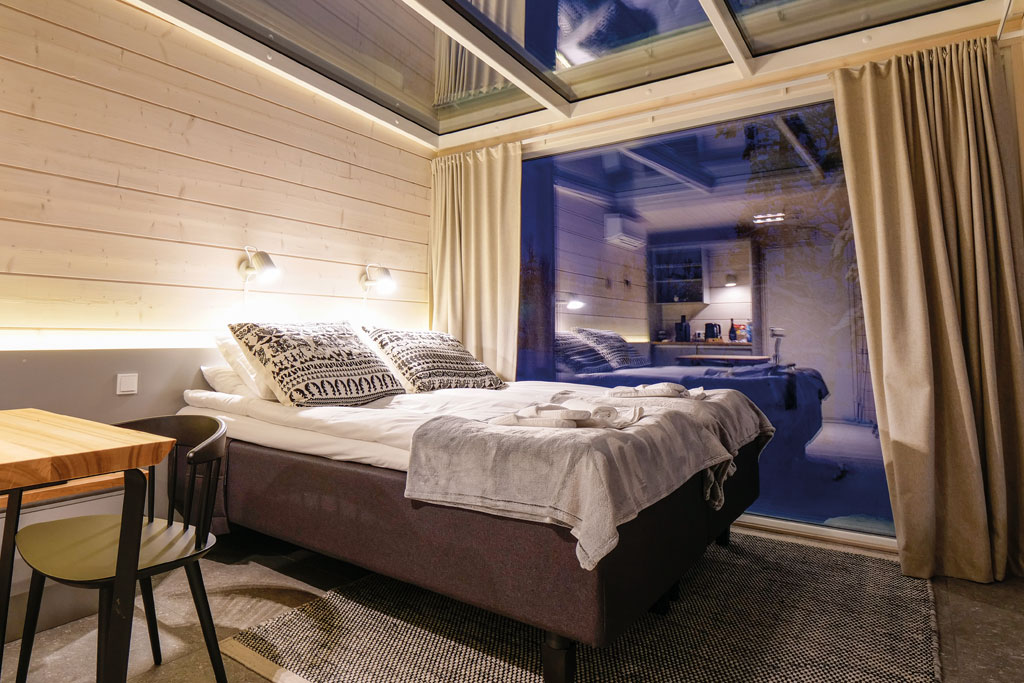 The reindeer in the woods live like wild animals, but their tags reveal they actually have owners who keep them as livestock. They are rounded up every year to be counted, sometimes bringing a new calf born during the year, before being let go to roam the forests. At Levin Poropalvelu's reindeer farm, some are caught for the winter and trained to pull visitors around an enormous lake. Sitting in the wooden sleigh full of thick rugs, the trainers tell us not to pull the reins – the reindeer know the way and like to stick together. They set off at a canter – their friends and relations alongside, who also pull more sleighs of nervous tourists. After a year wild in the woods, the deer are timid – but fast on the ice.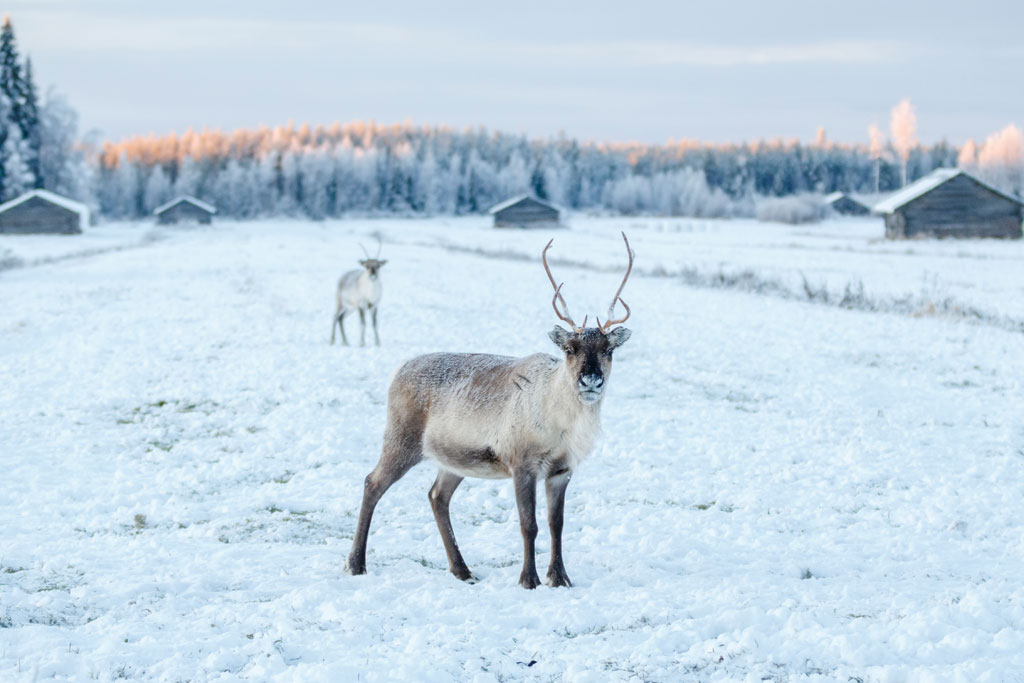 When the reindeer return to their hay, their owners make Glögi in a wigwam adorned with reindeer horns. They keep the door firmly shut to preserve the heat from an open fire that roars in the middle, its smoke swirls towards to a big black iron flue that draws it upwards and out of the tent.
Lapland encompasses the most northerly parts of Sweden, Norway, Finland and a corner of Russia. It is an area historically populated by indigenous Laplanders who share languages related to Finnish, Estonian and, strangely, Hungarian.
Half an hour south of Levi in Kittlia, we step into a little wooden cave and then descend into Saamen Kammi, a restaurant run by a Lappish family keen to show the traditional way of eating and socialising. An open fire burns in the centre where sides of salmon on slabs of wood are propped up to smoke. Reindeer – sautéed, rib cut, smoked – is served next to tongue and heart. Finnish children queue for their dinner, eager to explain that they're learning to shoot game and will get their own guns when they're 11.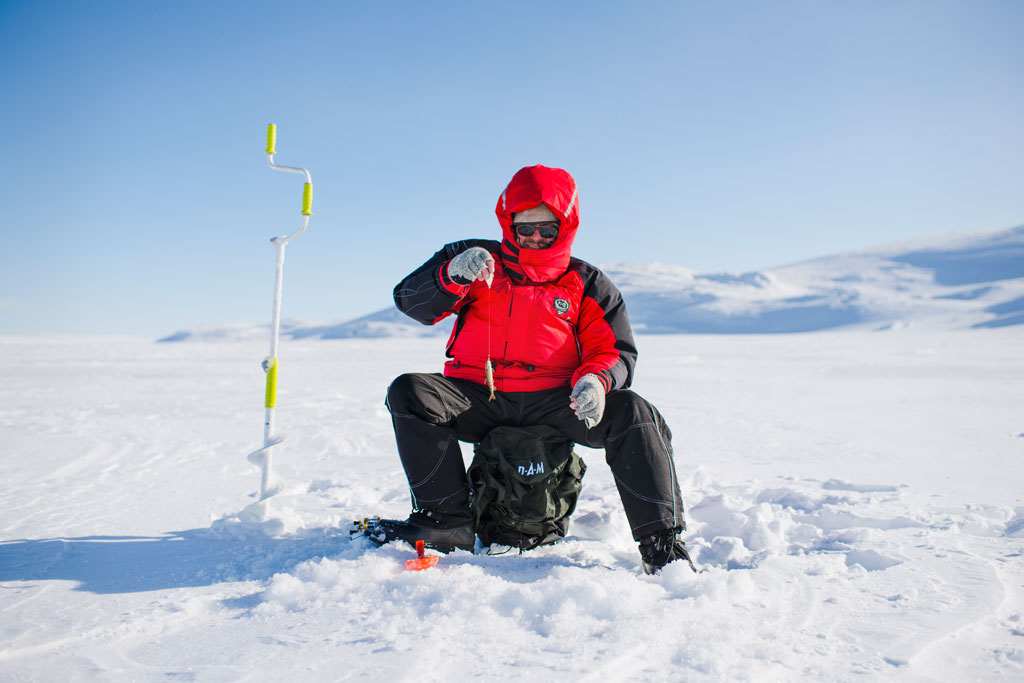 Reindeer hides decorate the wooden walls alongside Lappish crafts – drums, rugs and art. After dessert, a loud drumbeat rings out through the restaurant and silence descends. The owner Niiles is about to perform. His song is long and haunting; the drum beats, the traditional whoops of the language become part of the sound as are cries of animals. 'The wind blows through my heart,' the theme is sad and timeless and expresses the tough life the Lappish people have often endured.
Later, younger men give us a Country and Western-feel song set. It closes with the soft hooting sounds of the owl, centuries old but still here in the woods. Outside, the darkness is enchanting, the sky somehow high and overwhelmingly close at the same time. Back in Levi, a karaoke bar on the highstreet is steamed up, young people crowd round songbooks and discuss what to perform.
Just out of the village, a hill rises suddenly out of the ground and, as we glimpse a green tinge of the Aurorea Borelais, we climb towards it with excited expectation, quickly turning to frustration as our feet sink two feet into the snow with each step. At the top, the hill looks down onto a lake which reflects the green swirl in the sky above us. The vision moves slowly across the landscape and back again. An hour later, we're still here, transfixed by this painterly spectacle of black, white and green.
A deep link to our own long-buried past is not so far away. If we want to explore a spiritual realm obscured by the noise of modern life, a long stint with a fishing rod under a vast primordial dark sky of stars could be a good place to start.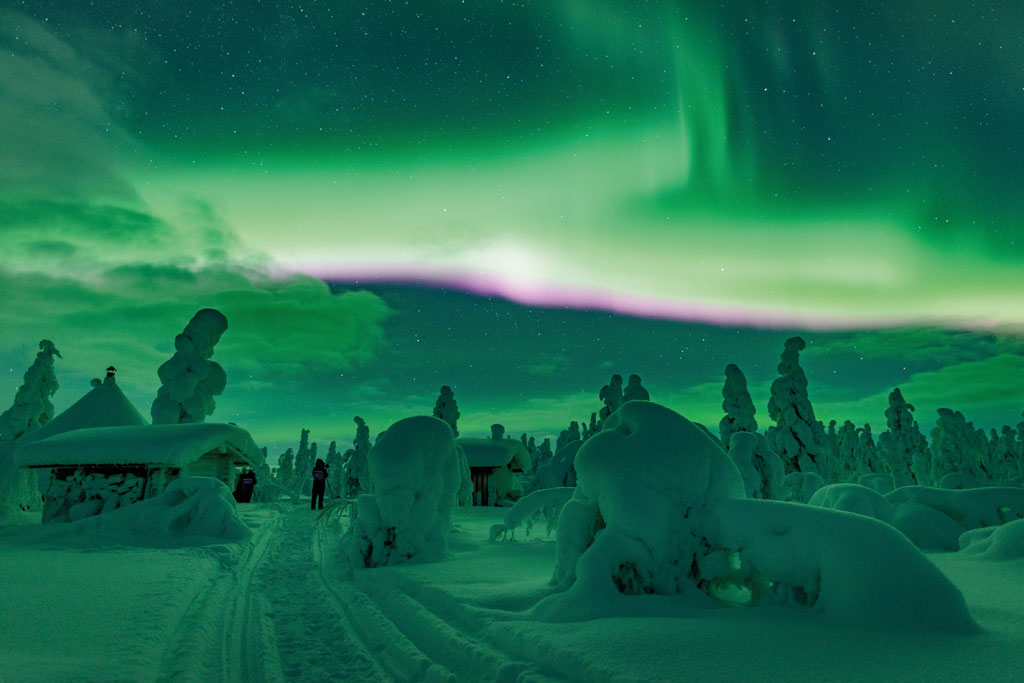 BOOK IT
Doubles at Northern Lights Ranch, from £243pp per cabin (theranch.fi). Ice fishing with Wild Nordic Levi (wildnordic.fi). For more information on Finland see visitfinland.com
Finnair flies direct from London Gatwick to Kittilä in Finnish Lapland from 15 December, 2019 to 8 March, 2020. Fares start from £210 return in Economy Class, including all taxes and charges. For further information and to book, visit finnair.com or call 020 8001 0101.
READ MORE:
The Best Ski Hotel in Europe / 48 Hours in Umeå / The Weekender: New York
---