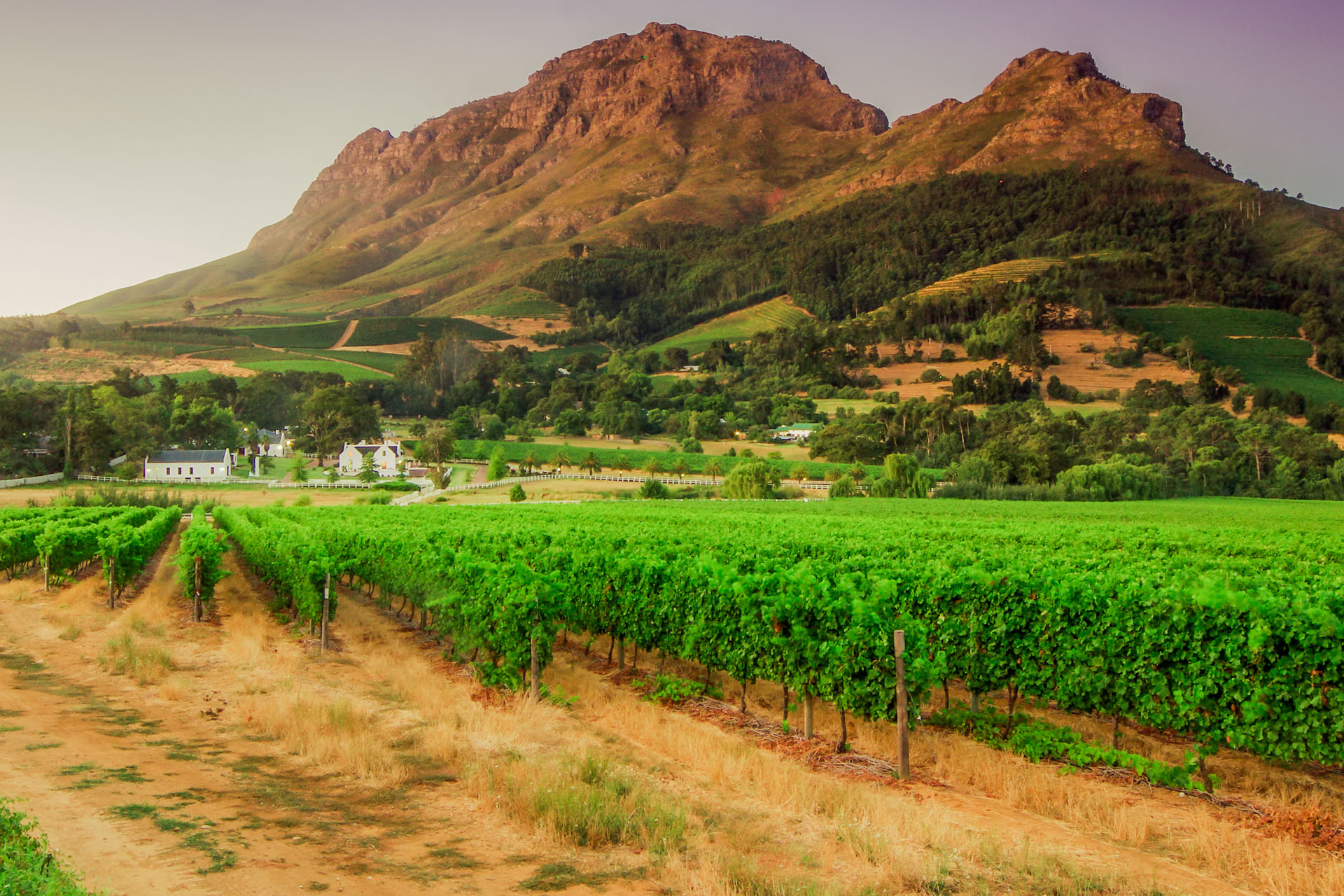 South Africa's Best Wineries
---
Uncover the best South African wineries with Lara Jordaan
As an expert in South African wine, Lara Jordaan shares her knowledge of some of her favourite wineries and what to expect from the interiors of each bar to the taste of the wines. This guide will help you explore all avenues of your senses when it comes to South African wines.
Read the C&TH Responsible Tourism Guide
South Africa's Best Wineries 
My love for wine started when I worked on some of the great wine farms near my home in South Africa, followed by one of the best jobs I ever had, in wine retail. We imported and exported a lot of wines and I was very fortunate to taste iconic ones from around the world. I had a great mentor and her love for Italy and Burgundy made me want to explore the world of wine even more. After that, I moved to Cape Town, where I worked as a sommelier at some of the most famous restaurants there. Eventually, I pursued a career as a beverage consultant, with a dream of opening my own wine bar, however, Covid hit and those dreams had to go on hold. 
As Covid ended I made the move to London, where I now work at The Kudu Collective, a small family-run collection of restaurants, a bar, private dining space and gallery in Peckham. As GM at the groups wine bar, Smokey Kudu, I want the bar to be a fun place for locals to mingle, but also a destination in itself with a great vibe and delicious drinks. My focus now, as well as introducing some amazing new wines, is to make the cocktails seasonal, balanced and affordable.
Creation
Creation is a little piece of paradise in South Africa's sought-after Hemel-en-Aarde Valley. The name 'Creation' is a tribute to the riches Mother Nature has bestowed upon the scenic estate. They also planted their first vines in 2002 when owners Jean-Claude (JC) and Carolyn Martin arrived on the farm.
JC and Carolyn are the charismatic and inspiring couple behind Creation Wines. He is a fantastic winemaker (producing some of the best Chardonnays and Pinot Noirs) and Carolyn oversees everything else. It is a destination offering a wonderful range of experiences, including an exciting repertoire of no less than seven wine and food pairings. Carolyn and her team are absolute perfection and pride themselves in their service and experiences on offer. You are guaranteed a fabulous time when visiting.
Creation is also a WWF Conservation Champion and is committed to conserving their natural heritage by implementing long-term biodiversity, as well as sustainability programmes. The view from their 'stoep' is also spectacular overlooking all the fynbos and vineyards. 
Stark-Conde
Stark-Conde is a hidden gem in Stellenbosch. The winery is intensively family-run, a German father, Japanese-German daughter and Cuban-American husband co-own the winery with their two daughters, working weekends to help in the Postcard cafe. Winemaker and co-owner, Jose Conde hand-crafted his first-ever Cabernet Sauvignon vintage in a storeroom of the winery in 1998. Today, winemaker Rüdger van Wyk creates fine wines with minimal intervention. Production is still relatively small (+/- 8000 cases) and they're committed to producing hand-crafted premium wines (winning trophies and achieving high scores) with a distinct character and sense of place. 
The Stark-Condé vineyards are farmed organically and 80% of the estate remains rugged virgin terrain. The flora mirrors the rich biodiversity of the neighbouring Jonkershoek National Park, which has been declared a UNESCO World Heritage Site for its fynbos biome.  They also have one of the most beautiful tasting rooms. The Balinese tasting room floats on its own little island in the middle of a dam with 360 degrees of the Jonkershoek mountains and vineyards. The staff are really professional and know what they are talking about. One for the Cabernet Sauvignon lovers!
De Grendel
De Grendel, meaning latch or lock in Dutch, stretches out over almost 330 hectares on the fynbos-covered slopes of Tygerberg Hill. One of Cape Town's oldest farms, De Grendel has a magnificent centuries-old history within the Graaff family (knighted as a baronet by King George V, becoming Sir David Graaff, first Baronet of De Grendel). 
Few places on earth offer such a spectacular outlook. The breath-taking view of Table Mountain from the farm, 350 meters above sea level, is arguably one of the best in the Cape winelands. On a clear day, you can see all the way from Table Bay to False Bay, and sometimes even on to Cape Point. Upon entering, you will be greeted by a dramatic expanse of land that is home to their vineyards, carefully crafted by Charles Hopkins, producing prestigious wines of consistently exceptional quality. Charles has been at De Grendel since the very beginning of winemaking and even designed his own cellar. He is one of the best winemakers in South Africa and just an all-round good guy.
They also have a fabulous restaurant where you can enjoy contemporary Cape Town cuisine, designed to complement their range of De Grendel wines. Or you can just relax in one of their outdoor spaces sipping on their excellent wines and having a nibble while admiring the view.
Rainbow's End
"Rainbow's End" is the name of the Malan family's wine estate near Stellenbosch. It is a name that conjures up associations, among these are the divine promise of sunshine after rain, of commitment to the earth, of a destination and a pot of gold. 
They specialise in top quality, boutique, family-produced estate red wines and for me personally, produce one of the best Cabernet Francs in South Africa. The view from their newly built tasting room is breathtakingly beautiful. It is nestled between the Stellenbosch and Franschhoek mountains and if you ever happen to be there after a rainy day you will see why it is called 'Rainbow's End'. The service is unpretentious and very friendly, and you can easily sit on the deck the whole day without realizing it. Wine, cheese and surrounded by mother nature, paradise!
Hartenberg
Hartenberg is located on the slopes of Bottelary Hills bordering Stellenbosch. It is a family estate where nature provides the perfect backdrop to grow, produce and share award-winning wines. Summer at Hartenberg brings lunches on the terrace or picnics on the lawns, followed by games of boule or just a nap. And might I add, they make the best snoek pate in the Cape Winelands! During winter you can enjoy their big reds next to a fireplace with charcuterie and olives. Their Wetland Conservation Area alongside the vineyards makes for a beautiful setting for walks.
Cellar Master Carl Schultz philosophy is to produce soft, rich, yet elegant wines that all have the ability to age and retain brightness of fruit – wines that are timeless, classic and fresh. He has been with Hartenberg since 1994 and it shows in the quality of the wines. I've always listed their wines, either in retail or on a wine list. Their whole range of wines really are spectacular and can be enjoyed any time of the day, with or without food.
Featured Image (c) Getty.