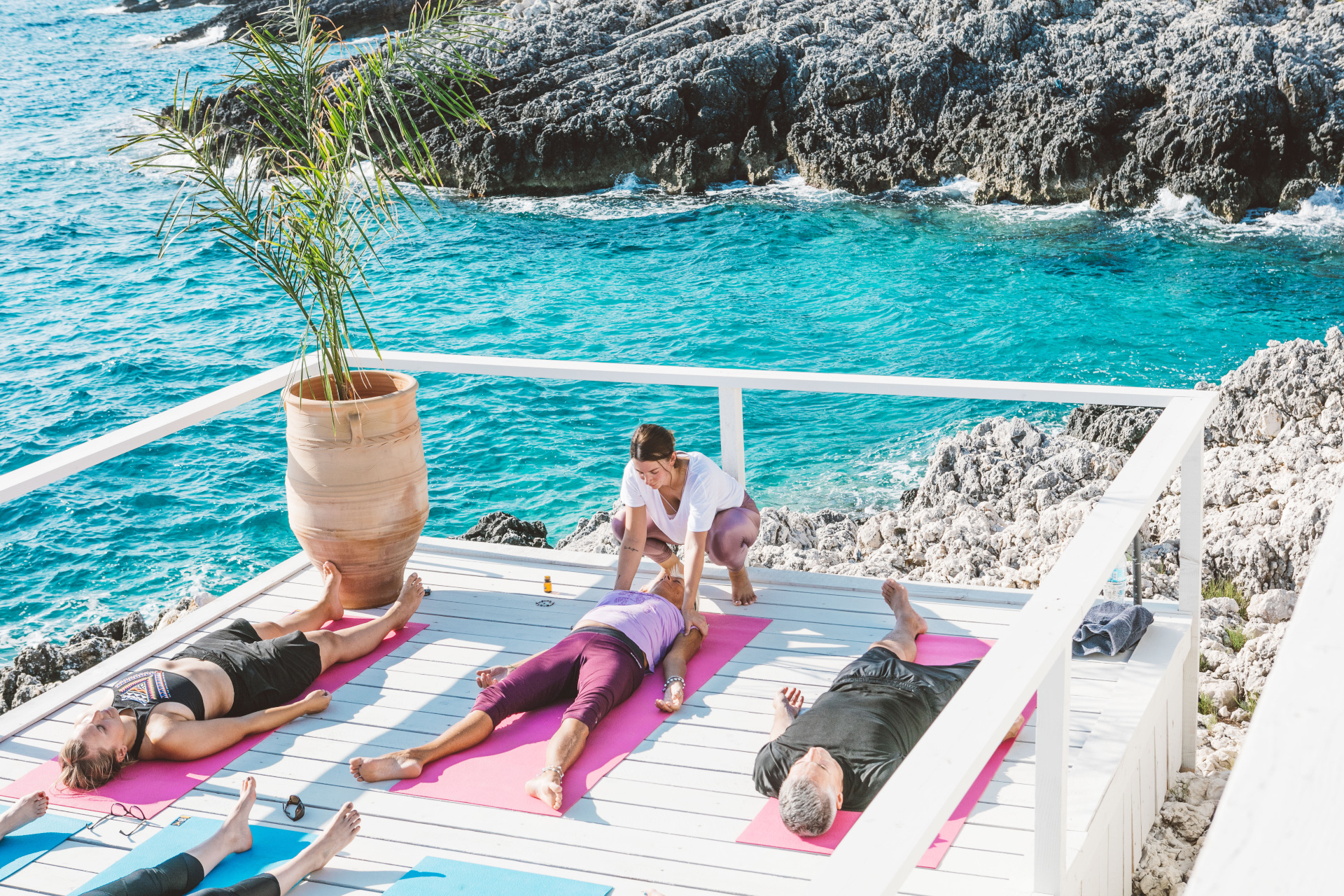 The Best Wellness Breaks
---
Seclusion and serenity coming your way
With the world gearing up again and life returning to its once hectic nature, you might find yourself in need of a break. Whether you're looking for a retreat to escape and write in peace, a place to practice yoga and Pilates, or just somewhere to catch up on some sleep, Camilla Hewitt has picked out the best. So gather your notebooks and sun cream, close your emails and endless tabs, and get ready to switch off, lie back and unwind at one of these wellness breaks.
The Best Wellness Breaks
The Yoga Class Retreat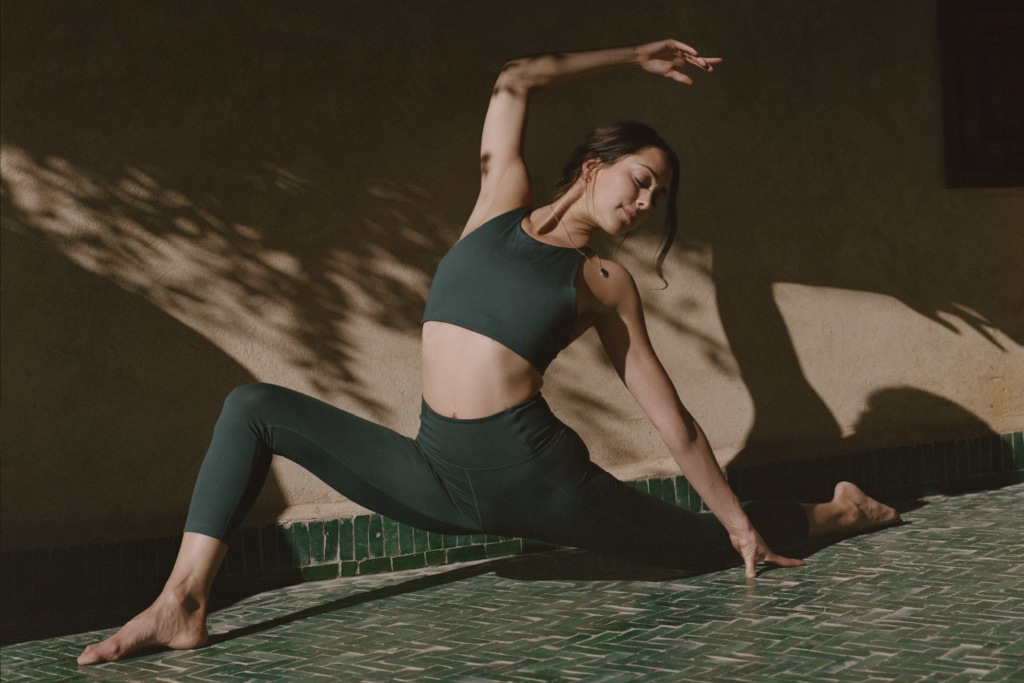 A 'The Yoga Class' retreat is a holistic wellbeing experience. Expect nourishing movement for the body, stillness for the mind and food for the soul.
The location is Riad 42, Marrakech. A luxury, boutique, design led Riad in the heart of the Marrakech Medina. A well-being oasis with a soft neutral palette; warm woods, hand woven textiles and mixture of traditional architecture and a minimal yet modern serenity and sense of calm luxury. The Riad has a roof top terrace with views out to the Atlas Mountains, beautiful rooftop soft seating areas, long communal dining table and plunge pool. Spend time alone sky gazing in a quiet nook or socialise with the group around the plunge pool.
Your teachers are Laura Dodd, Yoga teacher and 'The Yoga Class' Founder alongside Bethany Watts, a 'The Yoga Class' favourite and experienced Yoga, Pilates and Barre teacher. You will be guided through a dynamic morning session of Yoga or Pilates to energise, strengthen, release and connect body and mind. Your evening session will slow down and take you back to centre and into deep relaxation with restorative flows and Yin Yoga, including meditative and breath-work elements. A perfect balance of movement and stillness to find harmony for the body and mind. All levels are welcome.
Skye Saker, author of Vegetarian cookbook 'And more'. will be creating nourishing plant based sharing plates for beautiful eating experiences, combining local, fresh and seasonal ingredients. Expect bright and creative dishes, layering flavours, textures, colours and influences.
Also on offer, rich group experiences to the Atlas Mountains, Agafay desert and some of Marrakech's best museums and restaurants.
The Yoga Class Retreat is taking place between 12-17th May, prices start from £1,150 not including flights. theyogaclass.co
Puente Romano Sleep Experience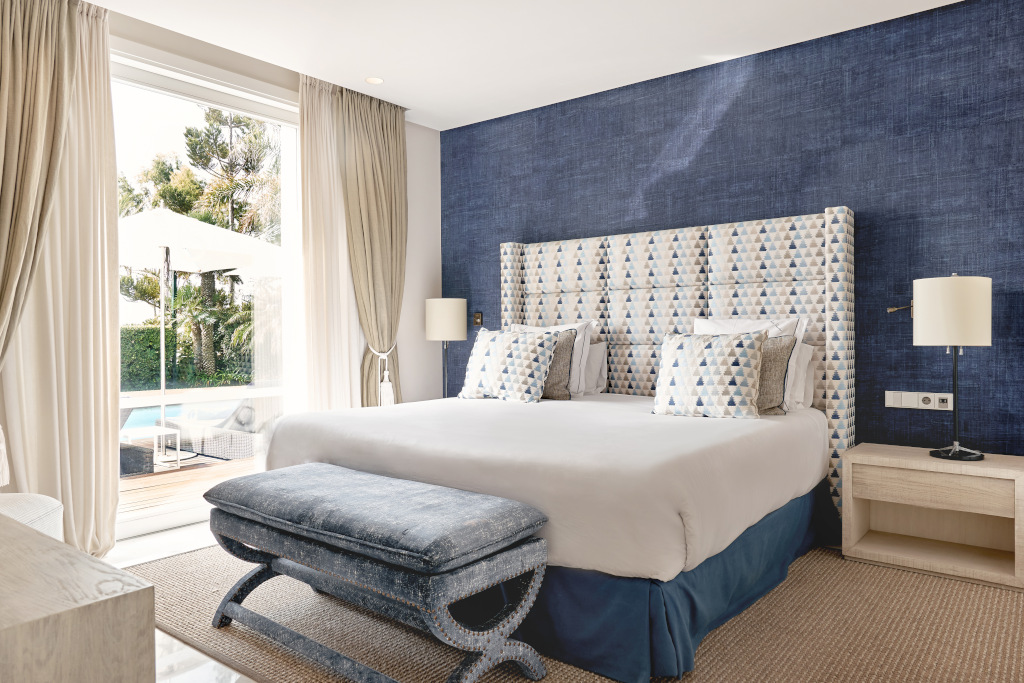 With studies reporting that 30% of the population suffer from sleep disorders worldwide, the five star Puente Romano Beach Resort has partnered with the pioneers of the perfect sleep; HOGO to offer sleep coach services, in a first for the Mediterranean.
Perfected with over 30 years of scientific research and clinical studies, HOGO has created the perfect environment for the body to regenerate naturally during sleep to reduce our biological age, increase the production of melatonin and improve blood circulation. It's the first and only resting system that has been designed to protect sleepers against electromagnetic pollution and improve health.
Puente Romano's luxurious residence; Villa La Pereza has been transformed into a haven of relaxation, inviting guests to experience a personalised experience on one of the world's most unique resting systems with bases that can be adjusted according to the ergonomics of a person's back. Guests can enjoy a sophisticated sleep along with a consultation from a professional HOGO sleep coach, an in-room sleep series as well as a Six Senses massage, yoga, meditation and a menu based on dishes that boost melatonin.
The Villa La Pereza HOGO Sleep Experience at Puente Romano Beach Resort starts from 8,000 EUR. puenteromano.com
PACE by Peligoni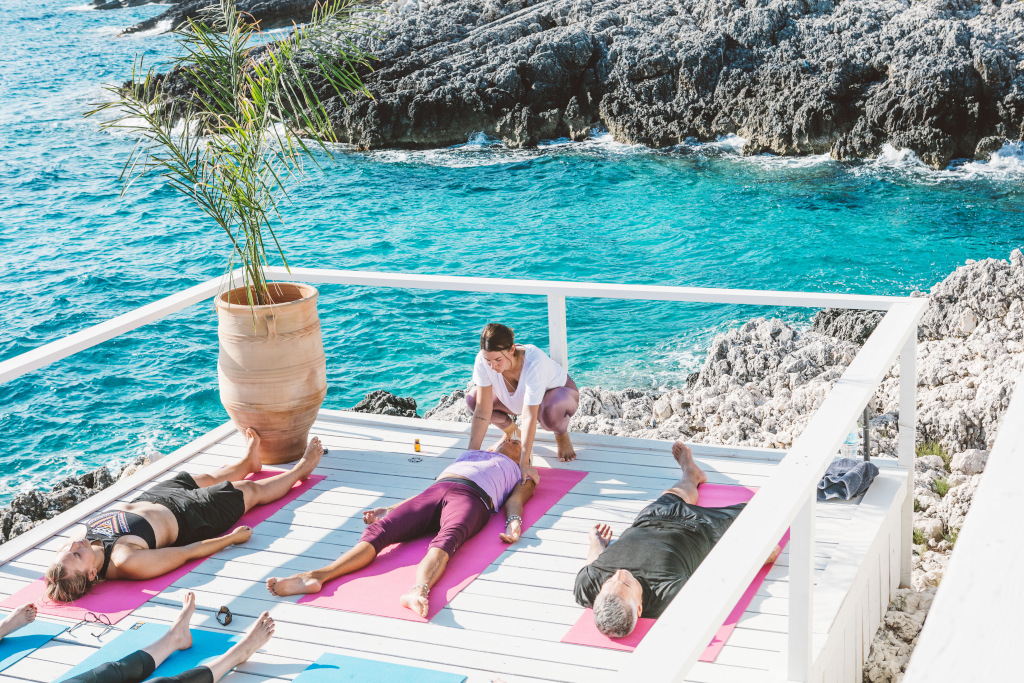 What better way to prepare for the summer than with PACE by Peligoni, the Club's new five day wellbeing programme that will kick your summer firmly into action from Monday 23rd to Friday 27th May.
A traditional 'wellness week' this is not. Rules are replaced with opportunity to reset, refresh and revitalise. This is a person-centred approach to wellbeing, Peligoni style – that recommends fitness classes and long lazy lunches in equal measure. With a focus on feast-style dining, group workshops and fitness classes – with a host of stunning villas available to book – this is perfect week to rally your friends for some fun in the sun.
Think wholesome activities such as sunrise paddle boarding, yoga sessions, breath-work and beach runs against the backdrop of Zakynthos island — whilst making time for cheffed lunches, evening BBQs and plenty of rosé.
Restorative yoga, HIIT Cardio, Pilates, and Barre classes curated by Oyogo London are offered hand-in-hand with swim & run clubs, interactive workshops and talks exploring topics such as nutrition, stress management and relaxation.
Irish brothers Steve and Dave Flynn, known as The Happy Pear, are sharing their knowledge on a healthy lifestyle, their journey into the industry and host some fantastic feasts. Lily Simpson is bringing a slice of Detox Kitchen to Zakynthos. Expect flavoursome salads combined with fabulous company.
Award-winning radio DJ & Bestival founder Rob da Bank (a Peligoni regular) is hosting guided meditation classes and The Sleep Retreat – dubbed the antidote to 21st century insomnia, anxiety and general mayhem of daily life. Rob's classes aim to offer ways to relax, unwind, switch-off and achieve quality sleep. With a movable feast of exercises from a yogic sleep Yoga Nidra session led by Rob to breath-work coaching, Yin Yoga, gong bath and walking meditation.
For £315, you will receive a week's club membership, a full watersports upgrade and a programme of fitness and wellness events. peligoni.com
Another Place Writing Workshop
Adventure and travel journalist, Joe Minihane, will take you on a writing journey from the water's edge into the library at Another Place. Joe is the author of Floating, a memoir about wild swimming, anxiety and friendship, while his travel writing has appeared in The Guardian, The Sunday Times, The Independent and Lonely Planet. Joe will discuss how water and nature can spark memories, making your non-fiction writing succinct and powerful.
The two night break starts with a swim in Ullswater with Joe and renowned cold water swimming expert, Colin Hill. The writing workshop then takes places in the library, where you'll spend an hour discussing how to turn the notes and ideas from the morning's swim into a piece of writing. This will include looking at writing about swimming and nature by authors including Roger Deakin, Jessica J Lee and Nina Mingya Powles. Joe will supply copies of the material to guests before they arrive, but the library will have copies also. There will be the opportunity to consider sentence structure and how to make work succinct and powerful, and how you can use the specifics of nature to delve into bigger themes. Later, you can join a night swim in Ullswater with Colin, depending on the date this could be a stargazing swim or full moon swim.
If you are keen to spend more time exploring the Lake District, Another Place is home to Willow cottage, designed by Lynsey Ford, winner of Interior Design Masters. Inspired by the views, the two-bedroom cottage has natural wood and a palette of rusty colours and greens. Next to the hotel and with full access, Willow cottage is dog friendly and ideal for a family or group of friends. After a day in the fells it is the perfect place to get cosy, complete with a reading nook for revisiting your words from the workshop.
From £415pp, based on two people sharing a standard house double room for two nights. another.place
READ MORE: Wellness Festivals To Book For 2022 / The Best Properties For Wellness / Wellness Podcasts To Listen To This Year