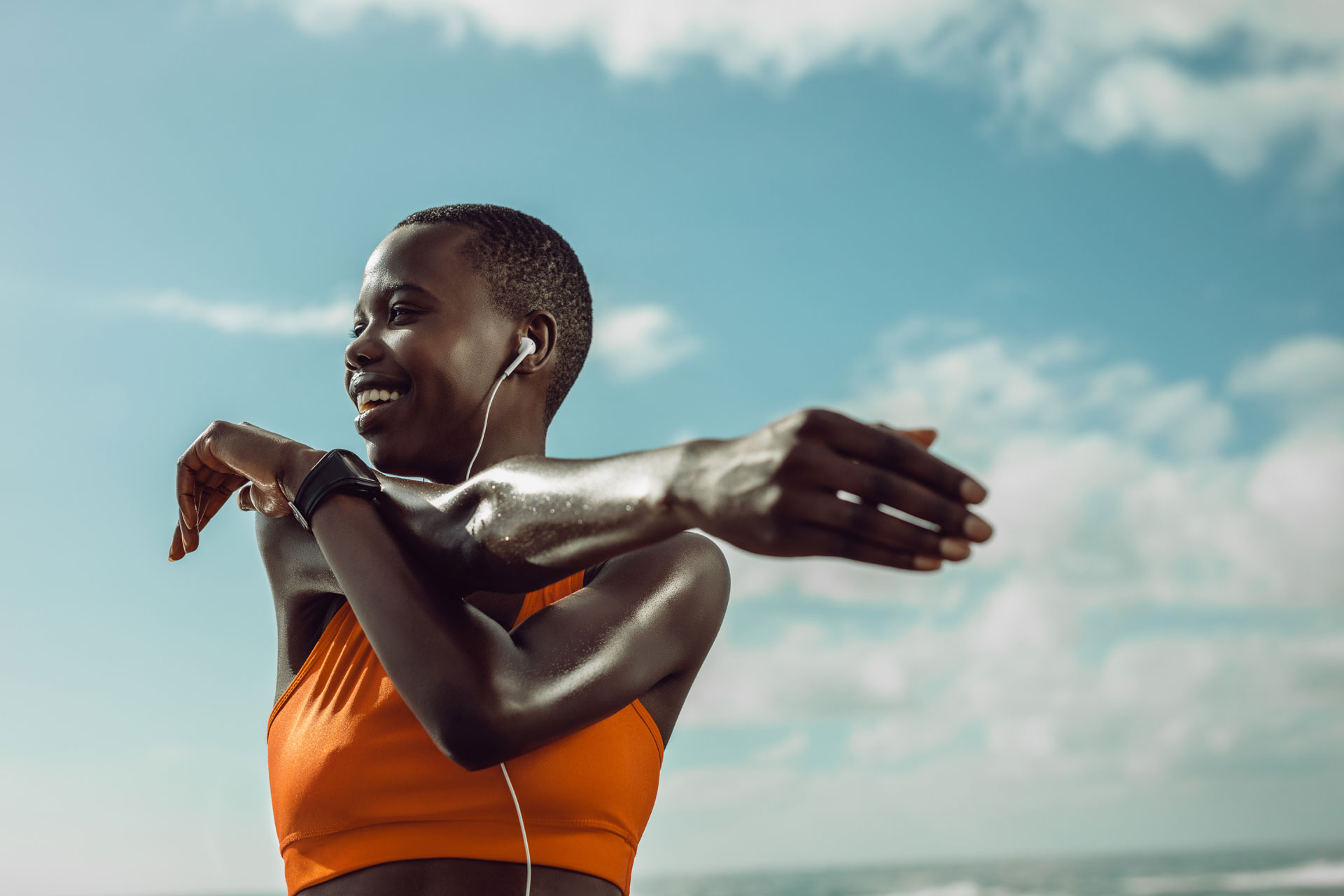 Wellbeing Podcasts To Listen To Now
Headphones in, world out
Whether you're looking for tips on running, or coping with anxiety, these are the best wellbeing podcasts to listen to now, filled with practical and interesting advice.
Wellbeing Podcasts To Listen To Now
Maintenance Phase
Best for: Nutrition tips
Led by Michael Hobbes and Aubrey Gordon, Maintenance Phase is the ideal nutrition podcast for those looking to venture away from damaging fad diet culture. There's episodes on everything from workplace wellness to Goop, apple cider vinegar to the food pyramid. maintenancephase.com 
Body Stuff with Dr. Jen Gunter
Best for: Learning how your body works
Undoubtedly one of the best wellbeing podcasts to understand your body better. Whether it's unpacking what gut health actually means, what a detox is (disclaimer: it's more to do with your illusory sense of control). You'll end up feeling so much more informed on your lifestyle and be able to fend off the sticky myths out there, plus it's also a fascinating, accessible listen. ted.com
Feel Better, Live More
Best for: Learning about health
View this post on Instagram
'Health has become overcomplicated – I am to simplify it,' says Dr Rangan Chatterjee, GP, author, and host of the BBC's Doctor In The House. He brings over 20 years of experience to Feel Better, Live More, a podcast which delves into some of the biggest health issues and questions of our time, helped by industry professionals, doctors and researchers. Past topics have included childhood obesity, friendship, running and brain health, and you can guarantee well-researched, informative content which offers practical advice for listeners, dispelling common health myths along the way. drchatterjee.com
In All Honesty with Michelle Elman
Best for: Agony aunt
View this post on Instagram
For those looking for more of a life coach wellbeing podcast, don't miss Michelle Elman's agony aunt style 'In All Honesty', in which she answers listeners' woes each week in the style of your honest friend. The podcast summarises: 'In All Honesty makes personal development accessible, with help from a professional, without the six-week waiting list.' michelleelman.com
Happy Place
Best for: Self care
Fearne Cotton's chart-topping podcast sees an impressive line-up of guests discussing life, love and loss in a bid to help listeners find their own happy place. With two decades of interviewing under her belt, Fearne is a master at creating insightful and interesting conversations, and each episode leaves listeners with actionable self-care tips. Guests range from world-famous singers (Ellie Goulding, Gary Barlow and James Bay, to name a few) to founders of inspiring companies, such as Sophie Walker who heads up the Women's Equality Party. officialfearnecotton.com
Deliciously Ella
Best for: A balanced life
View this post on Instagram
Do we need a digital detox? What is a healthy gut? Can a morning routine change your life? These are just some of the questions addressed in this inspiring and informative podcast, hosted by husband and wife Ella and Matthew Mills, founders of the Deliciously Ella brand. Topics range from nutrition to friendship to happiness, with previous guests including James Wilks, producer of the best-selling documentary Game Changers, journalist and host of the How To Fail podcast Elizabeth Day, and Buddhist monk and meditation teacher Gelong Thubten. deliciouslyella.com
It's Complicated
Best for: Reducing screen time
Founder of digital wellbeing movement Time To Log Off Tanya Goodin is back for the fourth season of her digital detox podcast series It's Complicated, which sees different guests discussing their phone habits and sharing tips for living a more screen-balanced life. Kicking off the season on 28 June – UK Unplugging Day – is Olympic rowing gold medallist Pete Reed, who was paralysed from the chest down after a spinal stroke last year. Other guests include entrepreneur Grace Beverley, YouTube star Jack Edwards and sleep physician Dr Guy Leschziner.
Well Far
Best for: Keen runners
View this post on Instagram
Whether you're a beginner or a seasoned pro, this podcast is filled with helpful tips for runners. Hosted by Women's Health Digital Editor Amy Hopkinson, Well Far covers everything from running tech to race day nerves, with past interviewees including Olympic athlete Kelly Holmes, journalist Bryony Gordon and fitness guru Alice Liveing. Listen here
Food For Thought
Best for: Debunking wellness myths
View this post on Instagram
In her podcast Food For Thought, nutritionist Rhiannon Lambert aims to simplify the world of wellness, answering some of the biggest questions surrounding nutrition, fitness and mental health. In 'The Truth About Carbs', for instance, she defends carbohydrates – which are often given a bad rep – with help from Registered Dietitian Hala El-Shafie. She also talks childbirth with Prof. Lucilla Poston, Head of Women & Children's Health at Kings College London; and delves into mental health with fellow podcast host Fearne Cotton. Listen here
10% Happier with Dan Harris
Best for: Meditation tips
Newsman Dan Harris turned to meditation after having a panic attack live on Good Morning America. He quickly became a convert, and went on to write a book, create a meditation app, and most recently start a podcast. Instead of leading listeners on guided meditations, here Dan interviews experts and practitioners about everything surrounding meditation: from making habits to self-acceptance to stress. A listen will leave you feeling calm, reflective and motivated. tenpercent.com
Unlocking Us with Brené Brown
Best for: Relationships
View this post on Instagram
Researcher and author Brené Brown is joined by a plethora of insightful guests her in relationships-based podcast, Unlocking Us, which unpacks and explores the ideas, stories, experiences and media that reflect and epitomise our universal human experiences. From parenting to enemies, building resilience to nurturing curiosity, there's at least one episode for everyone, and plenty more uncovering something you probably didn't realise you were interested in. brenebrown.com
The Doctor's Kitchen
Best for: Healthy food habits
After being diagnosed with a heart condition while working as a junior doctor, Rupy Aujla decided to look carefully at his diet. He realised there were some big deficiencies – an area which hadn't been addressed in his medical training – and set out to address them. Not only did this stop the cardiac episodes, it signalled the start of a second career for Dr Rupy, one which focuses on food as medicine. In his podcast The Doctor's Kitchen he draws on the latest research to offer actionable tips surrounding health and nutrition. Whether you're looking to eat better for skin, eye health, teeth or inflammation, Dr Rupy has all the knowledge you need. thedoctorskitchen.com
Saturn Returns with Caggie
Best for: Astrological wellbeing
View this post on Instagram
Several times in our lifetimes, an astrological phenomenon occurs: Saturn returns to the same place on the chart as it was at your birth. Occurring first between the ages of 27–29, it signifies the start of a new life stage of maturity and authenticity. Inspired by this, Caggie Dunlop's Saturn Returns podcast aims to ground listeners, offering clarity and calm in this period of transition and self-doubt. Featuring guests such as Elizabeth Day, Roxie Nafousi, Ruby Warrington, Julia Samuels MBE, Melissa Hemsley and Gabby Bernstein, topics from sober curiosity to fear of failure, break ups to self love are covered. saturnreturns.co
Not Perfect
Best for: Happiness
From building resilience to recovering from heartbreak to how music can change a mood, Poppy Jamie's podcast Not Perfect explores what it is to be human. Each episode sees Poppy – founder of mental health company and app Happy Not Perfect – discussing real life issues with thought leaders, wellness experts and doctors from all over the world. Poppy talks to Buddhist monk Gelong Thubten about happiness, Dr Neil Stanley about sleeping well, Dr Raj Persaud about the psychology behind seduction, and in a COVID-19 special, delves into the science behind anxiety with Dr Pittman.
Main Image: Getty