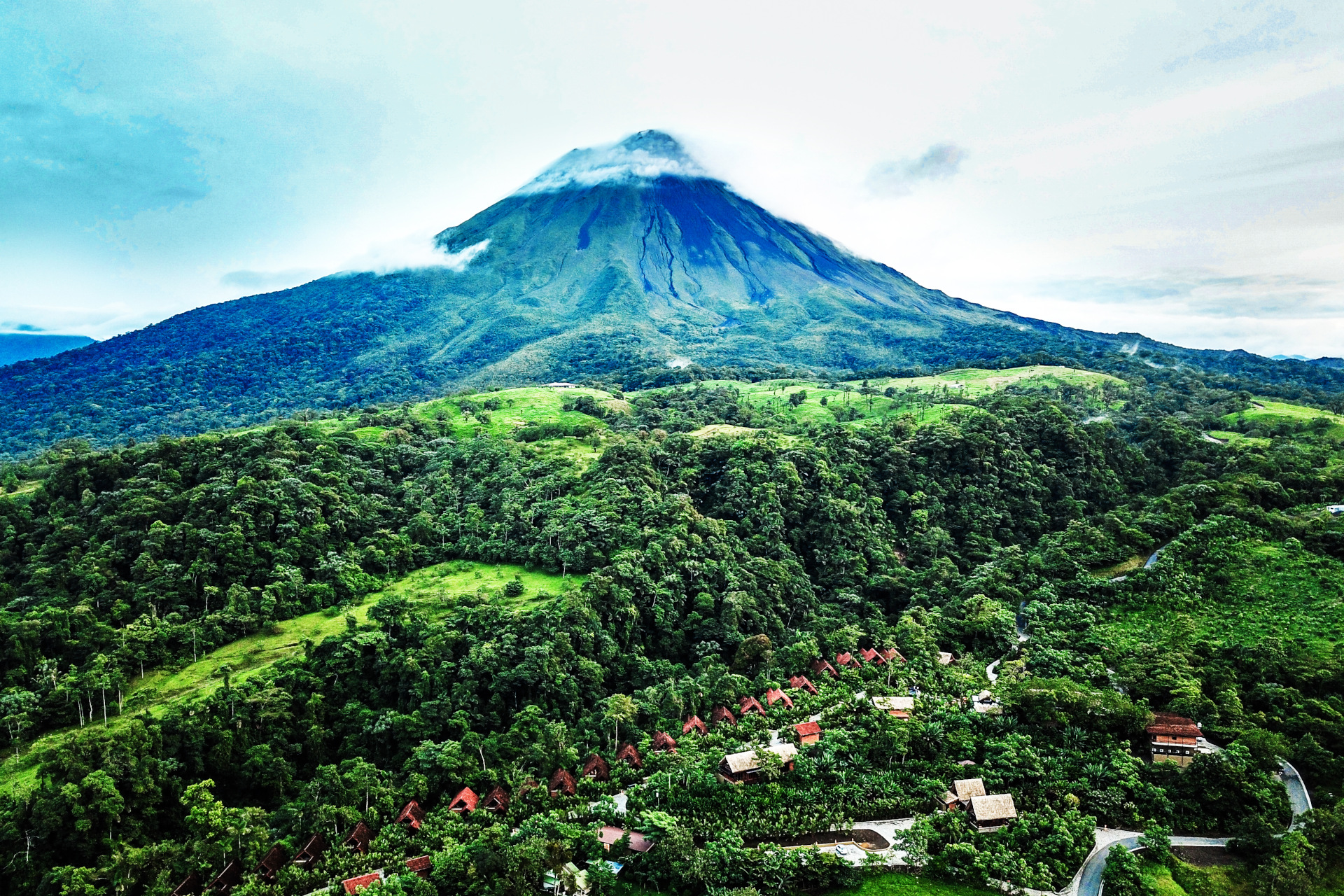 The C&TH Guide To Arenal, Costa Rica
Escape to the mountains
By Emma Whitehair | 2 years ago
The Arenal area is dominated by the omnipresent landmark volcano – which rises up through the lush rainforest, humbling all in its shadow. One of the seven active volcanoes of Costa Rica, it's currently dormant, or 'tranquillo' as the Costa Ricans say. And the largest town in the area is La Fortuna, named after its fortunate fate after the last eruption that affected the surrounding areas but left this piece of land safe. 
With fresh mountain air, Arenal's climate is a welcome relief from the sweltering heat of the beaches. And the mountains, canyons and lakes, provide plenty of opportunities for wildlife enthusiasts and adventure seekers alike Emma Whitehair reports…
Current travel advice for Costa Rica
Arenal, Costa Rica
Where to Stay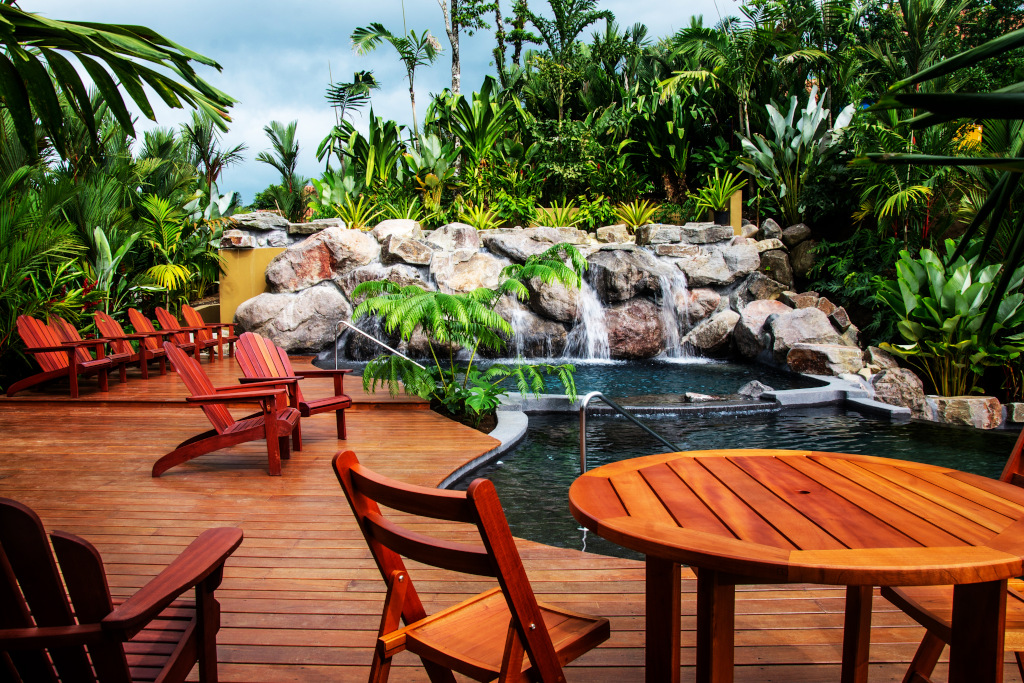 Amor Arenal is a relatively new resort, having opened in 2019. Adults only, it has an exclusive boutique feel, with standalone tropical hardwood casitas set within what feels like a secluded private neighbourhood, neatly lined up along paved jungle pathways, the rear decks are set on the edge of a canyon, offering views of the volcano from your own private plunge pool. Rooms feature either two fat queen beds or one king, a large TV with Netflix, and one of the highlights – a double shower with floor to ceiling windows overlooking a sea of green. While earplugs and eye masks are considerately provided for those who want to block out jungle noises such as the loud echos of the Red-eyed Tree Frog, and the morning sunlight (as there are no blinds in the room). And for those looking to maintain their fitness, yoga mats and kettlebells are in the closet, for guests to follow along with their online workout of choice on the provided iPads.
Throughout the property you can find various natural salt pools  – all fed by a natural spring that flows from the top of the property, before being purified and dispersed. There are also a number of world class jungle hikes within the grounds, where you might be lucky enough to see sloths, toucans and monkeys. One's luck increased when you take the tour with the incredibly knowledgeable hotel guide, who will bring a telescope, and can tell you about everything from the complex societies of ants, to pointing out why the Heart of Palm tree is also known as the 'Nun's Nightmare', and showing you the Biggest monolith in Arenal – which is also within the grounds.
The hotel spa is also worth writing home about – embracing its rainforest setting, with open-air high ceiling treatment rooms on stilts, high above the jungle. Where you can enjoy surprisingly affordably priced luxury treatments including a rather special pedicure –  which begins seated, with a lavender infused heated pillow placed around the neck, before being finished lying on a sumptuous treatment table. The full body massage treatments are also world class – especially when set to the real life soundtrack of the jungle. 
Meals can either be served in-room or in the all wood open air dining room, that overlooks the volcano. The menu changes according to what is in season, and ranges from vegan oatmeal with apples, nuts and cinnamon or a delicious local shakshuka type dish for breakfast.  To an outstanding aromatic red lentil dhaal served in a clay pot, with freshly baked flatbreads covered in herbs and garlic for a delicious light supper.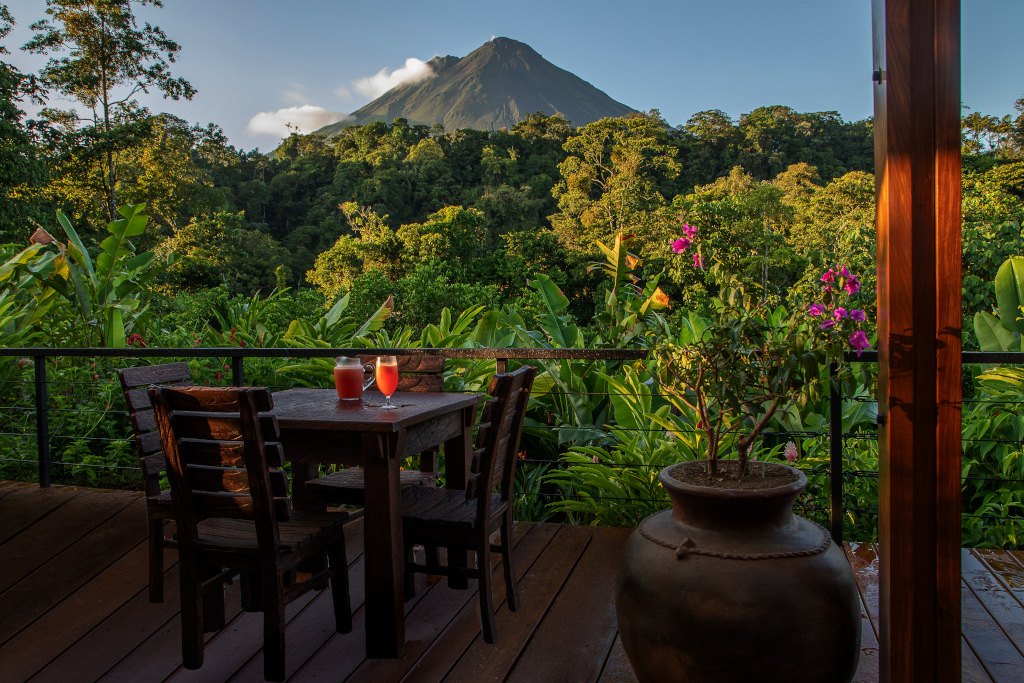 Where to Eat
Gingerbread is a unique and charming restaurant, on the shores of Lake Arenal. With an International-fusion menu that's "70% Costa Rican, 30% imported", in the words of the Israeli owner / head chef, Eyal Ben-Menachem – who is quite the character, and incredibly passionate about the dishes served and local ingredients sourced. Mostly a surf and turf offering – everything is cooked to order and the menu is based on the availability of hand selected local beef, pork and seafare such as mahi mahi, red snapper, sea bass, calamari, or octopus. All of which are delivered to the Gingerbread on the day they are caught. Try the melt in the mouth tuna poke, which still tastes of the sea. Or pork, served with butternut squash purée, capers, balsamic reduction and homemade pickles. While for vegetarians there was a dish called 'Pachamama' – which is four different kinds of mushrooms, in a three cheese sauce, served with fresh bread from the local German Bakery. 
Don Rufino is a well established fine dining restaurant in La Fortuna, catering to an international crowd – with a huge selection of steaks and seafood. And, the speciality – Grandma's roast chicken –  smothered in a super rich  BBQ glaze, starring coffee, chocolate, and tarragon, wrapped in banana leaves, that works beautifully with the melt in the mouth chicken. This dish has been on the menu for 14 years, and makes this a destination restaurant. Other menu heroes include the sustainably caught octopus which is deliciously soft and tender, served with lobster and corn bouillabaisse sauce. Also the arugula rigatoni, served slightly al dente – with balsamic pumpkin, and oozing buffalo mozzarella cheese pasta, almonds.
What to Do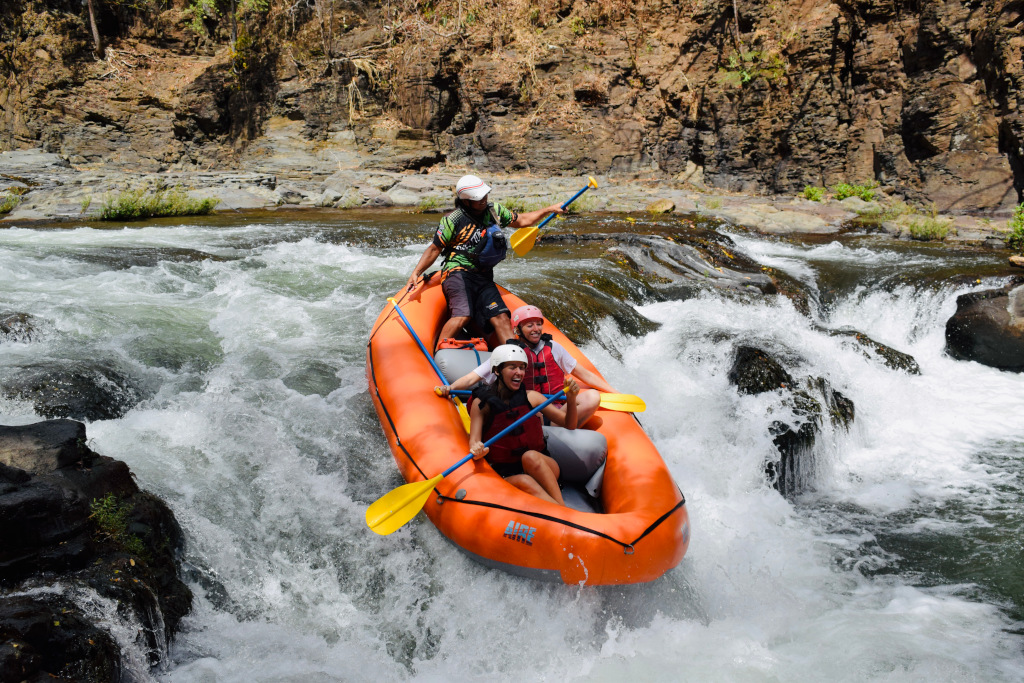 With so many activities on offer in the area, tour company Desafio can help you create the best itinerary for you – organising everything from transfers and to refreshments and lunch, with incredibly enthusiastic and well informed guides and instructors. Kayaking on the lake is suited to all levels, and if you're lucky enough to catch a clear day, you'll get to enjoy views of the volcano, alongside the lush Arenal landscape. For the more adventurous – try white water rafting on Rio Tenorio, where each rapid you tackle, gets more extreme, and you should expect to get wet. For thrill seekers, Desafio organises an incredible Canyoning Gravity Falls adventure tour, where you abseil down huge waterfalls, climb canyon walls and river boulders, and hike through the rainforest. The guides double up as unforgettable hype men, to build you up to the grand finale, which is not for the fainthearted – jumping off an 11m high cliff higher than an olympic jump board, into the narrow well-like pool of water at the bottom of a waterfall below you. Thankfully this part of the adventure is optional.  
For wellness or culture immersion based activities, Desafio's sister company Costarica Inspirations, offers everything from nature retreats to Costa Rican cooking classes. The latter of which will give you a chance to create your own traditional Casado, consisting of rice, black beans and plantains, served with your very own handmade crispy tortillas, and spiced chicken fajitas. Followed by a fun evening of salsa dancing.  
Trip factbox / booking info 
Hotel nightly double room rates at Amor Arenal from $475.00 (13% sales tax not included).
British Airways flies from London Heathrow to San Jose (Costa Rica) from £592 return including taxes and charges. For more information please visit ba.com
The C&TH Guide To Costa Rica /Annabel's Rainforest Façade Raises Awareness About Deforestation/ Costa Rica: The Most Spectacular Places To Stay In 2021