While you can never forget Cambodia's bloody history, its architectural, historical and natural glories make it a must-visit destination, says Caiti Grove.
The C&TH Guide to Cambodia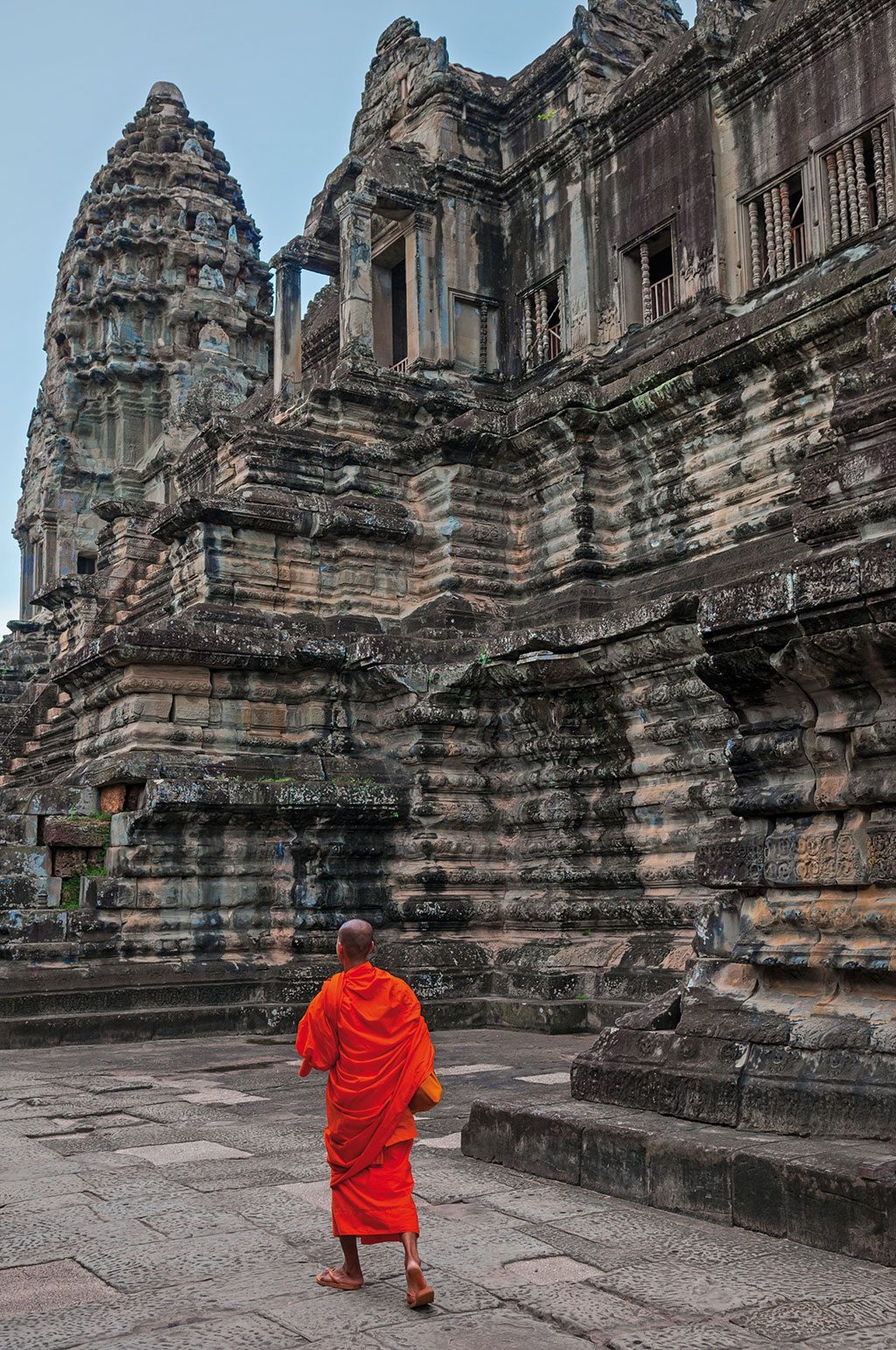 It's a muggy afternoon on the banks of the Tonle Sap river in Phnom Penh and families sit with picnics on the grassy lawns around a lavish gold statue of the Buddha while crowds congregate on the riverbank as long narrow dragon boats glide past, each carrying at least 40 men in a single row. Suddenly, a holler of excitement travels through the crowd: a procession of black Mercedes bearing the royal crest have been spotted. King Norodom Sihamoni, Prime Minister Hun Sen and his First Lady Bun Rany step out onto a red carpet and into the Royal Pavilion, where golden thrones await, surrounded by flowers and silk, looking out onto the dragon boats in the choppy water.
This is the annual three-day Water Festival, which takes place all over the country every November to celebrate the army and mark the end of the rainy season. It's a chaotic, riotous scene: Phnom Penh's stampede of mopeds, tuk-tuks and cars speed through the whole celebration; young women in short skirts rev their engines and vehicles full of tourists lurch perilously under the weight of stacked luggage. 
A Hotel Worth Visiting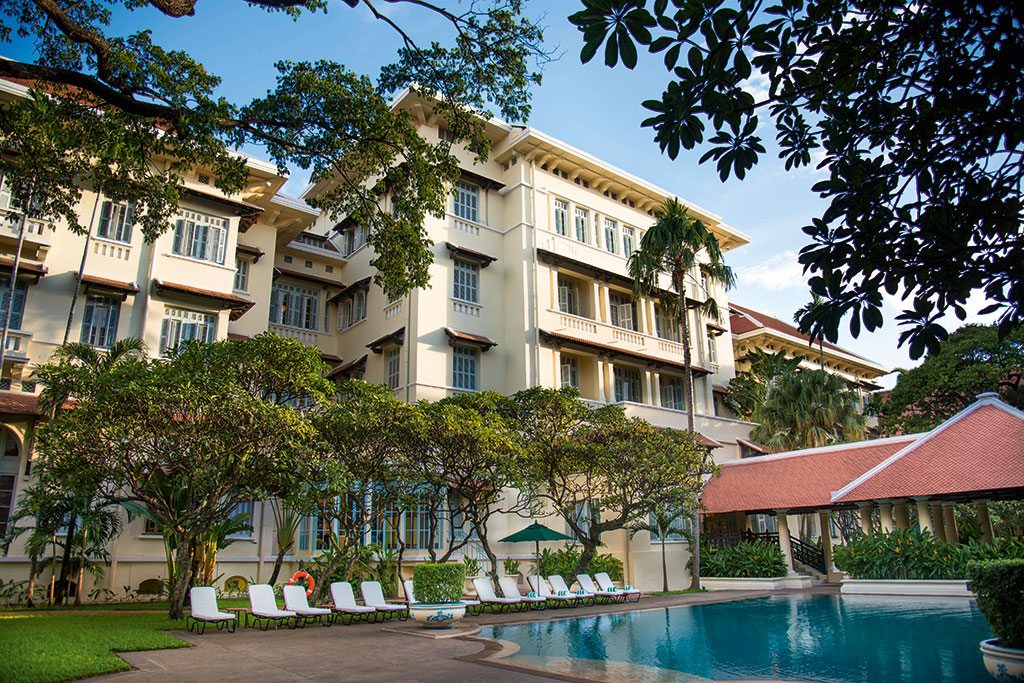 One of the city's most compelling addresses is Raffles Hotel Le Royal. Built in 1929, the landmark preserves a grand colonial style of old wood and marble behind an enormous garden of traveller palm trees that sets it back from the road. Staff wear domed gold hats with gold embroidered white jackets and coloured trousers for each day of the week – a tradition in the Royal Palace so the king could keep track of his schedule. Its Elephant Bar is known for hosting Jackie Kennedy in 1967 when she visited to see the glories of ancient Angkor Wat and drank her now signature cocktail, the Femme Fatale – champagne, cognac and crème de fraise des bois, topped with an orchid. 
An Inspiring City: Phnom Penh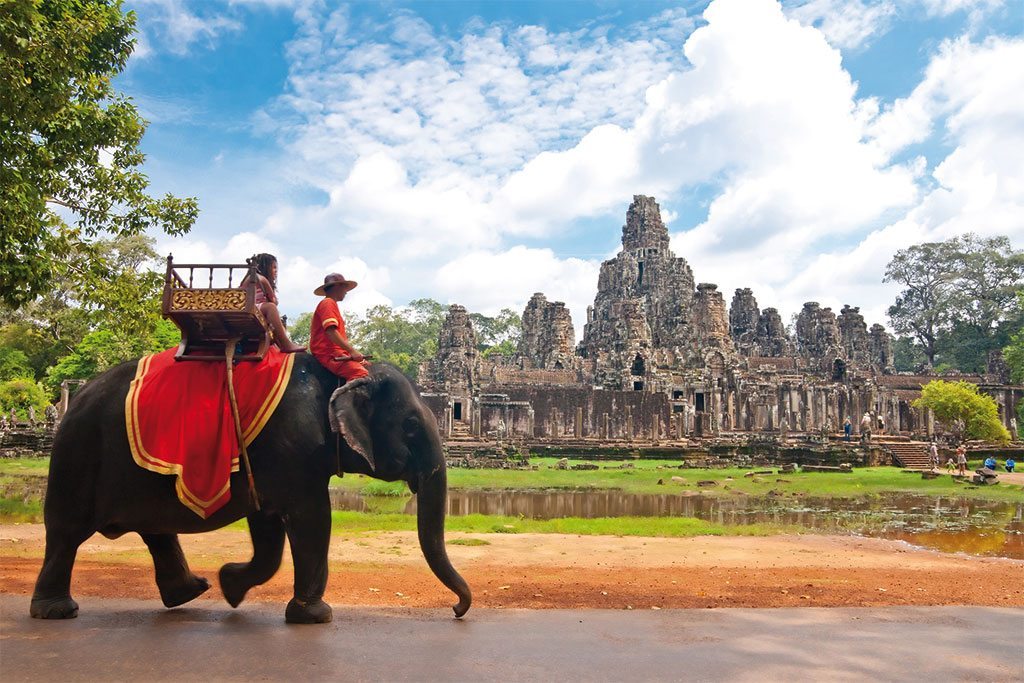 Phnom Penh is a concoction of Parisian-esque mansions, gold palaces and post-independence, brutalist-style buildings. Khmer Architecture Tours carry their tourists as passengers in cyclos – a three-wheeled contraption with a seat at the front for a passenger and a cyclist at the back. The country's past as a French protectorate is most evident in its mansions – yellow-washed and pillar-fronted with paint peeling from their white shutters, they hide behind monkeypod trees and tall palms. While Phnom Penh is intoxicating, after a few days of urban intensity you might want to slow down with a trip into the countryside. Here, a traditional way of life continues. The drive out of town gives a glimpse of real life; girls in pleated skirts and crisp white shirts cycle home from school beside older boys who perch two to a bike and overtake lines of cows being herded in single file down the road. All the while, vast paddy rice fields define the landscape.
Some day trips have a darker, more challenging theme. It is difficult to come to Cambodia and forget the brutality of Pol Pot's communist Khmer Rouge. Some 400 tourists a day visit 'S-21', an old school in the city where victims were 'processed' before being transported to the Killing Fields outside the capital. A short walk around a field takes visitors to different makeshift 'stations', where people were brutally murdered; bits of clothes and bone still emerge through the earth as rain washes the soil away. At the centre, a tower of 8,000 skulls stands as a monument to the dead. Some think such trips are necessary to understand this country and its people.
Others might find it too disturbing or think this gruesome event is off limits for touristic intrigues. Certainly an awareness of this wounding period is necessary before your trip. Either way, the history and the resilience of the Cambodian people are ever present. From families picnicking at midnight around the night market to servers and tuk-tuk drivers who joke and tease in every exchange, Phnom Penh's people seem resolute in their determination to not only survive, but to enjoy their relatively new freedom. 
Angkor Wat 

Temple: Entering The Otherworldly
Forty-minutes' plane ride north of Phnom Penh, the country's second city Siem Reap is the gateway to the Temples of Angkor and the hotel to stay at is Raffles Grand Hotel d'Angkor. The temples were built as monuments to different Hindu gods from the 9th century, they have been Buddhist since the 12th century, when it became the largest civilisation in the world with a population of more than one million. Now a thick forest of 70-foot trees surrounds the temples but it was once an urban hive of wooden houses. 
At the centre, the largest temple Angkor Wat – built for Vishnu – is monumental in its scale. The smaller sites are less well preserved but are essential for understanding the scale of this once bustling city. Its water management system demonstrates how sophisticated it was in its prime: it stretched over 460 square miles, a network of canals connected a series of reservoirs with the Tonle Sap lake, one of the most productive freshwater ecosystems in the world.
Make time for Ta Prohm, commonly known to locals – quite bizarrely – as 'Tomb Raider temple' after being used in the film. This temple feels completely magical and dreamlike as 40ft silk cotton and strangler fig trees drape their thick roots over the 800-year-old limestone. Bayon is also surreal but for different reasons – 15ft stone busts of King Jayavarman VII seem to loom ominously from every corner. Ta Nei is apparently rarely visited, and is so quiet that it's easy to feel like a modern-day Indiana Jones. Angkor Wat has an otherworldly, magical spirit. It's a powerful place – and one that's providing a force and touristic focus to reawaken what Cambodia lost 40 years ago. Cambodia's ancient riches certainly deserve our patronage – as do the people who look to a better and more prosperous future.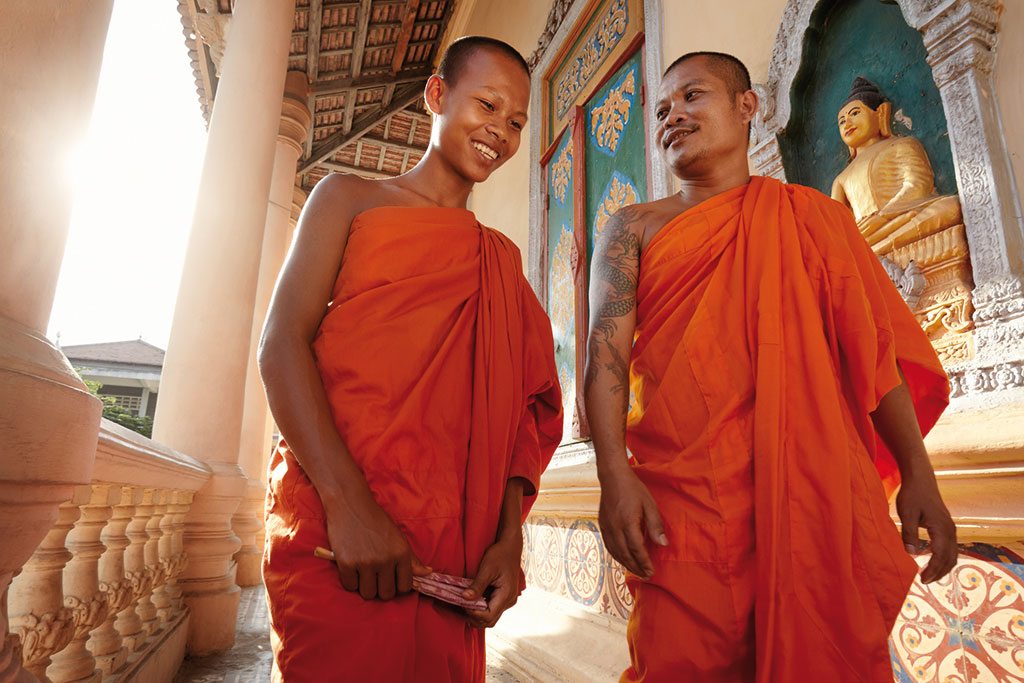 Book it
About Asia's Ancient and Modern Capitals tour splits seven days between Phnom Penh and Siem Reap – 2,179 USD per person with accommodation in both Raffles hotels. 
MORE TRAVEL: The C&TH Guide to Greek Island Hopping | The Best Hotels & Chalets for Skiing 2017 | Bali on a Bike
---