Despite just wanting to lounge by the pool at Amankila, Sue Lawley took to two wheels to explore the rich countryside in the east of the island. Read our alternative guide to Bali.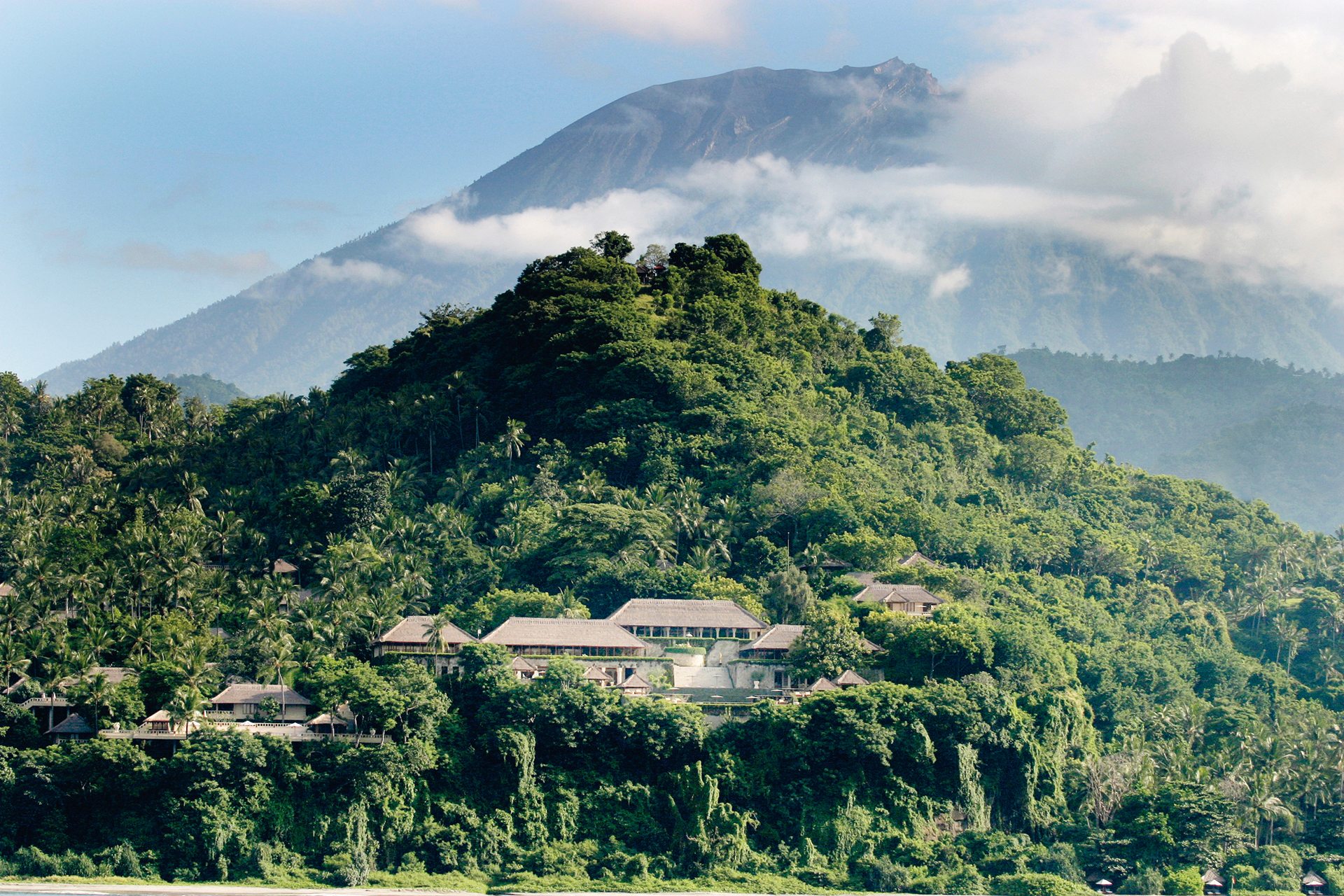 Bali is unique. Of the 17,000 odd islands that make up Indonesia, it's the only one where the majority of the population are Hindu rather than Muslim. It's this that gives it a culture and identity all of its own. I spent four days there in February – the height of the wet season – where despite the heavy downpours, I came away with a light tan and a desire to spend more time in its peaceful, warm embrace.
Outward and Inner Adventures
I turned my back on the crowded south coast with its surfing beaches and night-time hotspots and  headed to the rural east of the island, to Amankila, where Mount Agung, a volcano nearly ten thousand feet high, looms over the landscape. It lasted erupted in 1963, killing thousands of people. It's hard to believe that anything terrible could happen in this part of the world as you lounge in your suite or sit by the three tiered swimming pools that cascade into one another down vast terraces high above the sea.
Amankila was the third resort of the now famous Aman group. It only has 31 rooms on a 20-acre estate, guaranteeing the tranquillity and privacy that are its hallmark. It isn't cheap but given that it takes 24 hours to get to Bali from London, I had no qualms about indulging myself on my brief visit.
The Best Resorts in the Maldives: The C&TH Guide
Leap into Action
Much as I would have liked to spend my whole time enjoying the sybaritic charms of the hotel, I urged myself into action and went off to the coconut grove at the edge of the sand for some early morning yoga. 'You have the medicine of happiness,' said my teacher, Eka. Good start. After more than an hour of stretching – downward-facing Dog and warrior pose – I lay on my mat and listened to the waves crashing against the shore as a multitude of birds busied themselves in the bushes. 'Sweet smile to the universe,' said Eka. 'And sweet smile to yourself.' Whether I was smiling or smirking as I returned to my room, I couldn't be sure. But I felt happily rejuvenated as I prepared for my next adventure.
'But what better way to immerse yourself in the local culture or enjoy the magnificent, lush green countryside. In the villages, people waved at me as I passed'
Which was cycling. The only Balinese rule of the road that I could discern was that you drive on the left. Sometimes. So the idea of cycling through the maze of mopeds and trucks that throng Bali's streets was disconcerting. But I needn't have worried. The hotel drove me along the island's back lanes, through small villages and past rice terraces, until we reached a point high up beneath brooding Mount Agung. On with helmet, on to bike and off – whizzing home without a care in the world. This must be the only place where you can indulge in a no-pedalling cycle ride.
Village Life
But what better way to immerse yourself in the local culture or enjoy the magnificent, lush green countryside. In the villages, people waved at me as I passed. Everywhere there were shrines, decorated with flowers or offerings of little cakes to appease the Gods and ask for their protection. Today, coincidentally, it was the turn of transport to be asked for the Gods' blessing.  No car, moped or scooter was seen without a garland attached to its wiper-blades or handlebars. This, I realised, is one of the reasons why Bali is so appealing. It is an island of more than four million people bound together by rituals and beliefs that stretch back for centuries. They are the essential cement of its village and family life. It's extraordinary to think how all this has survived, surrounded as it is by a completely different religion and way of life.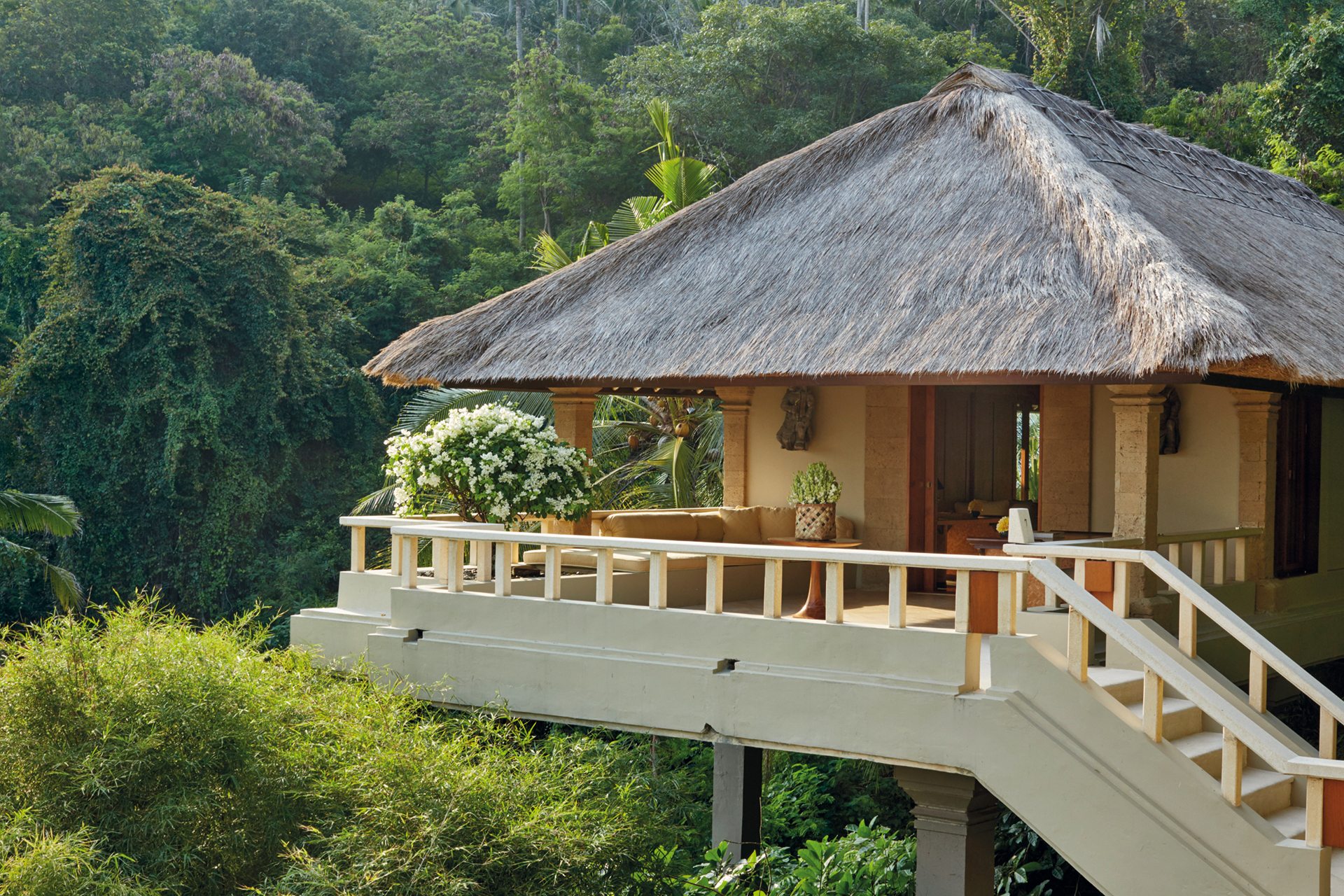 It was time for a coffee. At a rather quaint nature reserve, I was introduced to a creature called the luwack, or palm civet, a rainforest creature about the size of a large cat. The luwack has a penchant for coffee beans. Once captured, it's fed on a diet of Arabica coffee, munching the outer husks but leaving the kernel intact in its faeces. These are then collected, cleaned, ground and served as luwack coffee which aficionados claim has a smoother, finer taste than pure Arabica. I wasn't so sure. For one thing, I didn't really like the idea of the poor old luwack being turned into a coffee machine. And secondly the taste – well, not to put too fine a point on it – was crap.
Evening tide
An altogether more exciting drink is a dry martini which that night I was served on a bale (pronounced bar–lay), a small open-air pavilion-for-two, high in the hills overlooking the Lombok Strait – the stretch of water that divides Bali from its neighbouring island, Lombok. This view, I thought, as I sipped my drink, is one of the most fascinating in the world. The Lombok Strait is part of a phenomenon known as the Wallace Line, named after the British naturalist Alfred Russel Wallace who travelled throughout the region in the 19th century and discovered a natural boundary between the fauna of Australasia and that of Asia. Having crossed the water, Wallace expected to hear the birdsong he had listened to in Bali repeat itself in Lombok. But it didn't. I reflected on Wallace's momentous discovery as I sipped my second drink. Better not have another. The Lombok Strait is beginning to look rather wiggly.
Rijstaffel
Dinner called. I ate that night at a restaurant in the little town of Candi Dasa where I enjoyed a local curry in a tree-filled garden. But the meal that I'll remember was served on the last night of my stay at Amankila. It was a 'Rijstaffel' – or rice table – made up of ten different dishes all served at the same time with a selection of sauces and spices. Suckling pig, prawns, chicken and delicious local vegetables – a feast that was as light and fragrant as the land from which it came. Once again ensconced in a bale, wrapped by the warm night air and protected from the odd passing shower, I thought how lucky I was to have found this extraordinary place where people are at one with nature under the protective gaze of their Gods. 'Listen to the nature,' Eka had said. I could hear it now. I can hear it still.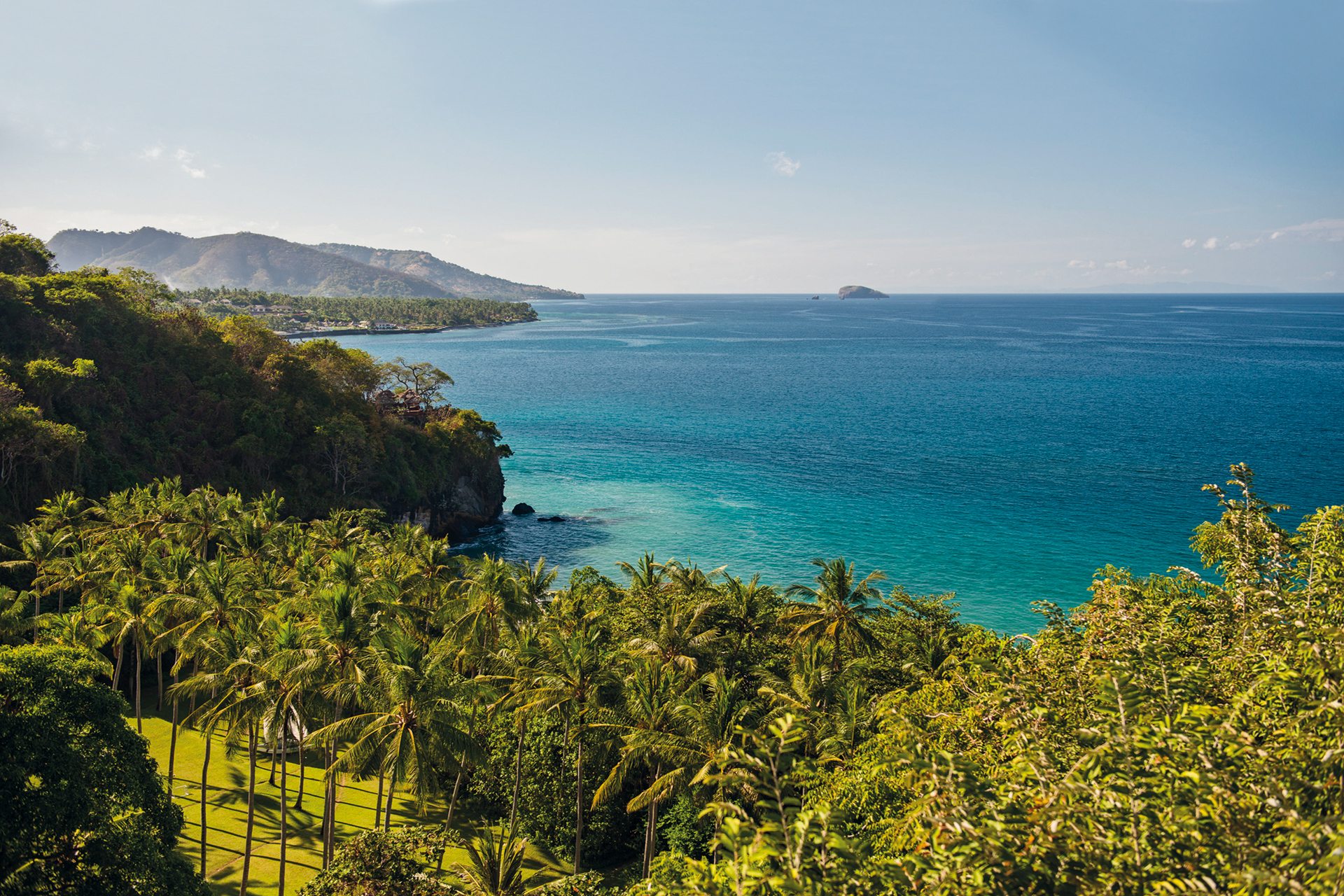 Book it: A garden suite at Amankila costs from £561 + tax per room per night including breakfast and airport transfers in Bali. amankila.com
---