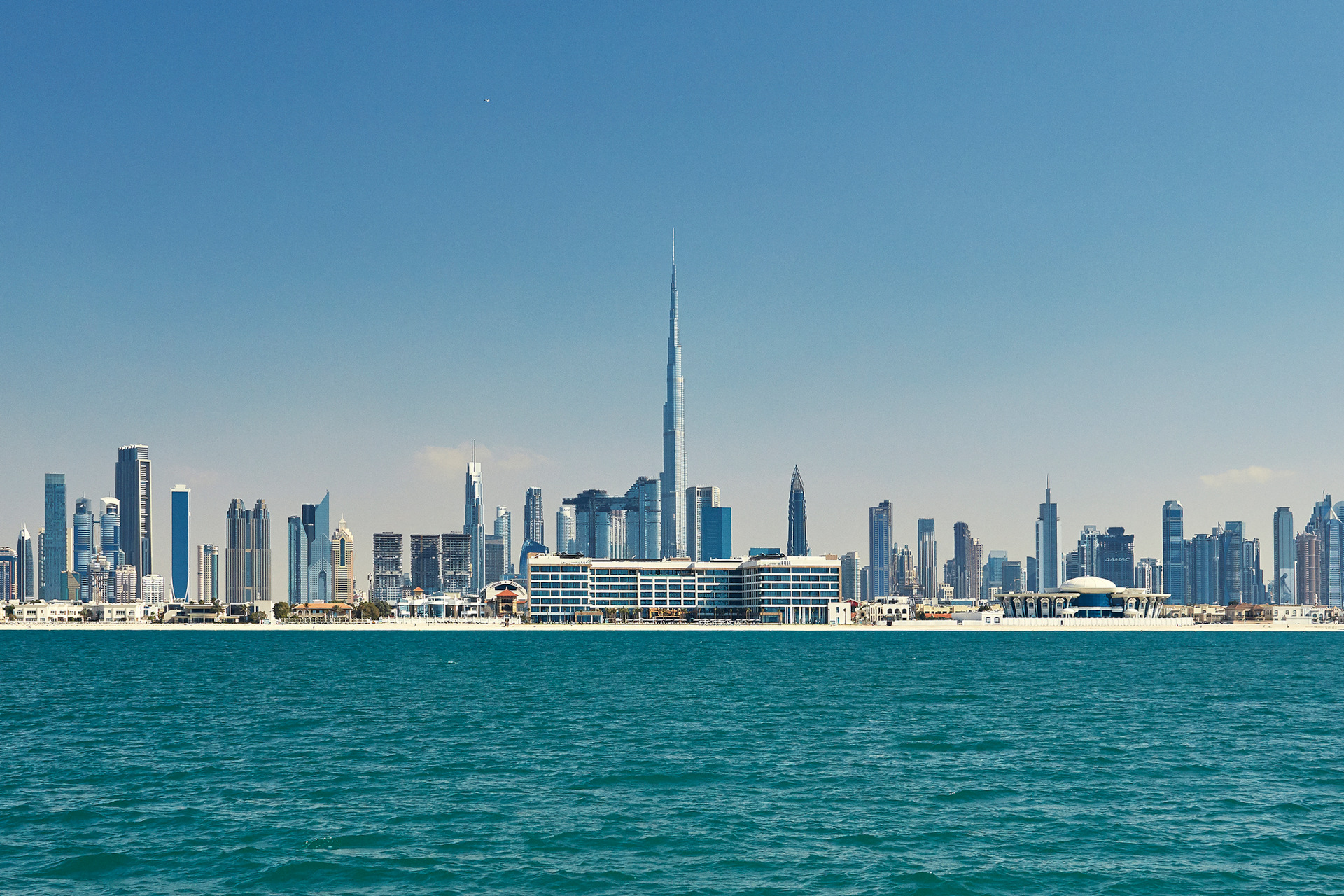 The C&TH Guide to Wellness In Dubai
---
Luke Abrahams discovers a new side of Dubai
Luke Abrahams heads to the land of lavish wealth, skyscrapers and luxury shopping opportunities. But it's not all about excess, there's a softer side to Dubai, if you slow down for long enough to discover it. Read his full guide to Dubai here… 
The C&TH Guide to Dubai
Dubai is having a bit of a moment, and let's face it, in the run up to and the aftermath of the Expo 2020, the city literally pulled out all the stops to impress. It wasn't just the Expo that was a cause for celebration, though. Last December saw the country commemorate its 50th birthday, an occasion marked by the United Arab Emirate's Golden Jubilee celebrations.
If you're a Dubai skeptic (I once was, too), now is the time to look at this great big shiny city with a fresh set of eyes. Look beyond the glam and gross glamour and you'll discover the real culture of Dubai's golden past in hotspots like Al Fahidi and Al Seef. Of course, they are no secret, but like most things in this metropolis, are often overlooked in favour of the new, and the very on trend.
From sky-high adventures on hot air balloons to lively delicious eats, Dubai's first gender mixed scraper sauna and the Middle East's debut so-called Instagram suite, here's how to live it up in The City of Gold in 2022.
STAY
One & Only, The Palm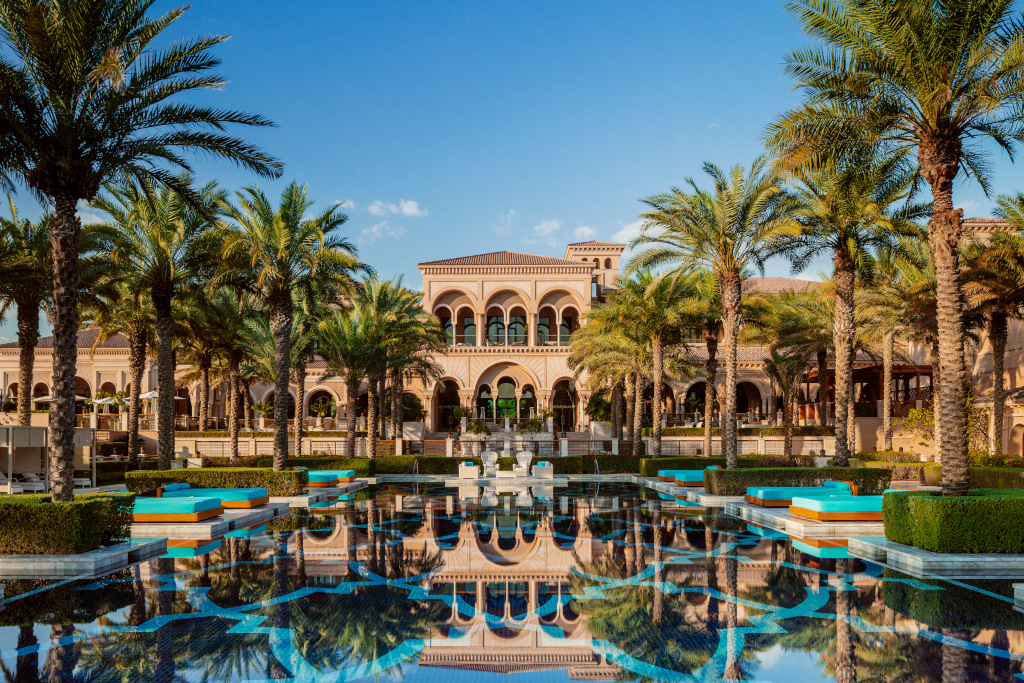 It's a well-heeled, much-loved classic, and for good reason: it was one of the OGs to set the bar for demure luxury in Dubai. Yes, it's still luxe, but not in the overly gross, pretentiously themed, or over-the-top kind of way you find elsewhere in the city. Palm covered and suspiciously serene, the vibe is dreamy deluxe desert mirage meets the Moorish chic of Andalucía: picture perfect swimming pools; romantic hole in the walls and suites that ooze laidback Emirati decadence. Boutique-esque, the demi-palace is a feast for the eyes with all its polished marble floors, floral lattice details and ornate silver chandeliers.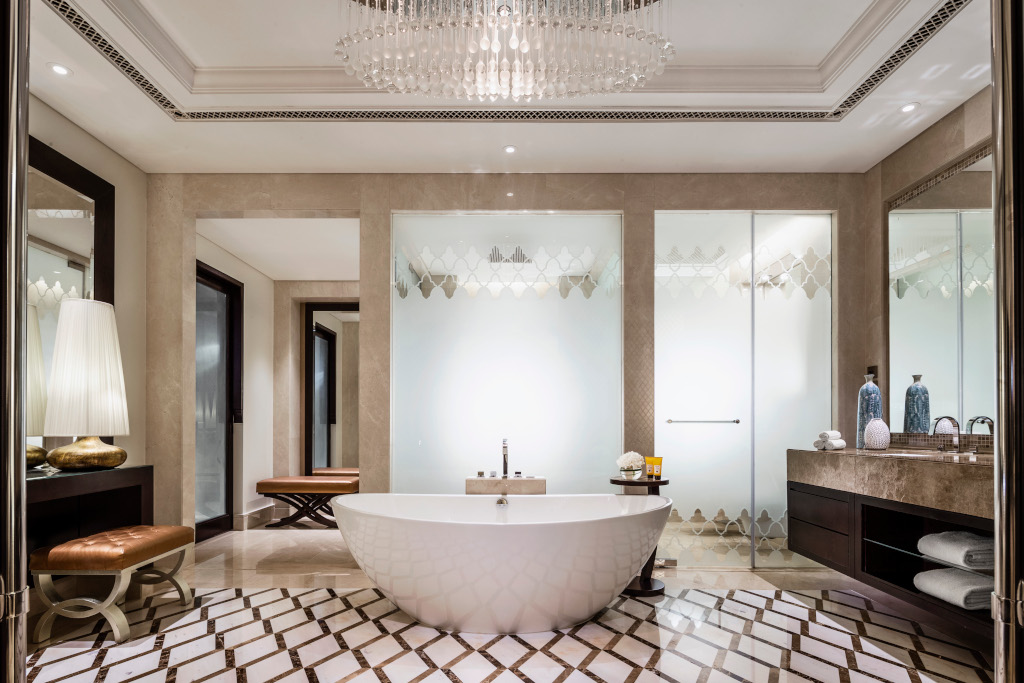 Spacious boudoirs feature giant 55-inch TVs (along with all the other millennial mod cons), freestanding marble tubs and roomy rain showers. Expect garden patios or private balconies with marina views, too. Stay, the restaurant from celebrated chef Yannick Alléno, is nothing short of exceptional and is more than enough reason to visit the resort alone.
Bulgari, Dubai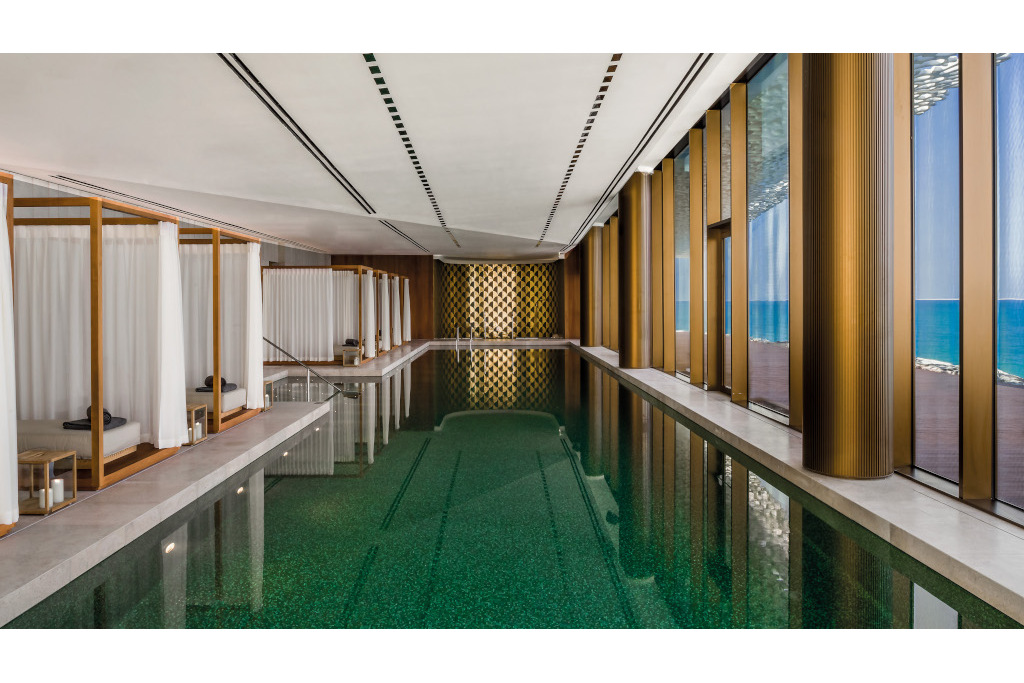 The Italians know a thing or two about style and this Bulgari wonder proves it. Set on its very own private Jumeriah Bay island, the fashion-conscious retreat was built with a Mediterranean village in mind and is the work of Milan-based architectural house Antonio Citterio Patricia Viel. Just like a brilliantly bling Bulgari jewel, rare precious stones like onyx from Iran and black granite from Mongolia make up the space alongside heritage Bulgari pieces and art dug from the Italian brand's impressive archives. Service is top notch and the add ons, from drop-dead gorgeous spa (the new and exclusive Augustinus Bader facial is a must) to breezy cabanas with Burj views, are simply knockout.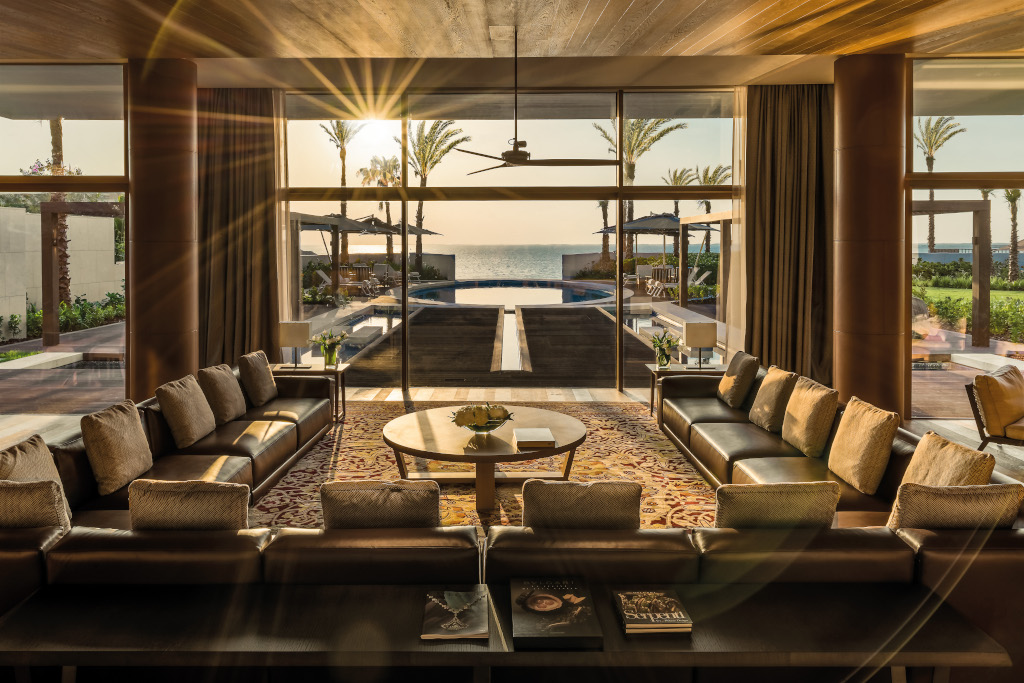 All rooms and suites don massive private balconies, marble-clad bathrooms and come with well thought out designer touches thanks to cutesy vintage minibars and homely cashmere blankets draped all over the very chic furniture. Food? Expect contemporary twists on Italian grub courtesy of three-Michelin-starred chef Niko Romito. The views of the marina are rather fabulous, too.
Armani Hotel, Dubai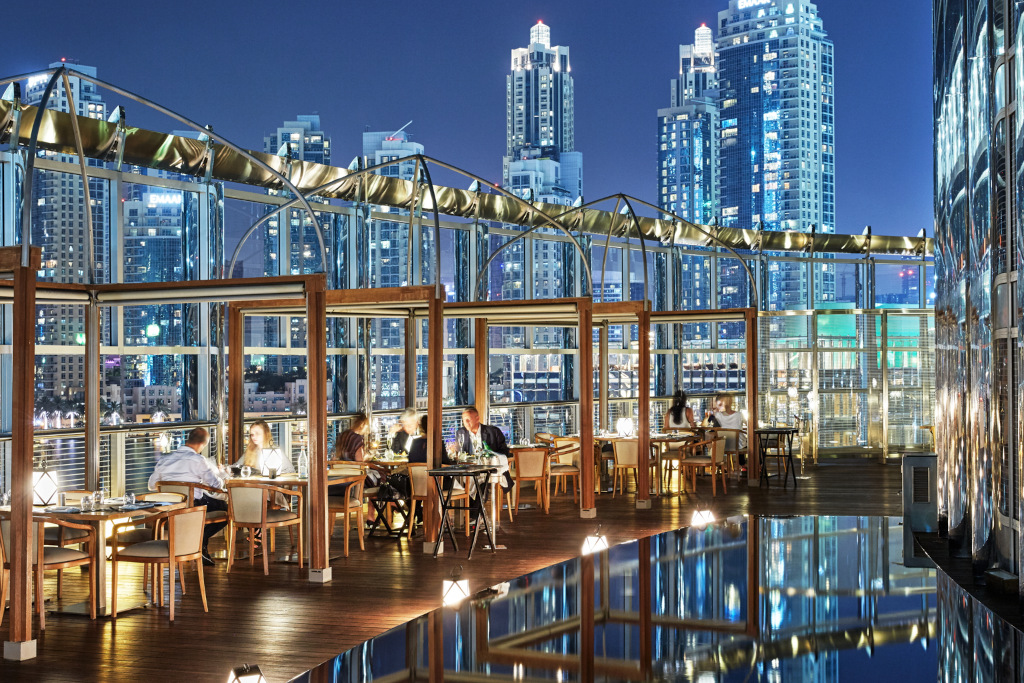 You cannot come to Dubai and not stay here. Why? It's the first hotel designed by the legendary designer Giorgio Armani (the clue is in the name) and it's hidden with the world's tallest building, the mighty and very dizzying Burj Khalifa. Style wise, it's Armani gone totally 1980s Italian house party – the point, apparently. It's all grossly slick with towering arches and leather matt blacks that snake through the hotel's labyrinthine corridors.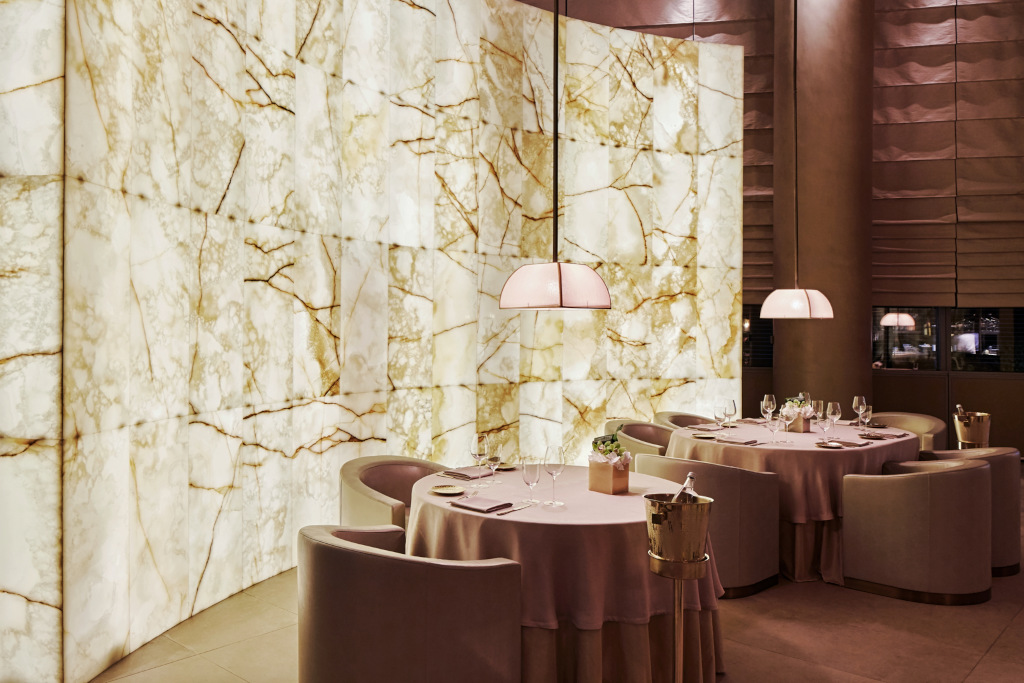 As its Armani, boutiques are a natural given. Here you can buy everything from Giorgio's coveted apparel and accessories to his chocolates and snazzy florals. Up on the third floor, there's the deliciously sexy spa featuring steam room, sauna and treatment rooms offering an array of thermal, sweat-inducing wellness therapies. The Armani pads are beyond visually seductive and are kitted out with huge tubs, double vanities (with Armani toiletries obviously) and uber comfortable, mammoth beds. Food wise, there's so much to eat it's almost intimidating. Choose from casual bites at the Lounge and Deli to Indian at Amal or posh Italian fare at Ristorante.
Shangri-La Hotel, Dubai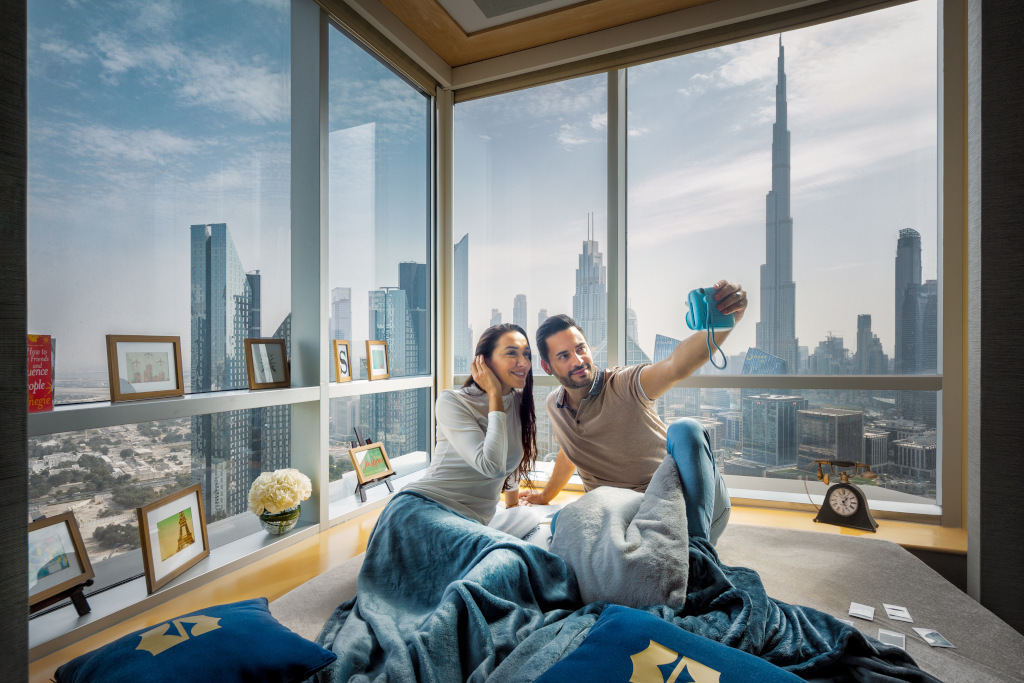 Those in search of the city's most Insta-worthy of hotels should check into this glassy downtown scraper. Set slap bang in the middle of all the action, this demi crystal shrine is within minutes of all the big-ticket tourist hotspots from the Dubai Mall to the World Trade Center and La Mer, the city slacker's stretch of pristine beach. Grand and flashy, Dubai's Shangri-La really is all about the stonkingly insane city views of the Burj, marine and beyond. You can see them from virtually every public space in the hotel, but the most impressive is hands down from the rooftop, a nexus of perfection for the cityscape hashtag. It's newfound claim to fame however comes from its so-called "Instagram suite", the first of its kind to swing open its doors in the city and the Middle East. One for the influencer glitterati, the suite is adorned with all sorts of floral arrangements, books (to style of course) and a glass corner donning incredible panoramas of the metropolis. There's even an in-room polaroid camera to make things even more extra.
Mandarin Oriental Jumeira, Dubai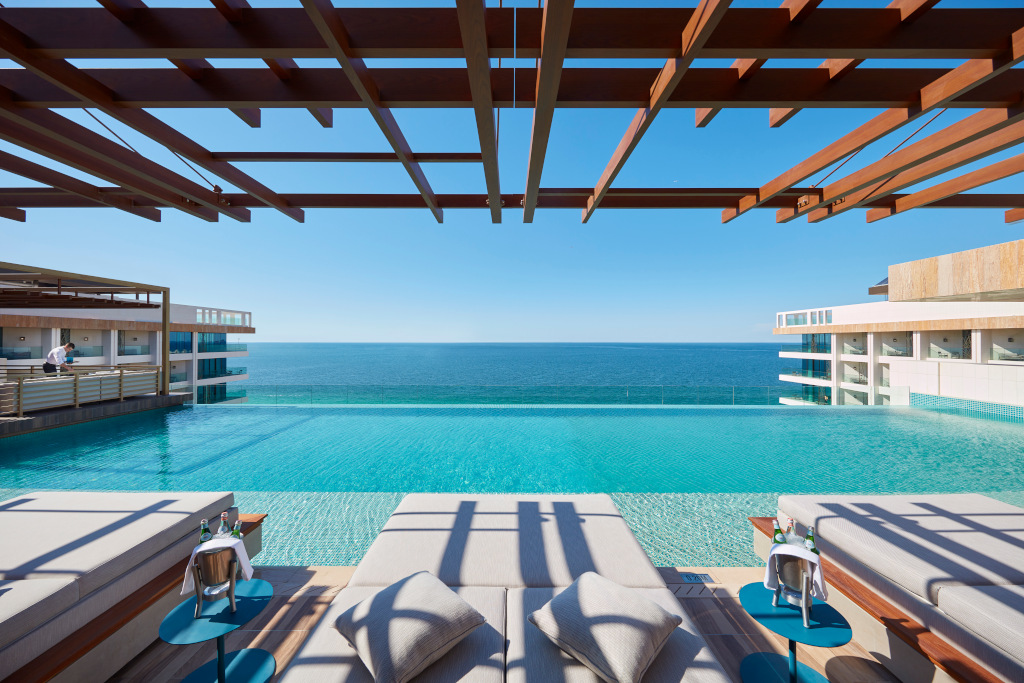 With five mammoth pools, an outdoor terrace gym, Michelin eats and an otherworldly spa, Mandarin Oriental Jumeira, Dubai really has outdone itself. The location is excellent – the airport and downtown are within a 20-to-30-minute reach – and the prime immaculate beach makes for the finest lazy, hazy beach summers known to man. The design is Miami beach club x The Gulf, especially poolside and its mammoth size means that even in the busiest of months, beach shack solitude is a surprising reality. Rooms offer the usual Mandarin spiel: muted tones with a colour pop and a nod to the locale in between.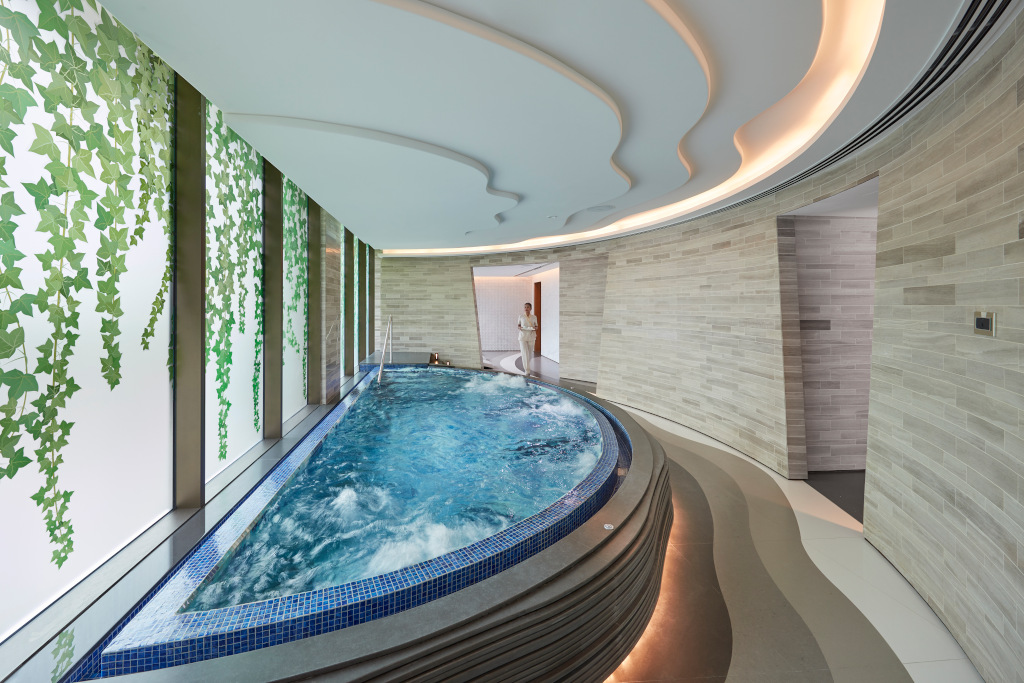 But it's really the spa that will win you over big time. The therapists are nothing short of magicians, delivering top-notch, world-class treatments to rejuvenate the body and invigorate the soul. Spoiler: massages are non-negotiable. Separate men and women's facilities make for tailored experiences in the countless whirlpools, steam rooms, saunas and space like post-treatment pods, and the gym, kitted out with every on-trend fitness toy imaginable is worthy of an early morning sweat session pre a beach-based yoga class.
DO
Balloon Adventures Dubai
Don't let the 3am wakeup call deter you because this sky-high desert adventure really is worth the sleep deprivation. Go group or á la prive, the voyage begins with an ultra-cool night light show (copious amounts of coffee and dates included) on the sands before you watch your captain and his team breathe fiery life into your helium flight for the morning. Once it's time for lift off, soar over the clouds and dunes of the Emirati desert with dreamy views of the Omani mountains, and if you're lucky, an unhazy view of the Dubai skyline and sun rise. Come touchdown, guides will whisk you off further off into the desert for a Land Rover jeep grand prix style vroom to grab breakfast.
Expect traditional fare in the form of karak tea, shakshuka and the usual suspects, eggs benedict, smoked salmon, plus a dash of caviar. Finish the morning off on a camel ride or simply snooze on the sandbanks.
Explore Al Fahidi
Yes, underneath all those massive skyscrapers heritage shines in Dubai's oldest district, Al Fahidi. Abuzz with energy, the atmosphere is Marrakech souk meets the hagglers of the desert, especially when it comes to nabbing a steal or takeaway totem in the buzzing, lively shops. Home to countless indie galleries (everything is on rotation so expect to see something new all year round), small museums and coffee shacks, there's something refreshingly bohemian about the place that will give you a totally different perspective of a city often dubbed a soulless stretch of metal on the gulf.
Keep walking and you'll stumble on a Hindu temple with nearby men and women tempting you with treats from samosas to spices, jasmine garlands and karak tea. An abra on the water is also worth it to escape the crowds as much it is for the memorable kodak moment.
Alserkal Avenue
One for arty types, Alserkal Avenue's warehouses are home to some of the finest examples of regional contemporary art Dubai has to offer. As is the nature of everything in this part of the world, there is no permanent collection, so every visit is awash with new prints and canvases to keep the locals gagging for the latest designer pallets. It's not just art you'll find here, though. Alserkal is also home to the UAE's only arthouse cinema, Akil, and there are plenty of shops selling all sorts from chic handbags to leather sandals. Indie record shop, The Flip Side, is also well worth a splurge visit, too.
A Day at the Races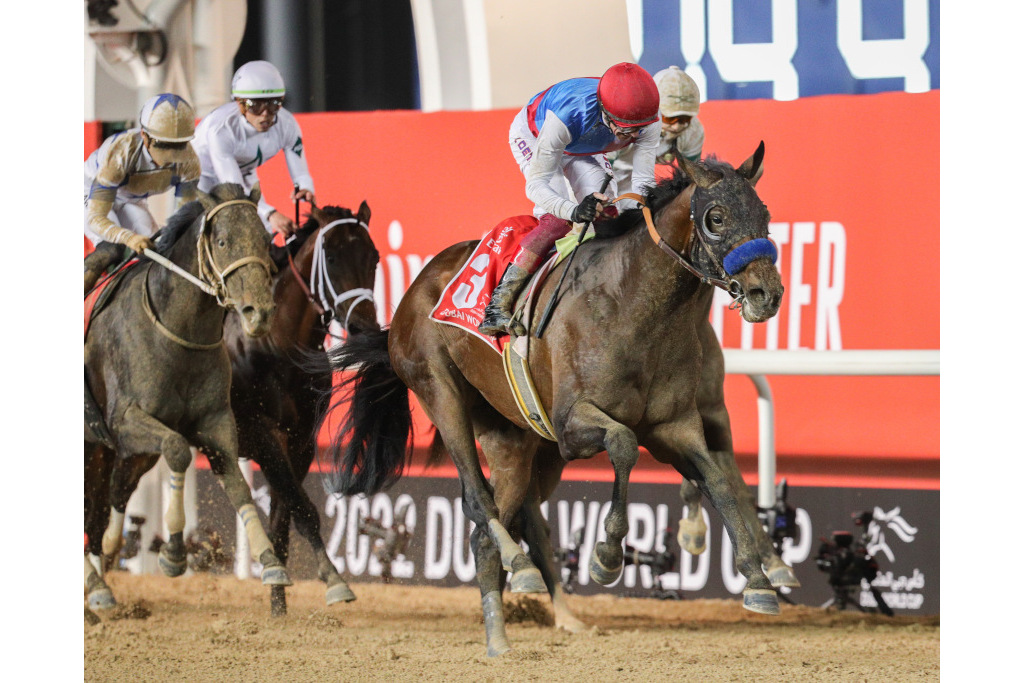 The Dubai World Cup is becoming somewhat of a must go among the locals and the international horse loving glitterati set. A weekend affair, the annual event takes place at the Meydan Racecourse (it's worth going just for the skyline views alone) and in the usual Dubai fashion comes with its very own OTT five-star hotel, The Meydan. Top calibre horses from all over the world – the Americas, Europe, Australia, South Africa, Japan and more – compete for $30.5 million in prize money across nine Group races throughout the day, including the namesake Emirates airline-sponsored Dubai World Cup. Unlike Blighty, there's no room for bookies here, instead you can enter free competitions for a chance to win cash prizes. Fashion? Plenty of sartorial flare with questionable and daring runway numbers featuring fancy labelled frocks, slick, dapper suits and ridiculous, but wondrously crafted hats.
Discover Culture in Al Seef
Al Seef is all about showing off the city's loud and proud heritage. Dotted with all sorts of boutique curios, charming sikkas (alleyways), a patch work of sandstone buildings and windtowers, the district serves up an insight into Dubai's humble past life before it became the urban monster it is today. A traditional open-air floating market wows alongside pontoons piled and stocked with kaleidoscopic crafts and textiles. Emirati arts spaces and pop up are aplenty, as are the Creekside restaurants plating up all things local, Arabian and international from Lebanese to Italian.
Escape to the Mountains
Chances are you probably would not have noticed any mountains flying into Dubai because your eyes would have been set on getting a glimpse of The Burj. Don't worry, we were that person, too. Surprisingly, the peaks are only a day trip away from the glistening metropolis in Emirate's rugged, Mordor-like region of Hatta. There are countless guided or solo treks that range from 'easy to severe', scenic bike trails and for nomads who love the water, kayaks on the dam. It's a beautiful part of the world, and one that gives you a totally different perspective of what the UAE is hiding beyond the confines of Dubai and Abu Dhabi.
WELLNESS SPOTS TO KNOW
The Extra House Spa at 25hours Hotel One Central
The Extra Hour Spa at the 25 Hours hotel is dedicated to one thing and one thing alone: 'you time.' The usual treatments are on offer from massages to facials courtesy of skincare brands Aromatherapy Associates, Maison D'Asa and Proverb, but what's really hit a nerve is the sauna, Dubai's first outdoor mixed gender steam bath. While it's caused a stir, it's also been a hit among visitors and business types, plus the views, especially from the gym and pool are simply deserving of the "wow" emoji. Other things worth shouting about include the self-treatment salt room and the bestie sessions, a 30- or 60-minute treatment tailored to you and your bestest friend set to the hum of your own Spotify beat and wellness detox potion of your choosing.
The Talise spa at Burj Al Arab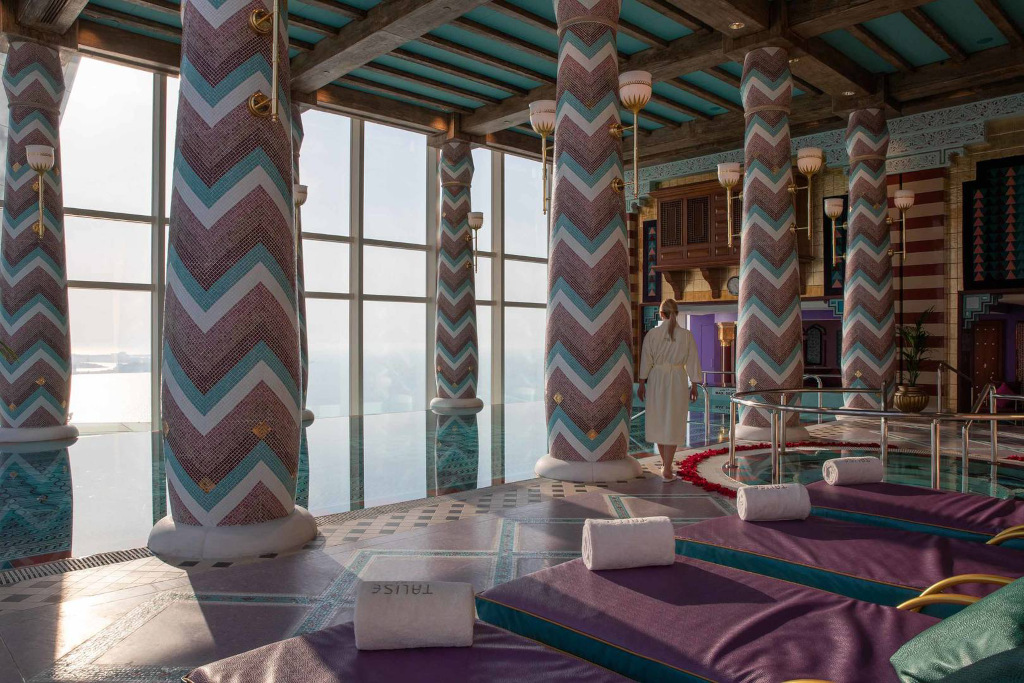 Except for the spa and the new and fabulous butler tour, this hotel fortress is reserved exclusively for high-flying guests and corporate types who splash the cash on glitzy and glam events. Grand intro aside, The Talise spa at Burj Al Arab is undoubtably one of the finest wellness spots on the planet. Lauded brands, including La Prairie, and absolutely (and ridiculously) over-the-top ingredients from caviar to pure gold have been making headlines for years. A multitude of saunas, plunge pools and perhaps the most 'grammable 18th-floor infinity pools your eyes are likely to ever see make up this slice of wellness nirvana in the sky. Must have treatment? The liquid gold massage, simply just to say you've tried it. After, kick back with all kinds of herbal infusions or hit the Himalayan salt capsule, or cryotherapy chamber.
EAT
21 Grams
This is a rare find in Dubai. How so? It's the only indie Balkan restaurant in the city and prides itself on its community focus and top-notch, fuss-free nosh. In no way is this place glamourous or Instagrammble. Instead, the sharing style menu preaches a comforting and wildly refreshing anti-trend stodge philosophy that sees a medley of baked goods, meats and seafood served in a swanky, but laidback dining room. It's also great for virgins to Bosnian, Serbian, Croatian and Montenegrin cuisine – the salads are excellent, too.
Mama'esh
Homely street food is the name of the game at Mama'esh, an ode to the fragrant, delicious, and complex flavours of Palestine. A friendly neighbourhood joint, gorge on hummus, eggplant mutabal (a dip), generous splashings of soup and breads made with the best organic flour this side of Dubai has to offer. Must eat? Virtually all of the fatayer, especially the halloumi and veg, which will see you dining back here in no time.
Marina Social
Modern British cuisine gets a Middle Eastern/Med spin. It's an ideal eatery to woo a holiday romance or simply dine solo to savour the four or six course menu of delights served in house at the InterContinental Dubai Marina. Expect all sorts of fineries from bank account busting beef wellington soirees (they even have a masterclass on how to perfect the dish on offer) to foie gras terrine and a seriously good signature Black Angus ribeye.
The Beach Bar and Grill at One&Only Royal Mirage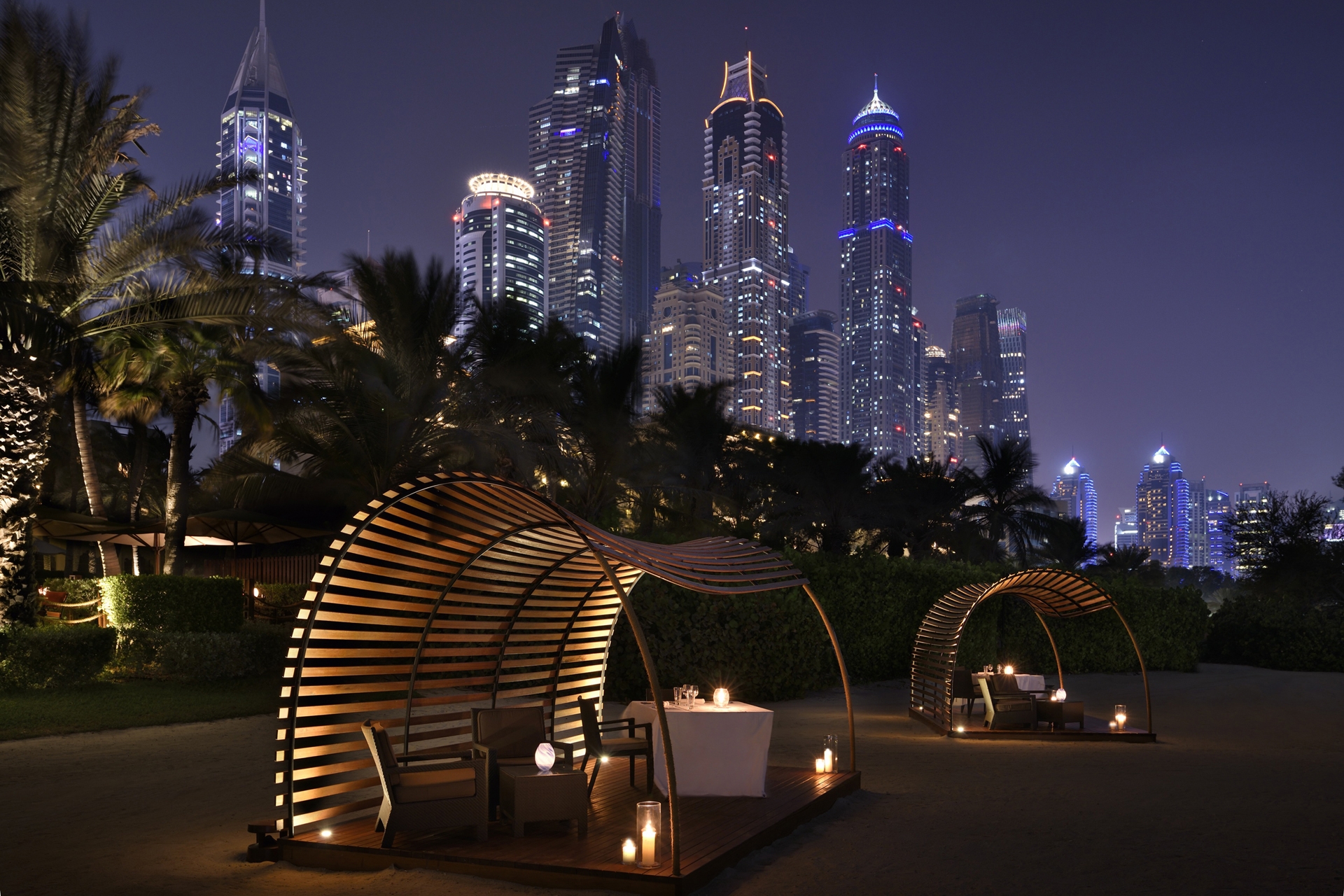 This polished slice of heaven on the pristine beach of the plush One and Only Royal Mirage resort is a touch of Malibu-esque chic on the water. It's fuss free and uber relaxed with a focus on South American flavours and a hec of a lot of fish masterminded by Argentine chef Mauro Colagreco. The ceviches are a standout, as are the seafood platters loaded with lobsters, oysters, pink prawns, clams, mussels, and white fish fillets. Oh, and the thick cut chips are nothing short of excellent.
The Time Out Market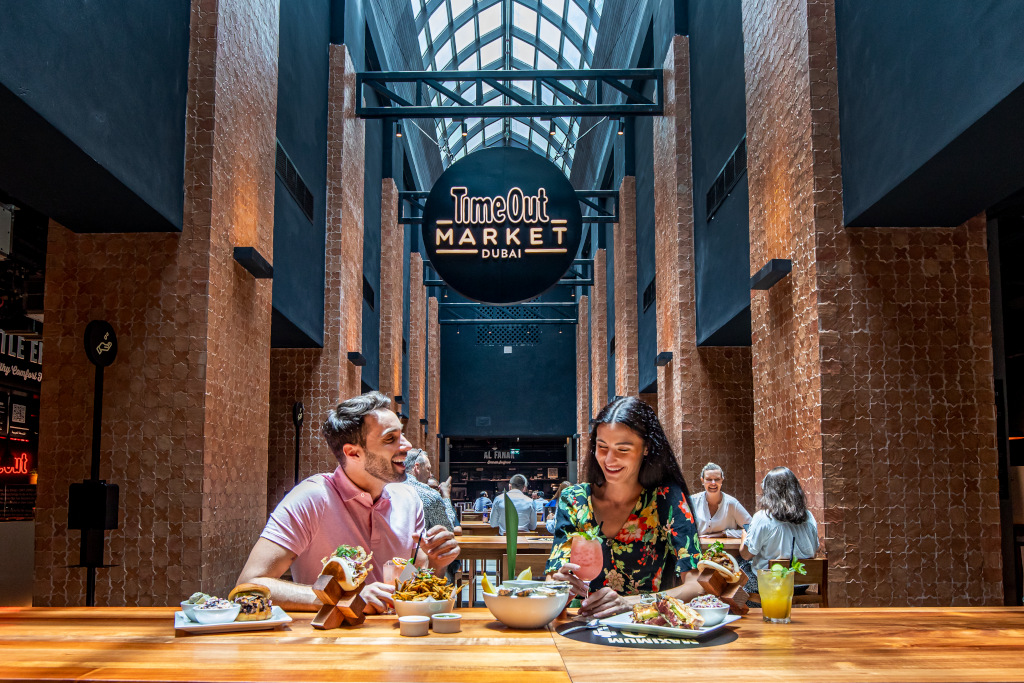 This might raise a few eyebrows but ask any local and they'll tell you you'll find some of the best eats at this undercover Downtown shack down by Dubai's famed water fountains. Truth is, we have to agree, not just because of its central location, but also because of the amount of variety on offer: Tuscan classics from Fulvio's; a great schooling in fine Indian, Peruvian and Japanese-fusion cuisine from Masti; traditional Emirati flavours from Al Fanar; Portuguese fish bangers from Lana Lusa; and some truly authentic Chinese cuisine from Long Teng. Essentially, it's an outlet for some of the city's finest restaurants who have decided to expand their reach to the Dubai mall masses. What an excellent idea, eh? Top tip: head straight for the terrace and gran a spot to dine alongside excellent views of the Dubai Mall fountains come showtime.
HOW TO GET THERE
Go Business Class with Emirates
Fly in impeccable style aboard Emirates Business class cabin. In Dubai, you get your own terminal, and you are quite literally babied every step of the way to the gate by concierge at request. Major perks include priority access lines, breezy security and swish and mammoth lounge access pre-flight. Onboard, expect roomy seats, regionally inspired breakfast, lunch, snack and dinner menus, amenities courtesy of the House of Bulgari, and a cabin crew that's so set on pleasing you it's almost suspicious. Novelty feature? You have your own minibar stocked with soft drinks and juices, plus an actual bar that spins out anything your heart so desires from Dubai to London and vice versa.
Emirates flies Business Class to Dubai from London Heathrow from £2,555 per person. Standard rates start from £535 per person. To book, visit the Emirates website.
WHAT TO PACK