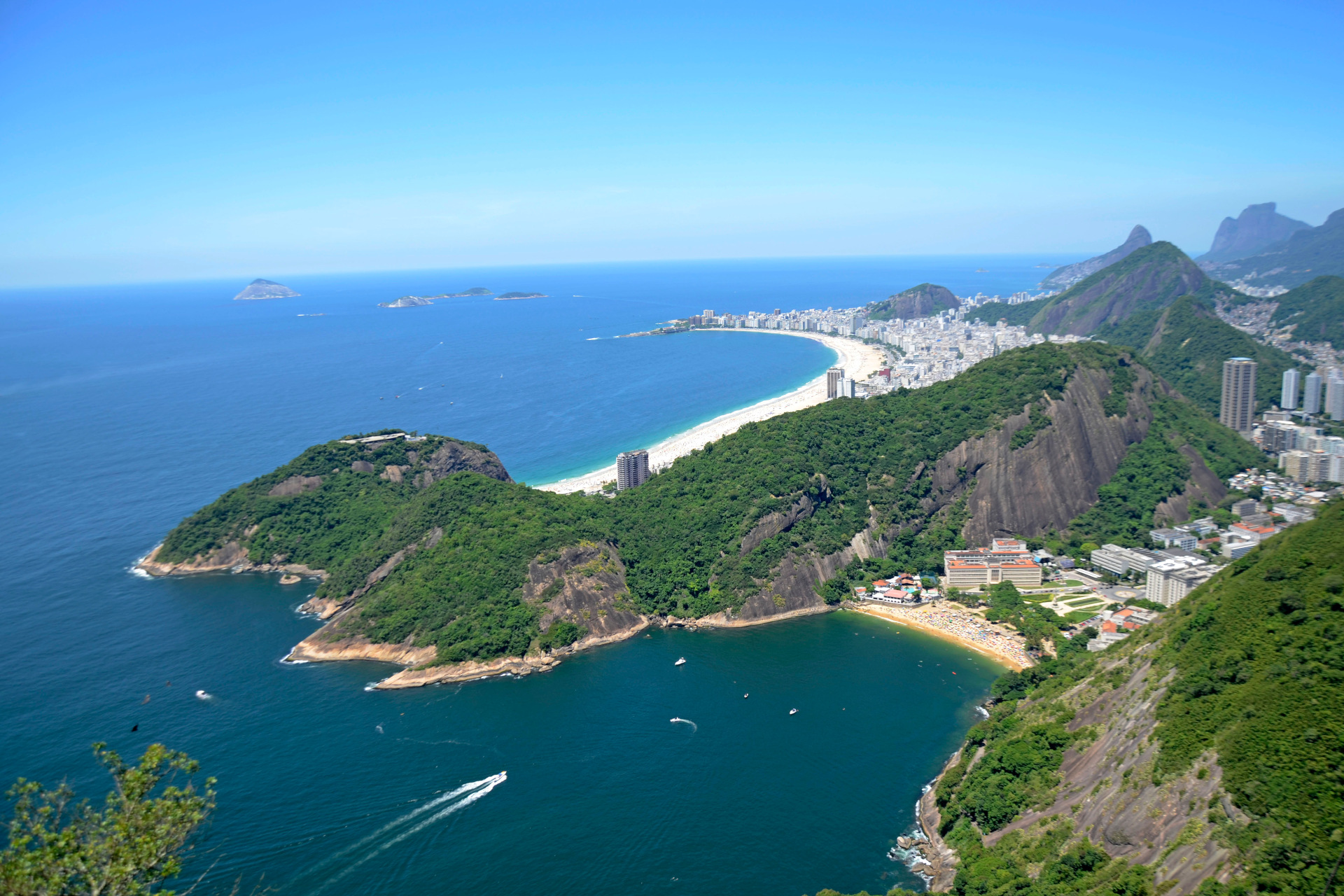 The C&TH guide to Rio de Janeiro
---
Plan your next Brazilian adventure
Build on sprawling mountains blanketed by rainforest with world-famous stretches of white sand and a city-centre lagoon, Rio is a cosmopolitan city that offers unrivalled natural wonders alongside a heavy dose of irresistible culture. Famed for the likes of samba, Caipirinhas, itty-bitty bikinis, world-class football and a new world wonder, it's not a city to be passed through on the way to somewhere else, instead it's a destination you could easily spend a week in and leave wanting more. Here Alice Howarth discovers how to explore the colourful streets of this urban playground and truly capture the wonder of the iconic South American coastal city…
The C&TH guide to Rio de Janeiro
STAY
Copacabana Palace, A Belmond Hotel, Rio de Janeiro
First opened in 1923, the Belmond's Copacabana Palace has hosted titans of industry, royalty and world leaders and remains the go-to place for old-world glamour and impeccable service in Rio.
With 243 rooms, the ocean-front ones are worth splashing out for. With unrivalled views of the sparkling Atlantic and the volleyball-playing crowds on Copacabana, it's hard to think of a better positioned 'holiday' hotel.
Rooms are suitably plush with refined, neutral decor. Expect all the frills of luxury boudoirs – vast, silky soft beds, marble bathrooms and suites that would dwarf the average London flat.
By day, you can take tennis lessons on the rooftop court; indulge in a massage at the spa or hang by the half-sized Olympic pool that sits in the courtyard surrounded by three of the properties' highly esteemed restaurants. Raffia-visor and palm-print kaftan wearing crowds mingle here for rosé on the weekends and it's not out of the question that you'll spy a celeb sprawled out on one of the white lounge beds. If you visit on a Sunday, make sure to book in for the banquet brunch at Pérgula which often turns into a music and cocktail afternoon long after the plates have been cleared away.
City View Room with king size bed starts from £365 (inc. taxes and charges), belmond.com.
Hotel Emiliano
For a more modern taste of Rio's 5* offering, Hotel Emiliano has established itself as one of the best in the city since arriving on the beachfront in 2016. One for design enthusiasts, its modern exterior gives way to a spa-like ambience as you enter the hotel from the Copacabana strip.
Boasting 90 rooms – a third of which are suites – it's the Spa Suite which is the true gem of the property. Situated on the 11th floor, adjacent to the excellent Santapele Spa, its proportions are as generous as the amenities are. You'll find Egyptian sheets, Hungarian goose feather pillows, Japanese heated toilets, a wet room-cum-sauna and a beach-facing jacuzzi tub to unwind in at the end of a culture-packed day. With a butler to assist you and a spa team ready to create you a personalised itinerary of treatments, you'll be propelled into switching off in no time.
One level up is the rooftop, which is worth checking into Emiliano for alone. Undoubtedly one of the best hotel pool we've seen, the infinity design looks out over Copacabana across to Ponta do Leme. Set yourself up for a full day of sunbathing with a bottle on ice. One thing's for sure, you'll be joined soon enough by the beautiful crowd.
Deluxe Courtyard start from £440 (not including tax). emiliano.com
EAT
A true city of two halves – whatever you're after in Rio, you're sure to find it. You can pick up delicious street food from one of the countless vendors that line the pavements but if you want exclusive dining – you'll be spoilt for choice too.
Sud, O Pássaro Verde Café (The Green Bird Café) is found on the edge of the leafy Jardim Botânico district on an unassuming residential street filled with beautiful townhouses. Laid-back yet intimate, at the helm is Roberta Sudbrack, who in 2015 won Latin America's Best Female Chef Award. A home-away-from-home, you'll feel like you're feasting in someone's dining room as you watch the chefs cook up your next plate in the open kitchen. With a focus on seasonal, rustic food using exquisitely fresh produce – you can expect the likes of buttery carpaccio, succulent lamb that splits at the slight indentation of a fork and al dente, sweet roasted root vegetables. Each dish is as delectable as the next.
Aprazível has been a favourite among locals and visitors for years now and its popularity shows no signs of slowing. Perched in the hills of Santa Teresa, the sprawling tree-house restaurant offers incredible views over the city so it's worth going for a long lunch. If you do go at night however, the twinkling blanket of Rio makes it extra romantic. Noteworthy dishes include the grilled palm tree heart with fragrant pesto; Moquequinha do Rio (a traditional Brazilian fish stew) and the decadent chocolate cake made from 72% Amazon chocolate.
Beach kiosk line the sands in Rio and dining at one is a quintessential experience. Situated in Ipanema, de Lamare is an upmarket version that has good ice-cold wine (surprisingly hard to find) and exceptional seafood. Spend the morning on the beach before retiring to feast on a lunch of oysters, ceviche and lobster rolls.
A favourite among the Ipanema and Leblon crowd, Zazá Bistrô Tropical is filled with in-the-know Cariocas (a native of Rio) of all age groups. A fusion spot, the dishes marry Brazilian, European and Asian influences but it's worth noting that the cocktail menu is as impressive as the food so don't leave without sampling one or three of the deconstructed Piña Coladas.
DO, SEE AND SHOP
It's best to approach experiencing Rio by neighbourhoods as it's easy to waste time crossing the sprawling city for one site not realising you were right beside another on your hit list the whole time.
Gavea, Jardim Botânico and Lagoa are next door to each other so it's wise to plan a day combining what each has to offer. Start the morning off by grabbing a coffee and biking or walking around Lagoa Rodrigo de Freitas, which is Rio's inner-city lagoon. After lunch head to the Botanic Gardens, which are a sanctuary in the city. If you're lucky you'll spot Toucans and monkeys roaming around the cactus, orchid and palm gardens. Finish up the day with a slice of cake at Parque Lage, a stunning historic mansion that's now an art school and cafe. You may recognise it as the pad featured in Snoop Dogg's 2003 video Beautiful. Note, you should book a visit to Parque Lage 10 days before arrival as it's often booked out.
Centro is the business district of the city so there's not a huge amount to do but it's where you get the historic yellow streetcar up to the lofty hills of Santa Teresa. Make a stop at Confeitaria Colombo, a decorative coffee house that dates back to the 1800s, before walking to Bonde Station and boarding the tram.
Once you arrive in Santa Teresa, wander the streets looking at the incredible 19th-century mansions that jut out of the hillsides and pop into one of the many bars for a beer or cocktail. Make your way towards the Escadaria Selarón and snap your picture on the iconic steps. Once you're at the bottom head into Lapa, Rio's former red-light district which today is a musical capital of Brazil and full of fun bars and clubs.
Christ the Redeemer and Sugarloaf Mountain are must-sees for first-time visitors. Although they are not in the same area, they are only around a 30-minute cab ride from each other so they can be done on the same day. Make sure to go early and save these for the sunniest day on your trip – blue sky views are essential.
The world-famous Maracanã Stadium is located in the Zona Norte district and watching a match here is advisable even for those who don't care for football – you're sure to come back a yellow-shirt wearing supporter. A legendary place that many claim hosts some of the most thrilling football in the world, being amongst the rambunctious crowds for either a national or international match is an unforgettable experience.
Copacabana, Ipanema and Leblon are where to find the best beaches, shops and restaurants in the city. Spend multiple days of your holiday on these areas' white sands and when looking for souvenirs to take home, head into Leblon where you'll find lust-worthy swimwear at Haight, playful and sculptural jewellery at Paola Vilas Jewellery and heavenly scented soaps, candles and lotions at Granado Pharmacy.
For those in search of nightlife, Monday at Pedro de Sol is where to see live samba and dance the night away with lethal-strength Caipirinhas in hand but do be warned, it's a gritty street party where anything goes and not a chichi pool party vibe. On Sundays head to Bip Bip in Copacabana, where you'll find a crowd spilling out onto the street from a tiny bar and a group of old friends and famous local musicians playing choro and samba. Lapa is where to head if clubbing is your thing.
GOOD TO KNOW
It would be remiss not to mention safety when visiting Rio. The biggest problem is petty theft so do not take any jewellery or watches with you; don't use your mobile phone openly on the street and take a bag that feels secure like a crossbody style or a bumbag. After dark, only take local yellow taxis or Ubers (these are booked through your app but you need cash to pay for them).
Hardly anyone speaks English (and why should they!) but downloading a translation app or having a note of handy phrases on you will really help.
Many tour operators and places worth visiting have ceased operation due to the pandemic so always contact them prior to using or visiting them to check if they still exist.
Wifi is not readily available in the city but will prove invaluable (many sites, for example, don't have English signs or programmes) so getting a holiday internet package for your phone is advised.
Rio is in a rainforest so expect, well, rain and manage your sunbathing expectations. There are sunny, dry days of course but they are always followed up with rainy or overcast days and the cycle repeats.
TRIPS
Rio is an 11 and a half hour flight from the UK so it's likely you'll want to combine the city with exploring other parts of Brazil, and Paraty and Ilha Grande are the ideal pairing. No need for an internal flight, Paraty is a four-hour drive down the coast and Ilha Grande is around two with a 45-minute boat trip on top.
Paratay
A Portuguese colonial town famed for its charming cobbled streets and whitewash houses with brightly painted doors and windows, Paraty is as picturesque as it gets. A sort of Brazilian St Ives, it has the feel of a quaint fishing village and attracts Brazilian holidaymakers as well as jet-setters and honeymooners.
STAY
Overlooking the port, Casa Turquesa is ideally located in Paraty's historic quarter. A converted 17th-century property, it's homely yet luxe. With only nine suites, the hotel is intimate with multiple open-plan communal rooms as well as a well-positioned small pool that sits in the hotel's courtyard. Owner Tetê is often around, chatting with guests at breakfast and offering recommendations after over 20 years of living in the town. An ideal spot if you're spending two or three days there before moving on, it's a five-minute walk to Paraty's best restaurants and shops so you can explore the area with complete ease.
Luxury suite from £330 including tax, breakfast and tea in the afternoon. casaturquesa.com
DO
Paraty is situated between the rainforest and ocean so as well as discovering the town's streets, you can experience some of the natural wonders of Brazil's Costa Verde too.
Take a traditional schooner trip to the many beaches and bays in the surrounding area. You can book a trip through Casa Turquesa or walk down to the pier and talk directly to the boatmen there. If you're a keen walker, enjoy a hike through the Atlantic Forest, to one of the surrounding waterfalls or along the town's river.
Within the cobbled streets, you'll find plenty of galleries, interior and souvenir shops boasting beautiful Brazilian paintings, ceramics and linens so make sure to leave room in your case to transport all your newly acquired treasures home.
EAT
It might be a small place but there's an impressive amount of cuisines on offer in Paraty. For Italian head to Punto di Vino or Pippo; if you're up for Asian food, the quirkily decorated Thai Brasil will give you a good fix and if it's Brazilian cuisine you're after, Refugio and Bartholomeu offer up scrumptious regional seafood dishes.
Ilha Grande
STAY
Atlantica Jungle Lodge is found nestled in the verdant jungle and is a sprawling hotel from which you can enjoy your entire trip. The closest accommodation to the famed Lopes Mendes Beach, it's a lottery winning location.
With only four rooms, it has a rustic decor and in true cast-away fashion, electricity is only available during certain hours of the day save for a few switches so you can always charge your phone should you need to. Wi-fi is also round the clock so you won't have to undergo a digital detox unwillingly (although one is always recommended when in paradise).
Rates start at £180 for double occupancy, breakfast included. atlanticajunglelodge.com
DO
Lopes Mendes is widely regarded as one of the best beaches in Brazil and is a 15-minute walk directly from the lodge. Make sure to get up early so you can have the 3k stretch exclusively to yourself. Boat trippers will descend on the shores from around 11.30 am.
If you want to explore more of Ilha Grande, the hotel can assist you with arranging tours to Vila do Abraão, the main town on the island where you'll find beach bars and shops. You can also enjoy snorkelling and boat trips straight from Atlantica or if you want to explore the jungle, you can take a guided walking tour.
EAT
Atlantica has one restaurant where guests dine between certain times of the day. The menu is pleasingly extensive and delicious, with European dishes on offer as well as traditional Brazilian fare. Immediately from the hotel, there is only one other place to graze at and that's the floating restaurant Marola in Pouso beach only a stone's throw from the hotel. Very informal, it closes at 4pm each day and has a snacky and light menu perfect for a break-from-sunbathing lunch. If you stay more than three nights, it may be worth getting a taxi boat to and from Vila do Abraão for a change of dining scene.
READ MORE: 
All Aboard Belmond's New South America Sleeper Train / 6 Ways to Travel More Sustainably / 10 Travel Books to Escape With