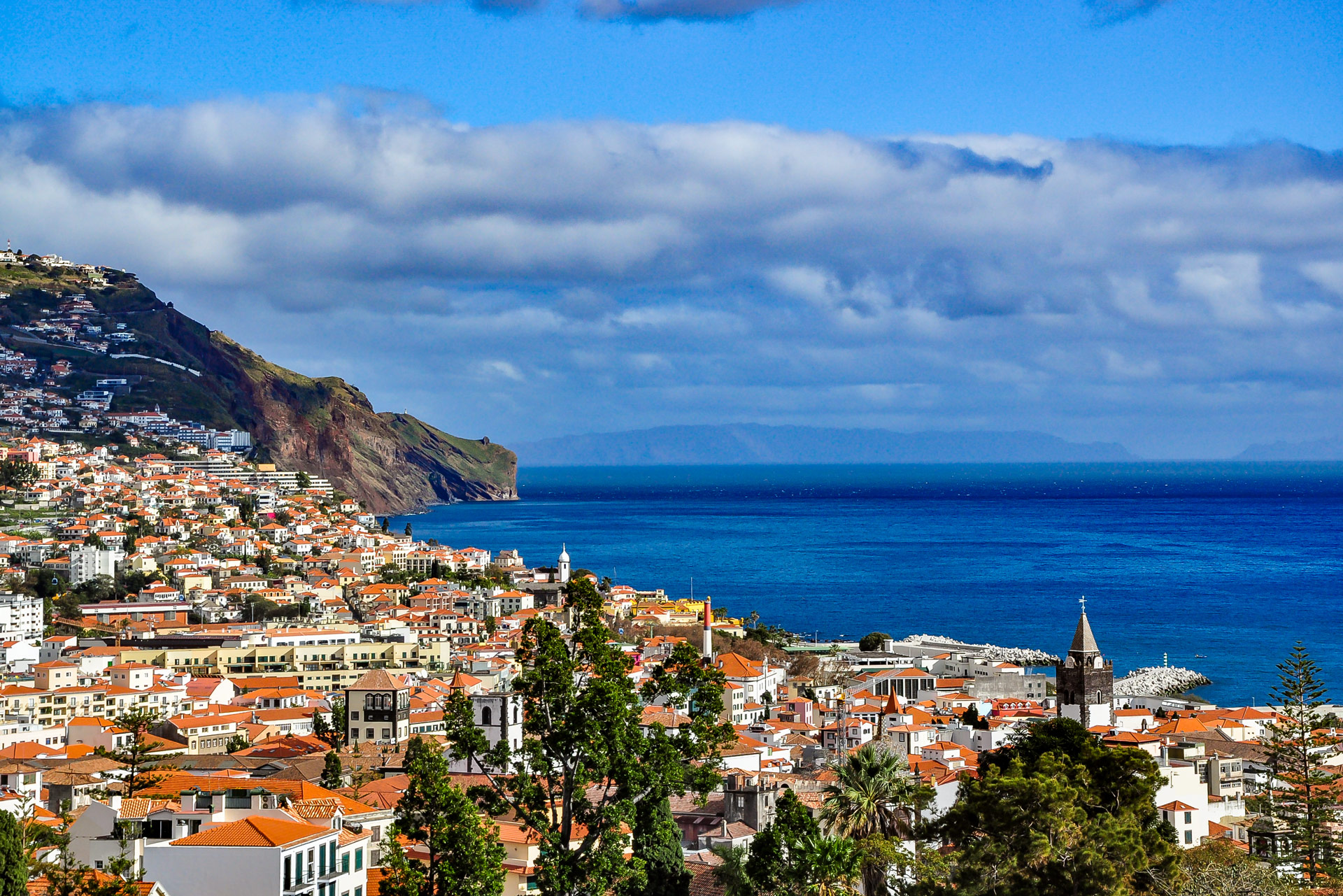 The Weekender – Madeira
---
Breathtaking landscapes, characterful hotels and plenty of Poncha awaits
It won't be 'goodbye'. It will be 'see you soon', says Alex Bloom-Davis.
Let me dispel a myth from the start: Madeira is not a place where the aged convalesce. This may have once been the case due to the island's tropical climate – which is typically 25°C in the summer, rarely dipping below 17°C in the winter – and stunning scenery – think Jurassic Park meets Neverland. The fact is that this Portuguese island off the northwest coast of Africa offers the perfect getaway in one way or another, as I found out to my delight.
Wander through the old streets of the island's capital, Funchal, on the south coast of the island, before taking a 3.2km cable car (madeiracablecar.com) to the parish Monte, home to one of the world's most luscious botanical gardens. What goes up inevitably comes down, and traditionally getting back into town involves a wicker toboggan, two burly, boater clad men steering from the back and speeds of 30mph down open roads – you may not think you're on the flight deck of the Starship Enterprise, but when you are essentially in a basket on an open road, it is quite an eye opener.
The island's volcanic structure has made it a haven for hikers, trail runners and mountain bikers. See Madeira's biblically beautiful landscapes accompanied by guides from Madeira Experience, who will take you on the most picturesque hikes, tailoring the day to your particular desires, abilities and requirements, while pointing out rare plants, trees and wildlife, many of which are unique to Madeira.
For those longue lizards out there, I couldn't recommend anywhere better to get your tan on than Porto do Seixal Beach. Its volcanic black sand, crystal waters and tropical mountain surroundings are not dissimilar to that of a Thai island; the difference is, if you leave London promptly in the morning you can enjoy your first glass of rosé on the beach by lunch time.
The Essentials
STAY
If five-star hotels are your thing then you won't beat Vidamar Hotel Madeira. First and foremost, you will actually feel like you're on holiday. The rooms are airy, comfortable and provide stunning sea views; you can have a pre-breakfast coffee on your balcony and decide which of the three pools you are going to take a dip in before your trip to the Thalasso Sea Spa (all the usual equipment and treatments all good spas should offer, with the more unusual chocolate wrap treatment) where you will lose yourself in luxury and peace while the attentive staff look after your every need and desire. vidamarresorts.com
But if you prefer a more rustic vibe, Fajã dos Padres is your bag. A stretch of coast that is only accessible by boat or cable car right on the sea front and with gardens overflowing with organic fruit and vegetables you can book one of eight villas for a more secluded retreat. Don't, however, book your stay at Fajã dos Padres if you hope to completely segregate yourself from civilisation, the relaxed, rustic-chic beach restaurant attracts a steady flow of people who have heard of the simple but superb food, much of which is home grown onsite. fajadospadres.com
DO
3,000kms of levadas – man made irrigation systems dating back to the 16th century – flow through the Madeiran countryside. Follow the levadas (there are 28 to choose from) along breathtaking routes, choosing from mountain, forest, beach or mixed routes. The levada walks have varying lengths and difficulty ratings, so it's best to do your research before-hand with Discover Madeira. Alternately, Madeira Experience, who take you out for the day to see the island; take a Jeep tour, a cross country trail bike tour, or for a more adrenalin inducing time, take a quad bike around the island with people who know it like the back of their hands. NB, the island has around 180 tunnels to improve travel time through the mountainous island – in a car you can now get from one side of the island to another in 45 minutes, instead of the four and a half it took before.
EAT
A former family urban chalet-turned-restaurant in Funchal, the family feel is now maintained at Chalet Vincent by the welcoming and friendly staff who treat you as a regular regardless of whether you have been before. The umbrella-adorned terrace garden is highly atmospheric and the ideal place to reminisce about your day in the evening. Eat the Madeiran delicacy, black scabbard fish with baked banana (did you know that bananas are Maderia's second largest export, after the famous after-dinner wine it had been producing since the 16th century) and accompany it with one of 400+ wines on offer.
But what if, for example, you had an occasion really worth celebrating and wanted something a little smarter, perhaps? Well it has to be il Vivaldi, where head waiter, Duarte Averio is as attentive as his is unobtrusive. The Mediterranean restaurant in Funchal create cuisine too good to miss when you are in Madeira.
BUY
Besides Madeiran wine, the island is also famed for Poncha – a drink made from Madeiran sugar cane rum, fresh lemon and orange juice and honey – created by fishermen as a means to prevent seasickness in the late 18th century. Be warned though, Poncha packs a punch, and after a few you'll be convinced you're speaking fluent Portuguese.
SEE
Sunrise at Pico Ruivo – the island's highest peak at 1,862 metres above sea level, on a popular walking route and 30 minutes' drive from Funchal – will get triple figure likes on your Gram feed. Perhaps after, you could go to the natural formed, seawater swimming pools at Porto Moniz or Seixal. Forged by volcanic rocks and the relentless battering from the sea, take a dip before a bite to eat. An action-packed morning for sure, but one that will leave you feeling that an afternoon by the pool or on the beach, for instance, is thoroughly deserved.
BOOK IT
British Airways (from £92.89 return including taxes/fees/carrier charges. To book, visit ba.com/madeira or call 0344 493 0125) to the Christiano Ronaldo Madiera Airport, one of the most infamous runways in the world, being built on concrete stilts and exceptionally short in length. Don't let that spook you; to land in Madeira the pilots need a special licence, so you're in the hands of no rookie.
Featured image: GettyImages
DISCOVER MORE:
The Weekender – Puglia / The Weekender – Positano / The Weekender – Santorini / 2020 Travel Trends: What Your Holidays Will Look Like Now, According to the Experts