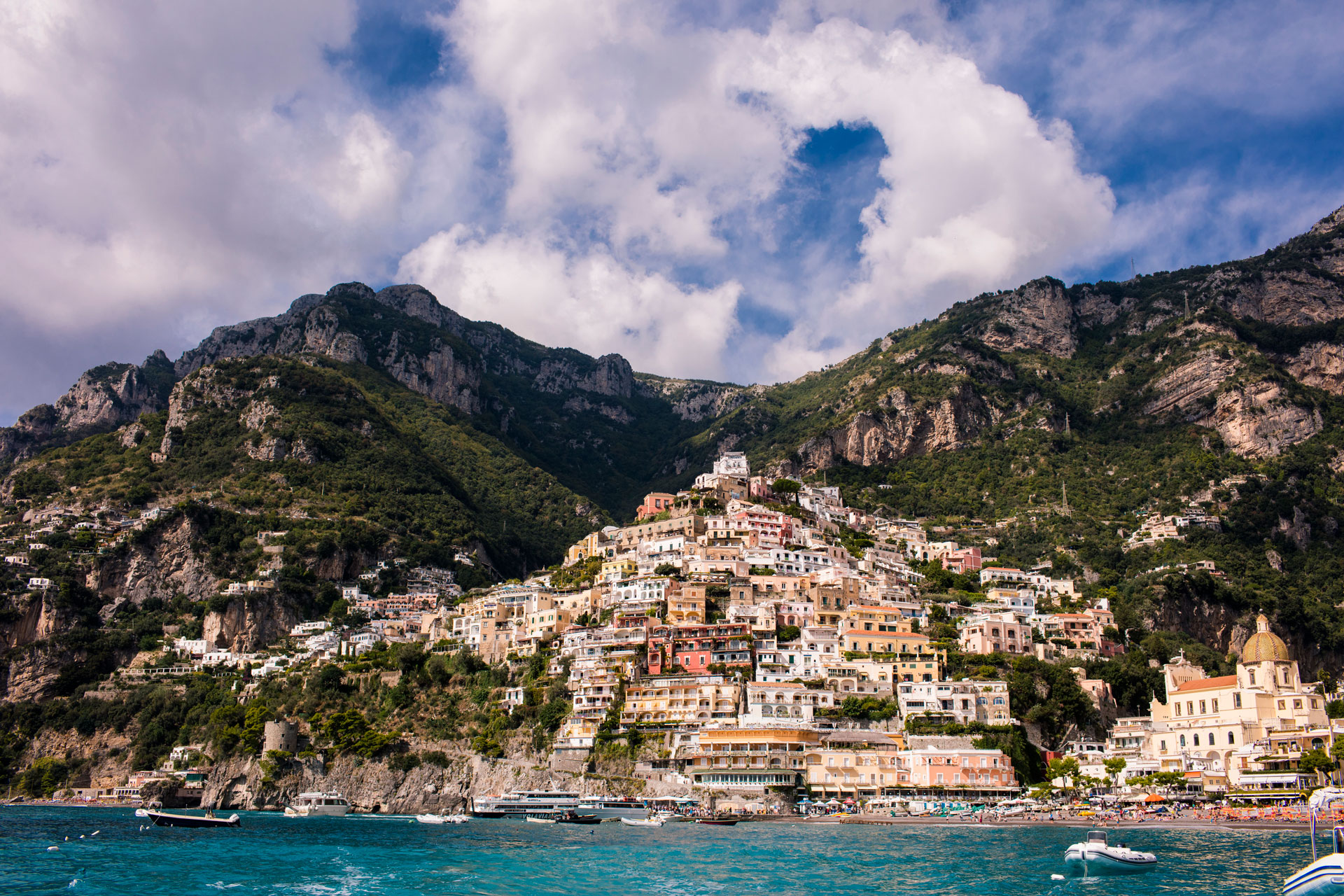 The Weekender – Positano
---
The ultimate guide to living la dolce vita in Positano
Positano really is a dream of a place. Colourful houses painted shades of pink, white and yellow appear to cling tightly to the cliff but are in fact very accessible through the narrow streets that snake their way up the steep mountainside. The unique vertical cliffside setting is what gives most of the town amazing views. Just 1.5 hours from Naples airport, it makes the perfect long weekend break – and once you've been, you will definitely want to return. By Maria Boyle
The Weekender: Positano
STAY
At the Palazzo Murat. Located right in the centre of Positano, in the pedestrian area and just a one-minute walk to the Piazzetta dei Mulini, the Spiaggia Grande (main beach), and all the other main spots in town, it's one of Positano's most beautiful hotels. It is said that when Gioacchino Murat, King of Naples, and brother-in-law to Napoleon, arrived in Positano in 1808 he visited this palace, and it was love at first sight. The hotel was the place where the king spent the hottest months, accompanied by his lovers, far from the intrigue and bustle of the Neapolitan court.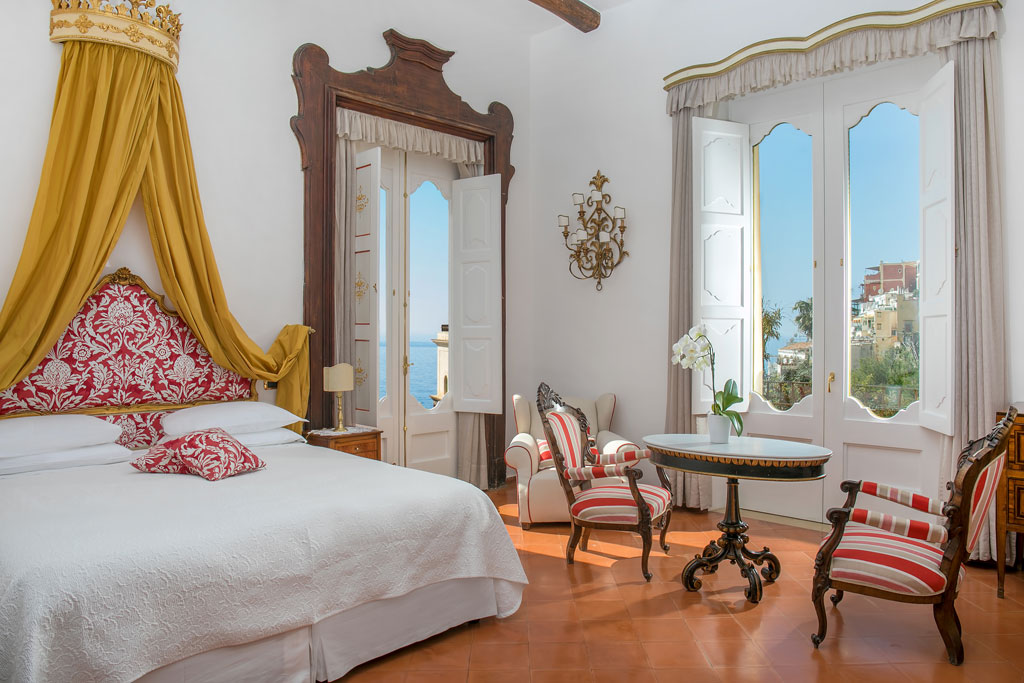 As soon as you enter the gates of the Palazzo, you step into a world of Italian chic and luxury with terraces filled with jasmine, bougainvillea and orange flowers.  Endless picture perfect moments are most definitely guaranteed. From your room's balcony or lying horizontal on a sun lounger, the Palazzo offers one of the best views of Positano as well the Church of Santa Maria Assunta, with its colourful, glazed, Majolica-tile dome. Each one of the 33 elegant white rooms and suites is accented by the vivid colours of Vietri majolica while being sympathetic to the Palazzo's design and architecture.
The Best Seaside Camping in the UK
The hotel's pool, surrounded by mandarin trees, is set in a pretty private garden and next to the hotel's well established kitchen garden. A great location, with sea views, without being too far up Positano's steep hill, and easy access to the many ice-cream shops, restaurants and bars.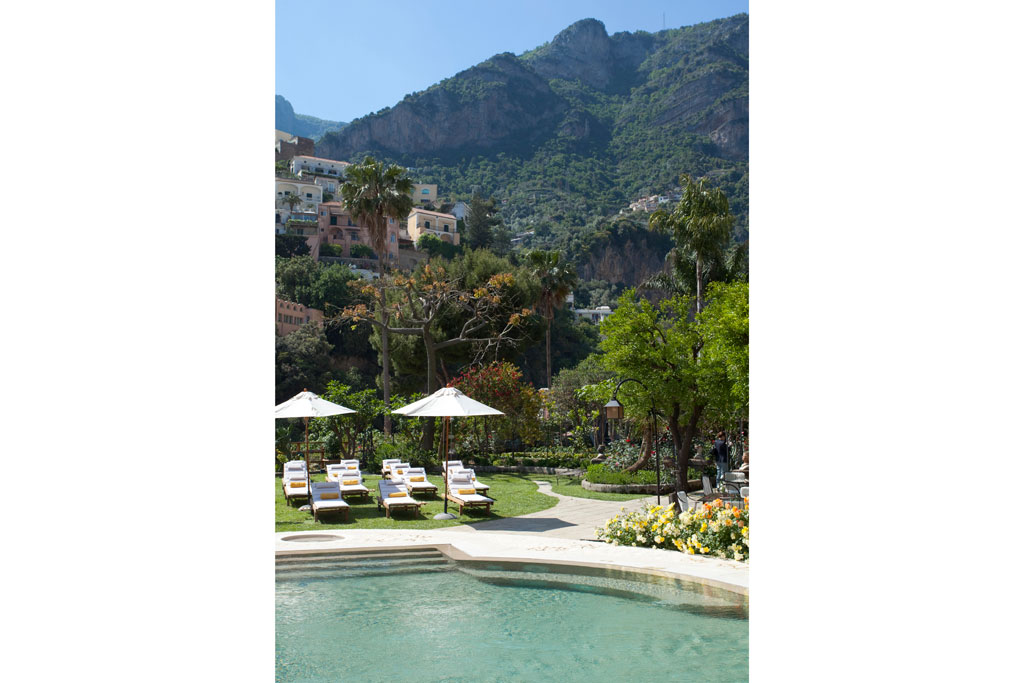 EAT
There's no shortage of great restaurants in Positano, some with drop-dead gorgeous views, and others tucked away off a hidden side street.
This year, Palazzo Murat has the outstanding Next 2 pop up in its garden offering a fabulous Mediterranean gourmet menu including mouth-watering dishes such as stuffed zucchini flowers with ricotta, pumpkin and zucchini; fetticelle with Mediterranean blue lobster and braised beef cheek with balsamic vinegar, peppers and baked onion and tiramisu with Baileys ice cream.
The Best Spas for Mental Health
The family run Ristorante lo Garracino was established some 40 years ago and overlooks the lovely beach of Fornillo and panoramic views of the Amalfi Coast. Reached by a short walk along the picturesque path carved into the rock along the sea, it offers an extensive menu including home-made pastas, pizzas and fresh seafood – with its famed red snapper a must order. Tiramsu is served simply in jam jars and lemon sorbet within huge Amalfi lemons.
Right on the Positano beachfront is Osteria Le Tre Sorelle. Founded in 1953 by sisters Giovannina, Adelina and Nannina, the restaurant is a Positano institution and known for its wonderful seafood, delivered straight from the sea in front of the restaurant. The mixed seafood starter is delicious; pizzas are the best in Positano and freshly caught red snapper served with potatoes and tomatoes is sublime. The restaurant even makes its own home made Limoncella which finishes off the meal in true Italian style.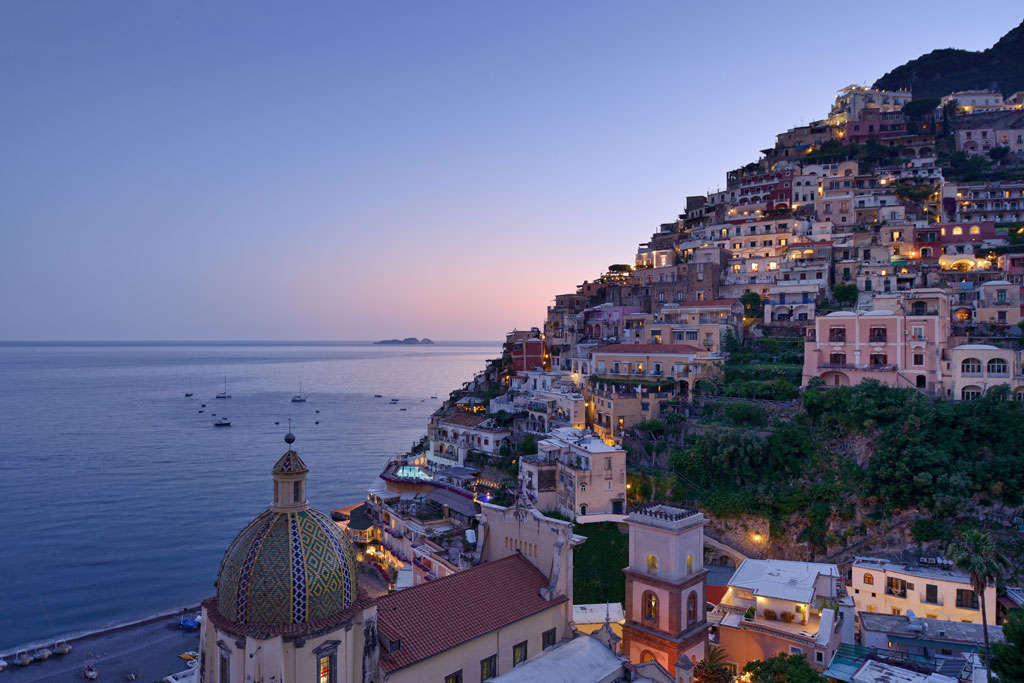 For the ultimate meal experience combined with jaw-dropping views, dinner at Positano's most famous hotel, Le Sirenuse is one to tick off the bucket list. La Sponda restaurant offers guests an elegant menu under chef Gennaro Russo. Highly recommend sea bass with candied citron or local lobster with court bouillon followed by fagotelli pasta with local mountain beef, onions and aged parmesan and black truffles or the roasted local sea bream with eggplant caviar and leeks for mains. Desserts are delicate and served as Positano lights turn on ensuring a spectacular evening becomes even more magical.
And if the budget doesn't stretch to dinner, enjoy at pre-dinner cocktail at Franco's, its rooftop bar – no bookings accepted, so best to get there as it opens at 5:30pm to catch the sun going down.
DO
Step outside the Palazzo Murat's gates and you'll find elegant tailored shops, art galleries, open-air cafes great for people watching.   
For shopping, visit Pepito's, one of the first boutiques to open in Positano in the early 1960s, is great for simple, elegant, sophisticated and professionally cut linens. For more indulgent purchases, Emporio Sireneuse offers a stylish take on the dolce vita lifestyle and a chance to buy fragrance or a floaty skirt. Theodora boutique is also a great spot, offering trendsetting dresses made in Positano with top quality linens and lace.
The tiny squeeze of a shop Mastro Sandali is family run and offers beautiful handmade leather sandals with bespoke bejewelled accessories in all colours while you wait, from 85 Euros. Carthusia boutique has a range of fragrances all crafted in the neighbouring island of Capri, worth a visit – even with a mask on. Famous fans of the label include Jacqueline Kennedy Onassis (who wore it on her wedding day to JFK) and Michael Kors. Ceramics are everywhere, just bring a spare suitcase.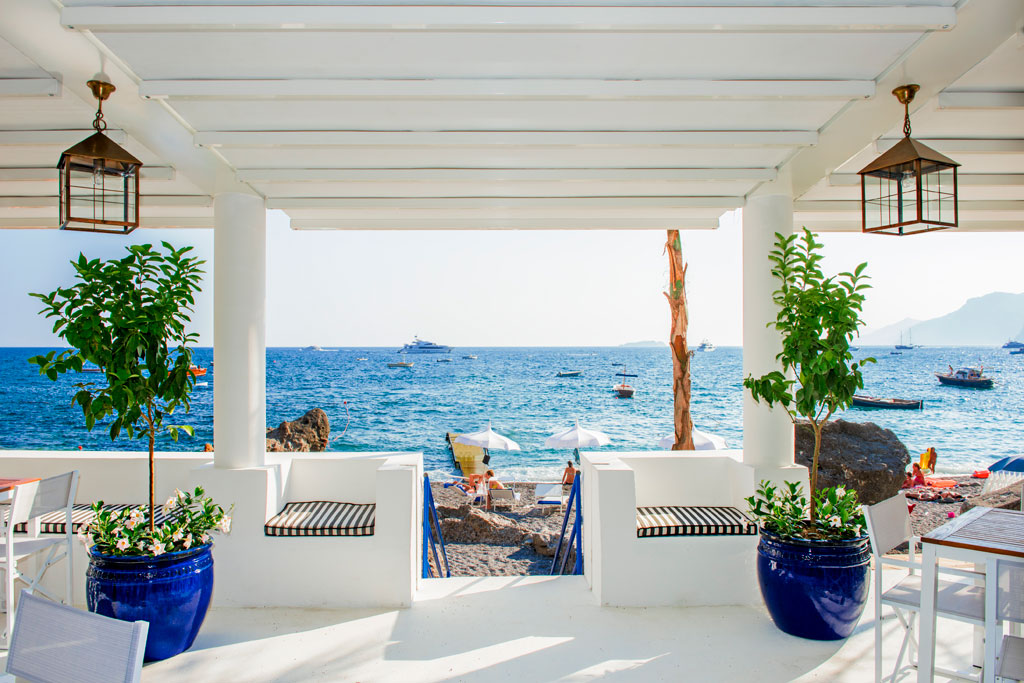 One of the chicest on the Amalfi coast is Treville Beach Club, part of the former estate of Italian director Franco Zefferelli. Catch the free boat from Positano and enjoy the scenic 10 mins ride until you arrive at the secluded beach and are greeted with an Aperol Spritz. Swim in the crystal blue Tyrrhenian Sea before enjoying lunch in its stylish restaurant serving the freshest of seafood (tempura prawns, tubetonni with mussels, potatoes and zucchini flowers, delicious pizzas) and a great selection of desserts.  After lunch, the restaurant is transformed in to a beach bar playing remixes of American folk music from the 60s to the 90s.  Coastal cocktails are a must and just call the waiter for your free boat ride home. Bliss!
The Path of the Gods, a 7.8km walk, is a perfect way to spend the day and leads you through historic towns, spectacular scenery and got its name due to its incredible awe-inducing views. You can do some or all or the trail. Trainers and water a must.
Positano usually offers a wealth of cooking classes, but due to COVID these are not happening this year. When they start again, the highly recommended Buca di Bacco was a great hit when we did this last year and we're still using the recipes now.
BOOK IT
Rooms at the Palazzo Murat from €290. palazzomurat.it
Featured image courtesy of Le Sireneuse
MORE WEEKENDERS
Geneva / Tokyo / Lake District / Stockholm / Marbella / Perugia / Milan / Madrid