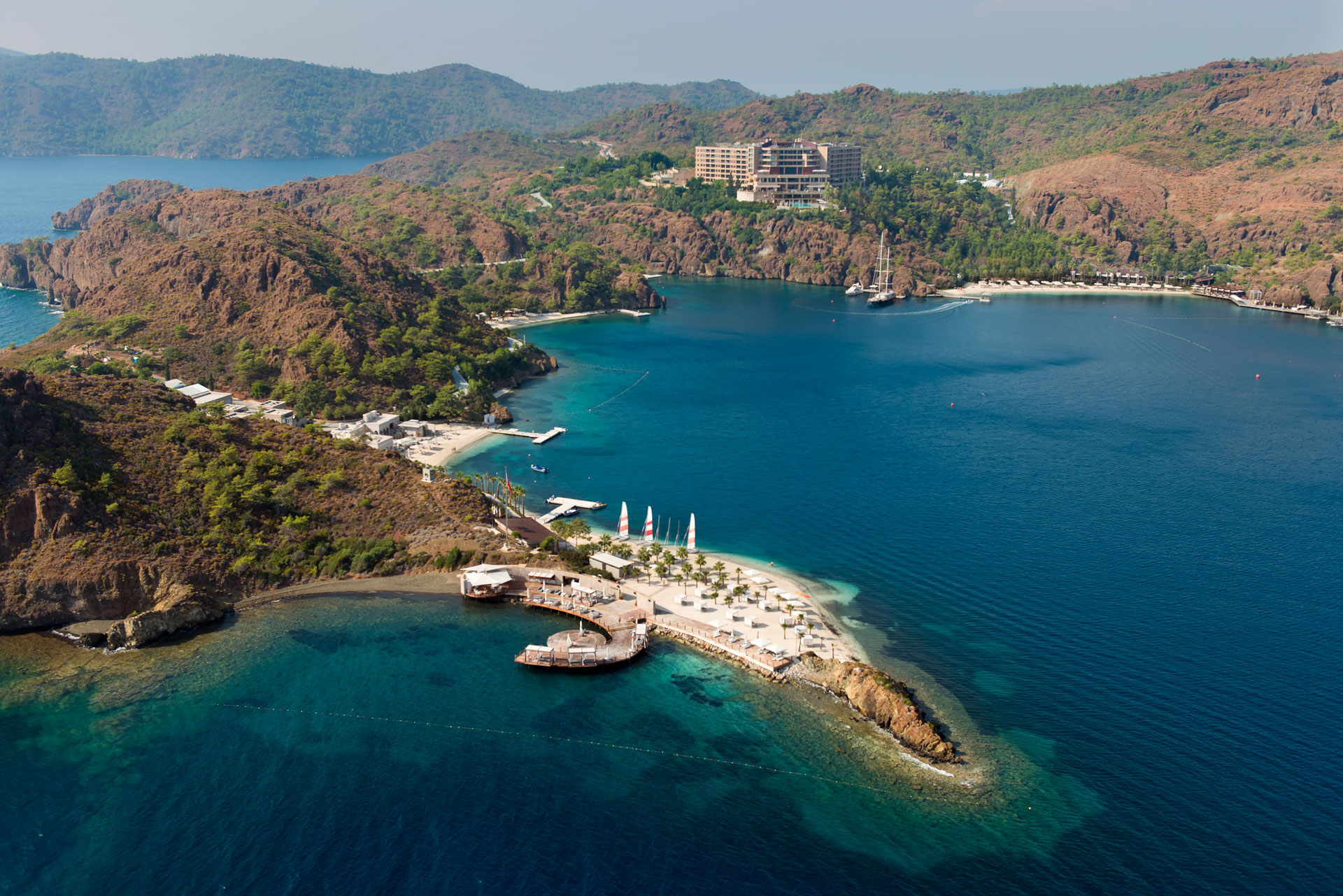 Turkish Delight: A Sun-Soaked Getaway to the Datca Peninsula
---
Sarah Parish explores the pristine beaches at D-Maris Bay Resort
Actress Sarah Parish escapes the memories of home-schooling and burnt banana bread to a safe place in the sun in Turkey
Turkish Delight: A Sun-Soaked Getaway to the Datca Peninsula
There's a famous Turkish saying that goes something like this: 'God sends the ones he loves to the Datca Peninsula.' Well, I'm not a huge believer but I must have done something right because it appears I'm in the big man's good books, because I'm here, for five days, at the beautiful five-star D-Maris Bay Resort, a jewel in the heart of the most beautiful part of Turkey.
How quickly I boarded the plane before God could realise his mistake. How I longed to wake up to a view that would erase all memories of failed home-schooling and burnt banana bread. How glad I was Turkey was off any of those dreadful 'red' lists.
At breakfast on day one – beauty in all its guises assaulted my senses. And I'm not just talking about the piles of warm breads, pastries, succulent fruits and other morning treats… the clientele too is pretty damn gorgeous. I hastily retreat to my room to whip off my saggy vest and shorts and slink into my Melissa Odabash floaty kaftan. Feeling more The Good Life's Margot Leadbetter than sexy Sienna Miller, but still… this place attracts a good looking crowd so leave your sweatpants and wife-beaters at home.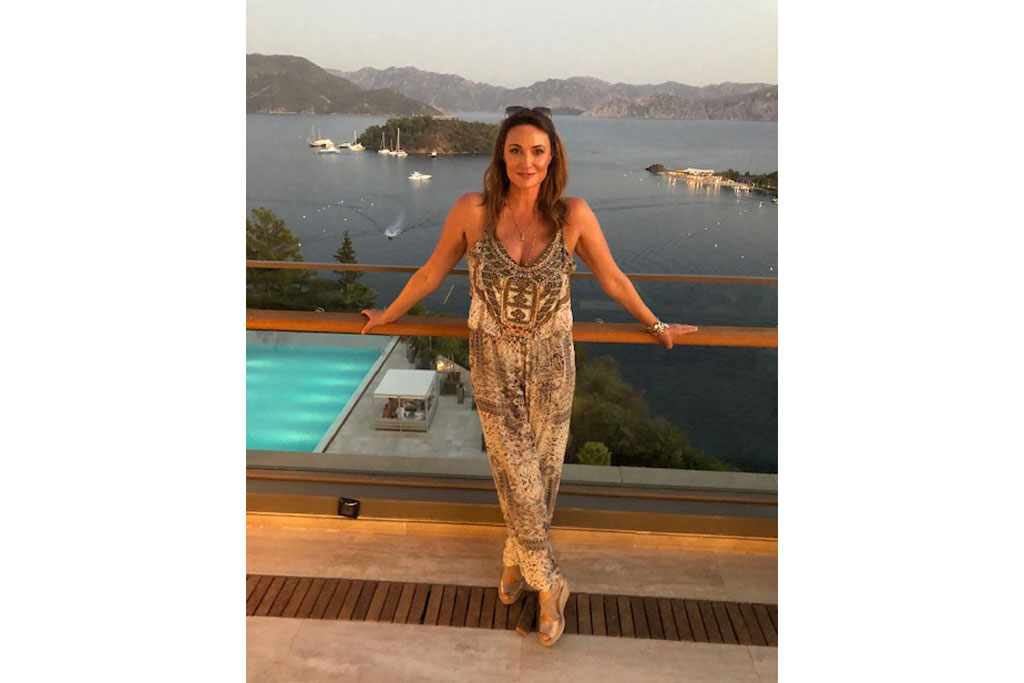 The main hotel sits high on a hill overlooking the gin-clear seas in the undeveloped and protected Datca Peninsula. There are five pristine, private white sandy beaches to choose from all accessed by either an adorable little funicular or handy shuttle boats that take you from one beach to another. They're very frequent and I never waited longer than five minutes for one.
All beaches are stunning and beautifully kept. There's even a service bell on your parasol which brings a waiter scurrying over to attend to your every whim – basically, in our case, cocktails. But should you need a new towel or a slap-up three course meal, no problem.
Travel Guide: A Sunny Sojourn to Marrakesh
Each beach has a very different feel. If you're looking for peace and quiet, then Silent beach is for you (the name's a bit of a giveaway). Tucked away, this perfect bay is adults only and perfect for chilling. If you're after a more Ibiza vibe then head over to La Guerite with its day-time DJ and buzzy beach restaurant.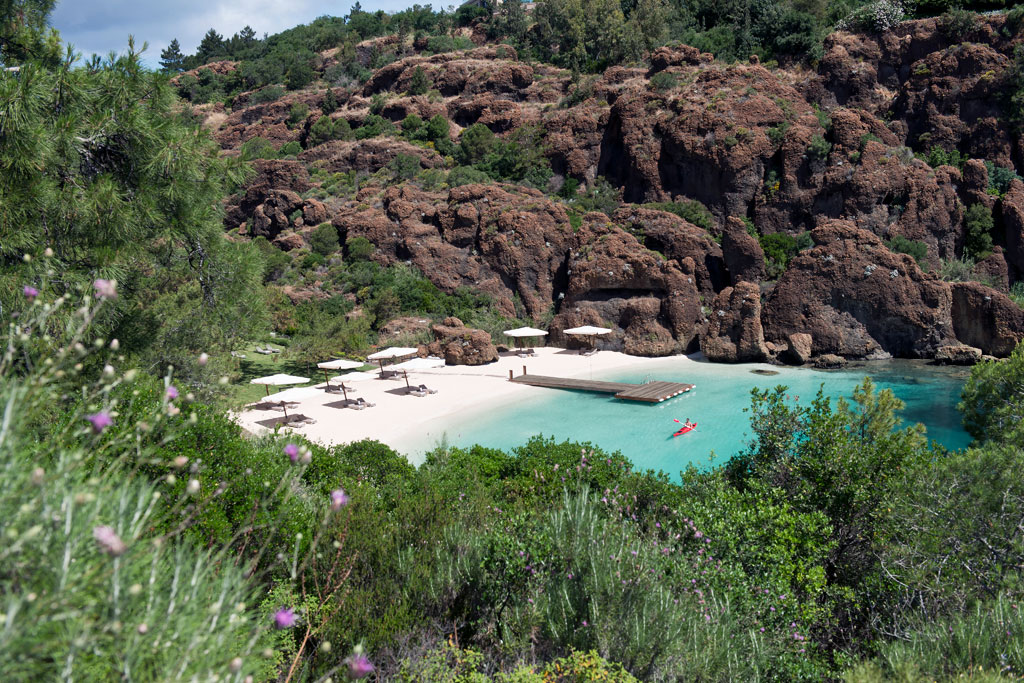 The main hotel beach caters more for families and has all the water sports facilities you will ever need, including a dive school. When I turned up fully expecting to be sat on a boat like a sardine packed with other underwater enthusiasts (I haven't quite got used to the new normal), but oh no, not at D-Maris Bay. Here they only dive one on one, so you get all the attention you deserve.
If you're not a massive beach fan, do not fear. The hotel has indoor and outdoor pools, four designer boutiques, a gym with all the latest gear, an open-air yoga studio and Bodyism workshops. Do not miss the spa though – it's huge and offers an array of fantastic treatments.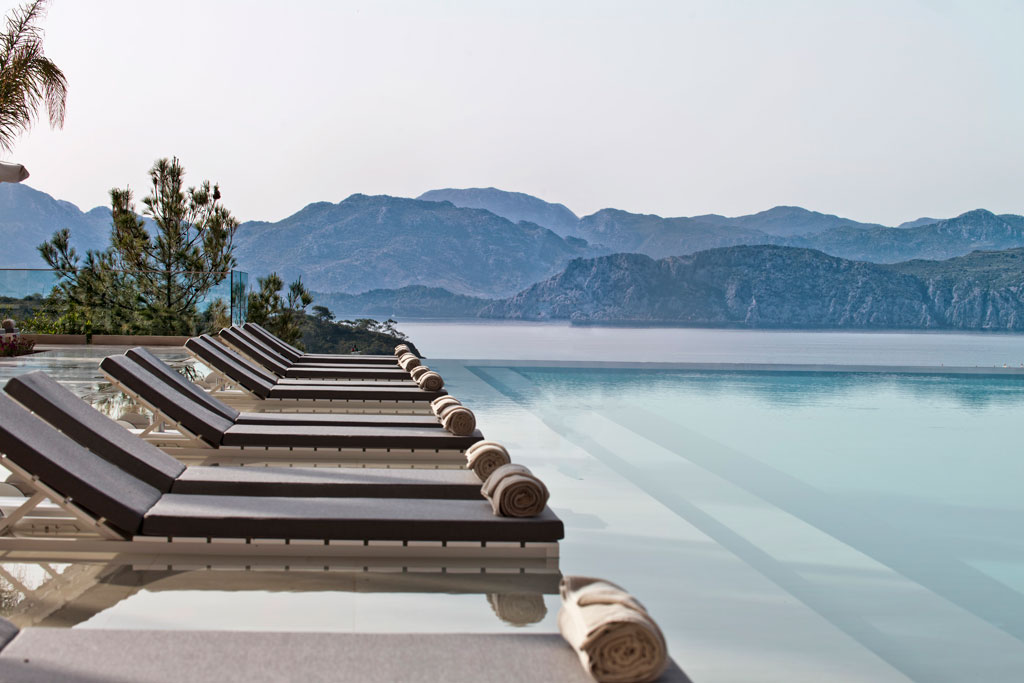 And as for the food, you've got six different restaurants to choose from. My favourite is the traditional Greek restaurant, Manos, where I spent a hilarious evening smashing plates and dancing to some classic (read: 'old') tunes.
Maris Kitchen and Nusr-et are both on the main beach and are both highly recommended. Maris Kitchen offers a laidback menu of lunchtime favourites and Nusr-et specialises in excellent steak. Across the bay is the lovely La Guerite, very buzzy with great music, seafood and dancing, but the standout is Zuma, which serves first-class Japanese. Sit outside, feast on sushi and soak up that amazing view… Just perfect.
But before dinner, as the sun goes down, make your way up a wonderful little green hill, sit down in a deckchair, order a glass of champagne and listen to classical music. It seals the day in a moment of meditation.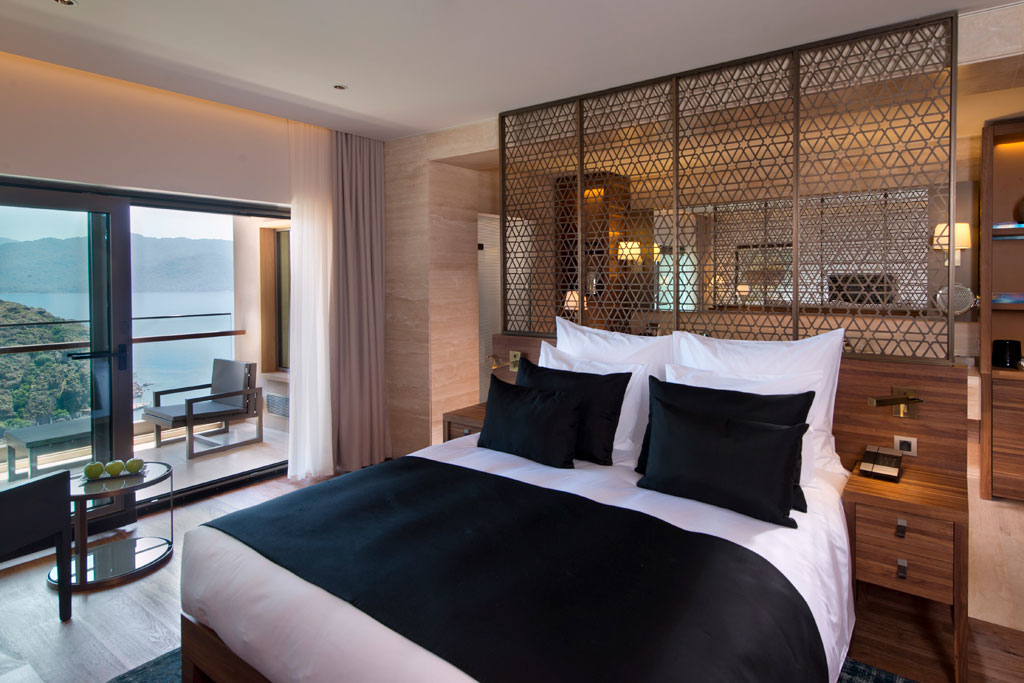 And at the end of the night when you kick off your Gucci sliders, you'll be doing so in a beautifully designed room with a huge bed and high thread count sheets. Pay extra for a sea view – it will knock your socks off. And don't forget to hang up your kaftan. Wrinkled clothes at breakfast just won't do.
BOOK IT
Rates at D-Maris Bay start from €580 (approx. £522) for a Deluxe Sea View Room in low season and €1,100 (approx. £990) in high season. To book or for further information please visit dmarisbay.com, email [email protected] or call + 90 252 441 2000. 
MORE TRAVEL
Family-Friendly Walks in Cornwall / Great British & Irish Hotels Guide 2020/21