A Year-Round Sunshine Resort: Vila Vita Parc, Algarve – Hotel Review
This hotel has been wowing guests for over 30 years
To call Vila Vita Parc, at Porches on Portugal's Algarve coast, a hotel, or even a resort, doesn't really do the place justice. It's more like a village or community, and it seems to have everything most people – including families – could possibly want from a place to stay for a luxury sunshine holiday, wedding or honeymoon by the sea. Opened in 1992 on a cliff top by German businessman Reinfried Pohl and his wife Anneliese, the resort began with only 60 rooms and not much else – but has steadily grown over the years so that it now employs over 700 people in the high season, and has established itself as one of the best in Europe, with a notable commitment to sustainability. 
The Country & Town House Responsible Tourism Guide
Hotel Review: Vila Vita Parc, Algarve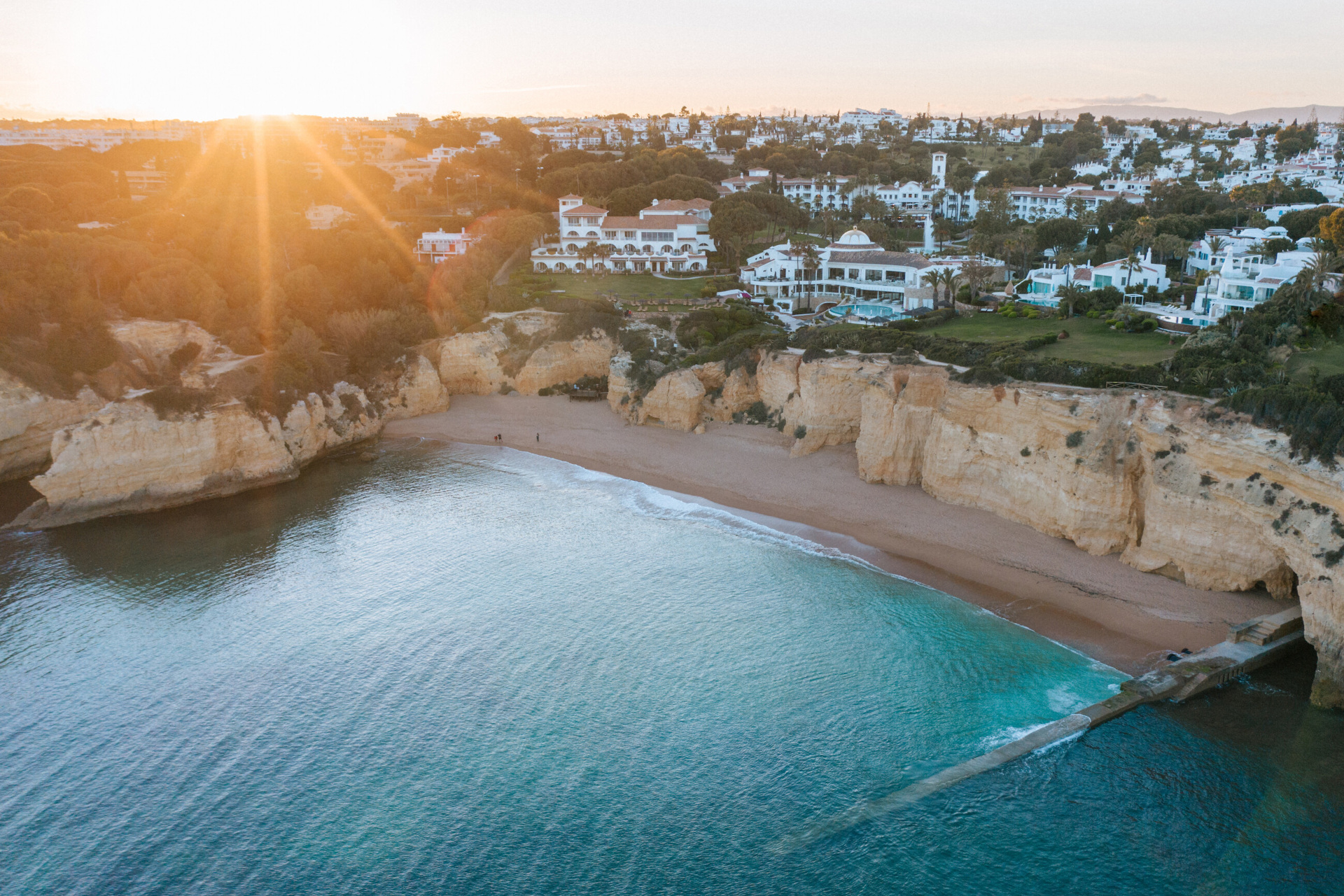 STAY
Sprawling over 54 acres of landscaped sub-tropical gardens with a mini lake as a centrepiece, Vila Vita Parc offers 203 rooms, villas and apartments, with whitewashed exteriors and tiled roofs, in a Moorish-inspired style. The feeling throughout is smart rather than swanky. With a resort of this size, not surprisingly golf buggies are a preferred means of transport for many – including the staff. 
There are several distinct parts to the resort – the original main building, the Residence, and the family orientated Oasis Parc. Some come with sea views, others look out on to the gardens; but all are with welcome outside space. Not surprisingly given what it offers, the place has attracted many stars over the years, including Rod Stewart, Penelope Cruz and Michael Fassbender.
The entry level rooms are bright, uplifting and instantly welcoming with pale colours, hardwood floors, and seating and sleeping areas separated by a couple of steps. The bathrooms – with rain showers and twin washbasins – are decorated with local tiles and cordoned off from the bedroom by shutters.
Suites, of course, are more spacious and come with bathtubs. Three of them, if you're dedicated to well-being, are by the spa. But there are many different room options to choose from, particularly for families, and there are villas both onsite and separate from the resort if you prefer privacy.
The hotel's dedication to sustainability, for which it has won several awards, is easily appreciated by the fact that – thanks to a desalination plant – it is now self-sufficient in water supply. And there are even refilling points to top up your water bottle, and free electric car charging.
EAT
To say you're spoilt for choice when it comes to dining is rather an understatement, as the resort boasts no fewer than 12 restaurants and six bars that all serve different cuisine. You can also get a great view from almost all of them, whether of the gardens or the sea.
The most prestigious is the two Michelin-starred Ocean, helmed by chef Hans Neuner, where the elegant interior overlooks the Atlantic, and the modern gastronomic menu is inspired by Portugal and its former colonies. Fine dining is the style of the Japanese-themed Mizu Teppanyaki, which boasts its own robata grill. And if you like delicious grilled meat, fish and seafood, you'll get it at Aladin, with its dazzling blue and gold Moroccan-style décor.
At Atlantico, the focus is on the produce of the Algarve, with fish and vegetables a speciality – all temptingly presented. It's the place for an extensive buffet breakfast with a sea view, but adults only. Families, on the other hand, can grab breakfast at Bela Vista, overlooking the gardens, which becomes a French restaurant in the evening, serving typical brasserie dishes.
Adega, set around a rustic courtyard terrace, is the place for modernised Portuguese food and traditional atmosphere, with live music available to create a fun atmosphere. And Whale, by the infinity pool, is ideal for a simple lunch of salad, pizza or pasta – though the hotel's latest restaurant, Giardino, is where you'll find more sophisticated Italian cuisine at dinner. And then there's Biergarten, which is decked out in traditional Bavarian style, serving up hearty German dishes.
The hotel also has a private beach club at nearby town of Armação de Pêra (you can take the free shuttle) where there are three casual drinking and dining spots. Wine buffs can book dinner overseen by a sommelier, with drink pairings, at Vila Vita Parc's magnificent vaulted brick cellar, housing 11,000 bottles from Portugal and the rest of the world. Or just go for one of the regular afternoon tasting sessions. Some of the wine served is from the hotel's own vineyards in the Alentejo and Duoro regions; and olive oil, preserves and meat in its restaurants are sourced either from farms belonging to the owners, or from local producers.
DO
You should have no problem relaxing during your stay. There are seven swimming pools of different sizes scattered around, including an infinity pool with a sea view and a beach immediately below. Then there's the impressive health club (with its own indoor and outdoor pool) offering yoga, Pilates and personal training. And, above all, the magnificent Sisley Spa, one of the best in Portugal, which has 14 treatment rooms offering medical, beauty and relaxation treatments. 
You can be pretty active, too: get stuck in at the nine hole pitch-and-putt green and the two tennis courts, or try your hand at padel, pickleball, badminton, table tennis, basketball and cycling. There are also clubs for both kids and teens to let off steam.
Those who prefer a slightly slower pace can take the opportunity to do something a little more cultural, with art, dance and tile-making classes available for all. And if you want to go further afield, you can visit the hotel's vineyard and farm (where riding is an option), or book a tour of the coast on one of Vila Vita Parc's fleet of boats. Night life is also taken care of with the hotel's own V-Club disco on Fridays and Saturdays.
If you've forgotten your sunglasses, need something for the beach or want to buy a souvenir of your stay, look no further than the resort's row of eleven shops, designed to look like a local village street, and selling local products.
THE FINAL WORD
As a year-round resort with 300 days of sunshine, Vila Vita Parc – with its pleasing rooms, relaxing ambience and huge choice of restaurants and activities – is easily one of the finest resorts in Portugal. And it is as good a choice for couples of all ages as it is for families.
BOOK
A double room B&B costs from £192 a night. Half board is also available. vilavitaparc.com  Book through luxury specialist Elegant Resorts and take advantage of the welcome add-ons they offer. elegantresorts.co.uk
Images courtesy of Vila Vita Parc