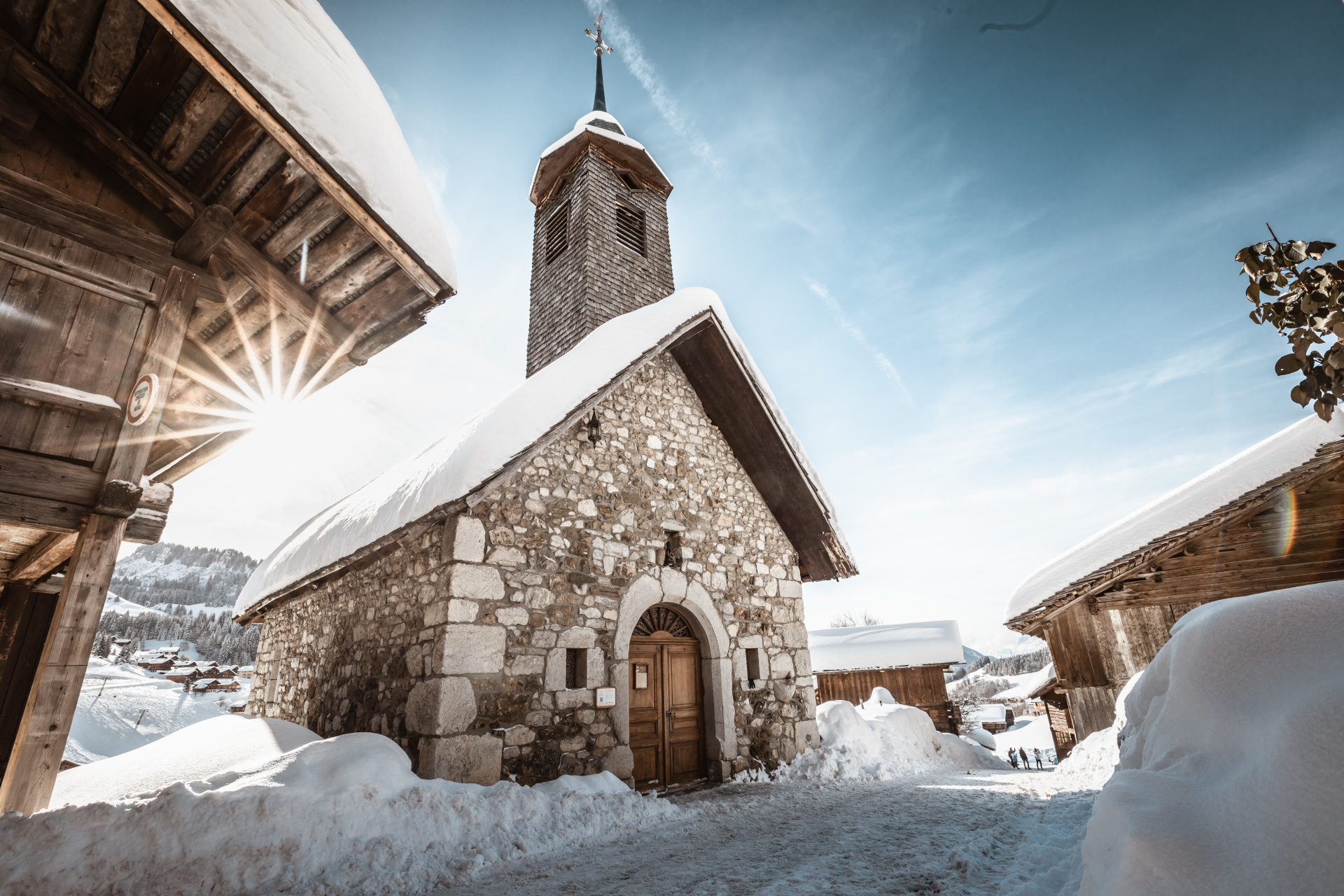 The Weekender: Le Grand Bornand
---
A charming alpine town nestled in the Aravis Mountains
What to see, eat and do on a weekend in Le Grand Bornand, by Mary Lussiana.
The Weekender: Le Grand Bornand
Situated in the heart of the Aravis Mountains, this charming Alpine town retains traditional Savoyard hospitality and offers an authentic mountain experience, far removed from the glitzy ski-resorts crowded with Eurotrash. A working town all year round, with Wednesdays being market day, it is home to the inimitable Reblochon cheese, made twice a day in many of the surrounding farms. Reblochon is a cow's milk cheese which features in the not-to-be-missed mountain classic Tartiflette, where it is added to an indulgent concoction of potatoes and bacon and put to bubble in a hot oven.
The town is dominated by its onion-domed 19th century church, its spire cutting a postcard-perfect picture as it rises against a backdrop of dramatic mountain peaks. The neighbouring town of La Clusaz is bigger with a buzzier scene and the two pair well together with a regular shuttle bus service between them. Combined (and they share an Aravis lift pass), they offer 220 kilometres of pistes with an excellent mix of terrain and slopes to suite varying levels of expertise.
Le Grand Bornand remains a favourite for families and is particularly well suited for children learning to ski due to its exceptionally good nursery slopes.
STAY
The only five-star hotel in the Aravis Mountain range, Au Coeur du Village, blends a cosy chalet feel (faux-fur rugs on the beds, sloping wooden ceilings, sheepskin rugs on the floor), with a sleek contemporary  look behind the wooden and white-washed stone façade.  It sits near the pretty Savoyard church in La Clusasz, facing the slopes, with its own ski shop and some formidable ski guides on its speed dial such as local Raymond Thovex, whose son, Candide, is a legend on the snow.  There is a spa (ask for Mylena if you need to iron out any serious aches and pains, she fixed a problem I had had for years) with Carita and Cinq Mondes treatment lines, a swimming pool, sauna and steam room.  There is a strong emphasis on food here (we are, after all in France) with two restaurants, one described as gourmet, the other gastronomic, offering dishes such as pike fish quenelles in a yellow wine sauce or lemon Vacherin with hay and hazlenuts.  Even snacks at the bar like Croque Monsieur come with truffled ham.
EAT
The best restaurant in town is Confin des Sens (restaurant-grand-bornand.com),with an unashamedly rich menu and signature dishes of soup of foie gras and a fou de chocolat to finish. Don't miss the scallops with cauliflower puree and slivers of bacon.  For a taste of hearty mountain food head to La Croix Saint Maurice (hotel-lacroixstmaurice.com) in Le Grand Bornand, where on the sunny terrace, complete with Alpine views, you can indulge in tartiflette, fondue or raclette as well as plates of the local, delicious charcuterie.  For a quick stop on the pistes, pull off your skis and settle at a table in Creperie Les Outalayas, popular for their savoury and sweet pancakes.  Sunday morning breakfast is good at Boulangerie Vulliet, just opposite the church.  Try their lemon meringue tarts for a special treat.
SEE
The 2,000 cows (almost more than residents) in the farms around Le Grand Bornand, make this the region's top producer of the distinctively nutty, round, Reblochon cheese.  Each week, one of the farms opens its door to the public, to explain the methods behind milking the cows, ageing the cheese and so on.  You meet the cows and have a cheese tasting afterwards to understand the difference between the local varieties of cheese that they make, not just Reblochon. It is a fascinating glimpse of an ancient trade that began in 1795. (Tickets €5.50/€3 from the Tourist Office, legrandbornand.com) .  For another type of craft, dip into the artisanal leather makers at the end of the high street. Didier Perillat still fashions leather with hand tools as his ancestors did. In his shop, in one of the town's oldest cottages, he gives leather work courses and you can browse his collections of handbags, suitcases, belts and bracelets, all of which make good presents.
DO
Skiing, snowboarding or Norwegian skiing are winter's pastimes and the area provides slopes and trails for all abilities including cross-country skiing.  For something a little different try your hand at dog sledding.  Beginner's rides are organised in the company of a musher.  You can help to harness the dogs and ride the sled alongside the Borne's frozen riverbanks.  If you prefer to look down on the mountains rather than navigate you could sign up for paragliding, a popular sport here in summer and winter alike. airlinks.org
One of the greatest pleasures of visiting France is to enjoy the food shops and here in the mountains the range of local cheeses, hams and saucissons are mouth-watering. Lining the main street are some excellent delicatessens, butchers and cheesemongers.   Try the saucission with walnuts, with truffles, with Reblochon or Beaufort cheese.  Stock up on the region's liqueur, Genepi, an aromatic herbal concoction and of course Reblochon cheese.
Go to the new bar, Candide, in La Clusasz, owned by the skiing champion himself to watch him ski the Great Wall of China among other extraordinary places on video, a crisp white wine in hand.
GETTING THERE
Only an hour from Geneva, it is best to hire a car at the airport. Alternatively the hotel can arrange a transfer for you.
BOOK
Doubles from £170, hotel-aucoeurduvillage.fr. All activities mentioned above can be booked at the Maison de Tourisme (legrandbornand.com) at 62, Place de l'Eglise.
Featured image: Hudry Aravis
MORE WEEKENDERS