The Weekender: 48 Hours in Naples & Ischia
Where to stay, visit, wine and dine
Naples is a foodie's delight – not only is it home of the Margherita pizza, it's also cultivated plenty of other Neapolitan specialties like the Spaghetti alle vongole (spaghetti with clams), frittatina Napoletana (pasta fritters), mozzarella and rum baba. The city is also famed for its culture, churches and is a handy hub for nearby attractions, including Pompeii and the Amalfi coast. If you want to make the most of your Italian adventure, head across the Bay of Naples to the tranquil volcanic island of Ischia. There's plenty to discover here for the culturally curious, as well as its lush thermal springs, mineral-rich waters and warm bay waters. Rich in heritage and authenticity, Ischia has castles, year-round festivals, hiking and coastal trails, water sports and seemingly endless home grown produce and wines (all delicious, we promise). These are the places to stay, eat and drink, as well as the best things to do in Naples and Ischia.
The Country & Town House Responsible Tourism Guide
The Weekender: 48 Hours in Naples & Ischia
STAY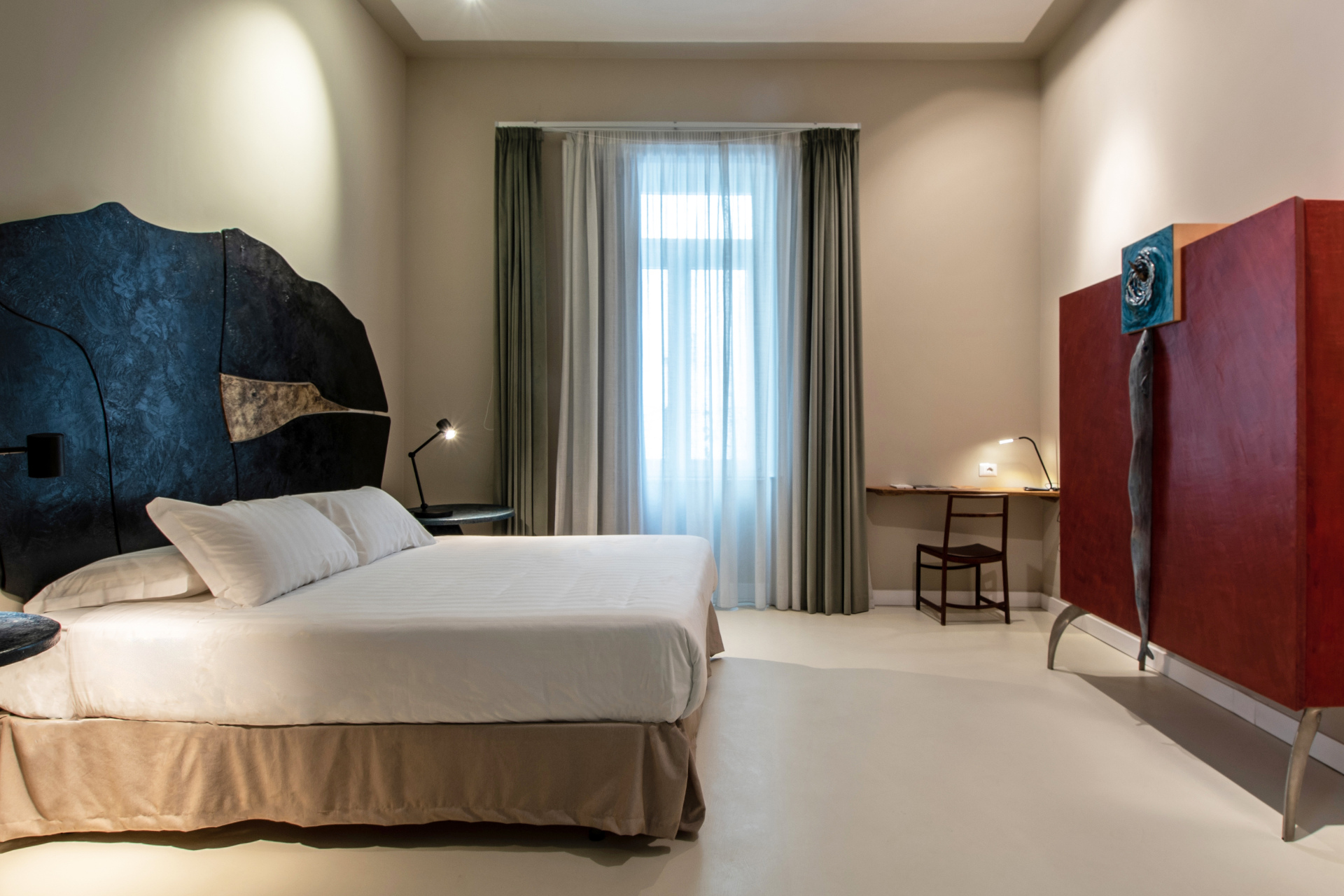 Atelier Inès, Naples
One for art lovers, Atelier Inès is a family run B&B, art gallery, showroom and jewellery boutique all rolled into one – making it a creative's dream. The hotel was established by artist Inès Sellami and artist-meets-jewellery designer, Vincenzo Oste, so it oozes artsy interiors alongside Italian charm and heritage (the building has been in the Oste family since 1947 and was once a theatre). Located in the historical centre, it's a special little oasis in the centre of Naples complete with lush greenery, pomegranate and citrus trees, creating a cool, dapple shade as contrast to the busy outside. It's also conveniently placed for exploring, with monuments, museums and culture right on its doorstep; the Jago Museum, Capodimonte Astronomical Observatory, and San Gregorio Armeno monastery are all within a short walk away. When it comes to the accommodation, there is a highly considered take on the room décor, with each of the six rooms and suites being uniquely designed with statement sculptures and furniture – much of which has been crafted by the owners on site.
BOOK IT: atelierinesgallery.com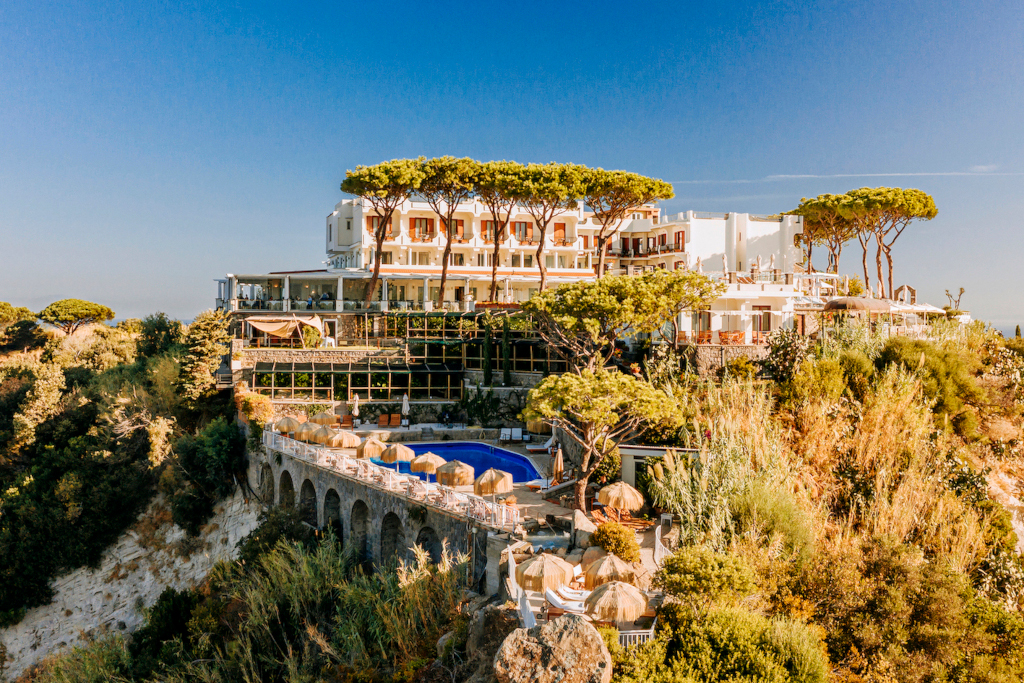 San Montano Resort & Spa, Ischia
For tranquil and breath-taking views that overlook the Bay of San Montano and out to the Gulf of Naples, the family owned, fourth generation San Montano Resort & Spa is the place to head. It's perched on top of a hill, surrounded by three hectares of parkland, so it's the home of serenity as well as spectacular views. There's a real focus on wellbeing here, with a retreat feel about it thanks to the thermal pools, indoor and outdoor spa (complete with lemon grove massage) and the natural grotto sauna. All allow for a restful and rejuvenating stay. If you fancy some adventure, the hotel can organise a guided hike up Mount Epomeo, while more relaxation-minded guests can kick back on the terrace of one of its deluxe rooms or suites. Be sure to enjoy an aperitivo – cue the San Montano Spritz, made from home grown and locally sourced ingredients (a strong theme of the hotel) – at their Sunset Lounge, followed by a meal at La Veranda restaurant as the sun goes down over the bay.
BOOK IT: sanmontano.com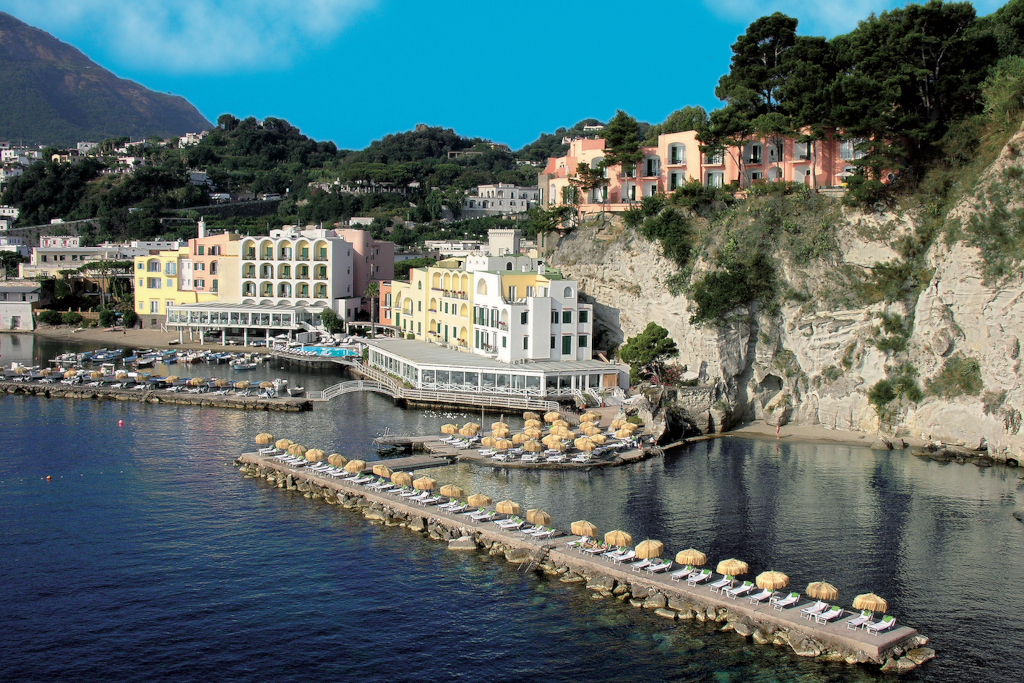 Regina Isabella, Ischia
Channel your inner Elizabeth Taylor at the ultra-glam, uber-luxurious Regina Isabella – the Grand Dame hotel of the island, famous for its architecture, design and old school Hollywood appeal. Built in the 1950s, this five-star hotel was established by none other than the famed publisher and film producer, Angelo Rizzoli, who had an affinity to the villages on this historic volcanic island. He also loved its thermal baths – so much so, that in 1956 he extended the historic Baths of Queen Isabella, constructing a hotel complex on the ancient Greco-Roman ruins. A landmark within itself, you'll find this 128-room hotel located in the heart of Lacco Ameno, set on a peaceful bay, right on its very own private beach. It's a destination for foodies too, with three bars and three restaurants: the Michelin Star Indaco Restaurant, the terrace DolceVita Restaurant for breakfast and dinner, and the casual Sporting Restaurant that's overseen by Michelin-star Executive Chef Pasquale Palamaro, an Ischian who is proud of the organic produce that the island provides.
BOOK IT: reginaisabella.com
DO
Chiesa del Gesù Nuovo, Naples
One of the most significant churches in Naples, Gesù Nuovo was originally built in the 15th century as a palace by Prince Salerno Roberto Sanseverino. While outside there is more of a brutalist theme, inside is full of ornate, baroque beauty. You can visit the Chiesa del Gesù Nuovo for free. tripadvisor.it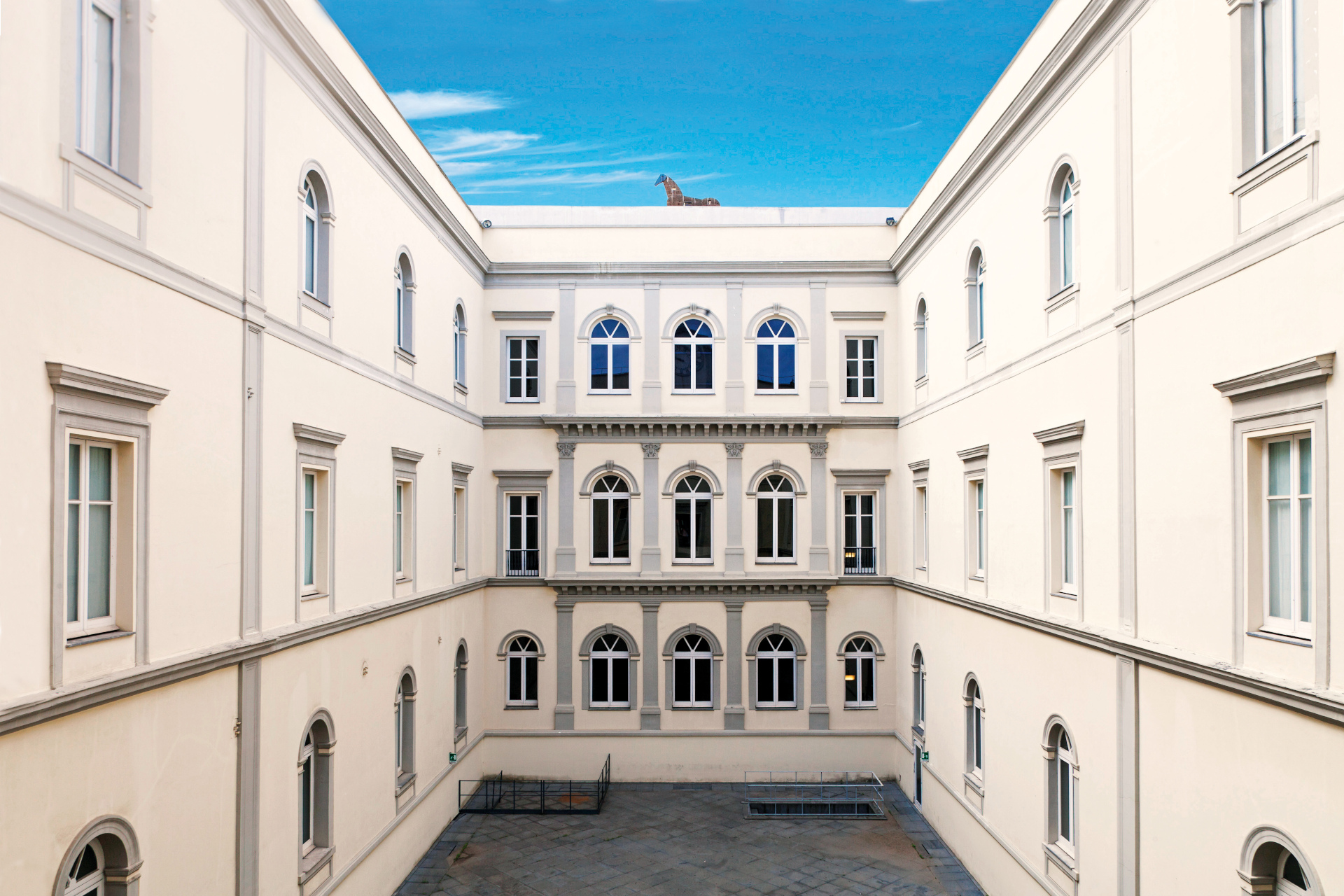 Museo d'Arte Contemporanea Donnaregina, Naples
Take in some modern art at the Museo d'Arte Contemporanea Donnaregina, which is located in the historic heart of Naples and housed in a 19th century palazzo. There's a whole host of artworks and shows from national and international artists, such as Ugo Marano's The Rooms Of Utopia; With These Moonlights by famed Roman artist, Bruna Esposito; and an exhibition dedicated to Kazuko Miyamoto – the first by a European public institution. madrenapoli.it
Pio Monte della Misericordia, Naples
This 17th church-come-palace has quite an interesting backstory. A charity brotherhood, Pio Monte della Misericordia (translating to 'Pious Mount of Mercy') was founded in 1601 by seven young nobles, who met every week and helped the sick. A year later they'd established an institution and commissioned a small church, which was then consecrated and expanded to form a church and palace. The men called out for charitable commissions, and it's the place to view Caravaggio's masterpiece, Seven Works of Mercy. piomontedellamisericordia.it
Napoli Sotterranea, Naples
Fancy something a little different? This underground tour goes 40 metres below the streets of Naples, through the Napoli Sotterranea – the most popular route of tunnels in the city. Here, you'll come across a Greek-Roman aqueduct and a Roman theatre. Alternatively, you can take the Galleria Borbonica (the Bourbon Tunnel), which was created in the 19th century by Ferdinand II Bourbon to serve as a getaway route for the King of Naples and later was an air raid shelter during the war. napolisotterranea.org
Galleria Umberto I, Naples
Whether you're into shopping or architecture, head to the public shopping gallery in Naples, Galleria Umberto I, which is just opposite the San Carlo opera house. Dating back to 1880, it was designed by Emanuele Rocco and features a huge glass roof and baroque detailing. Inside, there's a range of boutiques including the jewellery shop, Museo del Corallo, where you can watch the artisans crafting the pieces and the porcelain emporium Regali Barra Galleria D'Arte. tripadvisor.co.uk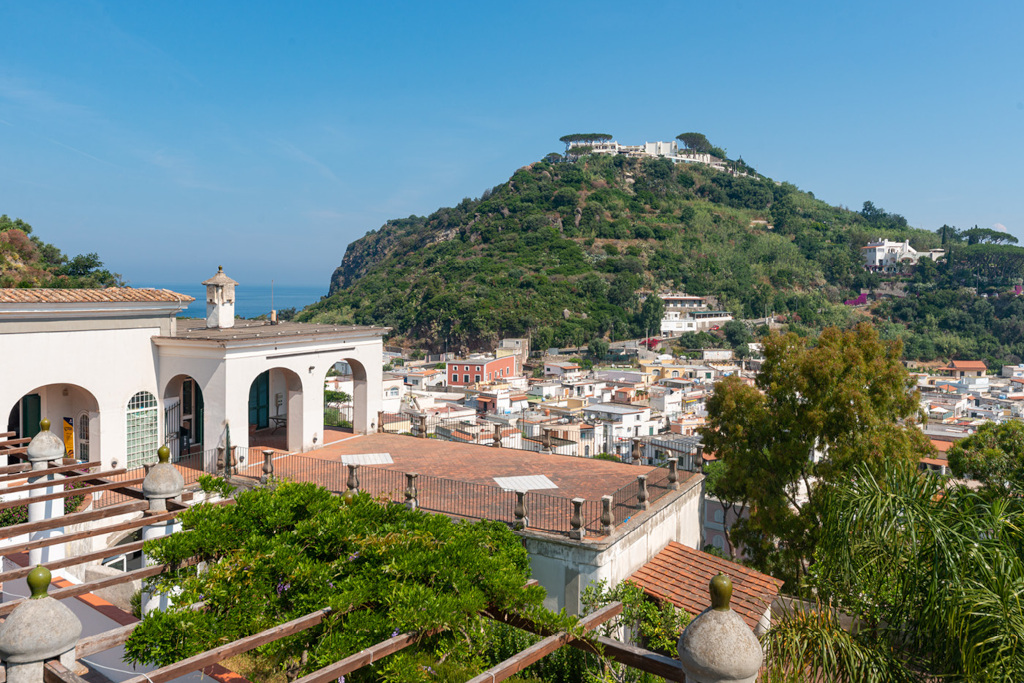 The Villa Arbusto Museum, Ischia
Lacco Ameno is home to the Villa Arbusto Museum, which showcases a range of ancient artefacts like Nestor's Cup (the eighth century BC wine cup discovered in 1954 in the town) as well as treasure from other Mediterranean counties, and memories of Angelo Rizzoli who lived there. Outside there are orange trees and tropical plants and locally made ceramics. To note, the nearby Pithecusae Archaeological Museum remains closed although its gardens are open to view. ischia.it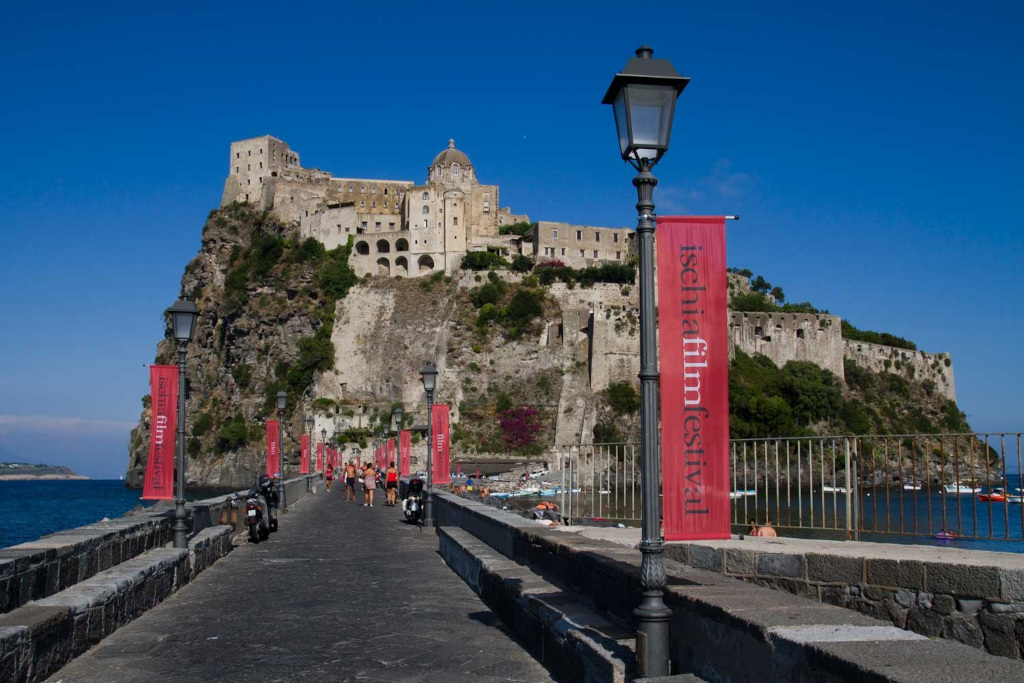 Festivals, Ischia
The island offers a busy social calendar for locals and tourists, with its festivals proving very popular. There's something for everyone here, including music, good food, religious celebrations (the Festa di San Michele event in Sant'Angelo sees the village and shoreline light up with candles), and the Ischia Film Festival held at the infamous landmark, Castello Aragonese d'Ischia.
WELLNESS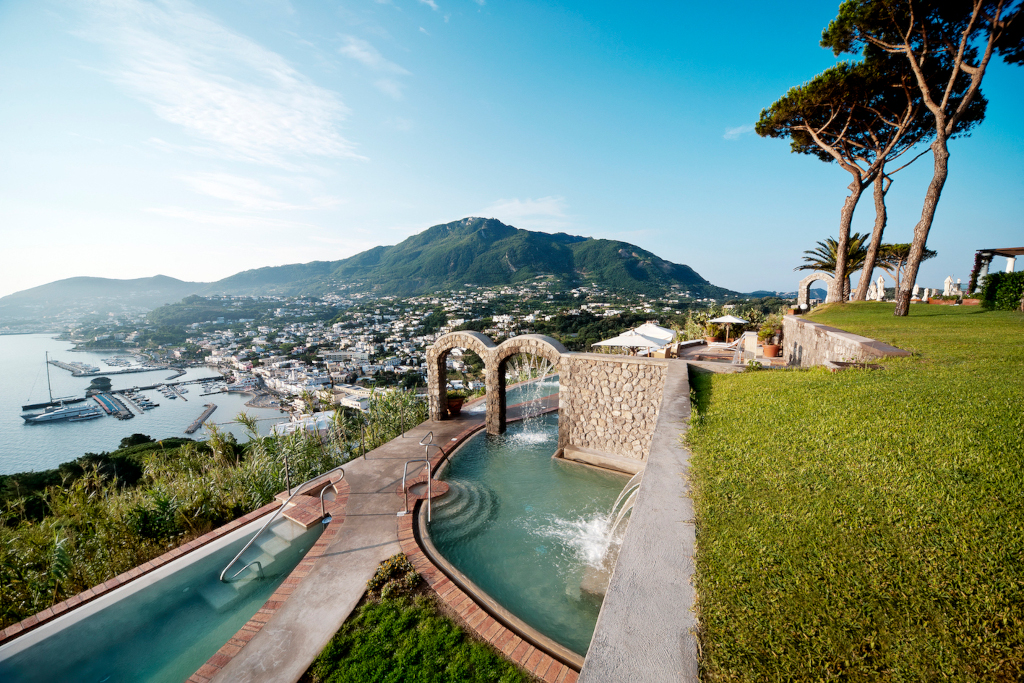 Thermal Springs, Ischia
Ischia is known for its thermal waters, and there are hotspots all over the island. You'll find public hot springs in the south – the most renowned one being in the Bay of Sorgeto (close to the Bay of Sant'Angelo), which is accessible by steps or boat taxi from Sorgeto. There's also Negombo Thermal Gardens, which is located at the Bay of San Montano in Lacco Ameno. Here there are 12 different types of pools, at varying temperatures from 18 to 36 degrees Celsius.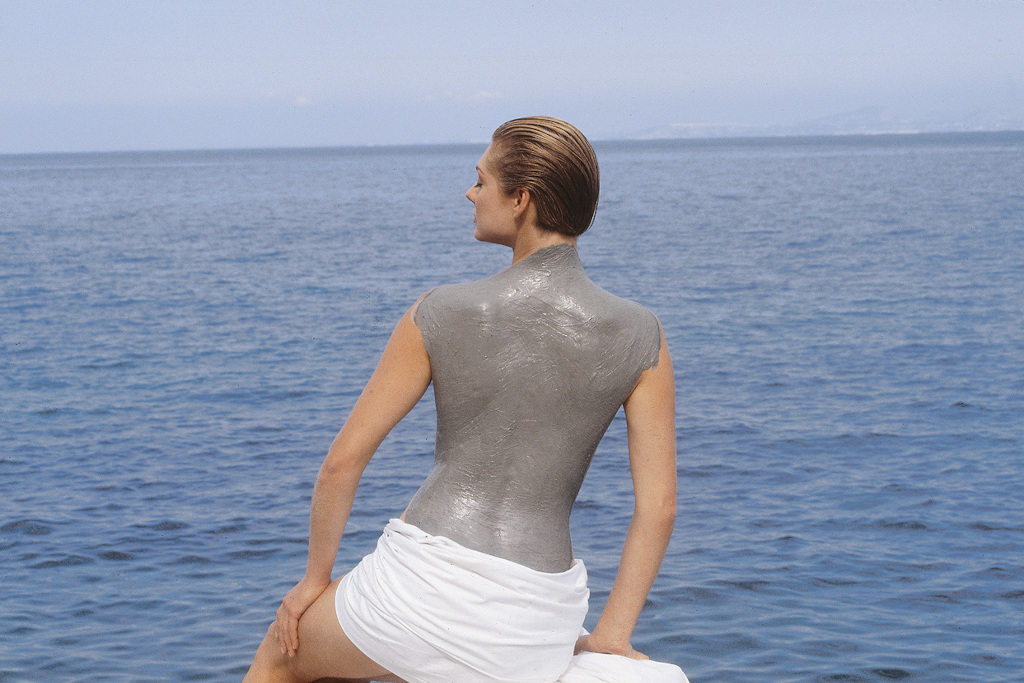 Mud Treatment, Ischia
Along with the hyper-mineral waters of Ischia, the island is also famous for its mud, and as such there's a dedicated detoxing, anti-inflammatory mud treatment at the Regina Isabella Spa. The mud is collected from the natural quarries of Ischia and is left to steep for six months in the thermal water to absorb all the minerals, becoming a bioactive thermal mud. It's also possible to walk to the mud tanks (close to the spa) and see the process of the bioactive thermal water and the the bentonite clay. reginaisabella.com
Walking Trails, Ischia
For a gentle walk, try the Sant'Angelo to Maronti Beach route, a beautiful walk that traces the coast – so you'll see some beautiful beaches and cliff tops and it only takes about 45 minutes. For something a bit more challenging, try the Mount Epomeo hike – at the 3km it takes about an hour each way, and beware, it has some steep sections.
EAT
Pizzerias, Naples
Naples is the home of pizza, meaning it's impossible not to have one when visiting the city. The best pizzerias are in strong contention; there's Antica Pizzeria Port'Alba (the oldest pizzeria in Italy), Pizzeria di Matteo, L'antica Pizzeria da Michele (which is in Michelin guide) and Ristorante Mattozzi near the port. It's also worth trying pizza fritta (yes, fried pizza), one of the best places being the Michelin-approved Gino e Toto Sorbillo – which is very aptly located along via della pizza.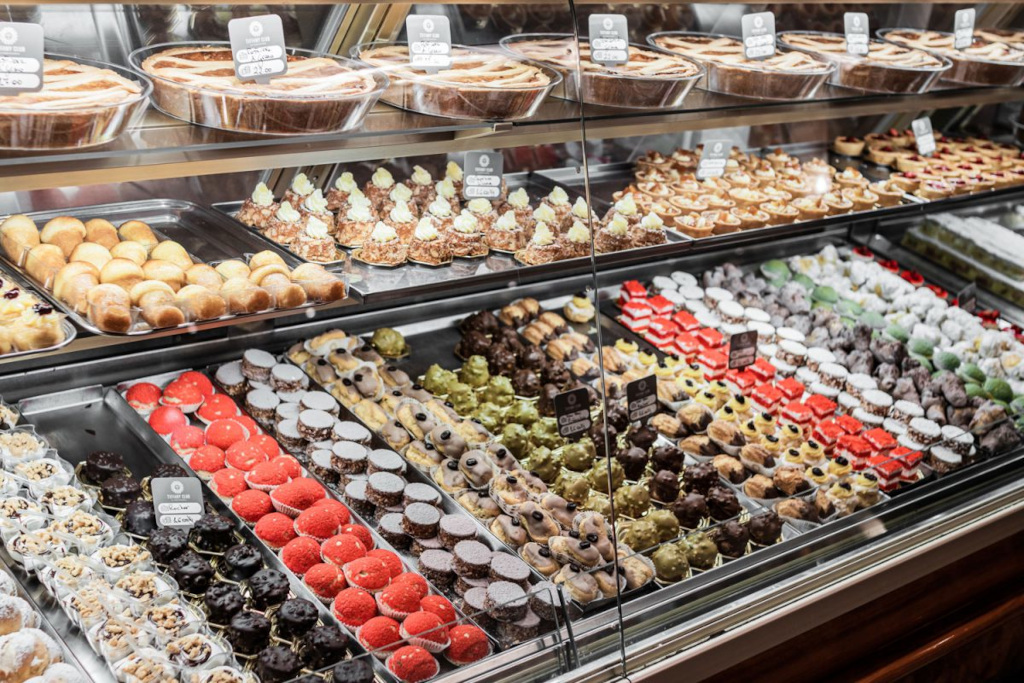 Bar Pasticceria Tiffany, Naples
This pastry shop is full off all the good stuff – from the traditional Neapolitan traditional sfogliatelle (the crispy lobster tail-looking pastries filled with flavoured cream) in the riccia, frolla and Santa Rosa variations, to babas, zeppole (mini light doughnuts), pastisere tart and cannoli. tiffanyclub.it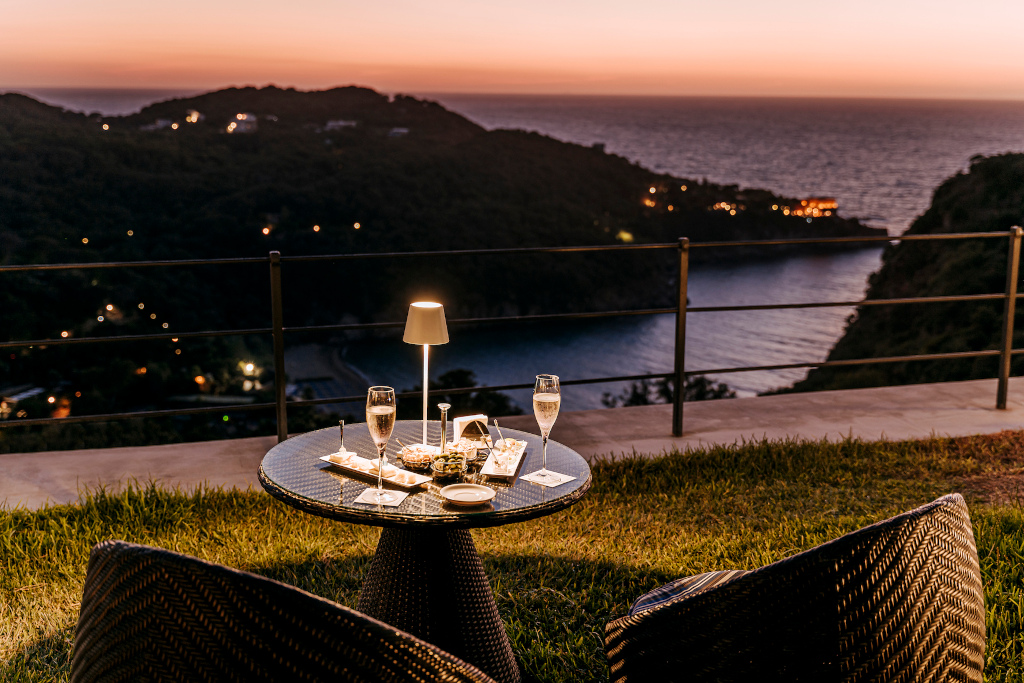 Sunset Lounge, Ischia
The Sunset Lounge & Piano Bar is the perfect hillside spot to kick back and enjoy a famous Italian spritz experience. We'd recommend choosing between the signature San Montano spritz (limoncello, meant leaves, Franciacorta sparkling wine) and the Ischia spritz (cherry tomatos "piennolo" liqueur, rosemary, Franciacorta sparkling wine), or trying one of the crafted cocktails brought to you by Ambrogio De Siano – who prides himself on using herbs from the Lounge's kitchen garden, lemons from its citrus grove (picked daily) and local bitters. Sip, take in the sunset over the bay and enjoy the background music (depending on the evening, it may come courtesy of a piano, harp or DJ). sanmontano.com
Wine Tasting & Vineyard Tours
Ischia produces its own award-winning wine, and has two white grape varieties: Biancolella and Forastera. For wine tours and tastings, there are a few to choose from in Serrara Fontanana and Panza: Cenatiempo, Pietratorcia and Casa D'Ambra vineyards.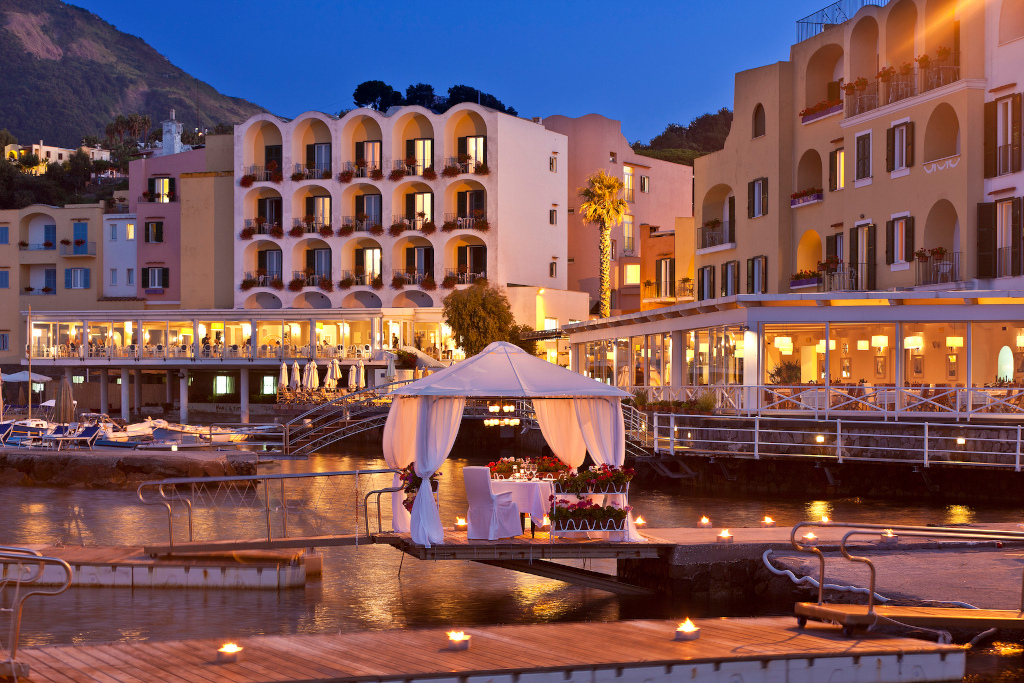 Indaco Restaurant, Ischia
For some seriously fine dining, pay chef Pasquale Palamaro a visit at the Michelin starred Indaco Restaurant. Palamaro was born in Ischia and has designed a menu that reflects the flavours and spirit of the island perfectly. There's a focus on seafood and farm-to-table produce, so with most sourced from the island and the hotel's own garden. Beautifully situated, the restaurant traces the small bay, and takes its name from the indigo colour of the water at night. Guests are either seated in the dining-room or outside on the wide jetty – it's a romantic view.  'Ancient stories of sailors and fishermen, multi-coloured fishing boats that furrow the island's sea that becomes indigo at dusk: our mission is to narrate the soul of Ischia through food making,' says Palamaro. reginaisabella.com
Pasticceria Bar Gelateria F. Lli Calise, Ischia
For more sweet treats on Ischia, visit Pasticceria Bar Gelateria F. Lli Calise – and make sure to load up on the sfogliatelle, cannoli, baba, mini tarts, and XL doughnuts. tripadvisor.it
The Fumaroles of Sant'Angelo, Ischia
Travel south of the island, and you'll find the Fumaroles of Sant'Angelo; a source of thermal energy that results in hot sand and vapours, which are used to cook tasty dishes for diners. visitischia.com
GETTING THERE
Fly into Naples International Airport and from there take a taxi to your temporary residence, or make use of the pick-up service from Atelier Inès. To get to Ischia, if you fancy one last explore, walk to the port (via Piazza del Plebiscito to tick off another destination) – this takes an hour by foot – or a 15-minute taxi ride to the Porto di Napoli. From there, catch one of the regular the hyrafoils to Ischia, which takes 50 minutes. Most hotels offer a free shuttle from there but check beforehand.