Rosalyn Wikeley joins chef Mark Hix and his business partner Oliver Rampley on an angling adventure off the Dorset Coast…
An Early Morning Fishing Trip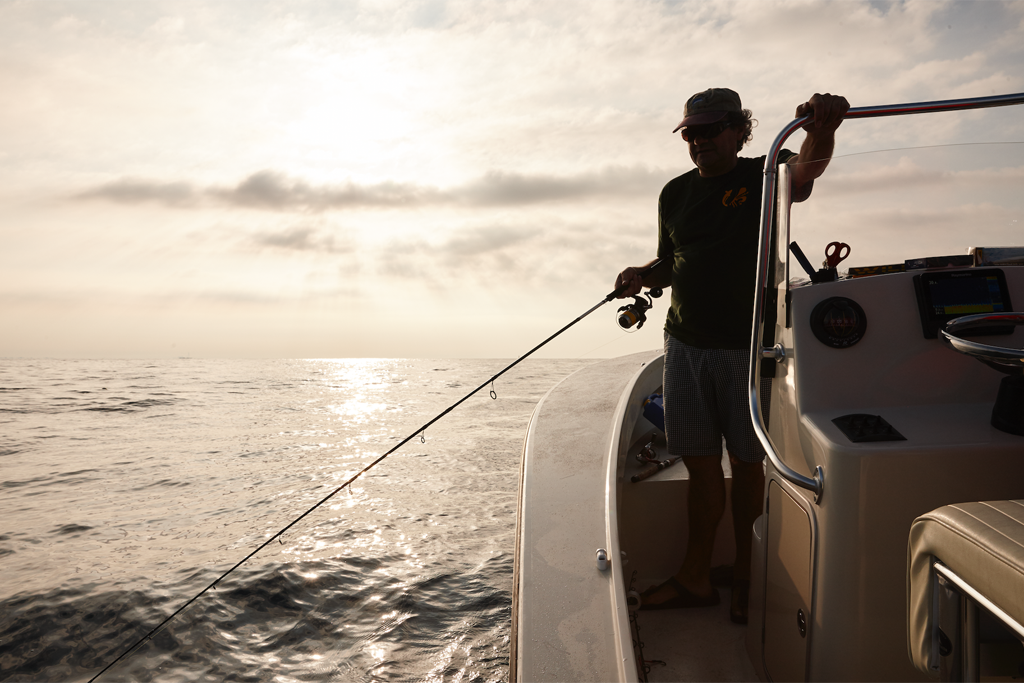 'Don't worry, you'll catch a fish,' says chef Mark Hix. I relax my furrowed brow and grin but his words are misplaced. It's more the Hix Fix cocktail promised before 9 am that concerns me as we bob along Dorset's Lyme Regis Harbour. He's joking – at least for the time being. Hix and his business partner Oliver Rampley are easing me into the early morning fishing trip, along with their witty camaraderie and shared enthusiasm for adventure; attributes that led them to found their joint venture Altana Europe.
Interview: Mark Hix on Seasonal Cooking, Salmon Fishing and Steak
Providing tailor-made trips around fishing, bird watching and conservation management, Altana Europe was founded in 2013 and is the Italian translation for a high seat for the observation of wildlife. A 'high seat' because Rampley's knowledge and experience make for an erudite interaction with wildlife in its natural habitat; 'Italian' because the vast majority of their operations and expertise are found in Tuscany where Rampley's blue-blooded contacts guarantee him and his clients access to the most splendid private estates in the region. These unique Italian experiences have rolled out into Andalusia for bird and Ibex Lynx watching, to the Black Forest for boar hunting and soon to Canada's Yellow Knife for watching wolves hunting caribou from a helicopter.
The Adventure Begins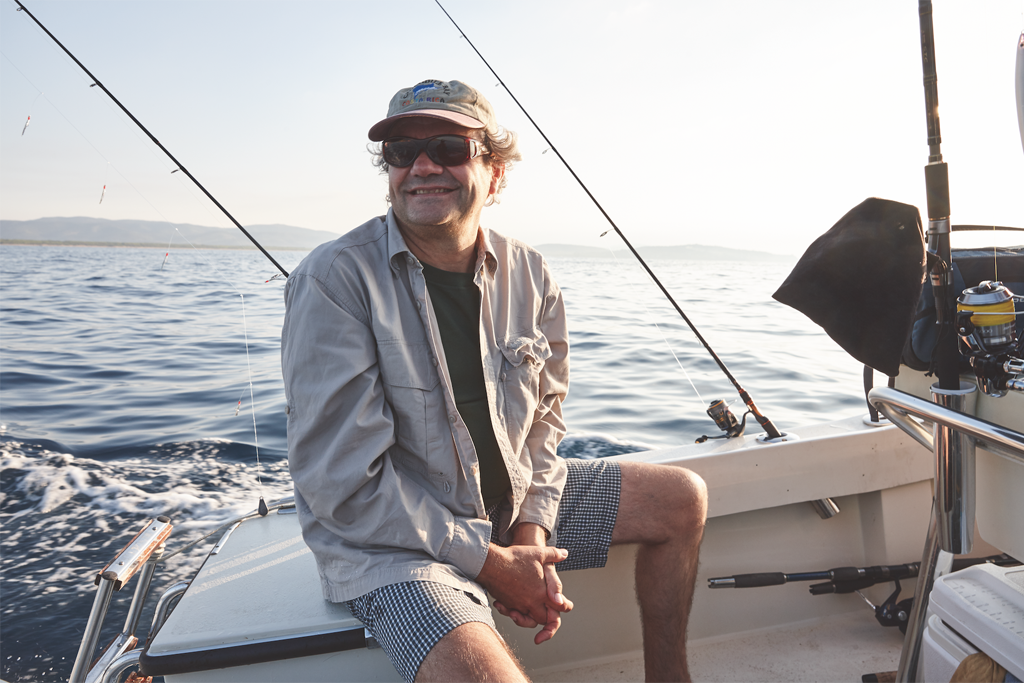 For now, our angling adventure begins in Lyme Regis, where Hix has opened one of his many restaurants, Hix Oyster & Fish House, and hotel Hix Town House. Bringing the culinary might to Altana, Hix has little time for small talk. His manner is calm and direct (at time preoccupied), an asset, one imagines, useful for keeping nine restaurants spinning between London and Dorset. His talent and reputation, serving as a chef from Scott's to Le Caprice, are worn lightly, as is his seminal role in developing British cuisine. I quickly learn that Hix prefers hanging out with local fisherman than Dorset grandees.
Glorious Twelfth: The Best Game Restaurants in London
As the morning sun dances on the dark marina water, the battle plan unfolds. We're headed for a shipwreck, hopefully teeming with fish and located using secret coordinates: 'The fishermen don't give these away easily,' shouts Rampley, as the boat engine revs up. The technicalities involved are astounding, as is the local nous of Nigel, one of the fishermen highly attuned to the coast and a valued member of today's team. 'The pressure's not great,' Rampley grimaces as we cast yet another rod into the depths, praying for an unwitting sea bass or mackerel to bite, 'high pressure is bad for fishing.' We edge the boat forward, backwards, sideways, but no luck. Hix's breakfast hamper with warm cheesy croissants and fresh orange juice takes the edge off an initial defeat.
Fishing for Supper
My brief is simple. Once Rampley has hooked on the bait, I cast and wait for an 'enquiry'. When convinced it's biting, I pull up assertively and swiftly reel in the line. Brandishing leopard print sandals and spindly sparrow warms, I may scream novice but I'm soon hooked to the giddy prospect of pulling in supper. I cast again, transfixed on the line dropping into the promising depths. Something. 'Now pull, reel.' Yelps of delight follow a mackerel and dog fish on board. 'Not quite what we're after,' chuckles Rampley, 'but we're on the right track.'
Hix and Rampley's passion for fishing, for locally sourced food and for decoding the natural environment around them is infectious. I change rods, attributing the morning's slim pickings to the tools and Rampley tweaks my posture.
Find a Darling Place to Stay in Dorset in our Great British & Irish Hotels Guide Here
Distracted by the silky waves and entertaining conversation, I hardly notice the bouncing in my hands. 'Oooh… this looks good,' insists Nigel ina thick Wes Country drawl. A comic scene ensues as I reel in a monstrous conger eel that writhes and flips about the boat, wrestling with Rampley into a box. Hix applauds: 'Conger curry it is.' The team reels in a golden bream, more mackerel, more unwanted dogfish and we chug home with our winnings.
Fresh Fish and Fine Wine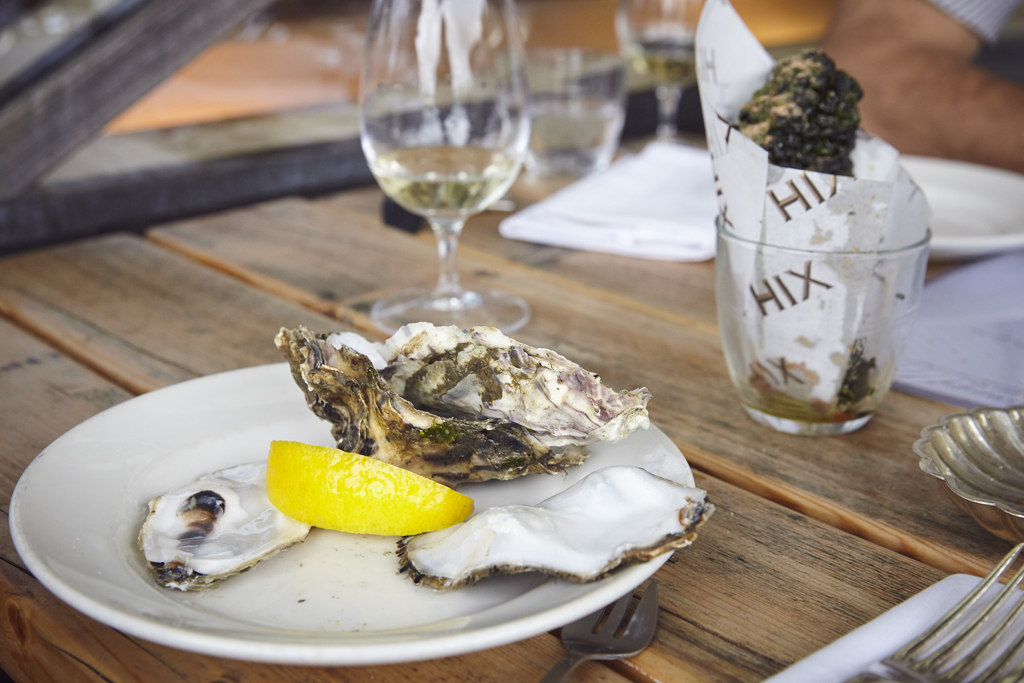 Back in the harbour, Hix shows me how to fillet the fish on board and we dissect the day over a bottle of fine rose. The pair then carry the fish and one massive conger eel along the Cobb to Hix's Oyster & Fish restaurant where the kitchen is briefed. It doesn't get fresher than this. With all Altana Europe trips, the joy of a catch or kill rolls into the joy of eating and a naked awareness of food's journey onto your plate.
We begin with golden bream broth with chilli and ginger, followed by posh fish and chips with mushy peas. The plates are simple yet bursting with flavour. Ray cheeks with chorizo and wild garlic next and, finally, the glory dish: spicy conger eel curry, a source of endless jesting. Perhaps therein lies the secret ingredient, over and above the wisdom, skill and dizzying accolades of Altana Europe's patrons: their friendship, which is both inclusive and entertaining. My arms may ache from fishing but it's my sides that are suffering from roaring with laughter since 8 am.
Book It
+39 39 26 95 87 32. altanaeurope.com
What to Drink, How to Drink it, Where to Drink it – Discover 2018's Wine Trends
---