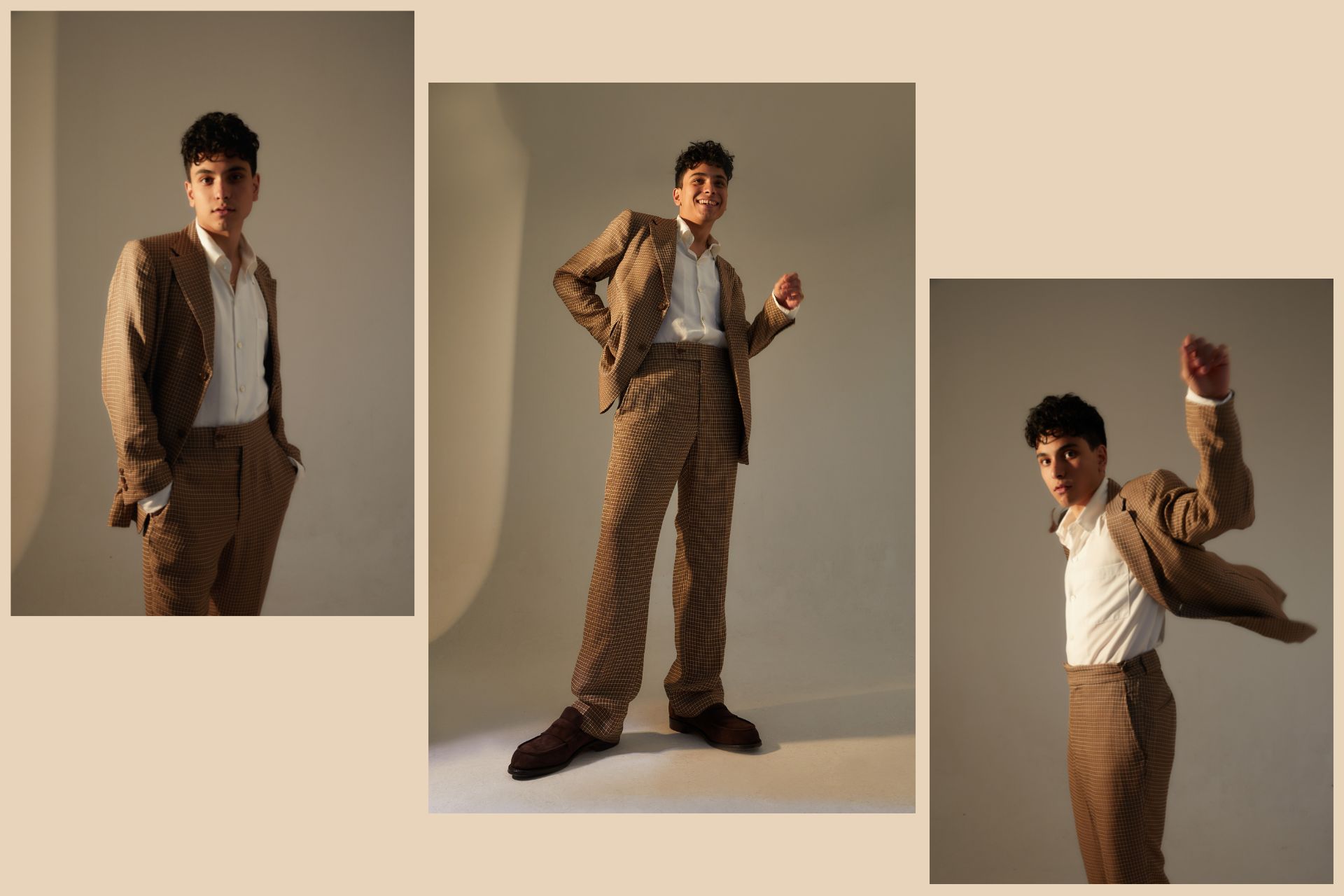 Ali Hadji Heshmati: 'I dream of working on an A24 project' – Interview
Ali Hadji Heshmati plays George in Netflix's new series, Lockwood & Co
Incoming: a new supernatural Netflix series with youngsters at the fore. This time, though, we're on British soil. Lockwood & Co has just landed on Netflix, written and directed by Joe Cornish, and based on Jonathan Stroud's book series of the same name. We're in London, in an alternate reality where ghostly spirits plague the city, though they can only be seen – and expunged – by children and teenagers. Adults exploit their skills, setting up corporate agencies and employing children. But Lockwood & Co is different: Anthony Lockwood (Cameron Chapman), George Karim (Ali Hadji Heshmati) and Lucy Carlyle (Ruby Stokes) go rogue, setting up their own start-up free from adult supervision. In reality, Ali Hadji Heshmati's teenage years weren't quite so supernatural (so he says…). Olivia Emily sat down with the British Iranian actor to chat all things Lockwood & Co, and how on earth he balances acting with studying at the University of Oxford. 
Interview with
Ali Hadji Heshmati – George in Netflix's
Lockwood & Co
Hi Ali, it's great to be chatting with you. You started out on Holby City – what was that like?
It was a great experience. Holby had an amazing cast and crew; most of them had been working together for over 20 years, so it felt special to be a part of it. 
You're also set to star in the upcoming season of Bad Education – what was it like filming with Jack Whitehall?
I was a big fan of the original series so it felt surreal to see Jack and the original cast return to their roles. Looking back at it, I just remember laughing on set with Layton, Charlie, and Class K perhaps more than we should've been. There are so many crazy scenes in the show which we all had so much fun filming. 
Sounds great. What's your funniest story from filming?
Matthew Horne throwing a meat piñata at me. If you're intrigued by what a meat piñata is, then you should watch the show and see how masterfully our Art Department manipulated vegan bacon, ham and sausages, and how unusually Matthew Horne babies the sculpture. And then, just imagine that very sculpture being thrown at me at the end of the day whilst Matt yells 'catch!'. It was not caught.
Oh dear! And your next big thing: Netflix's Lockwood & Co – can you tell us a bit more about the show?
In the show, London is overrun by ghosts that appeared from nowhere in the 1980s and have since killed thousands of people. Only children and teenagers are able to see the ghosts and a lot of them are pushed into ghost fighting agencies. Lockwood & Co is a start-up agency run by two teenage boys in a big house in central London (the only agency with no adults) and a very talented, newly arrived girl from up north called Lucy. They find themselves constantly trying to keep their agency afloat and fighting for their lives.
Wow – a teenage ghost hunter! Were your actual teenage years as exciting?
I'm afraid not – George Karim is much cooler than me (he's head chef and head researcher of the house)!
You're also a part-time student at the University of Oxford – how are you finding it?
Challenging but very interesting – it's very flexible so I'm able to balance it with my work. I dropped out of full-time studies when I got offered Lockwood & Co, and when we finished shooting, a part of me began to miss reading and discussing books like I used to. 
What do you study?
English Literature. I struggle to talk about why I love studying it without sounding ridiculously and utterly pretentious.
Did you grow up wanting to be an actor? What was your dream job growing up?
I always loved acting but initially, I wanted to be an astronaut. Then, when I was 12, I pathetically auditioned for a school play because this girl I fancied said to do it with her. She didn't get in, but I ended up getting a main part. I loved it so much that, since then, I've wanted to act as much as possible. 
What's your dream role?
It's a cringe answer, but my dream role isn't one role in particular but rather to have the fortune of playing a range of characters. One thing I do dream of, though, is working on an A24 project [the entertainment company behind the likes of Euphoria, Ex Machina, Lady Bird, Midsommar, and Everything Everywhere All At Once]. I find it amazing how they've achieved brand identity in the film industry with original, brilliant cinema. I think it's because of how consistently authentic and exciting each of their projects turn out to be.
We love A24, too. Which director would you love to work with?
There's a lot to choose from! Ana Lily Amirpour, Greta Gerwig, Noah Baumbach, Ari Aster, the Safdie Brothers, Wes Anderson, Edgar Wright… The list goes on. 
Do you have any fun rituals to get into character?
I find that music really helps me to focus. I have about four pretentious playlists all for George [Ali's character in Lockwood & Co.]. Warren [Ali's character in Bad Education] has one too!
Quick Fire:
What I'm reading… Making Movies by Sidney Lumet
The last thing I watched was… Le Grand Amour – Pierre Étaix
What I'm most looking forward to seeing… The Matilda musical or Aftersun!
Favourite film of all time… The Incredibles, Le Quatre Cent Coers, Texas Chainsaw Massacre…
Band I always have on repeat… It's basic, but The Beatles.
My ultimate cultural recommendation… A movie marathon at the PCC [Prince Charles Cinema].
What's next for me is… Hopefully to pass my driving test!
Lockwood & Co. will arrive on Netflix on 27 January 2023. netflix.com
Featured image: Photography: Klara Waldberg. Styling: Annabel Lucey. Grooming: Paul Donovan.