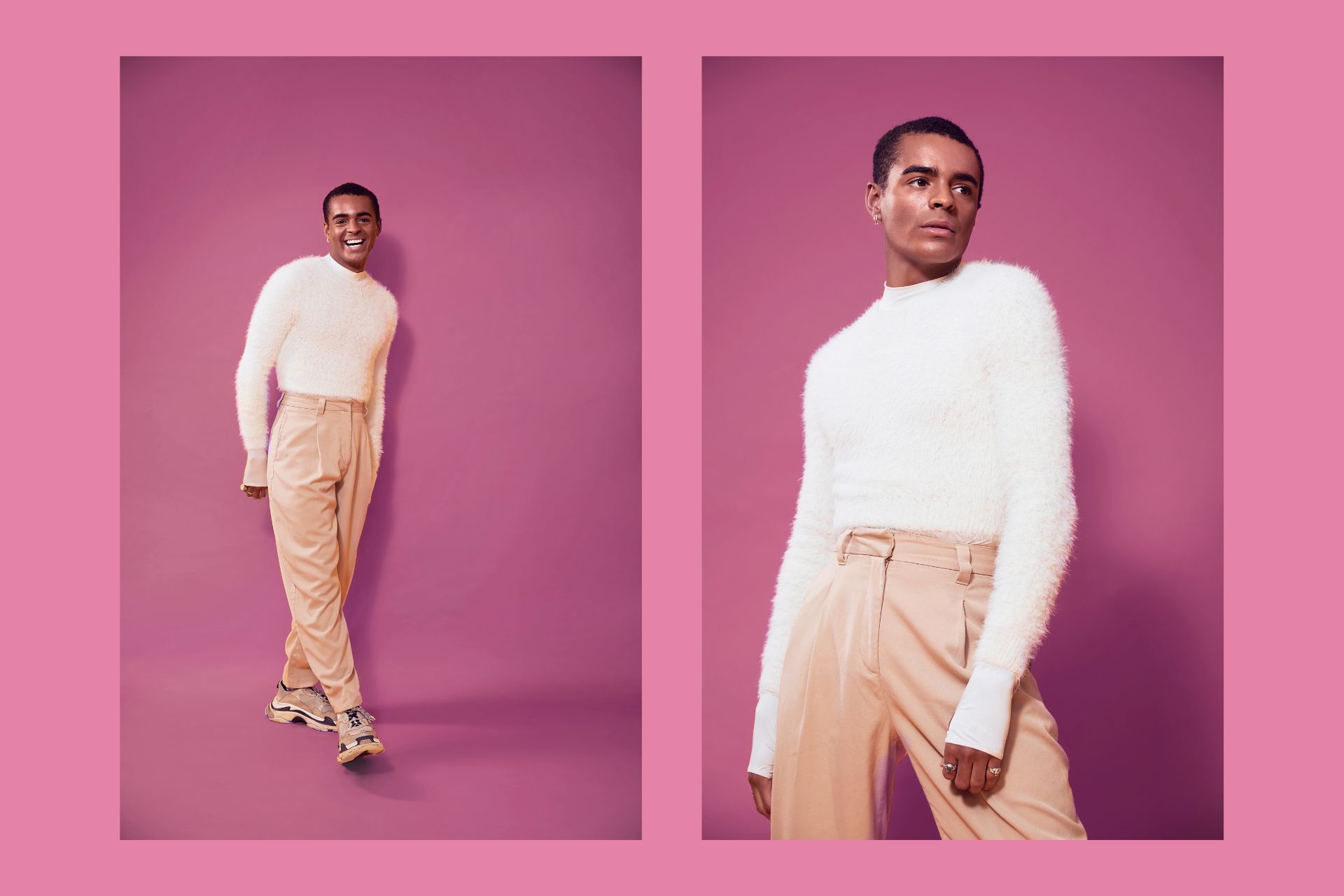 Layton Williams: 'I'm really grateful to him for handing over the baton – but now it's a reset' – Interview
---
Olivia Emily sits down with Layton Williams ahead of the Bad Education reboot this weekend
Bad Education is back with a new series this weekend, but it's not Jack Whitehall taking the lead this time. Enter: Layton Williams. You might recognise Layton from the original BBC series, which ran from 2012 to 2014. Or theatre fans might know him as Jamie in the UK tour of Everybody's Talking About Jamie. Or, throwback, you might remember him from CBBC's School for Stars. And now back to TV, and to his foray into writing: Layton is one of the writers on the Bad Education reboot. But, when Olivia Emily asks if this was a dream of his, Layton says 'No way!'. 'I didn't want to be a writer,' he says. 'I just became one because. I was like, "yeah, I can do that". I'm very much a jack of all trades, master of none.'. Olivia and Layton sat down to chat all things writing, never actually dreaming of being an actor, either, and Layton's relationship with Jack Whitehall.
Interview: Layton Williams on Bad Education
Hi Layton, it's great to be chatting today! We love Bad Education at C&TH. For anyone who's not watched it or isn't aware of the reboot, can you give our readers an elevator pitch?
Of course. Bad Education was a fabby comedy show set in a school, led by Jack Whitehall with his questionable teaching habits. There's these crazy kids in Class K who all have their very special isms in some fabulous ways and some… not so fabulous ways. We're all so different, but it gels into the perfect cast, and together we had three seasons and a movie of basically carnage, laughter, LOLs and all things in between.
But now, the new Bad Education is going to be fronted by yours truly. I've taken over from Jack Whitehall and I have my own Class K, who are just as amazingly talented – as much as I don't want to admit that, because I'd be sleeping on myself! But they really are a bunch of new, exciting, beautiful energies, all in many different ways. This time around, you're going to see myself and Mitchell, who was an ex-student, in the roles as teachers. But, in true Bad Education essence, we are probably the worst teachers that have ever stepped foot in there. 
I will say, I'm probably a worse teacher than Jack Whitehall was – so that is saying something. I don't do much teaching – I just do lots of strutting. The amount of times you will see me strutting down a corridor just looking fabulous. That's my aesthetic.
Amazing. Love it. Taking over from Jack Whitehall is huge shoes to fill! How do you feel about it?
Do you know what? I feel really great about it because we're such different people. We're such different actors. We're such different energies. I like to think of it as making my own shoes, because I would never wear the shoes that he was wearing, period. I'm slipping into my Louis Vuittons, and I'm living my fantasy in the world that Stephen [Williams' character] has created. 
It can be so easy sometimes to compare people. But there's literally no point – we're such different people. I'm really grateful to him for handing over the baton. He was unbelievable, but now it's a reset. It's a new energy. I'm just hoping that the old fans can get behind it as well as the new.
You also played a part in writing the series. What was the process like?
The process was super fun. It was so nice to be a part of the process – you're still told what to do but, no joke, our stories, things that happened in my real life, have made it into the script. 
For example, I teach my dance workshops with my company called Pros From The Shows. And when I've come from far and I walk into a room, I'm not asking for a full applause, but I'm going to need some energy. I'm going to give you 150 percent energy as a teacher. And when it's crickets, I'm like, 'immediately no. I'm going to walk out the room again. I will try it one more time, and if it is not giving energy, I might just pack my bags and go'. So now my assistant warns them. Every time I come, he warms them up, and when I walk into the room, they're all like [clapping]. I go to him, 'you told them to clap, didn't you?' And he's like, 'definitely, yes'. 
That kind of stuff makes it into the show because you share all these funny stories from your life. So it was a really great experience. I loved it.
What was your favourite moment from filming?
Well, I'm actually the choreographer on the show as well as everything else, so it was really fun putting together all of the pieces – the big musical pieces, I'm super proud of.
Are there any fun, quirky ways you get into character as Steven?
I mean, let's be honest, he's not too much of a reach from my personnel. But, I must say, he's way more exhausting. I do have chill moments, and I can be here in my cow print joggers and my hoodie on my couch. But Stephen will not be caught in an UGG boot. He has his light and shade, of course, but it's quite erratic to be playing him.
You started acting when you were quite young. Did you always see that for yourself? Was that always what you wanted to do?
No, I never really wanted to act. I didn't know you could. It wasn't something that I would ever have imagined somebody like me doing. I genuinely just fell into it. I was in the right place at the right time. I just went to the audition and, bam, I was playing Billy Elliot in the West End. It sounds really simple saying it like that. Obviously, there was lots of hard work that went into it. But I just rocked up. My audacity thought, 'You know what, I'm gonna go to audition, even though I can't do a step of ballet or tap. I'm just gonna go.' I would like to say, 'Oh, I woke up and dreamt of being an actor'. But it was just… not like that.
What about writing? Did you ever see yourself becoming a writer?
No way! In lockdown, it just was something that I dabbled in, and I ended up creating a draft of a show that had been on my mind for such a long time. Me and my co-writer worked on Jamie together, and we both had the same idea. So I was like, 'let's write it. We've got a lot of time on our hands'. From there, we sent it to people that we trusted – including Jack, including the producers – and I think because they saw that I was already dabbling in it, that's when they gave me the opportunity. So I didn't want to be a writer, I just became one because. Again, I was like, 'yeah, I can do that'. I'm very much a jack of all trades, master of none.
So do you still have quite a good relationship with Jack? Are you still quite close?
Yes! He's become a really good friend. We've known each other for over a decade. I was 16 when I first met him. I'm super proud of how his career has gone. 
He always used to check in as well. I remember messaging him like, 'Jack, how did you do it? This is a lot of work!'. Jack is the producer as well, so he'd get the rushes, and be checking in and saying, 'Listen, you're doing a great job, so proud of everything that you're doing, keep killing it'. It was really nice to know that, even though he was in LA filming whatever movie, being a superstar, he was always checking to make sure that I was cool and being looked after. 
What did you find the transition from stage to screen like?
It was a big jump. Of course, stage is really so different. You don't get that instant live buzz with TV, but it's definitely a different way of working. I think, luckily, I've been doing it since I was 13 years old, so I have a quiet confidence that I've got this.
What's been your favourite role to date?
It's definitely a tie. Stephen, of course, has been a massive part of my life. And obviously Jamie was iconic, but playing Billy Elliot was the first thing that introduced me to this world. So I couldn't not speak on that. That was the beginning of everything.
Who do you relate the most to from the roles that you've played?
Probably, at the time, Billy. I was literally the Billy Elliot story. I grew up in the north of England, on my estate. I saw myself as different and wanted to be a performer – people not quite understanding that, moving into London, going to theatre school…
Who has been your favourite actor to work with through your career?
I've got to take it back to Bad Education. I've had such a ball working with Charlie Wernham and sharing this moment together as co-stars back as teachers in Bad Ed. We've gotten so close, personally and professionally. So I've got to give a shout out to him.
Which co-star have you learned the most from?
When I was doing Jamie, my first Priti was called Sabrina Sandhu, and she was such a generous actress. You know when you find a friend quite late on in your life, and they're really special to you? Also, being on stage with somebody eight times a week and having the experience together of being in the West End… 
She was my go to person. And then on stage, we'd have those emotional moments together. Being very vulnerable with her was really beautiful. I just remember looking into her eyes, and having these emotional scenes.
What's the role that you would love to get?
Now, don't take this offensively. But I can't tell you. Because listen, imagine if I told you my dream role… I have a very cute agent, of course, so they are going to get me an audition. And if I don't get that job, you are all going to know that I didn't get it. So, at this point, there's already enough pressure on myself to book what I need to book and I don't need the rest of the world, Country & Town House, knowing what's going down! So I'm keeping that sealed for me, myself and my agents.
I love it. Work hard in silence! Do you have any demands in rehearsals?
You know what, I don't, so long as I've got my coffee. And I'm all about my Vita Coco, too – stay hydrated! I will be that girl that walks in, though, saying 'I'm so sorry I'm late!', but with a coffee in my hand.
I'm exactly the same… Do you get to spend much time at home?
I don't, as much as I would like to. I've now got my own home, which is beautiful, so I'm going to be spending as much time as I can trying to make this stunning. It's been a massive milestone for me to be able to buy a flat in London. I try to go back to Manchester and Bury, where I'm from, as much as possible to see my family, because I've got a niece and nephews that I adore. Obviously, I love the rest of my family too, but when the younger ones are growing up so quickly, I want to stay in contact with them.
Do you prefer town life or country life?
I am a little bit of a country bumpkin when it comes to it! I know it's a bit boujee to say, but I probably go to Soho Farmhouse in the Cotswolds two times a month. I love getting away, and there's something about being in the countryside that just makes me feel… ugh! I love it. I am a city girl, period. And I've always loved the hustle and bustle of people. But it can get so much. I like to just book myself a couple of nights, to go away and really chill.
And decorating your new house – how would you describe your interior design style?
Honestly, I think I've got a 60s moment going on… Everything has to be a moment. All of my radiators have been specifically designed – I've been a bit extra. My couch is so chic – but it ain't that comfy. I'm gutted. Let's just say I've got pillows galore. It's giving modern chic meets 60s vintage moment. Whatever that means.
OK, quickfire time… What's the last show that you watched and enjoyed?
Last night I went to see Newsies and it was unbelievable. The talent was crazy. Especially the dancers. I was gagged.
What are you currently reading?
The Subtle Art of Living.
What's the last TV series that you watched?
Wednesday. Unreal.
I'm most looking forward to seeing…
Wuthering Heights in America. My bestie Jordan Laviniere is making his American debut. I can't wait to see it.
My favourite show of all time…
Bad Education of course! Wink wink.
My favourite film of all time…
Got to be the Spice Girls movie [Spice World]. I'm sorry. But it is what it is.
A singer I always have on repeat…
At the moment, I've been absolutely living for Bree Runway. She's just amazing, and she just dropped a new album, so I've been streaming that.
My ultimate cultural recommendation…
Just go to the theatre. It makes you feel really good. It makes you inspired, it makes you believe, it makes you hope.
My cultural guilty pleasure…
Selling Sunset. My Unorthodox Life.
What's next for me…
More life, more happiness. Let's just see and enjoy the ride.
The first episode of Bad Education season four airs this Sunday 15 January at 10pm on BBC Three.
Featured image (c) The Other Richard.