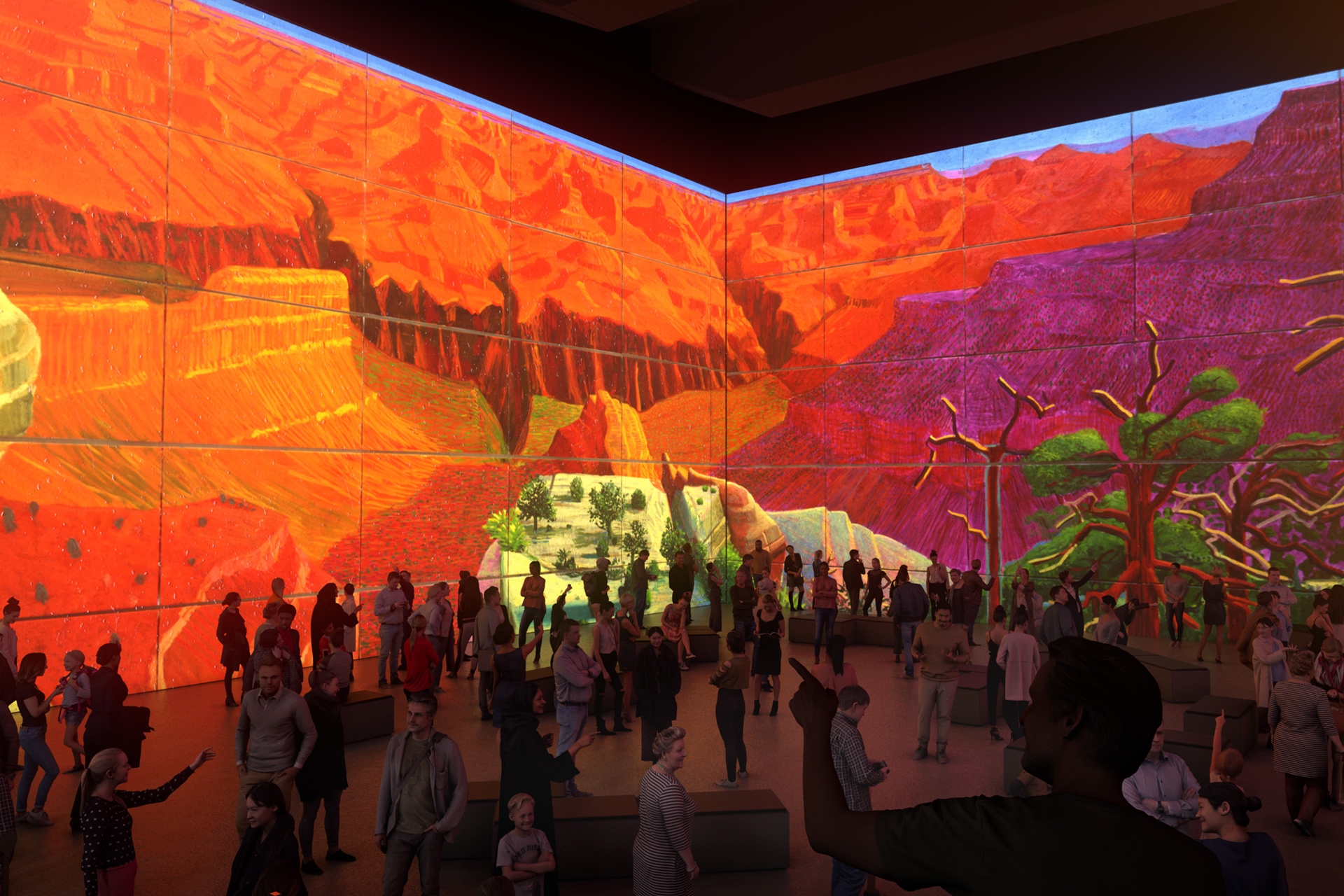 An Immersive David Hockney Exhibition is Coming To London
---
King's Cross venue Lightroom will be the new destination for digital art shows
Along with those ever-elusive NFTs, immersive exhibitions are one of the biggest trends in the art world at the moment. From Tate Modern's seismic Yayoi Kusama show to the multisensory Dopamine Land extravaganza, gallerists and artists are looking beyond the traditional, incorporating elements like video, live performance and special effects to connect with audiences in a new way. The latest? A new show from one of the biggest artists of our time, David Hockney.
Coming Soon: David Hockney: Bigger & Closer (Not Smaller & Further Away)
He's putting on the launch exhibition for Lightroom, a four-storeyed space in King's Cross kitted out with the latest digital projection and audio technology, set to open in February 2023.
Hockney's show, David Hockney: Bigger & Closer (Not Smaller & Further Away), will take audiences on a journey through his career to date, featuring some of his most iconic works alongside some new creations. Across six themed chapters, visitors will gain insight into his artistic processes and ideas, with commentary from Hockney himself alongside a score from Nico Muhly.
We'll see Hockney capturing the joy of spring on his iPad, and the sheer size of the Grand Canyon with paint, as well as him putting together his famed polaroid collages. 
'The world is very very beautiful if you look at it, but most people don't look very much. They scan the ground in front of them so they can walk, they don't really look at things incredibly well, with an intensity. I do,' says Hockney, in the exhibition's voiceover.
The show's director, Mark Grimmer of 59 Productions, said: 'We have worked with David to bring together large-scale projected images, animation, archival and bespoke interviews and a commissioned score to create a new kind of show which owes as much to Hockney's theatrical design as to his painting, drawing and photography. It's been thrilling to work with David over the last three years and we hope the show will introduce a whole new audience to his art.'
Hockney's show will be the first in a series of shows at Lightroom, all of which will captivate audiences with special visual and audio effects. The gallery space is a joint venture between 59 Productions and London Theatre Company, located in King's Cross on Lewis Cubitt Square, adjacent to Coal Drops Yard.
David Hockney: Bigger & Closer (Not Smaller & Further Away) runs from 22 February–4 June 2023, lightroom.uk
Featured image: Installation of David Hockney's 'A Bigger Grand Canyon' 1998,© David Hockney Collection National Gallery of Australia, Canberra