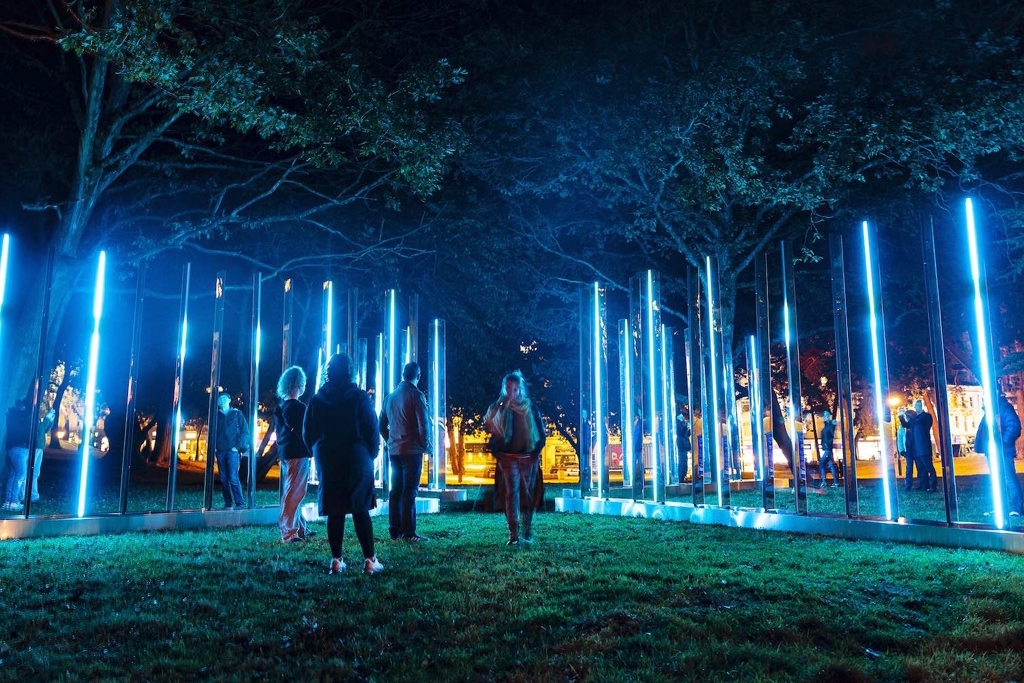 Art After Dark Is Coming To London – Here's Everything You Need To Know
---
Your next night out just got a whole lot more cultural
Art lovers: ever wished you could integrate a gallery visit with your evening in London? There are plenty of restaurants perfect for art lovers in the city, as well aesthetic spots primed for Instagram but, with most galleries closing around 6pm, there is no way to integrate gallery hopping into your evening affairs. Until now. Art of London's new scheme, Art After Dark, is making all of our dreams a reality – and better still, it's free. Here's everything you need to know.
Art After Dark Is Coming To London – Here's Everything You Need To Know
London is famously not a 24 hour city, with most cultural venues closing their doors at 6pm, and restaurants and bars similarly shutting up shop before the clock strikes midnight. Art of London's new initiative hopes to remedy some of our missed cultural opportunities. How, after all, can an art lover truly make the most of London's lovely exhibitions when they finish work around the same time the galleries close, and weekend tickets are a hot commodity?
What Is Art After Dark?
Art After Dark will see a number of galleries in the West End extend their opening hours until 9pm for a two day stint, encouraging visitors to incorporate art into their evening plans. For the first time, Art Of London – working with Mayfair Art Weekend – has pulled together major galleries and independent venues for Art After Dark, from the Royal Academy of Arts to Gallery 3812, the National Gallery to Stern Pissarro. Meanwhile, a luminescent art trail will appear across the St James's area. Stroll between the installations, enjoy headline exhibitions amid the bustling West End nightlife, pop for a cocktail or two between galleries, and end the night with a delicious dinner.
'This is an amazing opportunity to build upon the Gallery Hops we have been doing for a few years now,' said Simon Fitzpatrick of Mayfair Art Weekend. 'It is about time that London had an arts event like this. We're excited to be a part of Art After Dark and unlock late-night access to the West End's art galleries. There's an incredible range of world-class art within London's independent  galleries and we encourage as many people as possible to seek it out.'
When Is Art After Dark?
The first installment of Art After Dark will take place on Thursday 23 and Friday 24 March 2023, with galleries remaining open until 9pm. But don't worry if you miss it: three more seasonal Art After Dark events will take place in 2023.
Which Venues Are Involved?
Thursday night is all about independent galleries – head to Cristea Roberts, 3812 Gallery and Stern Pissarro – while Friday will see visitors at the RA and the National Gallery making the most of late openings and current exhibitions (Image of the Artist at the RA; Nalini Malani: My Reality Is Different at the National Gallery). The National Portrait Gallery will feature in the second installment, later in the year when it reopens.
Meanwhile, spot the follow street installations, placed to signpost the galleries participating in the scheme:
Piccadilly Circus:

Absorbed By Light, designed by Gail May Lucas and sculpted by Karoline Hinz
St James's Market:

Crossroads, a light installation designed by Lucid Creates
St James's Churchyard:

Exponential, a levitating kaleidoscopic mirrored cube also designed by Lucid Creates
'This is a wonderful opportunity to  enjoy the Gallery's free permanent collection and our new free exhibition Nalini Malani: My Reality is Different, a spectacular 40-metre high animation chamber,' said Jane Knowles at The National Gallery. 'This panorama of nine large video  projections, played in a continuous loop, is an exciting new work especially created for the Gallery and drawing inspiration from some of its most famous pictures.'
Jo Prosser at the RA added: 'The RA reflects a tradition of hospitality and conviviality that's run for over 250 years; we're delighted to be able to welcome people to our exhibitions in new and different ways, and at times of the day to suit them. Art After Dark makes for a great experience at the end of a working day or as a start to an evening out… We're happy to be part of it.'
Where To Eat & Drink During Art After Dark
Now you've worked up an appetite hopping between galleries, exhibitions and installations, head to these delightful West End venues for a bite to eat and a delicious cocktail to sip.
Farzi Cafe

Koha Restaurant and Bar

Blame Gloria

Lio London (formerly Cafe de Paris)

Poster Bar at the Royal Academy (on Fridays, enjoy complimentary pintxos by acclaimed chef José Pizarro with every drink purchased between 5.30–8.30 pm)

Shenkman Bar in The Keeper's House at the Royal Academy 
Discover Art of London's new seasonal art and culture programme, Art After Dark, at artoflondon.co.uk
Featured image: CROSSROADS by Lucid Creates.