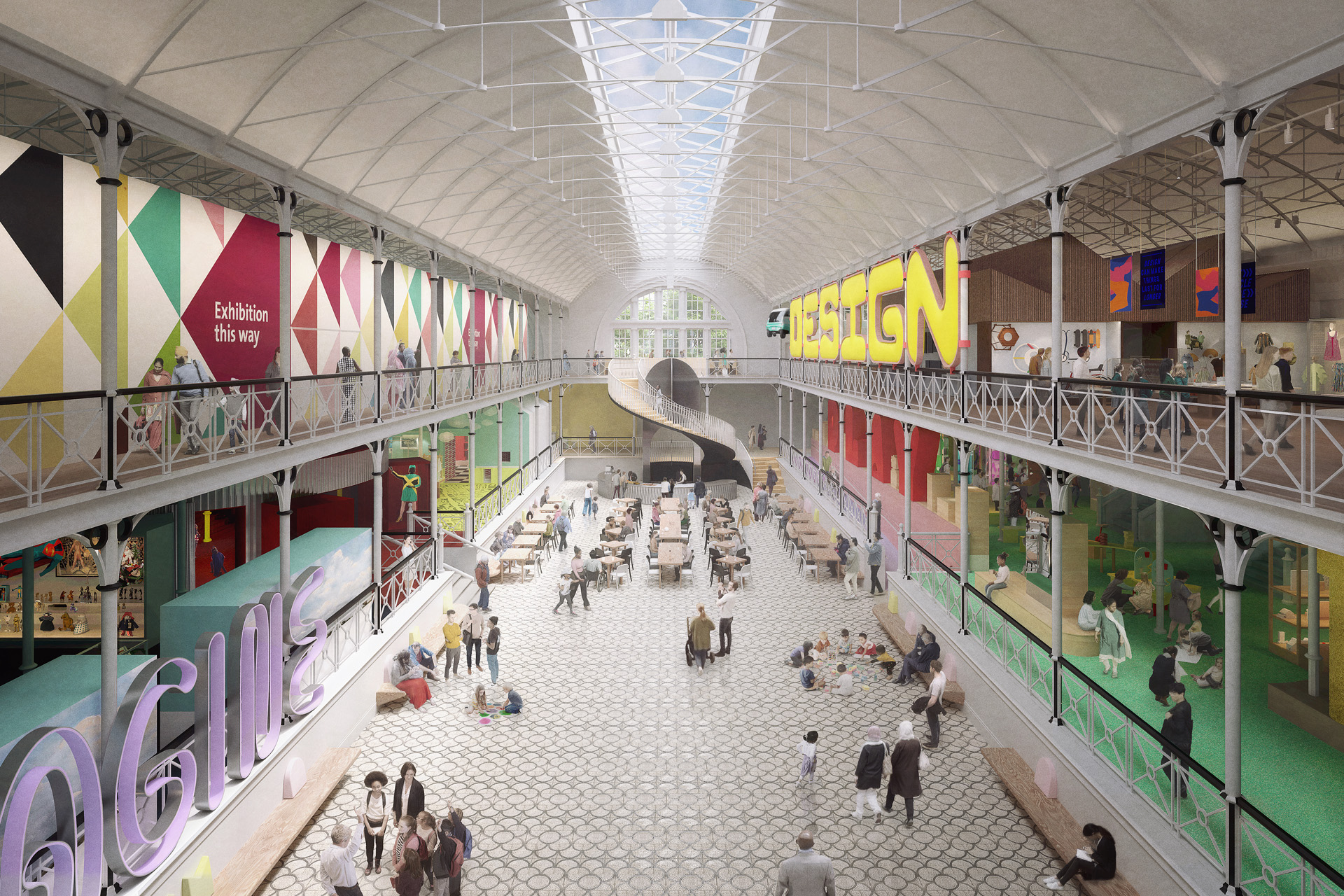 Everything You Need To Know About The New Young V&A
---
We finally have an opening date!
After a long three years in the works, the Victoria and Albert Museum (aka the V&A) have finally revealed new details about the brand spanking new Young V&A, including an opening date and plenty of exciting details. Here's everything you need to know.
Everything You Need To Know About The New Young V&A
Situated in East London's Bethnal Green, the Young V&A is a major new national museum and cultural destination designed specifically for young people aged 0–14 years old. Formerly the V&A Museum of Childhood, the new space hopes to inspire the next generation of young artists, performers and practitioners, and visitors can expect a combination of interactive spaces and playscapes alongside galleries and exhibitions.
'Young V&A is a clarion call for the vital importance of creativity in children and young people's lives,' said Dr Helen Charman, Director of Young V&A, upon the reopening news. 'We want Young V&A to inspire young people and families with the creative ingenuity of art, performance, and design, to empower educators from early years workers to teachers, parents, and carers to promote creativity, and to influence child-centred museum practice across the sector. We can't wait to welcome everyone to Young V&A this July.'
'Children and young people have been disproportionately affected by the pandemic and its aftermath, alongside the dramatic fall in creative education in schools,' added Dr Tristram Hunt, Director of the V&A. 'Young V&A is our response: a flagship project investing in creativity with and for young people and their futures. We are using our stunning collection of art, design and performance to open the nation's favourite design club for all children and young people. 
'In new galleries and exhibitions, from early years spaces to teenage games design rooms, our plan is to foster Britain's next generation of artists, thinkers, makers, innovators, and entrepreneurs,' Dr Hunt added.
When Will The Young V&A Open?
The Young V&A will open on 1 July 2023, with the first exhibition scheduled to open on 14 October 2023. This exhibition will be Japan: Myths to Manga, showcasing Studio Ghibli, Pokémon, manga-inspired fashion and more, transporting visitors on a journey through Japanese history to explore how landscape and folklore have influenced popular culture, technology, and design.
What Can Visitors Expect To See At The Young V&A?
The Young V&A is all about hands-on creative experiences. Alongside over 2,000 highlights from the V&A's art, design, and performance collections – from Hokusai to Keith Haring, Micro Scooter to Minecraft and Superheroes to the Surrealists – visitors can expect to see, experience and enjoy:
Three galleries shaped around 'Play', 'Imagine' and 'Design'

Topical contemporary displays and exhibitions

Sensory playscapes

A finger skateboard park

A sandpit

An 'Imagination Playground' construction zone

Colourful and tactile sensory landscapes for infants and toddlers

A performance and storytelling stage designed for early readers and writers

An open design studio where children can learn from leading designers

A games design space for teens

Three workshop spaces dedicated to learning

A reading room with a year-round programme of learning and education, ranging from early years sessions to curriculum based learning to after school and holiday activities.
Designed collaboratively with children and rooted in the latest research into early years' development, the Young V&A will be a haven for young minds, shaped around their interests to encourage playful learning, build skills and creative confidence, spark imagination and foster creative agency.
What Will Be In The Galleries?
New details as to what will be housed in the Young V&A's galleries have also been announced. For one, in the Play Gallery, visitors can experience an interactive Minecraft installation. Beginning in a recreation of Young V&A's Town Square, the installation will take visitors on a digital journey across real and imaginary worlds created by Minecraft players across the globe.
Elsewhere, see murals by street artist Mark Malarko – known for his cartoon-like characters and vibrant street art in cities around the world from London to Athens, Barcelona, and Berlin – inspired by creative workshops with children at the nearby Weavers Adventure Playground.
Over in the Design Gallery, there will be 1913 prints designed by The Suffrage Atelier demanding equality for women, displayed to illustrate to youngsters how design can change the world. Likewise, there will be artwork from the XR Families Group and by Greta Thunberg, showcased to help children see how environmental concerns can be expressed through arts and crafts.
Visitors will also see This Is Me, a display of new portraits by photographer Rehan Jamil capturing young people expressing what creativity means to them, set alongside self-portraits by leading creatives from Chila Kumari Singh Burman to Quentin Blake, Kenneth Branagh, Dapo Adeola, and Linda McCartney.
The results of Raspberry Pi' Coolest Projects competition, for which young people devised new tech solutions, will also be displayed, including 11-year-old  Sashrika Das' gas leak detector and 14-year-old Chinmayi Ramasubramanian's EleVoc 2022 human-elephant conflict device.
On news of the reopening, actor and writer Dame Emma Thompson said: 'I'm delighted to know that Young V&A – our first national museum created with and for children – will be opening soon. It will make its thrilling and essential contribution to our young people, whose access to arts, culture, and design opportunities, both in school and out, has been so impoverished by decades of underfunding. For kids, this will be a space of collective fun, cultural enrichment, and wonder, and it's designed specifically for them, which makes it incredibly special.'
Rushanara Ali, MP for Bethnal Green and Bow, added: 'Young V&A is an incredibly special museum. As a major new destination for children and young people and their grown-ups, it exists to inspire young people to find their creative superpowers, and as a space for people to come together in Bethnal Green. 
'Based in the East End of London, our area is known for its diversity, dynamism, creativity, and extraordinary history,' Ali added. 'Young V&A will help provide opportunities for children and young people both in my constituency and around the country by creating a fantastic new museum and cultural space for London and the UK.'
DISCOVER: vam.ac.uk
Featured image: View across the Town Square. Image by Picture Plane © Victoria and Albert Museum London.