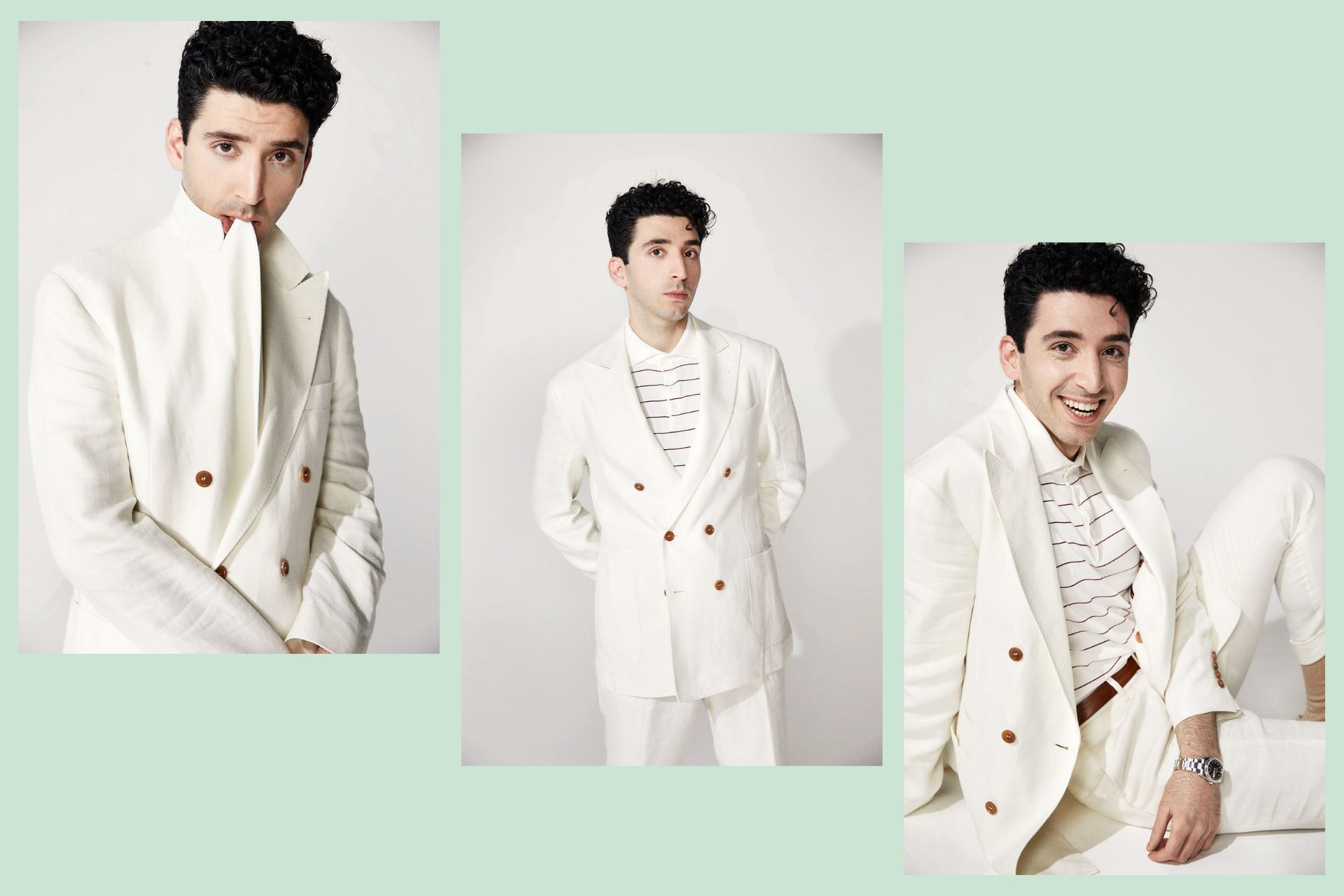 'I've finally found something that I'm really passionate about': Aziz Dyab – Interview
Liaison is streaming now on Apple TV
Not many people can say they starred alongside world-class performers within years of discovering acting; even fewer can say they discovered acting after seeking asylum in a new country. Born in Idlib, Syria, Aziz Dyab left the country for Germany, and was granted asylum, aged 20, in Frankfurt an der Oder on the German-Poland border. Speaking only Arabic, Aziz joined a theatre group in the hopes of improving his German language skills. Since, he has starred in the German films Copilot and Je Suis Karl, Netflix's Unorthodox, and now Apple TV's new series, Liaison. We chatted to Aziz about all things Liaison, breaking into acting, and goals for the future.
Interview: Aziz Dyab On Starring In Apple TV's
Liaison
Hi Aziz! You're currently starring in Apple TV's series Liason – can you give our readers a quick plot summary for anyone unfamiliar with the show?
Liaison is a gripping espionage thriller about two agents working to prevent a series of devastating cyber-attacks targeting the UK. At its heart, it's an impossible love story between two complex characters portrayed by Vincent Cassel and Eva Green. The show has great action sequences and it's filled with suspense and unexpected twists.
You play Samir – what can you tell us about him?
He's a brilliant computer hacker who stumbles upon important information related to the cyber-attacks, putting both himself and his family in a dangerous situation much larger than they anticipated.
Do you relate to Samir, or does he feel quite distant from your own personality?
I don't necessarily relate to him, but I completely understand his motivations. There's something admirable about his pursuit of basic necessities and a decent life opportunity for himself and his family despite possessing extraordinary hacking skills that could provide him with almost anything. But if I had a family and a child, I definitely wouldn't be doing any of the stuff he was doing. It's pretty reckless!
What is the cast dynamic on set? Who was your favourite person to work with?
We had a blast on and off set! The atmosphere during filming was fantastic and everyone got along really well. It was amazing to see how everyone's unique talents came together to make something awesome. That's why I can't just credit one person for it – it was really a team effort that made the show great.
How does it feel to be starring in a British-French series after mainly working on German language projects so far?
Very exciting! Liaison was my first experience working on an international production, and it definitely opened my eyes to new possibilities.
You joined a local theatre group within your first year of arriving in Germany to improve your German speaking skills – what were those early days like?
Those were some really fun days! I was 20 years old, and it was my first year in Germany after living in a war zone for a few years, so the contrast between war and peace felt surreal. I was both impressed and a bit intimidated by everything. The theatre group really helped me feel connected to this new reality. I made some friends and had all kinds of new experiences, from learning how to buy a bus ticket to falling in love.
Can you remember the moment you decided to pursue acting professionally?
It was more like a series of moments, really! I remember all of them clearly, but these moments are quite personal and emotional to me, so I prefer to keep them to myself.
What has the journey been like so far? 
It's been a roller coaster of emotions, hard work, dedication, and frustration. But, then again, isn't that just life? One thing I know for sure is that I'm grateful for everything.
You came to acting quite late in life (comparatively) – what was your career goal before pursuing acting?
I never had a clear answer whenever someone asked me what I wanted to be in the future, because I had never found a career goal that truly excited me. I used to love space and astronomy and wanted to become an astronaut. But it wasn't until I found out that I can become an actor and make films that I finally found something that I'm really passionate about.
What was your dream job growing up?
When I was a kid, I wanted to be a singer. Sometimes, my grandpa would set up singing contests for all us grandkids on the weekends, and I always won because I was the only one who took it seriously and tried to give the whole performance with choreography and all. Plus, I also had the best voice among us.
You also appeared in the award-winning Netflix miniseries, Unorthodox – did you expect the series to be such a big success?  
I don't think any of us expected the massive success that followed. We all knew it was a wonderful story about a woman trying to break free and find her own identity, so it's no surprise that it resonated with so many people.
Do you have any stand-out memories from filming?
It was summertime when we were shooting Unorthodox, and Berlin is so vibrant and full of colours in the summer. We shot in the Museum of Musical Instruments for a few days. That was pretty cool!
What has been your favourite role to date and why?
I think Samir in Liaison, because it gave me so much space to discover myself and what I'm capable of. Plus, I learned a ton from all the talented people I got to work with. It was such an awesome experience!
What's your dream role?
I just want to make great films! I love diving into different characters and taking on new challenges, and I enjoy pushing myself to try new things. It'd be amazing to do a musical someday. But, honestly, any well-written character in a great story would be a dream come true for me.
If you could give advice to your 15-year-old self, what would it be? 
Just keep doing what you're doing and be happy!
Anything fun in the pipeline – professionally or personally?
I'm working on this really cool German romantic comedy show, but it's still in the early stages, so I can't say too much about it yet. I'm busy auditioning all the time, and I've got a good feeling that this year is going to be awesome!
Quick Fire
I'm currently watching… A lot of really old movies and Wednesday on Netflix
What I'm reading… The Hero With A Thousand Faces, and Work On Your Accent: Clearer Pronunciation For Better Communication
The last film I watched was… Triangle of Sadness
What I'm most looking forward to seeing… Killers Of The Flower Moon, Dune 2 and Oppenheimer
Favourite film of all time… The 400 Blows
Band/singer I always have on repeat… I don't know… I listen to a lot of random stuff! Maybe old Arabic music from the '70s
My ultimate cultural recommendation… The Godfather
Cultural guilty pleasure… Believe it or not, I don't have any.
WATCH
Liaison is streaming now on Apple TV, with new episodes every Friday. tv.apple.com 
Featured image by David Reiss. Styling by Benedict Browne. Grooming by Charlotte Yeomans.