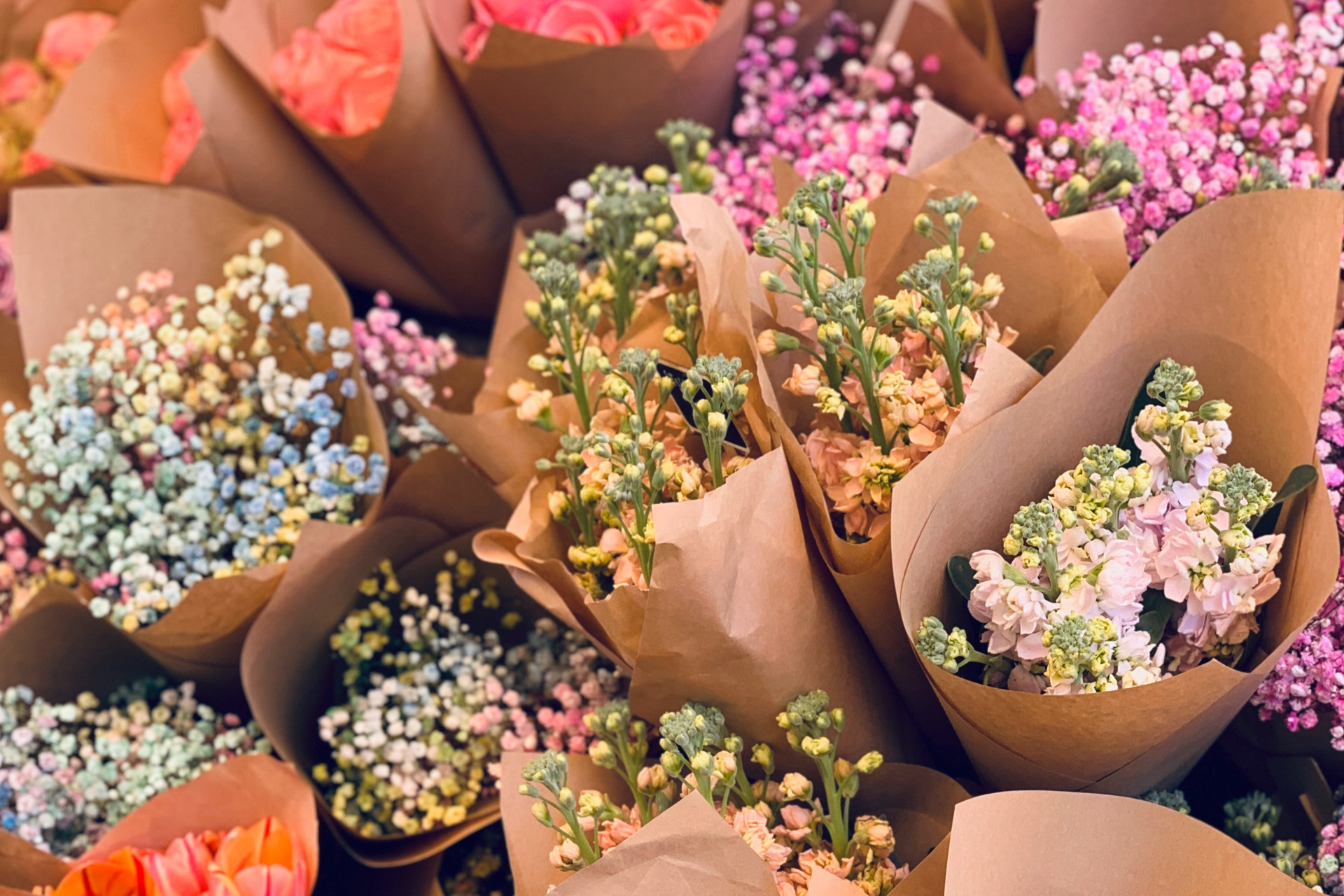 These Are The Best Flower Markets In London
---
Where to find beautiful blooms
Walking through Shoreditch on a Sunday, the streets are filled with fluffy dogs, flat whites, brown paper wrapped bouquets of flowers and stragglers hauling towering leafy plants along with them to brunch. It's the Columbia Road Flower Market effect, with thousands of people flocking to the tiny street weekly to catch a glimpse – and snag a bouquet – of the beautiful flowers. It's perhaps London's most famous flower market, and you should definitely make the trip. Here's everything you need to know, plus four more of the best flower markets in London.
The Best Flower Markets In London
1. Columbia Road Flower Market
Where? Columbia Road, Bethnal Green E2 7RG
When? Sundays, 8am–2pm
Bucketfuls of beautiful blooms line Columbia Road every Sunday, accompanied by succulents, taller leafy plants, and independent market traders shouting their exclusive deals. You'll undoubtedly move at a snail's pace down the narrow street – amid a throng of sunglasses, takeout coffees and puppies – while customers line up to enter the pretty boutiques and cafes lining the other side of the road. It's London's most famous flower market, and offers a glorious slice of unchanging London life, with reasonable prices across flowers and bulbs, succulents and houseplants. With a rainbow of vibrant colours, it's hard to resist succumbing to the classic Instagram shots. Afterwards, head into Shoreditch, or grab a bagel on the ever-popular Brick Lane. columbiaroad.info
2. Chiswick Flower Market
Where? Old Market Place, Chiswick High Road W4 2DR
When? First Sunday of every month, 9am–4pm
Venture out west on the first Sunday of the month to enjoy Chiswick Flower Market. Having opened in September 2020, it's London's largest new flower market, and visitors can expect an abundance of pretty flowers, alongside boutique shops and delicious eateries. chiswickflowermarket.com 
View this post on Instagram
3. New Covent Garden Flower Market
Where? New Covent Road, Nine Elms SW8 5EH
When? Monday–Friday, 4am–10am; Saturdays 4am–9am
Not for the faint hearted, this wholesale flower market opens at 4am daily (except Sundays), primarily serving London's myriad market traders and independent outlets. Descending from the original Covent Garden Flower Market, with roots tracing back to the 1600s, individuals are welcome to shop at the market – but note that wholesale means buying in bulk. So grab a few friends, pick your blooms and split the cost – it'll be an absolute bargain (if you can face the dreaded morning alarm). newcoventgardenmarket.com
View this post on Instagram
4. Pimlico Road Farmers' Market
Where? Belgravia SW1W 8UT
When? Saturdays, 9am–2pm
Situated on the picturesque, leafy Orange Square, there's plenty of stalls selling seasonal produce – from juice to vegetables, fish to artisan bread – alongside seating options galore at Pimlico Road Farmers' Market. So soak up the idyllic market vibes, and grab a bunch of fresh blooms while you're there. lfm.org.uk
5. Berwick Street Market
Where? Berwick Street, Soho W1F 0PH
When? Monday–Saturday, 8am–6pm
Dating back to 1778, Berwick Street Market is a classic mix of street food, artisan bread, and fresh fruit, veg, coffee and flowers. In particular, Ronnie's Flowers: the oldest flower market stall in London, expect everything from lilies to dahlias, roses to tulips. thisissoho.co.uk
Featured image courtesy of Pexels.