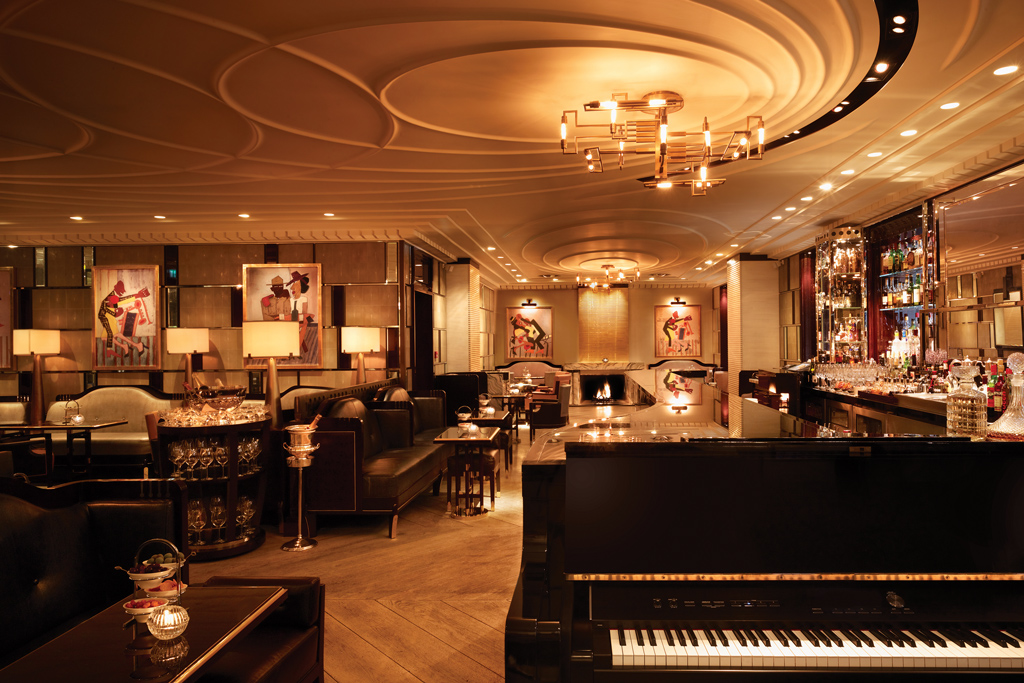 The Best Piano Bars in London
---
Discover somewhere cosy to hear that sweet pia-pia-piano
Let us paint a picture for you; a pianist gently tapping out melodic notes on whilst you sip on a cocktail… Sounds like a vintage dream, but it could be a reality this very weekend. Piano bars aren't often shouted about, but there are plenty nestled in different parts of the city, but to ensure you end up somewhere with a great musician to elevate the already decadent vibe, make sure to choose from our recommended piano bars in London below, and let the music soothe your soul…
The Best Piano Bars in London
The Piano Group
Locations in Kensington, Barbican, Smithfield and Farringdon
Hailed as 'one of the best nights out in London', The Piano Group, spanning Kensington, Barbican, Smithfield and Farringdon, offers top-notch live piano music in a truly welcoming setting. The group looks after a roster of performers, who make the rounds at each venue every week, each with their own style and flair, covering different genres such as blues, jazz, and more. The Smithfield venue is also available to hire out, should you want to throw a piano-themed party, for which you can hire their resident pianists or BYOM – bring your own musician.
BOOK IT: thepianogroup.com
Downstairs at The Dilly
Located directly below The Dilly Hotel lobby, this stylish speakeasy offers the perfect spot to head for after work drinks, a post-theatre debrief or the all-important nightcap. Choose from the extensive London-inspired cocktail list, with a guest cocktail available each month, while you enjoy a range of live performances from both house and guest pianists and singers. Fancy more privacy? You can also hire the bar for private parties or special celebrations.
BOOK IT: thedillylondon.com
The Piano Bar Soho
The Piano Bar Soho is a members-only (although you can visit as a guest) cocktail lounge in the heart of Soho that promises live music every night. There is a library, a snug and a screening room, and at the bar you'll find talented performers accompanied by the piano. Past performers have included Nathan Britton, Natalie Oliveri and Kitty LaRoar & Nick Shankland. The vibe? Jazzy and cosy. A great spot for an after-work cocktail.
BOOK IT: pianobarsoho.com
Bassoon at Corinthia Hotel
Just one of a handful of extravagant bars and brasseries at the Corinthia Hotel, Bassoon is a luxurious lounge featuring live piano sending relaxing music up into the walls of the hotel. The space, designed by David Collins Studio, is an elegant setting in which to sit with an expertly crafted cocktail and take in the surroundings whilst being serenaded by the live pianists. One particularly special past performer has been Lana Del Rey who performed her single 'Video Games' under Corinthia's vast chandelier.
BOOK IT: corinthia.com
American Bar at The Savoy
This bar has been around longer than most. In fact, it's the longest surviving cocktail bar in London and is renowned globally. It's steeped in history and culture but keeps up with the times, by constantly switching up the unique cocktail menus. And what could be better than sitting in this avant-garde example of luxury than to be there whilst hearing live music? Live piano no less. Amy Winehouse has graced the stage here, making it known as one of the greatest spots in London to hear live music, almost always spearheaded by a talented pianist.
BOOK IT: thesavoylondon.com
Black & Blue – The Archduke
The Southbank branch of classic steakhouse Black & Blue hosts jazz sessions almost every evening. They have a sleek black piano downstairs, which when played, allows foot-tapping-inducing music to waft to the upstairs level of the restaurant. It's enough to put any piano-loving diner in a good mood. Their weekday jazz schedule runs from 7.30 pm to 9.30 pm, so we recommend heading there after work for a more musical way to wind down.
BOOK IT: blackandbluerestaurants.com
Boisdale of Bishopsgate
This venue has been a constant supporter and showcaser of live music since its inception in 2002. And it comes as no surprise when you realise their Patron of Music is Jools Holland. In the restaurant, you'll sup on oysters and champagne, walk on tartan ground (it's Scottish-themed, after all) and hear the emerging talent of jazz, blues and soul, every Tuesday to Friday.
BOOK IT: boisdale.co.uk
Featured image: Bassoon at Corinthia Hotel.