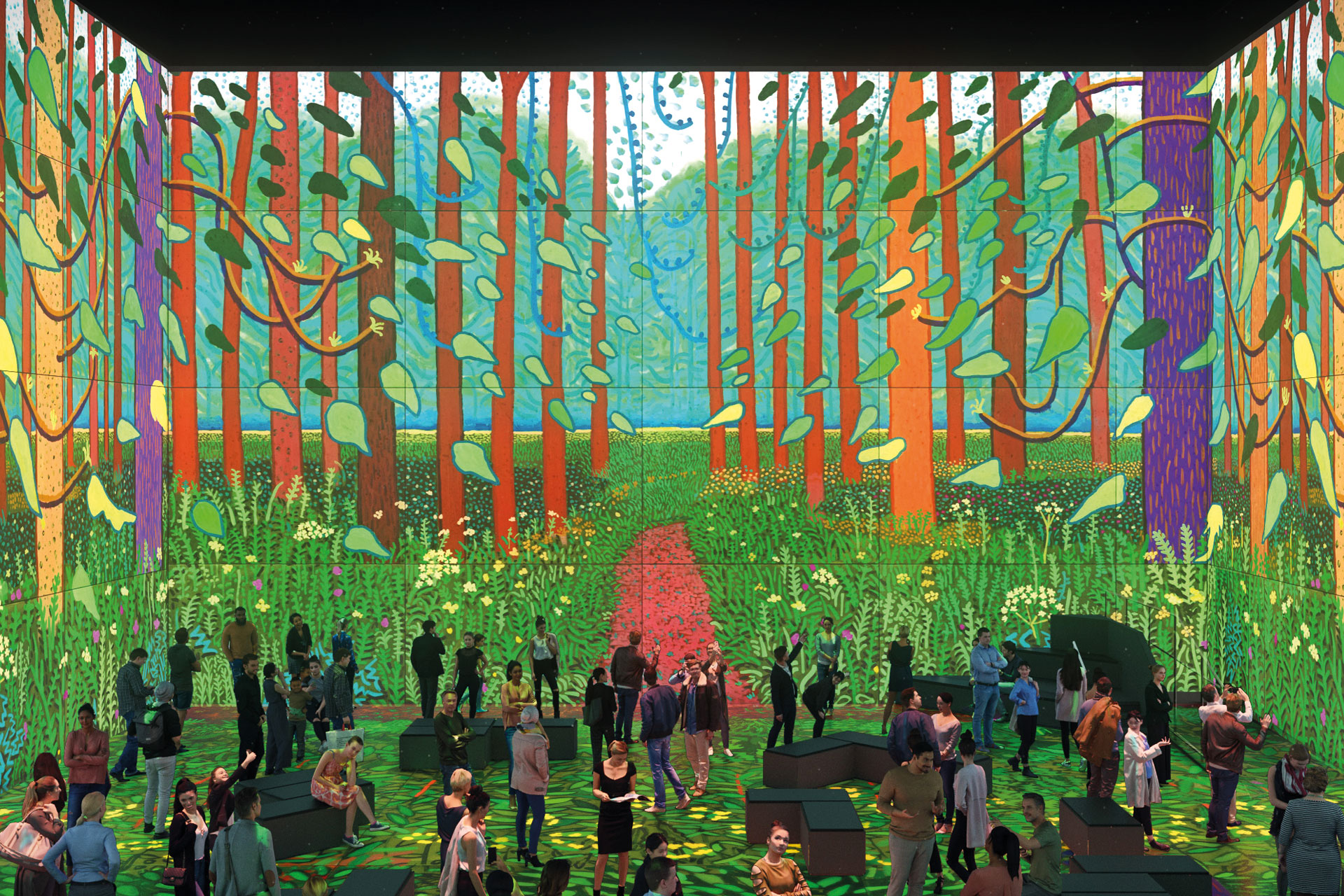 Review: David Hockney Bigger & Closer At Lightroom
Ed Vaizey gets immersed.
A fascinating show has just opened in London, not just because of who the artist is, but because of the shift in 'art experiences' it represents. David Hockney has launched a fully immersive experience at the Lightroom, based in King's Cross. But it's not just the Hockney show: it is the launch of the Lightroom itself that is so intriguing. Ed Vaizey asks, is it worth it?
Review: Bigger And Closer By David Hockney At Lightroom
I don't need to tell you anything about David Hockney. Alongside Freud and Bacon, he dominated the British art scene for decades, and is now this country's greatest living artist. He is firmly a subversive member of the establishment, turning up at the King's lunch for holders of the Order of Merit wearing a loud check suit and yellow Crocs. Despite his great age, Hockney remains an innovator, first with his 'paintings' made with polaroid pictures stuck together, and then going further with paintings on iPads. Only an artist with his credibility could have made these mediums acceptable to the art world.
Now we have his show at Lightroom called Bigger & Closer, Not Smaller & Further Away. It's a cycle of six themed chapters, with a specially composed score by Nico Muhly. Hockney provides the commentary, talking about his processes as an artist over the last 60 years. It's a breathtaking experience, as you walk through vast rooms completely enveloped by the artist's work, but it is also extremely intimate, as you feel you are being taken on a personal guided tour.
The Lightroom is just the latest of the a number of immersive experiences that are gradually becoming the norm – the Van Gogh experience, Frameless at Marble Arch, and Frida Kahlo in Coventry are probably the best known over the last couple of years. The Lightroom is led by Nick Starr and Nick Hytner, the duo who ran the National Theatre and then built the Bridge Theatre. Indeed, the Lightroom is explicitly designed as a sister space to the Bridge Theatre, and designed by the same architects Haworth Tompkins. The team behind the show are listed in the credits – from composers to animators, video designers and executive producers.
So this is a 'show' in the true sense of the word. It's a form of live digital theatre – and Hockney has also been a successful stage designer – where the art is a prop or inspiration for the show itself. People can get themselves very worked up about whether this is art. The show has a limited run, just like any exhibition, but the space is permanent, and after Hockney closes another artist will take his place.
Bigger And Closer: Is It Worth It?
Personally, I am all for it. It's a great way to introduce people to art. It's not an either/or – you can still appreciate Hockney's paintings in sit-in places like Tate. And it uses the latest technology to create a new kind of art experience – exactly as Hockney has done in the past, which is why he is the perfect artist to launch this latest iteration of immersive art.
Until 4 June 2023, lightroom.uk
Featured image: Installation of David Hockney's The Arrival of Spring in Woldgate, East Yorkshire in 2011