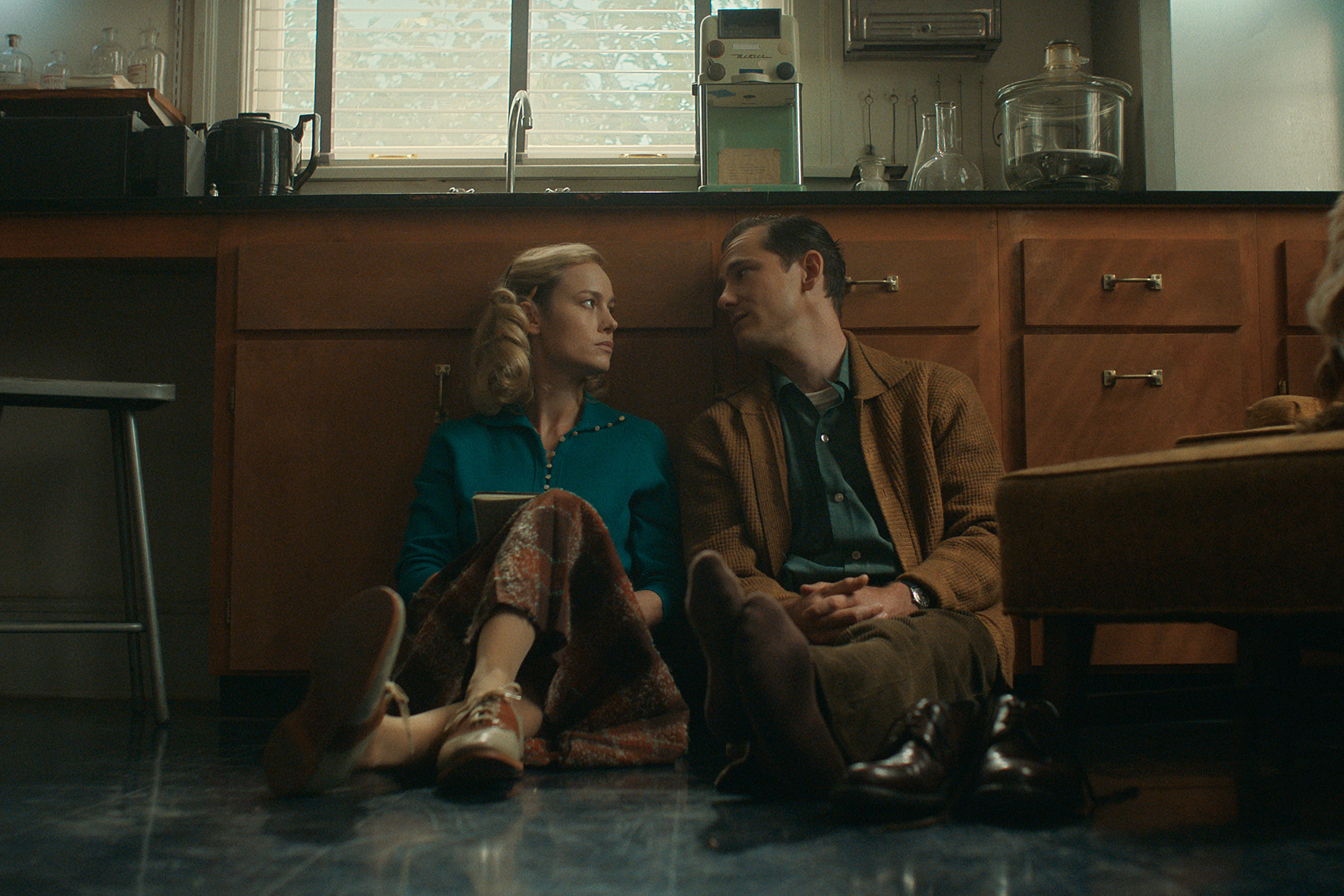 The Biggest New TV Shows Dropping This Autumn & Winter
Autumn watch list sorted
As the temperature cools into sweater weather territory, TV is hotting up. There's a whole host of exciting new TV shows to enjoy this autumn, from thrillers to rom-coms, from the BBC to Netflix. Here's what to tune into, and when – plus what's still streaming from September.
Stay Up To Date On The C&TH TV Hub
Biggest New TV Shows Dropping In Autumn & Winter 2023
Boiling Point
From 1 October, BBC
The famously stressful one-shot kitchen drama, Boiling Point, has been extended by the BBC into a series, turning the attention onto Carly, played by Vinette Robinson. Click here to read our Q&A with Vinette all about what to expect from the series.
Payback
From 4 October, ITVX
A new thriller is coming to ITVX, lead by Morven Christie as Lexie Noble, a mother of two who finds herself somehow involved in an incredibly dangerous crime operation after her husband's murder. 'She hasn't had the easiest life, but she's leant into her husband and the life they have together as her solid ground – she really has nowhere to turn when it all unravels,' Christie tells C&TH. Read more about what to expect in our full Q&A here.
Beckham
From 4 October, Netflix
Fancy a sport documentary? Football and fashion fans alike are in for a treat with Netflix's brand new docuseries, Beckham, tracking the incredible rise of Britain's most famous football player. From his childhood to career highs and lows, here's everything you can expect from the series.
Everything Now
From 5 October, Netflix
If Sex Education and Euphoria had a baby, we think it would look a little something like this. Set in London, Netflix is delving back into British coming-of-age with Everything Now, which follows Mia, a 17-year-old who returns to school following a stint in hospital to discover that all of her friends have moved on to a new stage of teenagerdom featuring sex, drugs and parties. What else to do but dive right in? Read all about what to expect here.
The Fall Of The House Of Usher
From 12 October, Netflix
Fans of Netflix's harrowing horror anthology series, The Haunting of Hill House and The Haunting of Bly Manor should tune into this adaptation of Edgar Allen Poe's classic tale first published in 1839. Primarily exploring greed, the story centres upon Roderick and Madeline Usher, the couple at the helm of the lucrative Fortunato Pharmaceuticals empire, when a series of inexplicable deaths occur, linked by one peculiar woman.
Lessons In Chemistry
From 13 October, Apple TV+
One of the most talked about novels of the year is coming to the small screen this autumn, with Brie Larson leading the way. Bonnie Garmus' Lessons in Chemistry has been adapted by Apple TV+ to transport us to 1950s America where scientist Elizabeth Zott finds herself transformed into the nation's first TV chef.
Bodies
From 19 October, Netflix
Stephen Graham stars as a mysterious political leader in this time-bending mystery, which spans four points in time, from Victorian London to the year 2053. Four detectives in four different times find the same murder victim's body in London – the very same body. But how will they solve a crime spanning 150 years? And how has it even happened anyway? Read everything we know so far here.
Three Little Birds
From 22 October, ITVX
A drama inspired by the real experiences of Lenny Henry's mother when she emigrated from Jamaica to Britain in the 1950s, this six-part post-Windrush series follows three young women who move to the West Midlands seeking a new life.
Here's what we can expect to see
.
All The Light We Cannot See
From 2 November, Netflix
The adaptation of Anthony Doer's 2014 Pulitzer Prize winning novel will finally arrive on Netflix this autumn after years of production delays. A limited series of just four episodes, the series will follow Marie-Laure, a blind French teenager whose path collides with German soldier Werner in occupied France during WW2, starring both Mark Ruffalo and Hugh Laurie.
The Buccaneers
From 8 November, Apple TV+
There's nothing we love more than a regency drama, and this new Apple TV+ series is sure to scratch our Bridgerton itch. Based on an unfinished Edith Wharton novel of the same name, we follow the daughters of America's newly rich who travel to London on the hunt for a husband. Completely disregarding centuries of tradition, a Anglo-American culture clash ensues. Read all about what to expect here.
The Lazarus Project
November, Sky Max & NOW
The second series of The Lazarus Project will air on Sky this autumn, with Paapa Essiedu reprising his leading role as George. While the first series explored what happened when George woke up one morning to discover that the calendar had been wound back six months – inadvertently stumbling across The Lazarus Project – series two will raise the stakes even higher.
Doctor Who
November, BBC
A series of three special Doctor Who episodes will air in autumn 2023, commemorating the 60th anniversary of the programme. With David Tennant returning as the Doctor (but the Fourteenth Doctor rather than his former role as the Tenth Doctor) and Catherine Tate reprising her role as Donna Noble, it'll bridge the gap between the 2022 specials – in which Jodie Whittaker's Doctor regenerated into David Tennant's Tenth Doctor form – and Ncuti Gatwa taking over as the Fifteenth Doctor.
The Couple Next Door
TBC, Channel 4
Pegged to launch this autumn, this new TV show will be led by Sam Heughn and Eleanor Tomlinson. A dark psychological drama, it will explore the intertwined relationship between two couples living in a picture perfect neighbourhood. Even without a confirmed release date, it's attracting quite the buzz already – here's everything we know so far.
Smothered
TBC, Sky Comedy & NOW
Monica Heisey's new not-so-typical rom-com will land on Sky at the end of autumn, exploring romance amid the pressures of modern dating. Sammy (Danielle Vitalis) is an independent woman done with dating apps and sick of immature men, while Tom (Jon Pointing) is a settled man with a warm heart but his fair share of baggage. When the two meet on a drunken night out, they agree to have a no-strings-attached affair for three weeks, under the condition that they never speak again afterwards. What could go wrong?
Still Streaming From September
Top Boy
From 7 September, Netflix
A third series of Top Boy will arrive on Netflix this autumn, set to be the final chapter deciding who will ultimately reign as Top Boy of Summerhouse. With only six episodes, it's expected to end the thrilling crime series revival on a high note.
Love & Death
From 7 September, ITVX
A star-studded HBO drama is coming exclusively to ITVX this autumn, with Elizabeth Olsen, Jesse Plemons, Lily Rabe, Patrick Fugit, Elizabeth Marvel, Tom Pelphrey, Krysten Ritter and Keir Gilchrist all making an appearance. Set in Texas and based on a true story, Love & Death centres on two church-going couples enjoying small town family life – until somebody picks up an axe.
The Lovers
From 7 September, Sky Atlantic & NOW
One for the rom-com fans. Set in Belfast, this brand new opposites-attract romantic comedy will follow Janet (Roisin Gallagher) and Seamus (Johnny Flynn) – two people who appear utterly wrong for each other. But, when Seamus unexpectedly drops into Janet's life (literally over her garden wall), the two find themselves inexplicably drawn to each other.
The Other Black Girl
From 13 September, Disney+
Think The Bold Type, but make it scary. The Other Black Girl centres on Nella, an editorial assistant who is the only Black girl working at her company. So, when Hazel is hired, she's excited – that is until she makes a shockingly sinister discovery about her new colleague and friend.
Wilderness
From 15 September, Prime Video
Jenna Coleman will embrace her dark side in Prime Video's upcoming romantic thriller, which whisks the Doctor Who star off to the wilds of the US' National Parks, along with Oliver Jackson-Cohen. The two play a power couple who seemingly have everything. That is until Liv (Coleman) finds out that Will (Jackson-Cohen) has been having an affair. So, when Will proposes the trip of a lifetime, there's one thing on Liv's mind: revenge. Read everything we know so far about the series here.
Sex Education
From 21 September, Netflix
Another Netflix series coming to a bittersweet end: Sex Education. After catapulting its ensemble cast to the lofty heights of stardom – from Barbie to Doctor Who – all good things must come to an end, and we're hoping Sex Education goes out with a bang. With Moordale Secondary now closed and its students displaced to nearby Cavendish Sixth Form College, Otis hopes to set up a new sex clinic, while Eric prays the duo won't be losers again. Read everything we know so far here.
The Long Shadow
From 25 September, ITV1 & ITVX
ITV's new Yorkshire Ripper drama stars a cast of familiar faces, and will sensitively focus on the lives of Peter Sutcliffe's victims and the impact on their families, as well as the toll on the officers leading the investigation. Starring Toby Jones, David Morissey, Daniel Mays and Katherine Kelly, it's set to be a gripping exploration of a serial killer whose crimes still haunt the nation. Read everything we know so far here.