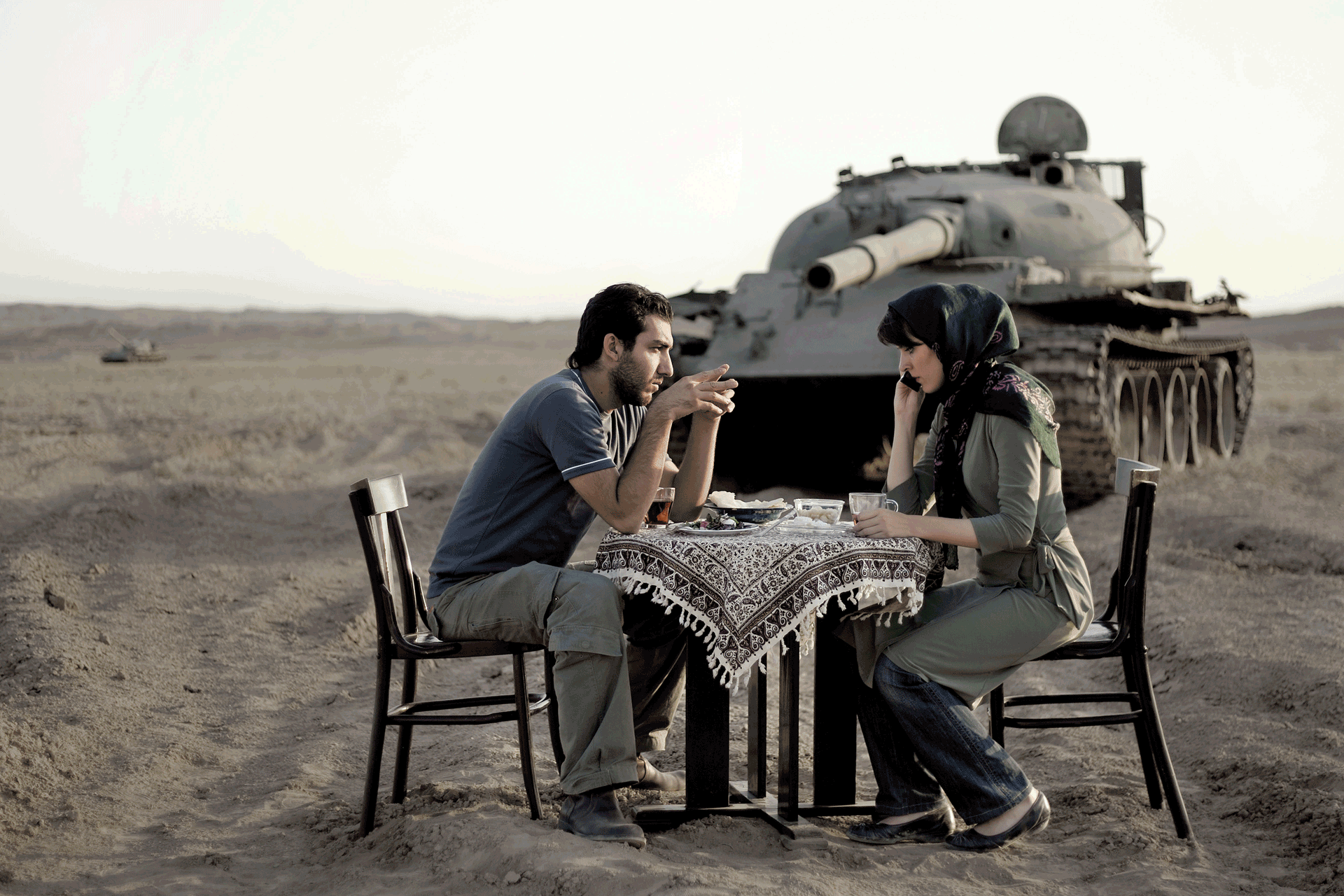 Book Review: Breathing Space: Iranian Women Photographers
Seeing Iran through a female lens
By Kamin Mohammadi | 5 months ago
Kamin Mohammadi reflects on the book Breathing Space: Iranian Women Photographers and speaks to its curator, Anahita Ghabaian, about Iranian art, resistance and self-expression.
Book Review: Breathing Space: Iranian Women Photographers
In 2001, Anahita Ghabaian founded the Silk Road Gallery in Tehran, Iran's first exhibition space dedicated to contemporary photography. Opening at the height of Khatami's presidency over 20 years ago – when social controls were relaxed, civil society flourished, and women started to push the boundaries of Iran's restrictive Sharia law – the Silk Road Gallery has occupied an important place in Tehran's rich cultural life ever since. The gallery soon took up two sites in Tehran and Anahita is now about to open a new space with a garden in the Iranian capital.
Ghabaian, then, is well-qualified to curate Breathing Space: Iranian Women Photographers, a book of 23 women photographers of different ages spanning three generations, whose work provides a female lens through which to see Iran.
This is not the image that many in the West have of Iran, where recent protests have highlighted the depth of repression and discrimination against women. After Mahsa Jina Amini's death last September at the hands of the Morality Police, the many demonstrations that swept Iran were led by women. 
Speaking to Ghabaian in Tehran, I ask her how, given this institutionalised discrimination, it is possible these Iranian women photographers can produce work, exhibit and even find fame both home and abroad.
Ghabaian explains the complexity. 'In Iran no one accepts all the restrictions,' she says. 'There are many difficulties and challenges. And because of this, artists circumvent the restrictions in order to say what they have to say, to push the limits of what is possible.' Iranian art has traditionally always used metaphor and symbols to circumvent the restrictions of the many dictatorships, invaders and tyrants that have dogged Iran's long history. And the work of these female photographers is the latest development of this particularly Iranian sensibility. 
The book starts with the black and white images of Hengameh Golestan, whose images of the first ever Women's Day March in Tehran in 1979 show how actively women resisted mandatory hejab laws when first proposed by Ayatollah Khomeini on taking power after the revolution in 1979. 'This picture really shows their opposition: everywhere you look, there are just women, protestors,' says Ghabaian. 'It also shows you that Iranian women have never accepted their lot, have always protested and resisted. This is an important moment in history. I fought hard to include the three photos by Hengameh; many people photographed these protests but in my opinion, her pictures capture those days the best of all.'
Other photographers showcased are: Nazli Abbaspour; Hoda Afshar; Atoosa Alebouyeh; Hoda Amin; Mina Boromand; Solmaz Daryani; Gohar Dashti; Maryam Firuzi; Shadi Ghadirian; Ghazaleh Hedayat; Rana Javadi; Mahboube Karamli; Gelareh Kiazand; Yalda Moaiery; Sahar Mokhtari; Tahmineh Monzavi; Pargol E. Naloo; Malekeh Nayiny; Mahshid Noshirvani; Ghazaleh Rezaei; Maryam Takhtkeshian; and Newsha Tavakolian.
'We have three generations of women photographers, and what's interesting,' declares Ghabaian, 'is that the first generation – Hengameh, Mahshid Noshirvani, Rana Javadi – they talk only of public things: what happened in the street, what happened in the university, what happened in the factory. They don't talk of themselves. The second generation – such as Shadi Ghadirian, Newsha Tavakolian and Gohar Dashti – speak more of the condition of women but without really talking about themselves. The third generation – such as Atoosa Alebouyeh and Ghazale Hedayat – are only speaking of themselves, and their work speaks to what they have inside them. And this difference in expression and seeing, this development, is really interesting. This is a generational thing.'
'We have come out of pure reportage and documentary and gone towards a sort of staged self-expression,' pinpoints Ghabaian. 'This is an artistic book but it's also a historical book.'
Breathing Space, £40, published by Thames & Hudson. Available from Hatchards and other book shops from 6 July 2023.