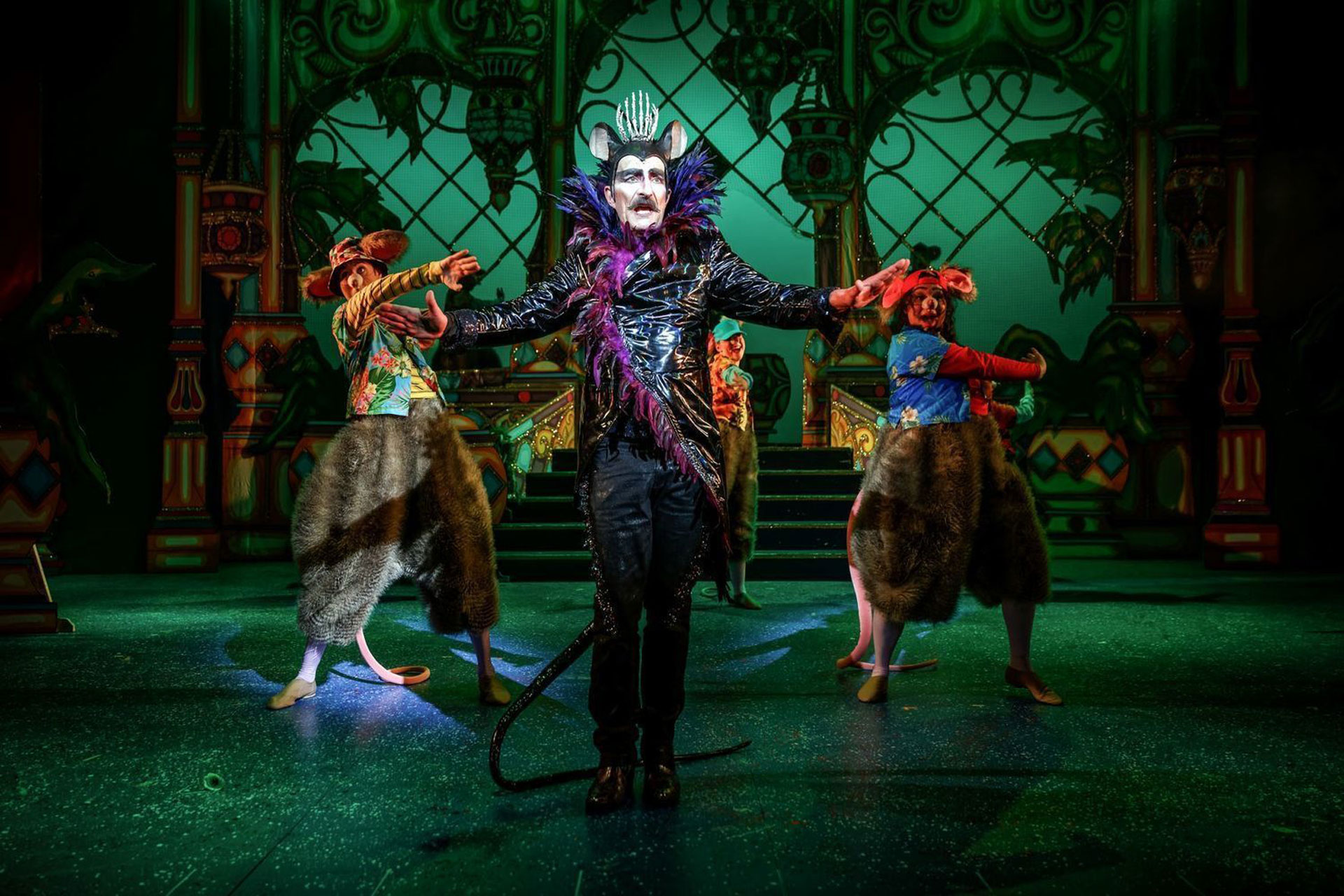 In Memory Of Kit Hesketh-Harvey: 'Pantomime is Tremendously Important'
---
We look back at the time the performer and writer starred in Dick Whittington
Kit Hesketh-Harvey, the brilliant entertainer and cabaret artist, died suddenly last week aged just 65. I had known him since my first term at Cambridge University when he sashayed into the University Library's Smoking Room, resplendent in a shimmering boiler suit made out of parachute silk.  He personified beauty, glamour, defiant eccentricity and an outrageous, rapier-sharp wit, which electrified any room he ever walked into. On this week's edition of our podcast, Break Out Culture, Ed Vaizey and I pay him tribute, hearing his voice again brings him straight back to life in all his incomparable magnificence.
There have been numerous obituaries to him, so the facts about his phenomenal talents and extraordinary life don't need repeating here. But as far back as 2017 I was delighted to write about him and his cabaret partner, the musician, James McConnel, for this magazine. Our editor, Lucy, took no persuading to commission the piece once I'd taken her to see Kit and McConnel perform at Pizza Express, formerly The Pheasantry, on Kings Road. The next time I went to see them, Lucy was also returning for more, with her father and others. She too had become a fan of their clever, daring act. Kit and McConnel performed at The Pheasantry regularly and at The Savoy and Crazy Coq's beneath Brasserie Zédel off Piccadilly Circus, so I was lucky to see them numerous times. They never failed to surprise and delight.
Kit was a wonderful friend, full of warmth and curiosity, with whom I've enjoyed some exhilaratingly wild times, including being thrown out of Stringfellow's nightclub, which even Kit admitted was quite a feat. I also worked with him and James McConnel, bringing them on board to cheer up what might otherwise have been a predictable, smart awards ceremony and transforming it into a joyous memorable night of unpredictable hilarity.
In 2021 Kit joined us for an episode of Break Out Culture. Hearing Kit's voice on our podcast, makes me feel so fortunate to have known one of the most original and talented entertainers of our time.
In memory of the late actor, we bring you a snippet of our chat below:
Our last Break Out Culture guest of 2021 is a polymath who defies all description. He is a multi-talented wit, lyricist, screenwriter, crime novelist and much-loved panellist on Just a Minute. We are of course talking about Kit Hesketh-Harvey, who turned his enormous array of talent to opera last July when he wrote the libretto for The Life and Death of Alexander Litvinenko for the glorious Grange Park Opera. This winter, he returns to Dick Whittington to play King Rat in the much-loved pantomime. 
This interview was taken from our Break Out Culture podcast with Ed Vaizey and Charlotte Metcalf.
Listen on iTunes
Listen on Spotify
Tell us about The Life and Death of Alexander Litvinenko…
The composer Anthony Bolton retired from the city and returned to his first love, which was composing, and composed this opera, The Life and Death of Alexander Litvinenko. He wrote this opera about the death, the notorious death and murder in fact, of Alexander Litvinenko, who was an ex-KGB officer who alienated the new regime in Moscow, fled to London and became a British citizen with his extraordinary wife, Marina Litvinenko.
Anthony thought this was a very powerful subject for an opera. We finished it about four years ago and it was postponed, of course, because of COVID. And so we did it last July. It was a very odd disparity between the incredible beauty of this mellow old mansion and its fabulous gardens and the savagery of the subject, really. It was directed with great beauty by Steven Medcalf, who works a lot at Grange Park and is one of their finest opera directors. Anthony's music is perfect for the subject. It has this sort of steely quality.
You opened last night in Dick Whittington and you played the villainous King Rat. How was it?
It's fantastic. It's my 11th performance here at the Yvonne. My maternal line comes from here, from around Guildford. I was taken by my grandmother to watch the Yvonne Arnaud Theatre actually being built. Pantomime is tremendously important. It's the child's first experience of the theatre, generally. And it's the first time you can grab a child by the metaphorical collar and say, 'Look, this isn't a video game. This isn't a film. This isn't telly. This is something much more exciting called theatre.' And the villain always comes on first, of course. Downstage left is actually reeking with tradition, and you get a minute in which to terrify the kids.
But King Rat is one of the best because he's got this tail, you see. He's got this tail which is very good for what panto has to do, which is play on two levels. One for the children, enthral them and terrify them and make them laugh and clap and sing. And then at the same time, nodding and winking to the grown up saying, 'Isn't this all ridiculous? Isn't it fun? Isn't panto stupid?'
Why is it that you go back every year to this theatre and play in pantomime?
I wish I could say there was anything noble about it. It's just very nice to work with young people, and they're teaching you stuff that you would otherwise not know. You would sort of slump into this ancient white male BBC sofa and become too conventional and too smug and too set in your ways. It's an exciting way to have Christmas. Christmas is for children and excitement and about Advent and about this huge sense of anticipation. And with what the arts have gone through, I'm terribly, terribly lucky to be working.