It's back and better than ever! Our Break Out Culture podcast is back with a bang for a third series. Culture editor, Ed Vaizey, and associate editor, Charlotte Metcalf discuss the week's cultural offerings with a brilliant edit of what you should be watching, reading, listening to, booking and visiting each week. Their roster of high profile guests from adds illuminating insight to the current cultural landscape.
Listen on iTunes
Listen on Spotify
Break Out Culture Podcast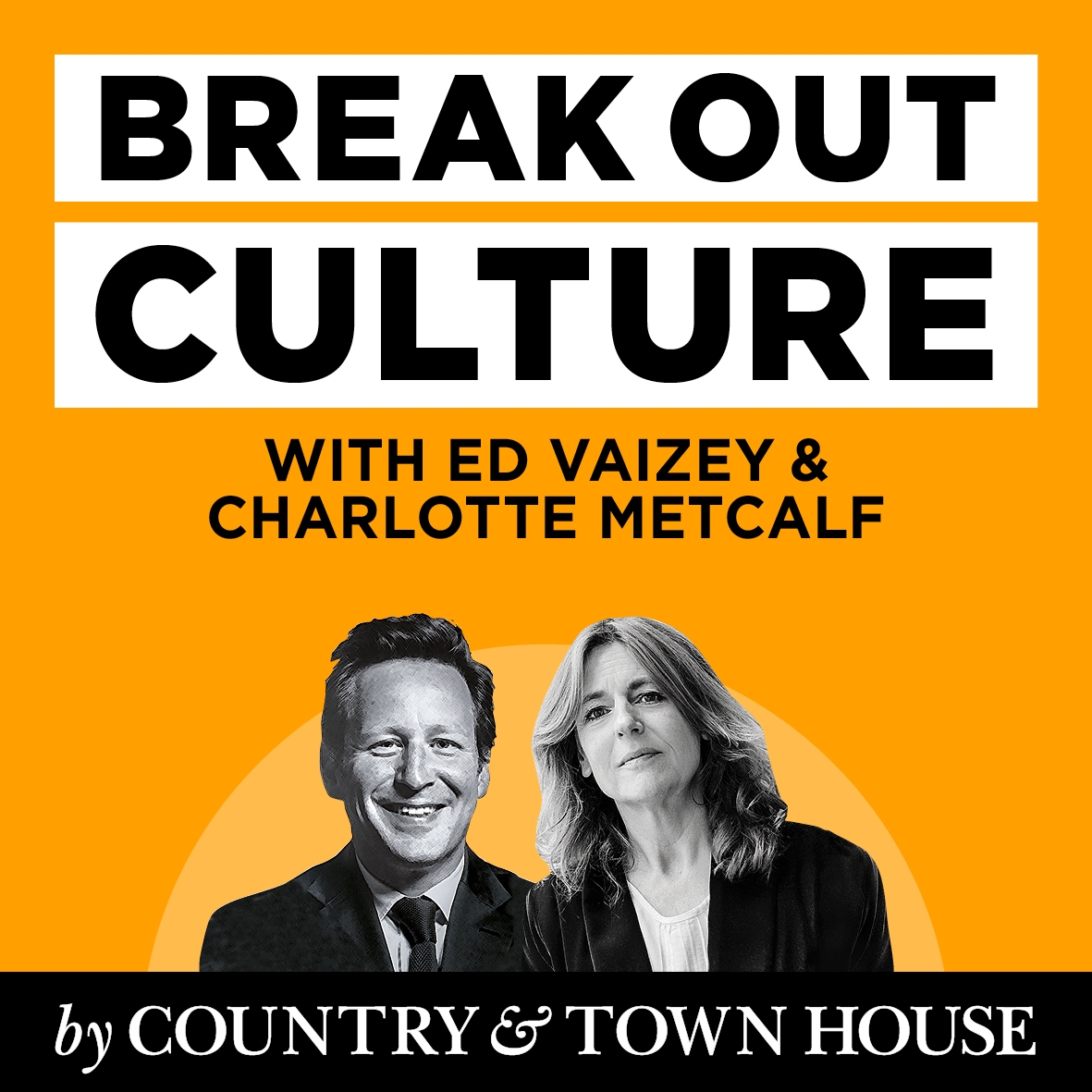 EPISODE 96:
Britain's Most Beautiful Building: with Norman Foster and Stephen Bayley
This week we're talking to Britain's most revered architect, Lord Foster, and to the design guru and co-founder of the Design Museum, Stephen Bayley, about their quest to put beauty back at the heart of contemporary building. The registered charity, the Royal Fine Art Commission Trust, which Stephen chairs, staged its first ever Building Beauty Awards on Monday 21 November at the Stirling Prize winning Bloomberg building in the City – which Norman Foster designed. We discuss the winners across four categories: building, engineering, public spaces and little gems, the last designed to cheer residents and bring pride to a built neighbourhood. 
This is a rare chance to hear two such prominent figures from the world of architecture and design discuss what constitutes beauty in new building today. Building beauty reaps rich award – the winners received £10,000, the joint biggest prize in architecture and a Portland stone rhodium-plated trophy created by the jeweller Theo Fennell – who was also one of the judges.  
Tune in to find out who the winners of the prize were and to hear about the first Royal Fine Art Commission Trust International Building Beauty Prize at World Architecture Festival in Lisbon next week. 
EPISODE 95: Picture Perfect Christmas Theatre at The National Gallery & The Globe with Hannah Khalil, Clare Arouche and Francesca Reid
This week we're talking to Clare Arouche, Head of Hospitality and Events at The National Gallery, about an exciting festive initiative to stage a play inside the gallery called 'Picture Perfect Christmas'. The play is inspired by one of the Gallery's paintings, a  17th Century Dutch Old Master 'A Winter Scene with Skaters near a Castle' by Hendrick Avercamp. It's directed by Francesca Reid of Boo Productions, who tells us how she's re-imagined the skating scene as a delightful, immersive, upbeat show for the family.
We also talk to Writer in Residence at The Globe, Hannah Khalil, about adapting Hans Christian Andersen's 'The Fir Tree' in the open air, complete with puppets, carol singing and tree decorating, directed by the Globe's Artistic Director Michelle Terry.  Hannah goes on to tell us about her other play there, 'Hakawatis:  Women of the Arabian Nights', her take on the story of Scheherazade.
We also fill you in on this year's offerings of 'A Christmas Carol' at The Old Vic with Owen Teale and the RSC with Ade Edmonson, and there's also a fun new play at its heart by Piers Torday, Wind in the Willows Wilton's, at Wilton's Music Hall.
EPISODE 94:
Photographs that change the world with Maryam Eisler, Mahaneela and Kwabena Sekyi Appiah-nti
This episode we're looking at how photography has the power to change attitudes and is increasingly blurring the lines between fashion and art. We talk to two young photographers, Mahaneela and Kwabena Sekyi Appiah-nti, exhibiting at The New Black Vanguard, which runs at the Saatchi Gallery till late January. The exhibition is curated by writer, critic and editor, Antwaun Sargent, is sponsored by Burberry and focuses on fashion portraiture that celebrates black culture. 
We chat to Maryam Eisler, the Iranian-born photographer whose exhibition If Only These Walls Could Talk is at the Alon Zakaim Fine Art Gallery on Cork Street. Her photographs are set in the gorgeous, world-famous hotel Nord-Pinus in Arles in the South of France, which she's used as a beautiful and glamorous setting to celebrate the beauty and sensuality of the female form.
We discuss both exhibitions and have a fascinating conversation about the responsibility that photographers feel to document political shifts and current affairs and celebrate the power photography has, particularly via social media, to shift perceptions and ultimately change the world.
EPISODE 93:
The Art of Sarah Biffin with Alison Lapper, Philip Mould and Ellie Smith
Today we're talking about Sarah Biffin, the Victorian artist who became a successful miniaturist and portraitist, after overcoming being born without arms. We talk to gallerist Philip Mould and curator/researcher Ellie Smith about the exhibition of her work at Philip Mould's gallery on Pall Mall.  It's called Without Hands and runs till mid-December.
Also on the podcast is the artist Alison Lapper, who was born 180 years later than Sarah Biffin, with exactly the same condition. She too paints by mouth and was an advisor on Without Hands. Alison famously became the focus of an enormous amount of public attention in 2005 when her friend Marc Quinn sculpted her pregnant for Trafalgar Square's fourth plinth.  
Alison tells of her own challenges of becoming a successful artist and sheds light on just how courageous and determined Sarah Biffin must have been to go from being a fairground attraction, as documented by Charles Dickens, to being a well-respected society portrait artist and miniaturist. Alison also describes just what an extraordinary feat it was for Sarah to paint feathers, for which she was known, of such exquisite delicacy, using only her mouth and shoulder. Listen in to find out more about this fascinating and inspiring breakthrough exhibition.
EPISODE 92: Poetry: A Friend For Life, with poet Pelé Cox and mental health campaigner Rachel Kelly
This week we talk to the poet Pelé Cox and best-selling author Rachel Kelly about the power of poetry to comfort and support us. Rachel's new book, You'll Never Walk Alone: Poems for Life's Ups and Downs is far more than an anthology – it's a practical guide to how to use poetry as a tool to help us cope with our daily lives. 
Rachel Kelly is a tireless mental health campaigner, following the success of her memoir Black Rainbow. Black Rainbow was about depression and how reading poetry helped her to recover. She's remained a passionate advocate for the therapeutic power of poetry ever since. Pelé Cox is a poet, poet, dramaturgist and literature tutor and was one of the first poets to be accepted onto Andrew Motion's Creative Writing MA at the University of East Anglia. She's been Poet in Residence at the Tate and Royal Academy of Arts, among other institutions. She's also made a widely acclaimed film about Keats starring Damian Lewis and Nicholas Rowe.
Listen in to a fascinating conversation about what poetry can bring to all our lives and to hear how Rachel constructed her book to cover every season so there are poems to help in the depths of winter gloom and others to celebrate the joys of summer.
EPISODE 91:
Artist in Residence: Reopening Leighton House with Curator Daniel Robbins and Artist Shahrzad Ghaffari
This week we're talking about two of London's most magnificent Victorian houses, Leighton House and Sambourne House in Holland Park.  Leighton House, studio-home of the eminent Victorian artist Frederic Lord Leighton, has just reopened after an £8 million redevelopment along with nearby Sambourne House, the family home of Punch cartoonist Edward Linley Sambourne.  
We talk to Daniel Robbins, Senior Curator of both houses and to the Iranian artist Shahrzad Ghaffari, who's hand-painted an 11-foot high textured mural around the curved wall of Leighton House's brand new helical staircase.  Shahrzad tells us that her mural is inspired by the 13th Century poet Rumi and, with its bright turquoise motifs which echo the tiles in the Arab Hall, the work represents the present and future of the house, continuing to deepen our knowledge of and understanding of eastern culture.
A new exhibition space in Leighton House is now showcasing the work of the Holland Park Circle of artists, to which Lord Leighton belonged, while the new basement has a display of Leighton's exquisite drawings – there are 700 belonging to the house. You can see Leighton's studio exactly as it would have been, as well as the Arab Hall and the other public areas, full of mosaics, tiles, pottery and artefacts which he brought back from his travels in Egypt, Turkey and Syria.    
Walking into Sambourne House is to be fully immersed in a Victorian family home while Leighton House is now a lively destination and gathering point with a new café overlooking the garden. Both are well worth a visit so listen in to hear about what's in store at both of these great historic homes.
EPISODE 90:
Celebrating the glories of Cezanne with Natalia Sidlina and Michael Raymond
This week Ed and I are celebrating our hundredth episode together since starting as Lockdown Culture in April 2020. We're also celebrating Cezanne, one of the world's most popular but enigmatic artists. A new show The EY Exhibition: Cezanne at Tate Modern has opened with 22 works never seen in the UK before, including some dazzling still lives that he's loved for the world over. We talk to Natalia Sidlina, who's worked at Tate Modern as Curator of International Art since 2016, and Assistant Curator Michael Raymond. 
Natalia and Michael throw light on Cezanne's early life in Paris, why he hid Paul, his beloved son and his mother, Marie-Hortense, from his father and why he gained such a reputation for being a taciturn loner. Unpicking the myths that have grown up around him, they explain why his work is of such enduring importance and revered and sought after by major artists from Gauguin and Monet to Matisse and Picasso. It's a wonderful exhibition and Natalia and Michael persuade us why this is an unmissable chance to see so many of his best-loved paintings together, from his landscapes of Mont-San-Victoire and iconic apples to his bathers, that proved to have such an influence of generations of artists to come.
EPISODE 89:
Opera and dance take on Peaky Blinders, Football and It's a Wonderful Life
This week we're talking about the exciting opera and dance coming up in time for Christmas. Annilese Miskimmon, Artistic Director at ENO (English National Opera), tells us about re-imagining Frank Capra's enduring and much-loved 1946 Christmas movie It's a Wonderful Life as an opera, which opens on 25 November at the Coliseum. Adapted by Jake Heggie and Gene Scheer, George Bailey, the down-on-his-luck banker so memorably played by James Stewart in the film, is played by Frederick Ballentine but Clarence the Guardian Angel now becomes Clara, played by soprano Danielle de Niese. Other than the gender swap, the opera is otherwise remarkably faithful to the beloved film and certain to be a festive treat. 
In the world of dance, Rambert is already wowing audiences with its adaptation of Peaky Blinders: The Redemption of Thomas Shelby, which opened at the Birmingham Hippodrome and is now on tour and in London at Troubador Wembley Park until 6 November. We're thrilled to be talking to the creator, writer and Executive Producer of Peaky Blinders, Steven Knight, alongside Helen Shute of Ballet Rambert. We find out that Steven's always loved ballet and so it was a natural progression to ask him to adapt his multi-award-winning series into a dance theatre show.
Tune in to hear how the opera and dance worlds are bursting with innovation and new ideas, including the first ever football opera Gods of the Game at the Theatre in the Woods at Grange Park Opera, complete with a chorus made up entirely of footy fans who've been trained to sing.
EPISODE 88:
New Perspectives on Lucian Freud, w
ith his friend and assistant David Dawson and curator Dr. Daniel Herrmann
This December marks the centenary of the artist Lucian Freud's birth. To celebrate, the National Gallery has gathered around 60 of his works, spanning seven decades, from all over the world to mount New Perspectives, an important exhibition that encompasses the best of his work from the early 1940's till his death in 2011. The show is a magnificent tour-de-force and on this week's podcast we're delighted to be in conversation with curator Dr. Daniel Herrmann about what New Perspectives reveals about Freud's art and character, so often overshadowed by our preconceptions.  
We're also thrilled to be talking to the artist and photographer, David Dawson, Freud's long-term friend, confidant and assistant. From 6 October, Hazlitt Holland-Hibbert in Bury Street St. James is exhibiting some of Freud's rarely seen drawings, etchings and metal etching plates, alongside some of David's never-before-seen photographs, many of them taken in the days leading up to and immediately after Freud's death. The photographs present an intimate, gentle and affectionate portrait of the artist and David talks movingly of Freud's last days and his tender relationship with his mother as well as his friendship with other major artists and the subjects of his paintings. Thanks to Daniel and David, we gain a real insight into Lucian Freud's personality as well as his paintings and working methods. Between them, Daniel and David provide an invaluable introduction to these two exhibitions that are not to be missed.
EPISODE 87:
Books in a Bomb Shelter: KC Philippe Sands and Sofiya Chelyak on the Lviv Book Forum
Autumn is the time for literary festivals, including the mighty 10-day Cheltenham Literature Festival, London's South Bank, the small but beautifully formed Cliveden and many more including Bridport, Petworth, Stratford, Henley, Harrogate, North Cornwall, Braemar and more. But this week we're going to war-torn Ukraine to feature the Lviv Book Forum, in collaboration with Hay Festival, which runs in a bomb shelter between 6 and 9 October. We talk to the courageous and undaunted Programme Director, Sofiya Chelyak, and to the human rights KC, Philippe Sands, celebrated author of East West Street, The Ratline and a new book The Last Colony. Philippe will be attending the extraordinary festival alongside Henry Marsh, Misha Glenny, Margaret Atwood, Yuval Noah Harari, Elif Shafak and Margaret MacMillan.  
It's actually the 29th edition of the Lviv Book Forum, Ukraine's biggest literary festival, but given the war it's had to be shrunk and with Hay's support, it's defiantly going ahead with just 40 writers. As its digital partner for the first time, Hay will broadcast the conversations free in English, Ukrainian and Spanish. Sofiya describes the festival as running 'in defiance of the evil that seeks to squash their freedom,' and so we applaud and admire its efforts to keep these vital conversations alive and deepen our understanding of this little known, vast and complex country.
EPISODE 86:
Dr. Nick Merriman on how a community museum bagged the biggest museum prize in the world
This week we discover why in July, The Horniman, a small museum in Forest Hill, South London, won the hugely coveted Art Fund Museum of the Year Award. We talk to Dr. Nick Merriman, who's been Chief Executive and Director of Content there since 2018. Nick's a widely published expert on museum studies and was director of the Manchester Museum since 2006, increasing visitor numbers to 450,000 a year. He's also been Chair of the International Council of Museums UK and Chair of the University Museums Group, amongst many other illustrious appointments.  
We find out what attracted him to this small but perfectly formed gem of a museum with its beautiful, extensive gardens overlooking London. He tells us about the museum's history, dating back to 1890 and founded by tea merchant Frederick Horniman, originally in his private home. In 1901 it reopened as a purpose-built museum with its signature tower, that still houses the museum today. The collections are gloriously quirky, comprising an aquarium, a mini farm, a butterfly house and around 350,000 objects including a big range of stuffed animals, musical instruments and numerous anthropological artefacts and curios.  For any of our listeners who've not yet been, there is something here for everyone – gorgeous garden walks, loads of imaginative, interactive fun for kids and enough fascinating exhibits to keep adults fascinated for hours. We love it.
EPISODE 85: Tristram Hunt, Champion of Creativity at the V&A
Break Out Culture is back, and we kick off the autumn season by talking about one of the most important issues of our time – creativity, or the lack of it, in our education system. Tristram Hunt has been director of the Victoria and Albert Museum since 2017 and is a historian, broadcaster and journalist with several books under his belt, as well as having served as a Labour MP and Shadow Secretary of State for Education. He's now on a mission to ensure that the V&A champions design and creativity for everyone, believing that creative and design skills amongst children and young people are drastically diminishing. With his roles in education and politics as well as at the V&A, no-one's better placed to lead this important national debate. So, tune in to learn about how the V&A is redressing the balance.  There's a a specially commissioned film, Creativity: It's What Makes Us, and three new sites, Young V&A, opening in Bethnal Green next year, V&A East Storehouse and V&A East Museum. Plus he tells us about the forthcoming exhibitions from Hallyu! The Korean Wave to Chanel, set to be next year's blockbuster.
---