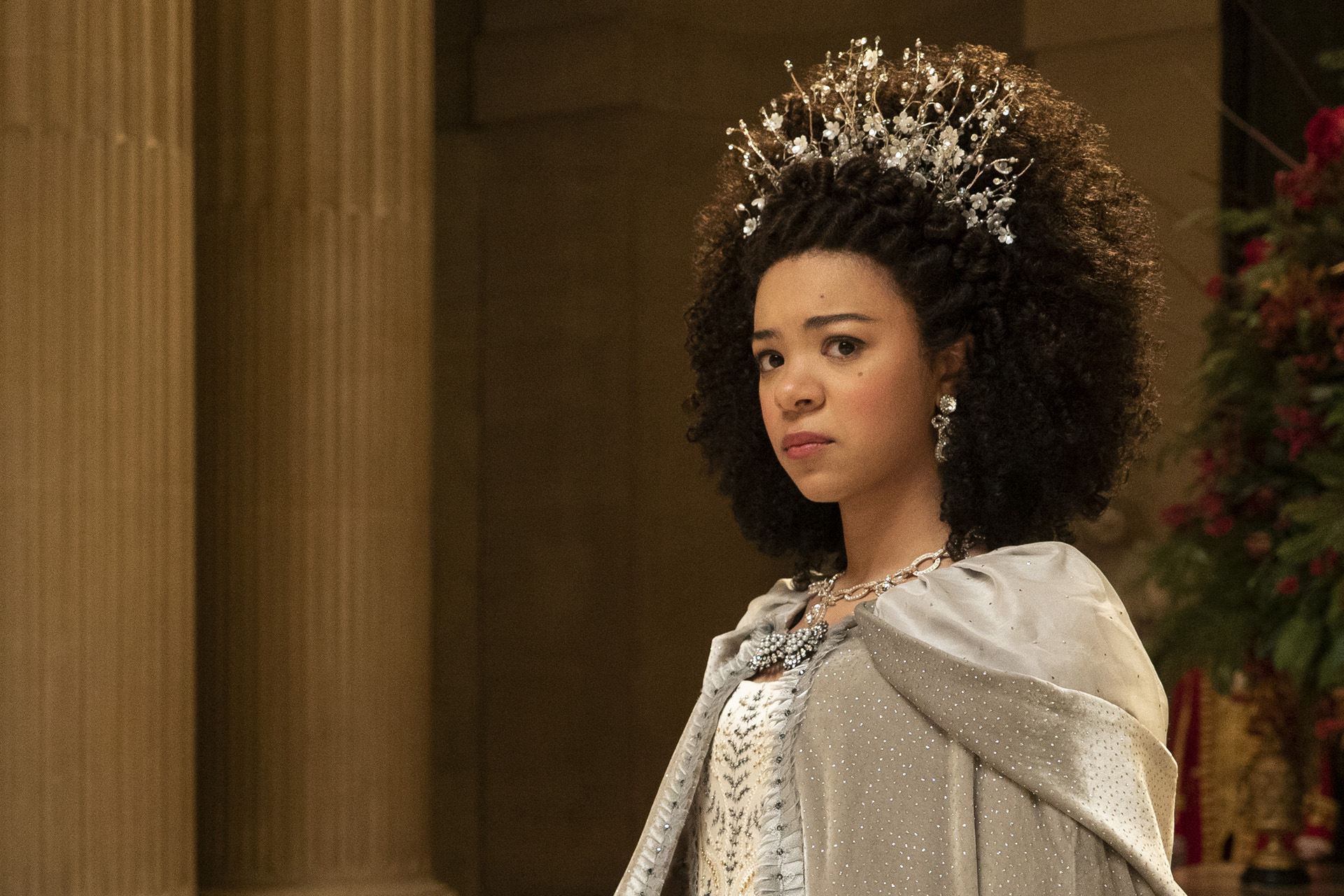 Queen Charotte: A Bridgerton Story: Everything We Know So Far
---
What everyone's saying about the upcoming spin-off
Following the major success of Shondaland and Netflix's hit streaming series, Bridgerton, fans' prayers have been answered: not only are seasons three and four confirmed, but we're also getting a prequel spin-off about a young Queen Charlotte. Excited? Keep checking in here to find out all the Ton's gossip about its favourite Regency queen.
Queen Charlotte: A Bridgerton Story: Everything We Know So Far
How Queen Charlotte Came To Be
As you may have heard through the virtual grapevine, the team behind Netflix favourite Bridgerton are busy working on a brand-new spin-off series exploring the origins of Queen Charlotte. Shonda Rhimes will once again be taking the reins on the project, serving as writer as well as executive producer alongside Betsy Beers and Tom Verica. Following the direction of Bridgerton season two, the spin-off will also mark a greater input from the wider team at Shondaland.
What Will Queen Charlotte Be About?
Queen Charlotte will follow a young Queen in the early years of her marriage to King George III – set further back in the Bridgerton timeline, long before Daphne found her duke and Anthony fell into a love triangle with the Sharma sisters. As summarised by Netflix: 'Centred on Queen Charlotte's rise to prominence and power, this Bridgerton-verse prequel tells the story of how the young Queen's marriage to King George sparked both a great love story and a societal shift, creating the world of the Ton inherited by the characters in Bridgerton.'
It's been hinted that Charlotte's arrival in London isn't as smooth as expected – especially since she's been betrothed to the King of England against her will. Starting from this premise, the series will follow Charlotte as she learns to navigate the palace, find mutual ground with her new husband and make the Ton her own.
Also receiving the royal treatment in this series are Lady Agatha Danbury and Lady Violet Bridgerton, who we'll be seeing navigate marriage, societal expectations and the ruthless gossip of the era's elite. Lady Danbury's character evolution will also form a large part of the plot, and Netflix recently released a first look at the young Lady Danbury, who will be played by Arsema Thomas.
Married to a much older man, she hopes that Charlotte's arrival will mark her own entryway into society and so takes it upon herself to become a guiding light for the young queen. What follows is just the beginnings of the iconic Lady Danbury. Further details about the plot are yet to be revealed (we're still waiting on Violet's role in the story), but we have no doubt the plot will carry the same electric charge as the original series.
Who Will Star In Queen Charlotte?
Going back in time means we're about to meet a whole new cast of fresh faces. Taking to the small screen are India Amarteifio (Line of Duty) as young Queen Charlotte, Corey Mylchreest (Sandman) as young King George, Michelle Fairley (Gangs of London) as Princess Augusta and Arsema Thomas in her television debut as young Agatha Danbury.
Other cast members include Sam Clemmett (Harry Potter and the Cursed Child, The War Below) as young Brimsley, Richard Cunningham (The Witcher) as Lord Bute, Tunji Kasim (Nancy Drew) as Adolphus, Rob Maloney (Casualty) as the Royal Doctor, Cyril Nri (Cucumber) as Lord Danbury and Hugh Sachs (Bridgerton) as older Brimsley.
But fear not: alongside their younger counterparts, Golda Rosheuvel (Queen Charlotte), Adjoa Andoh (Lady Agatha Danbury) and Ruth Gemmell (Lady Violet Bridgerton) will all be reprising their roles.
Teasers
Netflix hosted its second annual Tudum event at the end of September 2022, offering fans some insider gossip (and sneak peeks) at over 120 titles in its portfolio. Adjoa Andoh and Golda Rosheuvel took to the stage to introduce India Amarteifio as young Queen Charlotte, unveiling a never-before-seen still of her in the upcoming series. Dressed in silver robes and a geogeous sparkling crown, Amarteifio looks every bit the queen she is playing. The still was later released on the official Bridgerton Instagram account, which you can see below.
View this post on Instagram
And in a surprise turn of events, Shonda Rhimes herself stepped in to present the show's first teaser clip showing the young queen's first encounter with her husband. Expect lots of witty banter, strong-willed female characters (we love to see it), and, dare we say it, the beginnings of romance. Watch the first look teaser below:
And that's not all: we even have some commentary from the Queen herself to catch up on. In a conversation with Shondaland, Amarteifio spoke about the experience of connecting with th character of Queen Charlotte: 'She's super-strong in times of complete downfall when there's nothing to even hope for and it's all bleak, yet she still finds the power and the strength from somewhere. It's a testament to her character.'
When Will Queen Charlotte Be Released?
No release dates have been confirmed as of yet, but while you're waiting for the Queen's debut you can see her in action in seasons one and two of Bridgerton on Netflix. netflix.com
Featured image: India Ria Amarteifio as Young Queen Charlotte in episode 101 of Queen Charlotte. Liam Daniel/Netflix © 2022