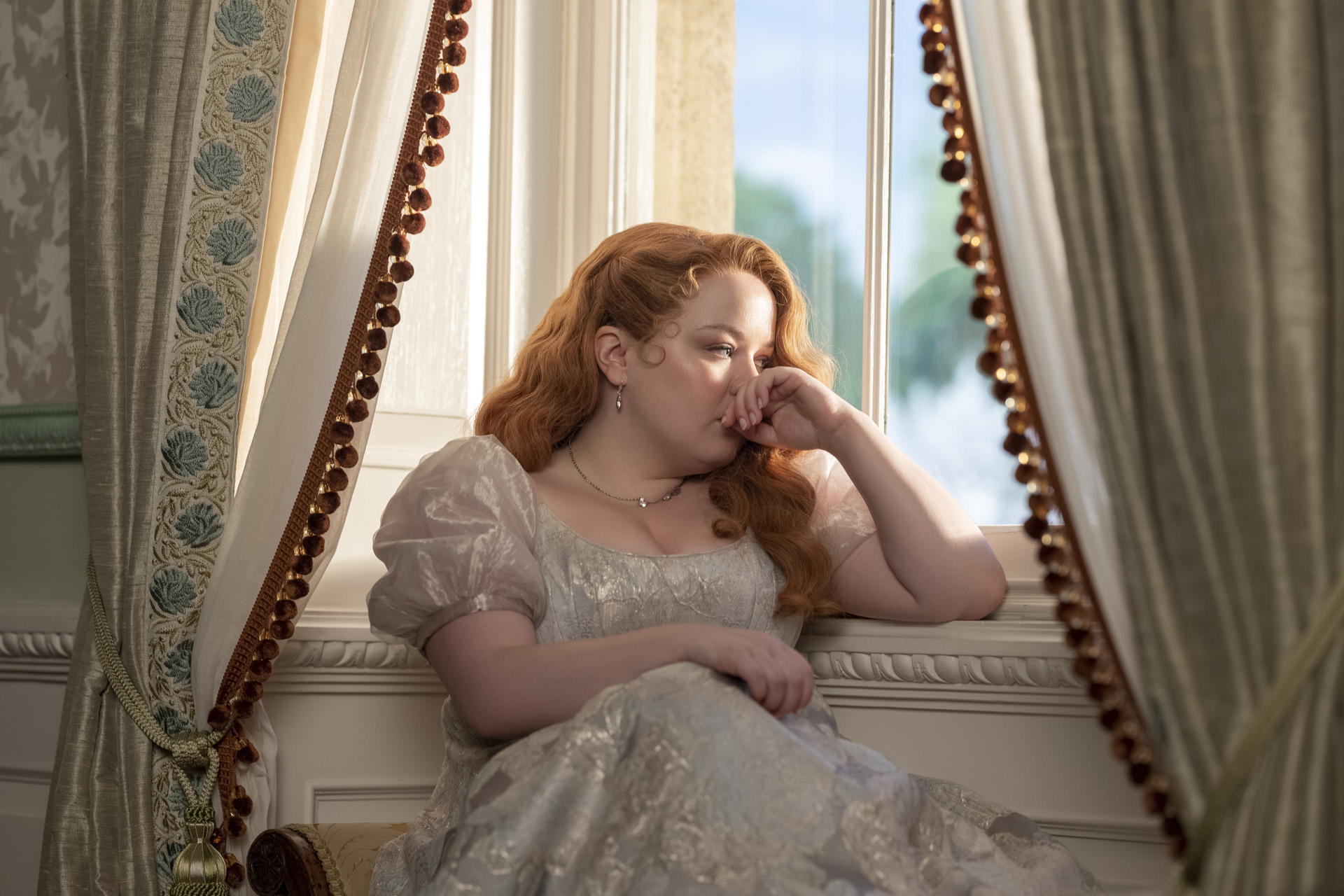 First Look: Penelope & Colin In Bridgerton Season Three
'Polin season won't make you sneeze. But you will swoon.'
Nothing gets tongues wagging like Netflix's hit series Bridgerton. With two series and a spin-off under it's belt, it's safe to say we're well and truly obsessed with the Regency-inspired ton. Looking forward to season three? You're in luck: at its recent Tudum fan event, Netflix gave us our first official look at season three. Here's everything we know so far.
Bridgerton Season Three: Everything We Know So Far
First Look At Season Three
When Will Bridgerton Season 3 Be Released?
Bridgerton season 3 will be released on 14 December 2023.  according to a since-deleted Instagram post by Netflix Portugal. While this isn't an offical, coordinated announcement, we anticipate a December 2023 release, in line with season 1's original December 2020 launch.
NOT NETFLIX PORTUGAL LEAKING THE BRIDGERTON SEASON 3 RELEASE DATE 😭😭😭 pic.twitter.com/5L0M0HLKb0

— flora (@VENGERB3RG) June 17, 2023
Bridgerton broke records on its release in December 2020 as the most-streamed Netflix show (only to be topped later in 2021 by Korean drama Squid Game). The work of producer Shonda Rhimes, the TV powerhouse behind ABC's Grey's Anatomy, Bridgerton is based on Julia Quinn's mega-popular book series, which now has fans all over the world, and is translated into 32 languages.
Netflix has already begun feeding us breadcrumbs about the new season – but what can we expect from the series?
Plot: Book vs Screen
As we're all aware, Bridgerton isn't your average period drama – and so we shouldn't be all that shocked when it throws surprise after surprise at its viewership. Season three is set to be the first instalment of Bridgerton to diverge from the chronological timeline laid out by the novels (much to the upset of Benedict fans), setting its sights on a pairing that we shouldn't see bloom until season four: Penelope Featherington and Colin Bridgerton.
View this post on Instagram
The news came from the official Bridgerton Instagram account on 16 May 2022, as told by Lady Whistledown herself:
'Dearest Readers,
It is only fair that in this author's third year chronicling the marriage mart, Mayfair's social season should find its focus on a third son… as well as a third daughter.
This author can confirm that the upcoming season shall follow none other than the budding relationship between Mr. Colin Bridgerton and one Miss Penelope Featherington.
With Penelope's days as a wallflower wearing thin, will she finally take bloom? Time will tell, and as always, so will this author.
Yours truly,
Lady Whistledown'
In Quinn's fourth Bridgerton novel, Romancing Mister Bridgerton, the audience finds themself privy to just how Penelope fell in love with Colin. The book tracks Penelope's life from young girl and debutante to spinster – a title she has yet to claim in the Netflix adaptation – as she continues to love Colin from afar. But things take a turn when she discovers something about the young Bridgerton that makes her question the image of him she's been building up over the years. Very ominous.
Colin, who dons the title of the ton's best 'empty-headed charmer', returns to London from a trip abroad and finds himself growing increasingly agitated by Lady Whistledown's gossip papers – which never fail to mention his name in the first paragraph. Besides the annoyance, he finds himself increasingly drawn to Penelope, who similarly has secrets that could change how he sees her forever.
If you've already seen the first two seasons of Bridgerton, however, you'll know that many of these events have already happened. We already know that Penelope is Lady Whistledown, and Colin's abrupt departure from the ton took place in season one. It's highly unlikely that he will take off again so soon – especially when we consider the state of events at the end of season two. Not only did Eloise Bridgerton confront her closest friend about her secret identity as the ton's official gossiper (leading to a rather messy argument), Penelope also found herself on the brink of heartbreak as she heard Colin laughing about her with his friends and declaring his lack of romantic intentions for her. Ouch.
Netflix confirmed the plot's divergence from the novel in July 2022, revealing the synopsis for the new series:
Penelope Featherington (Nicola Coughlan) has finally given up on her long-held crush on Colin Bridgerton (Luke Newton) after hearing his disparaging words about her last season. She has, however, decided it's time to take a husband, preferably one who will provide her with enough independence to continue her double life as Lady Whistledown, far away from her mother and sisters. But lacking in confidence, Penelope's attempts on the marriage mart fail spectacularly.

Meanwhile, Colin has returned from his summer travels with a new look and a serious sense of swagger. But he's disheartened to realize that Penelope, the one person who always appreciated him as he was, is giving him the cold shoulder. Eager to win back her friendship, Colin offers to mentor Penelope in the ways of confidence to help her find a husband this season. But when his lessons start working a little too well, Colin must grapple with whether his feelings for Penelope are truly just friendly. Complicating matters for Penelope is her rift with Eloise (Claudia Jessie), who has found a new friend in a very unlikely place, while Penelope's growing presence in the ton makes it all the more difficult to keep her Lady Whistledown alter ego a secret.
It seems the Shondaland adaptation will indeed shake things up…
Cast
Most of the Bridgerton cast are expected to return for season three, including Nicola Coughlan and Luke Newton. Simone Ashley will also be returning as Kate Bridgerton – and, in an interview with Vogue, she revealed we'll be seeing a different side to her character this season. 'Even though she comes across as fierce, people like that are sometimes the softest on the inside,' she said. 'They develop that skin because they're vulnerable. You see her insecurities and fears.' She also tells us we'll see Kate's relationship with Anthony Bridgerton blossom: 'we're filming a dance this week and tonally, it's so different – sweet, endearing and light, compared to the heaviness of their story last season.'
Other new cast members include Daniel Francis (Stay Close and Once Upon A Time) as Marcus Anderson, 'a charismatic presence who lights up any room he enters, attracting the notice of certain matriarchs in the ton — and the ire of others', Sam Phillips (The Crown) as Lord Debling, a 'genial lord with unusual interests', and James Phoon as Harry Dankworth, a handsome man that unfortunately 'lacks in wit and intelligence'.
Unfortunately, not everyone will be returning to the Bridgerton line-up. Regé-Jean Page (Duke Simon Basset) announced his departure from the show shortly after the first series aired, and is not expected to make a return this season. Ruby Stokes (Francesca Bridgerton) also left the show, with Netflix issuing a statement that the role of Francesca would be taken up by Hannah Dodd (Anatomy of a Scandal). You can catch Ruby on another Netflix title, however, starring alongside Cameron Chapman and Ali Hadji Heshmati in Lockwood & Co.
Another cast member we're sad to see go this season is Phoebe Dynevor (Daphne Bridgerton), who only recently told the press that she would be absent from this series of Bridgerton. In an exclusive interview with Screen Rant on the red carpet at the Sundance Film Festival, Dynevor said she would 'sadly not [be] in Season 3. Potentially in the future. But Season 3, [she's] just excited to watch as a viewer.'
Production
Netflix confirmed that filming for Bridgerton season three is well underway, releasing a behind-the-scenes cast video featuring Jonathan Bailey (Anthony Bridgerton), Adjoa Andoh (Lady Danbury), Luke Thompson (Benedict Bridgerton), Golda Rosheuvel (Queen Charlotte), Claudia Jessie (Eloise Bridgerton), Bessie Carter (Prudence Featherington), Hannah Dodd  (Francesca Bridgerton) and, of course, Luke Newton (Colin Bridgerton) and Nicola Coughlin (Penelope Featherington). Watch the video below:
WATCH
Catch up to speed with the ton's gossip by watching the first and second season of Bridgerton on Netflix.
Featured image: Bridgerton. Nicola Coughlan as Penelope Featherington in episode 201 of Bridgerton. Cr. Liam Daniel/Netflix © 2022