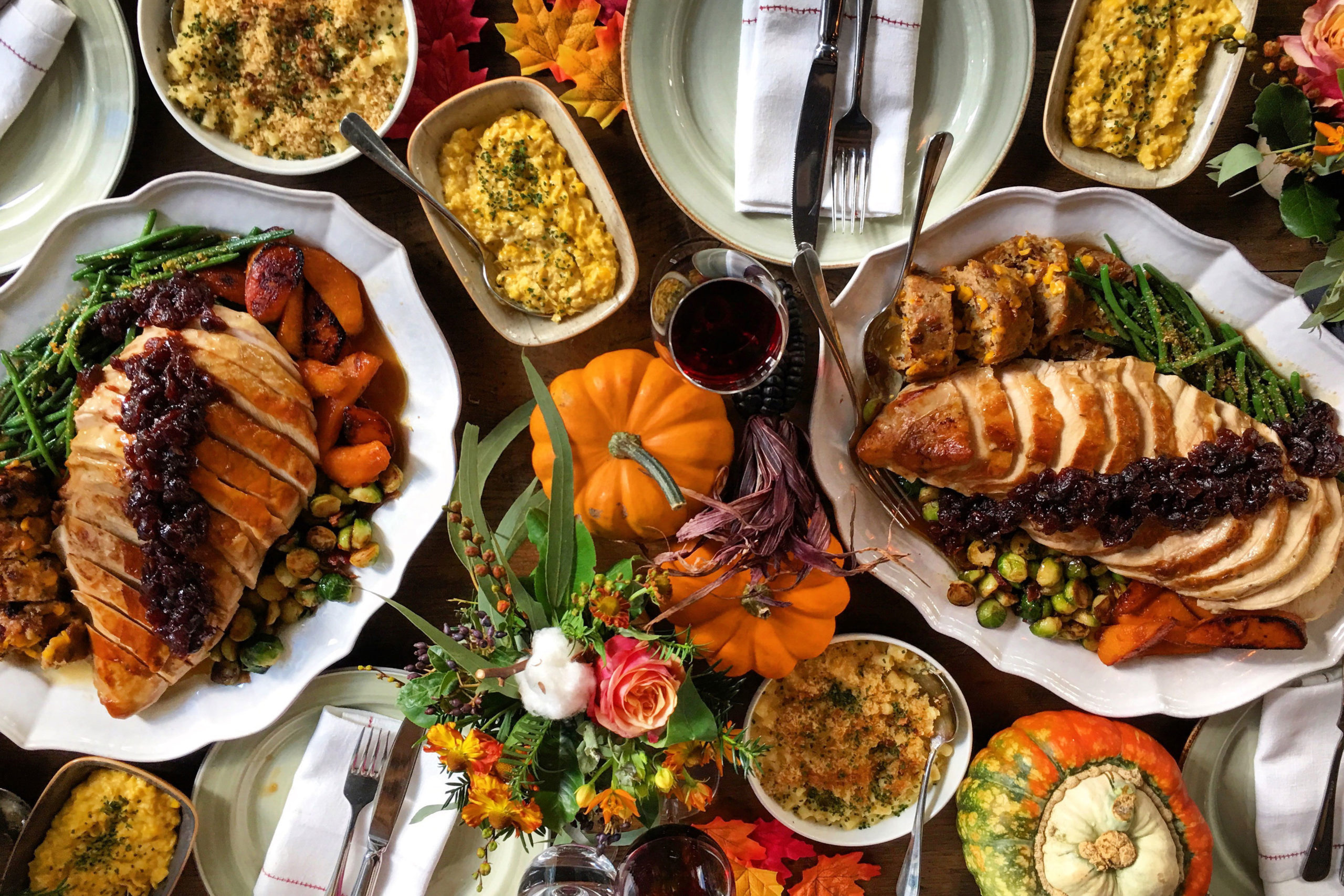 How To Celebrate Thanksgiving at Home 2021
---
Stateside-inspired activities
Looking to celebrate Thanksgiving at home this November? There are plenty of ways to get involved with the festivities without going out – from US-inspired takeaways to watching the parade online. 
How To Celebrate Thanksgiving at Home
Order a pre-made feast
Thanksgiving with Ottolenghi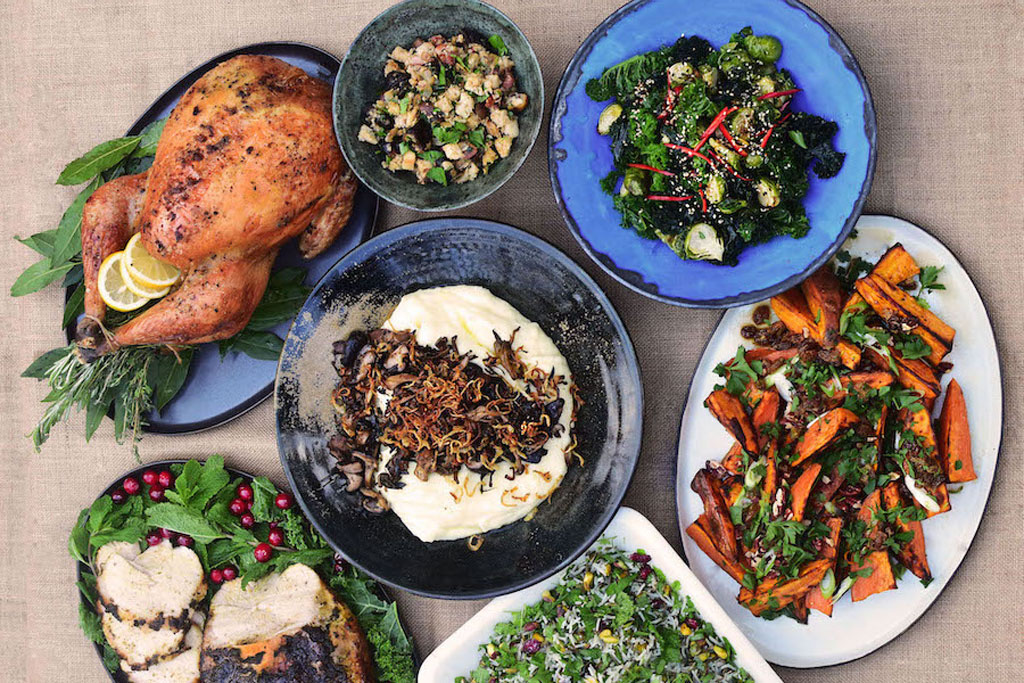 Ottolenghi is famed for his sharing-style feast recipes, which are what Thanksgiving is all about. His DIY kits invite you to create your dishes (with a bit of help): there's turkey rolled with mind and cumin, roasted sweet potato with pecans and sultanas, and a 'Festive Dirty Rice' option. Finish with a signature pumpkin or pecan pie, served with mascarpone cream. Dishes from £7.40. ottolenghi.co.uk
Riding House Café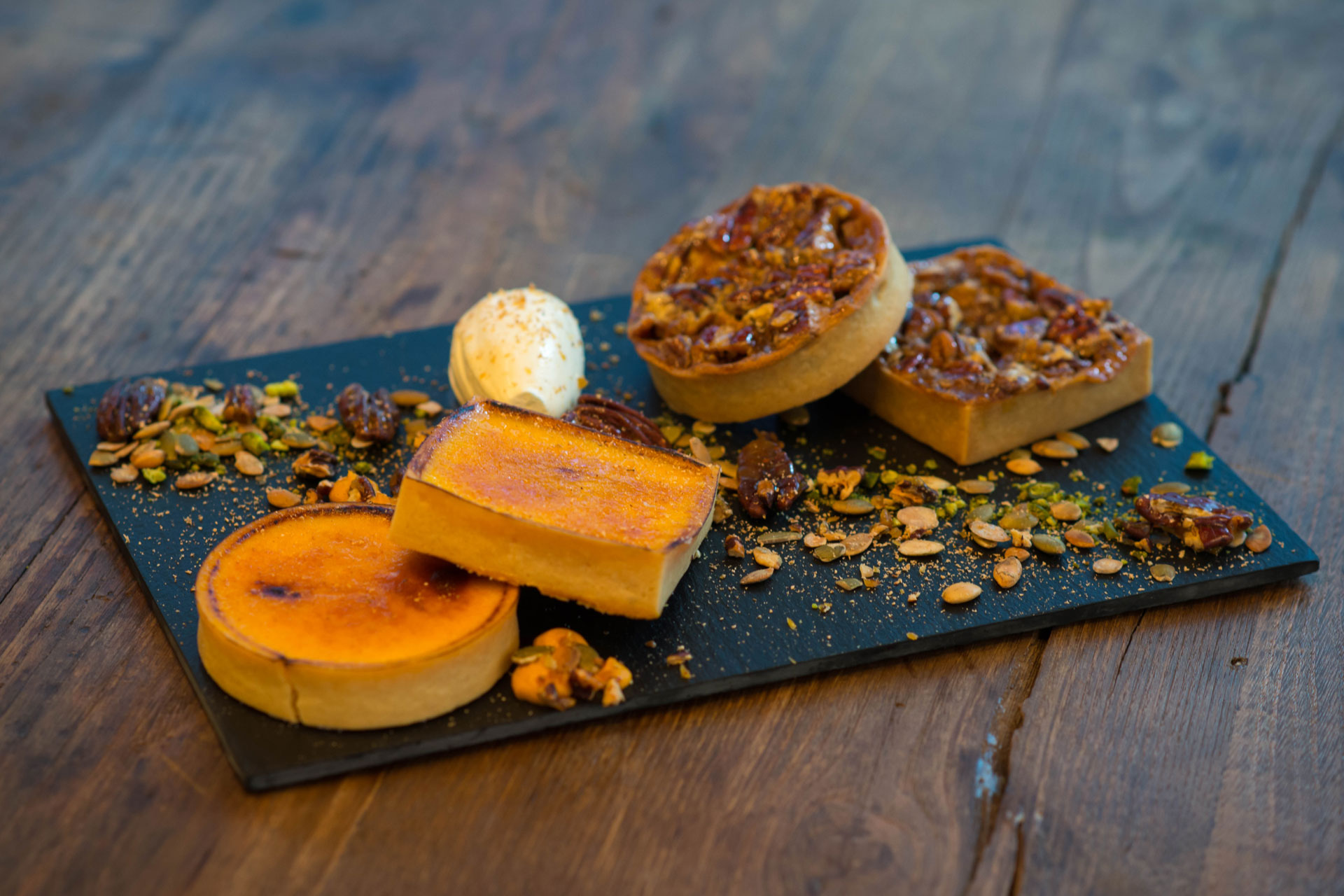 Thanksgiving has always been an institution at Riding House Café, so its themed feast boxes are sure to impress. Available for £95, each box contains everything you need for an American-inspired banquet for two. Dine on Norfolk bronze turkey with cornbread stuffing and maple-buttered sweet potatoes, followed by pumpkin and pecan pie. Festive decorations, a bottle of Kentucky Bucket Punch and a special American playlist are also included. Available for delivery on 23 November, £85 for two. ridinghouseathome.com
Spring To Go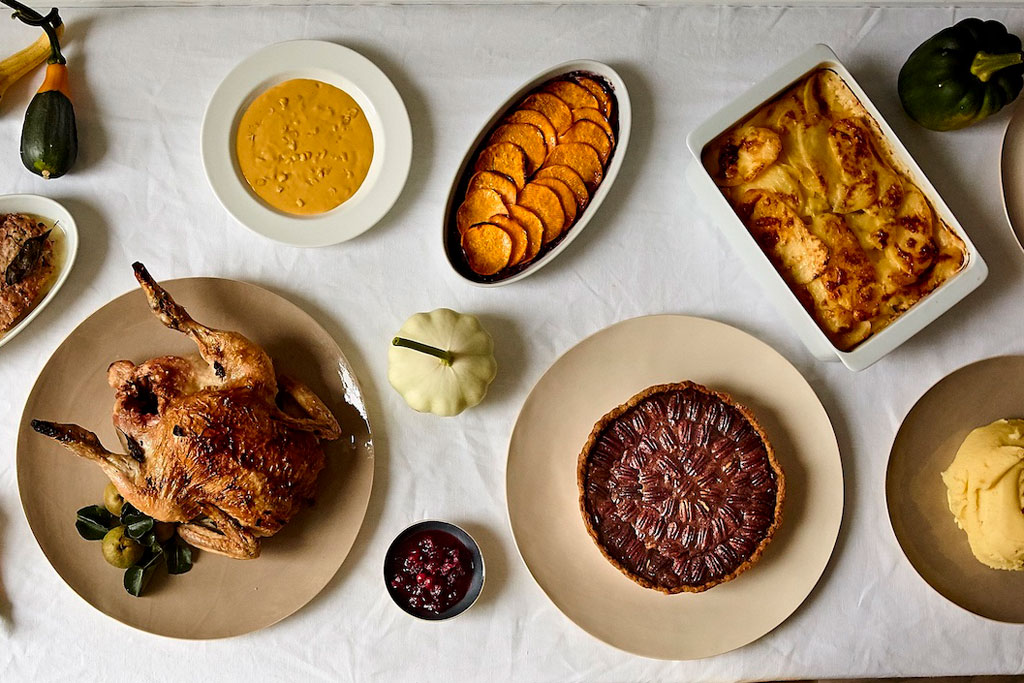 For an eco-friendly option, Skye Gyngell's at-home Thanksgiving kit champions her ethos of seasonal, biodynamic produce. The pumpkin soup is made from Fern Verrow Farm onion squash, a long-time supplier to Skye; while a buttermilk mash uses fresh produce from the Heckfield Home Farm. Dessert is a pecan pie served with a choice or bourbon or brown bread ice-cream, with everything packaged beautifully and with the planet in mind. Delivery or collection available on 24 and 25 November 2021, pre-order now. springrestaurant-shop.co.uk
Edible education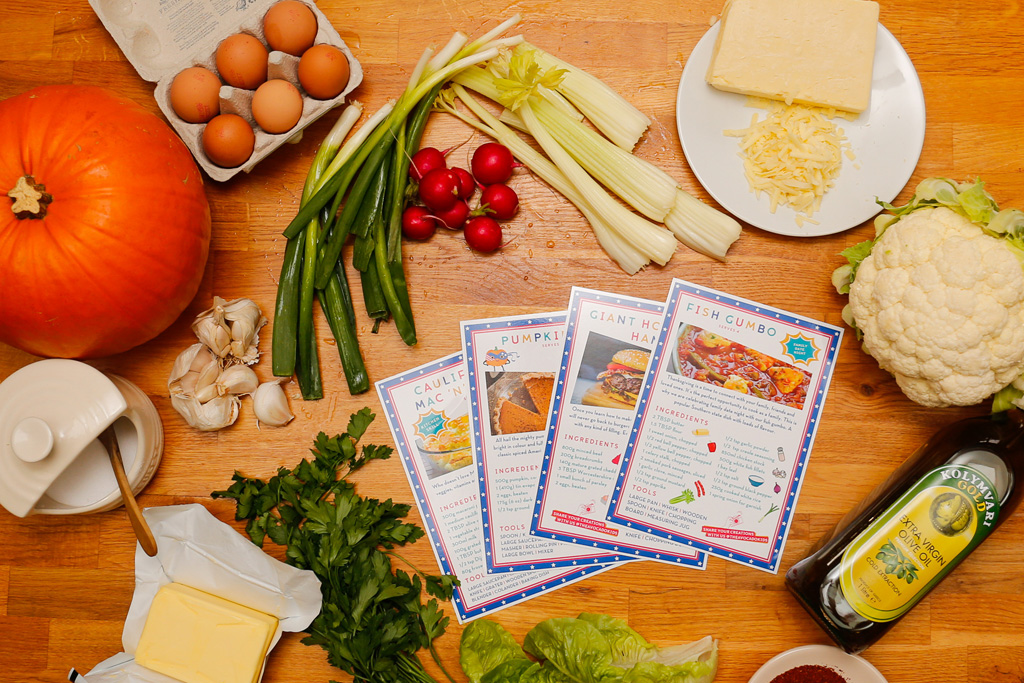 Looking to teach little ones about Thanksgiving? Check out Avocado Kids: a subscription box that delivers 'edible education' to children during dinnertimes. The November box is focused around the USA, giving kids aged four to 12 a chance to learn how to cook popular American dishes, from hamburgers to mac 'n' cheese to pumpkin pie. Each box comes with creative activities too – in November, these include autumnal placemat making, wreath making and grow-your-own pumpkins.
Make a pumpkin pie
Feeling creative? Have a go at making your own pumpkin pie. Below we share a recipe from Jude's: Ice Cream & Desserts by Chow and Alex Mezger, (£26.99, Kyle Books), out now.
Recipe: Maple Pumpkin Pie with Streusel Pecans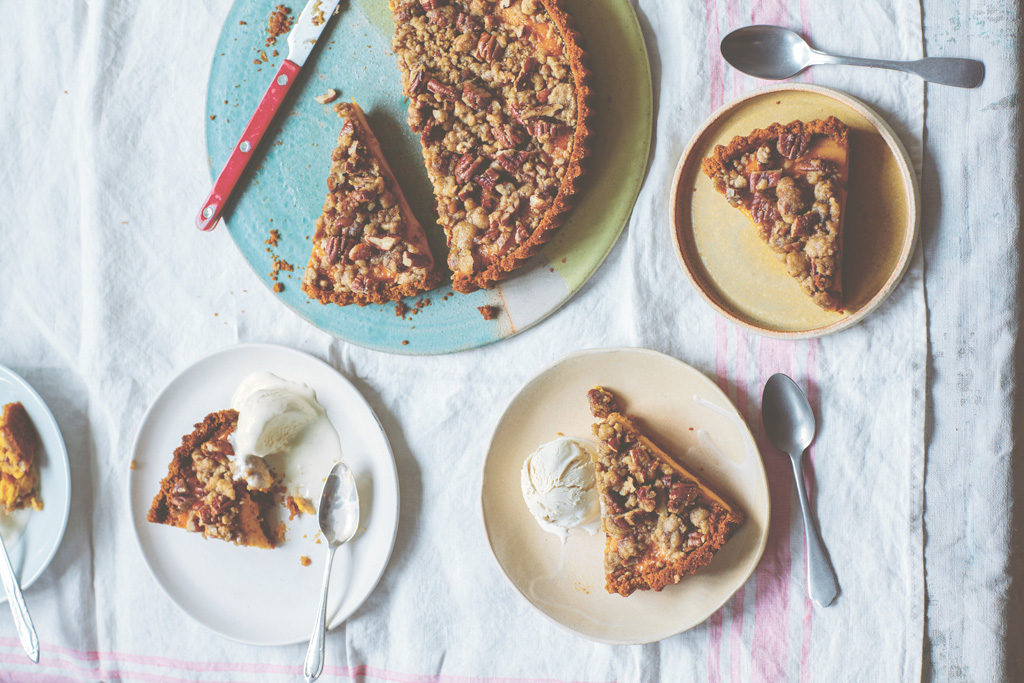 We've taken a classic Thanksgiving foodie favourite and added some extra flair. The streusel element of this recipe is truly delicious and brings plenty of crunch to the mix, contrasting the smoothness of the pumpkin. This pie is perfect for topping off a long, lazy lunch on a cold, crisp autumn afternoon. Save us a slice!
Serves 10, makes a 20cm pie
Ingredients
Crust
225g (8oz) ginger nut biscuits or ginger snaps
75g (2¾oz) butter
Pie Filling
500g (1lb 2oz) pumpkin flesh, peeled, deseeded and cubed
¼ teaspoon ground nutmeg
¼ teaspoon ground ginger
¼ teaspoon ground cinnamon 4 tablespoons maple syrup
4 tablespoons single cream 5 medium egg yolks
Streusel
50g (1¾oz) unsalted butter, softened 50g (1¾oz) plain flour
50g (1¾oz) light brown soft sugar 75g (2¾oz) pecans, roughly chopped
½ teaspoon ground cinnamon
To Serve
Method
Preheat the oven to 180°C/fan 160°C/gas mark 4 and base-line a 20cm (8in) loose-based flan tin with baking parchment.
Begin by making the crust. Tip the ginger biscuits into a food processor and process to a crumb before transferring to a medium bowl. Melt the butter in a small saucepan – don't be afraid to keep cooking until the butter browns slightly, this only adds to the overall taste. Pour the butter over the crumbs and mix well.
Press the buttery biscuit mix into the lined tin and, using a spatula, push the mixture about 2cm (¾in) up the sides to form a rim. Chill the crust in the refrigerator for 20 minutes to harden up.
Place the tin on a baking sheet (this makes for a more even bake) and transfer to the oven for 8–10 minutes. Remove and allow to cool slightly.
Meanwhile, for the filling, bring a small pan of water to the boil and add the pumpkin. Simmer for about 15 minutes until the flesh is tender and cuts like butter. Drain well, allowing the pumpkin to steam dry for a few minutes before puréeing until smooth. Mix the purée with the spices, maple syrup, cream and egg yolks. Pour into the crust and bake for 20–25 minutes until just set with a slight wobble. Remember, the filling will have a second bake once topped with the streusel.
Meanwhile, make the streusel. Put the butter, flour and sugar in a mixing bowl and rub together using your hands until the mix has come together. Stir through the pecans and cinnamon.
Remove the pie from the oven and top with the streusel mix. Return to the oven to cook the pie for a further 15 minutes. Allow the pie to cool slightly before serving in slices with a scoop of ice cream.
Get the drinks in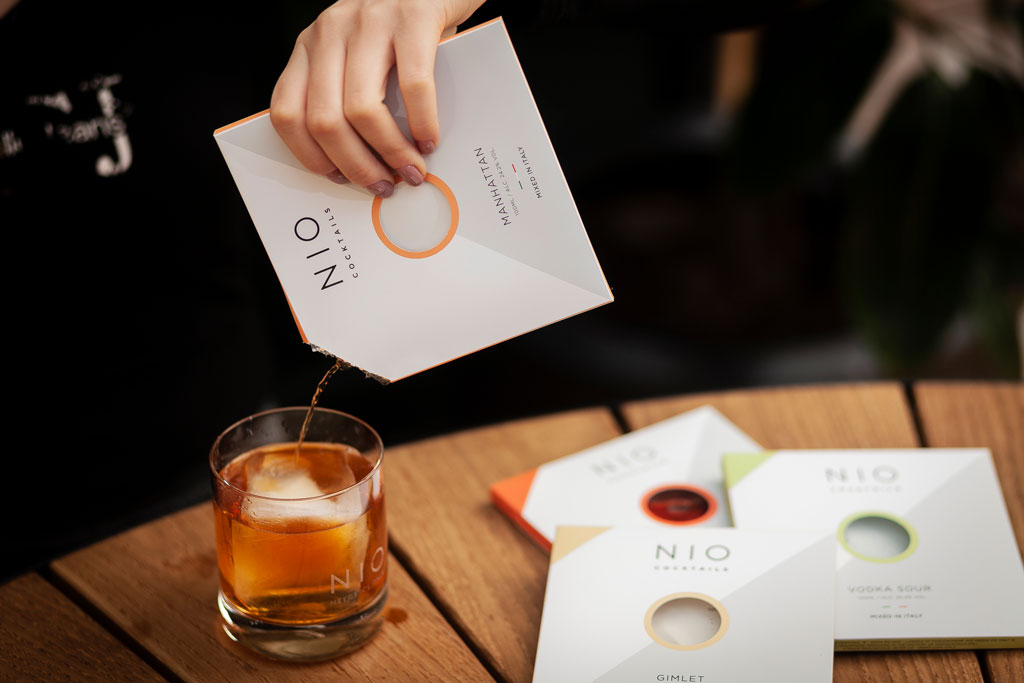 The alcohol delivery market has soared this year, meaning you can now get top quality pre-made cocktails direct to your door from places like NIO Cocktails and Bottle Bar and Shop. Naturally, go for American-inspired tipples: the Manhattan, the Cosmopolitan and the Long Island Iced Tea spring to mind.
Decorate the house
Hosting a Thanksgiving dinner and wondering how to decorate your home? Letterbox florist Bloom & Wild suggests creating a flower vase from a pumpkin – here's how.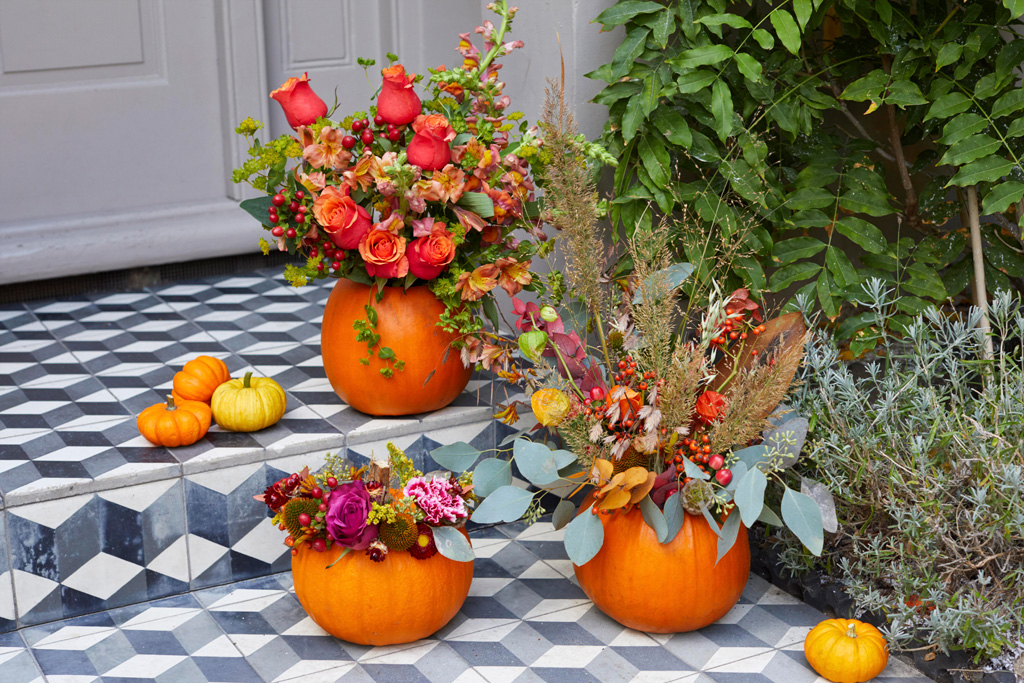 Make a hole in the top of your pumpkin. Dot a circle (7-8 inches radius) around the top of the pumpkin, not too wide that all the flowers will fall to the side, and not too narrow that they all face towards the sky. Use a knife, and safely cut out the top as if you were going to carve a pumpkin.
Prep the inside. Once the top is off, scoop out the innards with a metal spoon to make sure you get all the seeds and pulp. Once everything has been cleared out, place some wet floral foam in place of it as it should soak up any excess water, and acts both as a support to keep the flowers in place and as a preservative to keep flowers in bloom for longer.
Add your blooms. Now's the time to get the creative juices flowing and arrange your foliage and flowers. As it's Thanksgiving, we'd recommend a mixture of reds and pinks – colours that complement the pumpkin's orange. Specifically, flowers like roses and alstroemerias create that autumnal look, while chrysanthemums and red hypericum berries give a vibrant feel.
Watch the parade
Another big Thanksgiving tradition is the Macy's parade in New York, which sees the city's streets alive with floats, cheerleaders, marching bands and balloons. After a muted version last year, it's back in full form for its 95th edition, with performances from Carrie Underwood and Kelly Rowland. It's being aired on NBC-TV on 26 November, and you'll also be able to find it on streaming services like YouTube TV and Hulu+.3
READ MORE:
Prettiest Pumpkin Patches Near London / How To Celebrate a Birthday in Lockdown