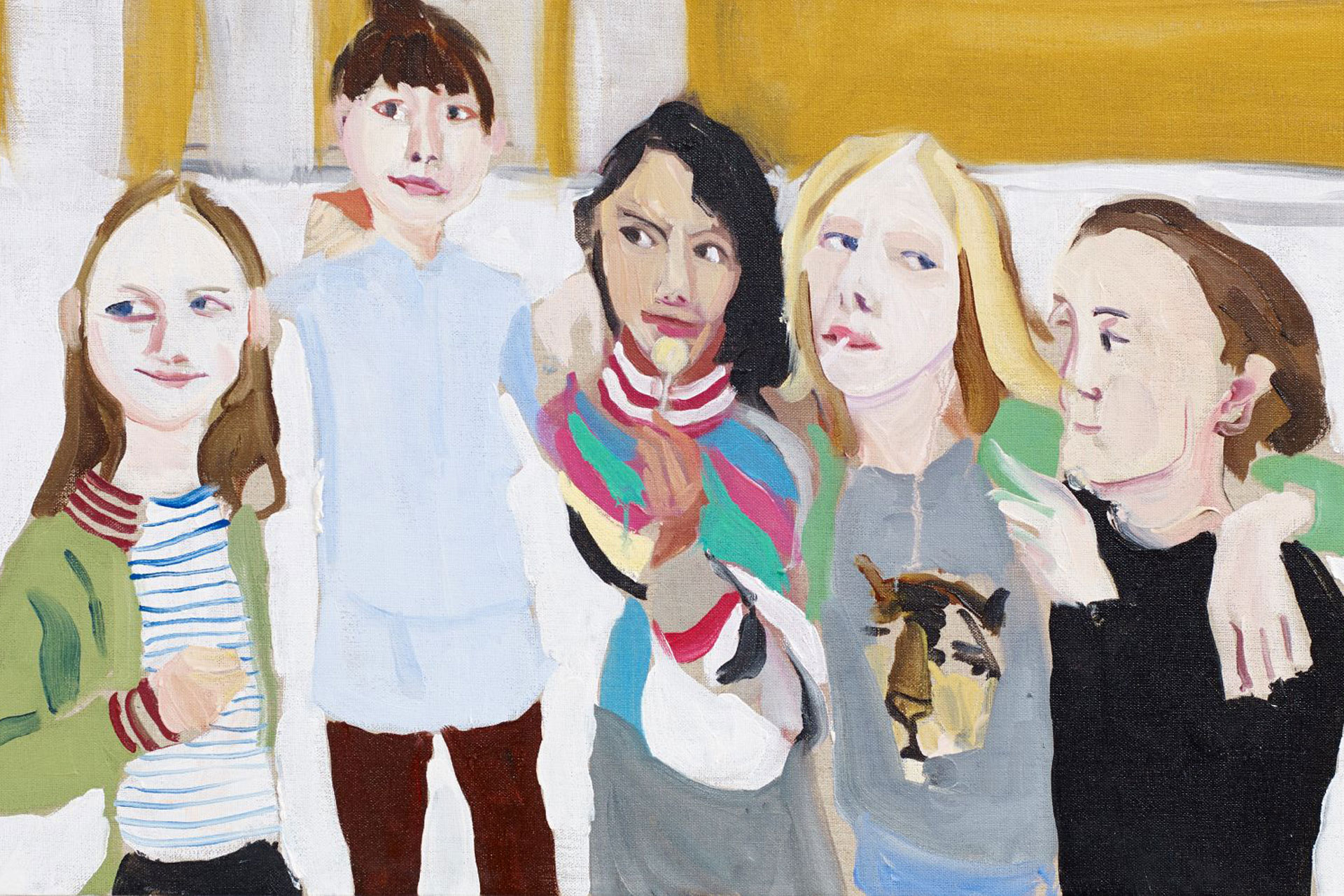 Interview with Artist Chantal Joffe
---
Chantal Joffe's new exhibition explores the artist's relationship with her daughter – and herself
Sarah Hyde talks to the artist Chantal Joffe about her new show, For Esme – with Love and Squalor, which examines her most intimate relationships, especially with her daughter Esme
Mother Love: An Interview with Chantal Joffe
As I chat on the phone to artist Chantal Joffe in her Islington studio, she laughs and reminds me that as we are talking she is surrounded by 30 portraits of her mother and they are all staring at her. No stranger to scrutiny, Joffe explains her choice of subjects, 'As I get older, only the personal seems to matter.'
We are discussing her new show at the Arnolfini Gallery in Bristol, For Esme – with Love and Squalor. This is one of a series of exhibitions that explores Joffe's most intimate relationships. A process which was launched on New Year's Day 2018, when the artist committed to painting a self-portrait every day for one year. These pieces were exhibited at Victoria Miro Gallery in April last year.
This exhibition, which takes its title from the J.D. Salinger short story, Joffe looks at her relationship with daughter Esme, and many of the new pieces were painted during lockdown. Later this year, there will be an exhibition of paintings of the artist with her mother at Victoria Miro in London. Joffe, one of Britain's foremost figurative artists, paints quickly, famously completing a canvas in a day.
The Best Art Exhibitions in London
In Bristol, the exhibition opens with a small canvas of Esme as a tiny baby, new, curiously unknown, crumpled and very alive. The artist's love for her child is so tangible, in the group painting of Esme and her young friends, the unconscious maternal instinct makes Esme by far the most beautiful child and, around the room, Esme's beautiful large green eyes gaze out at us.
Some of the pictures are more finished than others, but Esme is always presented in smooth and creamy tones. With symmetrical features and carefully parted hair she is idealised like the Virgin in modern day clothes, eating her boiled egg. Esme's beauty is timeless and untouched; if beauty is in the eye of the beholder, they contrast very sharply with the way the artist saw herself in 2018.
The Virtual Exhibitions to See Now
When Joffe paints herself, her harsh self-scrutiny seems almost brutal and the self-portraits carved out of anguish and uncertainty. Joffe's gaze is never more emotionally penetrating than when it is turned upon herself. In the series of self-portraits that were painted as a daily exercise for the duration of 2018, perhaps a way to get through the day, Joffre had just separated from her long-term partner. Sad brown eyes, which look like they have cried too many tears, draw us into the canvas, her face as vulnerable as Esme's when a baby.
The portraits were all painted using the same handheld mirror, day after day; in one of the pictures, is the artist playing a game, hoping that if she catches herself from a different angle she may find a different person and outcome. As you move past emotional recognition, the pictures are not just the expression of angst, but also a laboratory of figurative painting. Joffe's brilliant painterly style is experimenting with colour and form.
Light is expressed in patches of buttermilk, cream and lemon sherbet and outlines are expressionist in vivid green and reds. In a later and happier self-portrait painted in Paris at the Tulieries Gardens, we find her playing with bon-bon coloured pastels to brilliant effect, and in a year where the artist appears to have questioned so much about herself, she certainly asserts her own identity as an artist.
Raw self-exposure on a grand scale underwrites the authenticity in Joffe's work, but as the artist explains, not all of the works are from life and this is where things get interesting. In an artist that feels so honest, some of the works come from the imagination and while the self-portraits were achieved painting directly from her mirror, the large-scale portraits in the bath were taken from Joffe's drawings. The artist imagined the baths and herself in them – heavily influenced by the painter Pierre Bonnard, who also produced apparently realistic paintings of his partner in the bath using his imagination, The works are shocking in their apparent honesty, but this is a construct of the artist's imagination.
In the last room Joffe explores love, a series of works depicting her back, painted in 2015. Painted in the style of impressionist painter Edgar Degas, the rosy, curvy, secure and intimate private domestic pre-break-up bathroom selves are brilliantly juxtaposed with squalor in Pictures of What I Did Not See and the other post-break-up self-portraits in the show.
In 2019 Chantal Joffe collapsed in the bathroom of the Whitechapel Gallery, knocking herself unconscious. Joffre, who has no memory of this experience, painted the series Pictures of What I Did Not See as a narrative of this time, trying to regain what her memory could not find. These works are absolutely expressive. Her marks in oil stick are impassioned, as though the artist is clawing her way out of the prison of her blank memory. The narrative moves through a range of emotions, from a frenzy of anxious confusion to calm.
In one work, the artist paints her hand over one eye, looking out, how can she see what is happening if she can't remember? In another, Joffe is on a stretcher, beatific in her unconscious state as Esme, lionised by adrenalin, guards her mother. This crescendo of anxiety culminates with the artist portraying herself vomiting on her chaise longue. The series goes full circle and calm returns, in the second to last picture Joffe is sleeping, with Esme guarding over her just outside her door, lost in the internet, both subjects are sweetly absent in their presence.
It is Joffe that draws my attention to the final picture of the series, here the artist portrays herself, her back to the room with pair of magpies at her side and with her personal talisman of joy, she strides forward into the light.
Chantal Joffe: For Esme – with Love and Squalor, until 22 November 2020, at Bristol's Arnolfini Gallery. arnolfini.org.uk
Featured image: Chantal Joffe, Poppy, Esme, Oleanna, Gracie and Kate, 2014, Oil on canvas. Photography by Stephen White © Chantal Joffe courtesy the artist and Victoria Miro.