For the sixth interview in our new series, Charlotte Metcalf meets co-founder of lastminute.com Brent Hoberman…
With most people, the last thing you want to talk about is Brexit. But with Brent Hoberman, the Eton and Oxford-educated entrepreneur who co-founded lastminute.com with Martha Lane Fox, it's irresistible. He is razor sharp and extremely well-informed and, as a self-made international tech millionaire who chooses London as his base, he's just the kind of person we can't afford to lose. 'Brexit's definitely a problem,' he says. 'The tech community is one of the sectors that's most worried about it.'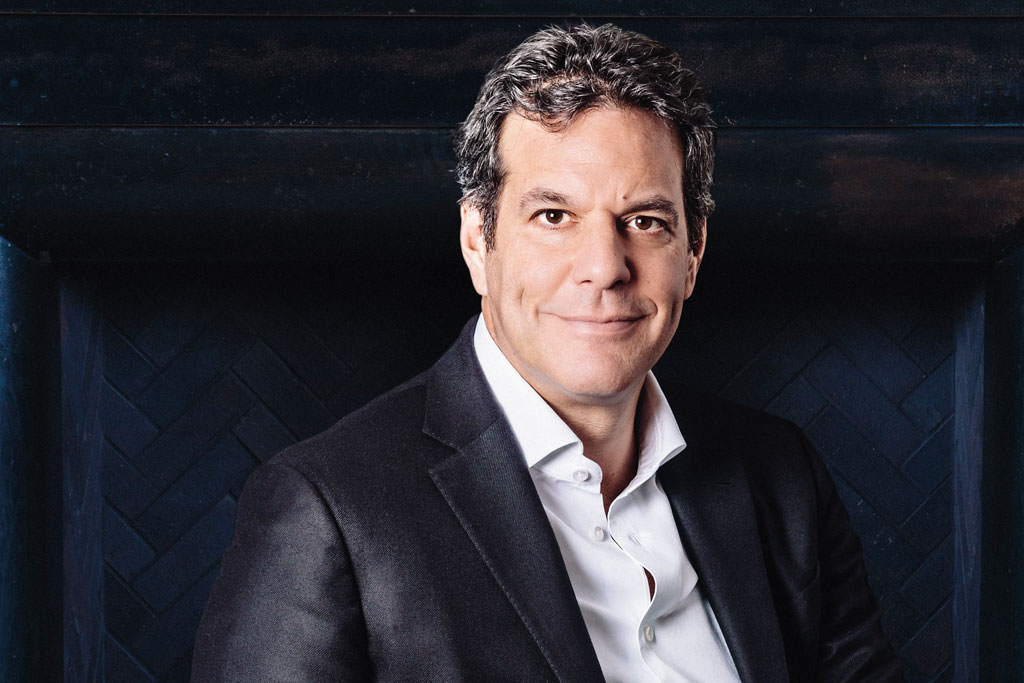 He stresses he's not a doom-monger, and says, 'I think we would have to introduce some really stupid policies to muck up the progress we have achieved.' And he says entrepreneurs are more likely to leave the country because of a 'fantastically left-wing government'. Which, with the polls putting a snap-election at 60 per cent, is not impossible. But for someone like Hoberman, whose outlook is all about new business and new ideas, Brexit could make life difficult. 'Access to talent is probably the biggest issue,' he says. 'People not feeling welcome in this country any more. It's happening already: in most places outside London, there are now more immigrants leaving than coming in.'
His Fortune
Hoberman grew up in South Africa then New York, though his education was in England. He made his fortune by being one of the first to spot the potential of the internet – he founded Lastminute.com in 1998, aged 30. Looking back, it's incredible how ahead of its time it was. 'We were the first to offer voice recognition, in about 2002. And probably many people's experience of ordering restaurant food delivery online would have been with us, in 2001. Being early is exciting, and attracts great talent.'
Many of those recruits have gone on to work with him on subsequent businesses. Perhaps best known of these is Made.com, the online furniture store that brings designers and consumers together without a middle man. That business, founded in 2010, was chosen as one of the government's Future Fifty programme of companies it wants to expand and float; it has since grown hugely across Europe.
A more recent venture is Founders Factory, which helps start and grow businesses that 'will define the future'. They help about 40 start-ups a year, and so far boast a 95 per cent success rate. Several start-ups are in the terrifying field of Artificial Intelligence. Does he worry about computers taking over the world? 'I don't think AI is out of control yet,' he says. 'I think there are terrifying consequences, but so there are of driving.' Is enough being done to regulate this very new industry? 'I think some ethics guidelines do it, and companies like Deep Mind take it very seriously. But sadly there is good and bad in most things like that.' Should the government get involved? 'Not yet, because they wouldn't know what they were regulating.'
When Lastminute.com was sold in 2005 for £577m, Hoberman personally netted about £26m, and Lane Fox about £14m. She has since done a lot of work with the government as their 'digital tsar', and became the youngest female peer when she joined the House of Lords in 2013. Hoberman also likes being involved in politics, but from the side-lines. 'I think it's great to have access and to steer ideas.' He had dinner with Emmanuel Macron a month before he announced his candidacy to be president and was very impressed. 'Already, top French entrepreneurs and scientists have started coming back to Paris before he has even changed his legislative agenda.'
A Slower Game of Compromise
With all Hoberman's brains and energy, I wonder if entrepreneurs are any good at running countries? 'No, I don't think so. I think entrepreneurs work better in slightly corrupt dictatorships. They want to drive things through quicker, faster. Politics is a slower game of compromise.' There are a couple of exceptions: Michael Bloomberg, the ex-mayor of New York, and, of course, Donald Trump. 'Obviously he did get there, but people would say he has not driven through almost anything in the legislative agenda, so it's not necessarily good to have the outsider trying to do that. He said he was someone who gets things done, but he hasn't managed to.' The challenge in Britain, he says, is to get the best people to be politicians. 'Our media does its job so well that it makes nobody want to be well known or famous,' he says. 'Unless you have a rabid ego, or a mega calling, one should say!'
Hoberman's enterprises are all based at his office on High Street Kensington, which he rents from the Daily Mail Group in Northcliffe House. Is there any affiliation with the newspaper? 'No, we're actually supported by The Guardian. This just happens to be a brilliant office space, and it's a five-minute walk from my house.' Hoberman is married to Genevieve, a former interior designer, and they have three children, aged 12,14 and 19. In November, he will celebrate his 50th birthday, and plans to throw a big party.
Family Life
Although he loves family life, he admits he finds it hard to switch off from all his businesses. For a while they rented a country house in Great Tew, Oxfordshire, on the estate of his friend Nick Johnson, who co-founded Soho Farmhouse with Nick Jones. But they found the Friday and Sunday night gridlocks too bad, and all his children now have sports commitments on weekends. As does Hoberman, who loves to play football every Sunday night.
Besides, of all the places he has been, London remains his true home. 'I think it's amazing,' he says. 'It's a poly-culture. You go to these other cities and they're monocultures, but London doesn't have that. And that diversity is something that has helped London thrive. There are some people who would like to see it as a mono-culture, but I can't see it being destroyed by Brexit.' Let's hope he's right. If his entrepreneurial record is anything to go by, he usually is.
Quick-Fire Round:
Country or Town?
Town
Pub lunch or Michelin stars?
Pub lunch
Cosy knits or sharp suits? 
Jeans and a blazer
Gardening or theatre?
Theatre
Glass of wine or green tea?
Glass of wine
Power breakfast or languorous lunch?
Power breakfast
Dog or cat?
Dog
Seaside or rolling hills?
Seaside
READ MORE: Conversations at Scarfes Bar: Victoria Broakes | Conversations at Scarfes Bar: Sebastian Coe| Conversations at Scarfes Bar: Sarah Sands
---