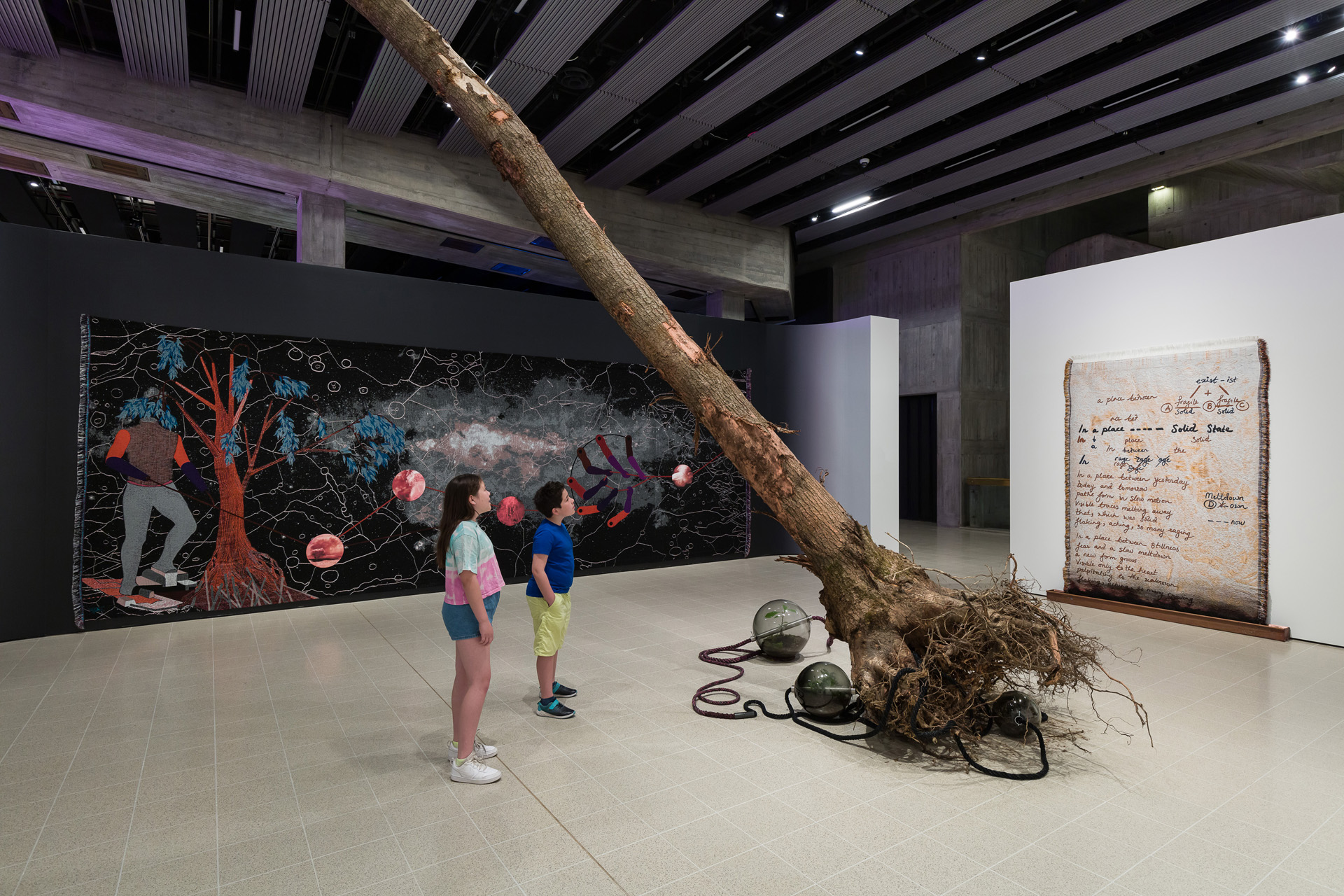 A Pocket Of Hope: Dear Earth: Art And Hope In A Time Of Crisis, Hayward Gallery – Review
The Southbank Centre's flagship summer exhibition
Opening from 21 June to 3 September 2023, Dear Earth: Art And Hope In A Time Of Crisis is the flagship exhibition in the Southbank Centre's climate focussed summer season, Planet Summer. Olivia Emily visits this eco exhibition for a much-needed eco-anxiety remedy.
Hear more about it in episode 122 of Break Out Culture
Review:
Dear Earth: Art And Hope In A Time Of Crisis
, Hayward Gallery
Stepping out of the baking June sun into the icy cool Hayward Gallery is an apt introduction to Dear Earth: Art And Hope In A Time Of Crisis, the flagship exhibition in the Southbank Centre's eco-focussed summer season, Planet Summer. With each year, the phrase 'British summer' diverges from fickle weather, rain-soaked picnics and washout BBQs and increasingly evokes clammy offices, hot concrete pavements, and a nation woefully underprepared to handle the heat. Our planet is suffering. The headlines reinforce this fact everyday, from sudden and unexpected marine heat increases to record high temperatures to human activity impacting the tilt of the planet's axis. How to find hope amid this deluge of terrifying information?
Dear Earth: Art And Hope In A Time Of Crisis hinges upon artist Otobong Nkanga's suggestion that 'caring is a form of resistance'. 'When I arrived at the Hayward, I had conversations with artists, activists, writers and poets looking to gather research on how to go forward,' Rachel Thomas, chief curator at the Hayward, tells me; Dear Earth is Rachel's first show as chief curator. 'As those conversations went on, Otobong Nkanga, one of the artists in the show, looked at how we reframe our response to the world and the climate crisis. And she came up with something that is very much part of her work: that to care is a form of resistance.
'That really connected to my research,' says Rachel, whose career tallies 20 years of working with artists in direct connection with the environment and our spiritual connection, as humans, with nature. 'Looking at how caring, spirituality and connecting to nature really is a way forward. So "to care is a form of resistance" really marked this way to have a renewed sense of connection to the natural world, and invites people to consider unique and evolving ways art plays in today's climate change. It's not a "how to do it" show, or trying to fix the world. This exhibition is an international show that grants diverse practices that can spark imagination about our world today, helping to reframe and deepen our psychological and spiritual responses to the climate crisis.'
Moving through the cool space – all concrete beams and white floors – this myriad interpretation of and connection to the planet leaps from the walls and sprouts from the floor (part of Nkanga's display, 'The Trifurcation', is the trunk and roots of naturally-felled sweet chestnut tree stretching toward to the discordant ceiling where there should be sky; the earthy smell permeates the air). It's mostly contemplative, sometimes brash: Nkanga's large tapestry, 'Double Plot' stretches across the wall, backgrounding her tree, imbues the milky way; around the corner, Andrea Bowers' neon sign shines purple, reading 'Climate change is real', 'real' flashing red like a siren.
A passionate ecofeminist, Bowers' work is firmly rooted in her politics. Using the flashing sign as a guiding light, turn into an open space where a large installation hangs from the ceiling: 'Memorial to Arcadia Woodlands Clear-Cut (Green, Violet, and Brown)'. It commemorates a Californian forest that Bowers attempted to save by tying herself to an oak tree. How to remain hopeful when this fails, and the pristine grove is destroyed? Return, Bowers says, collect the wood chipping carcasses, and create a shrine.
'I wanted to encourage the audience to explore how our planet is embedded in political, spiritual environmental actions,' Rachel says on presenting Dear Earth. 'And look at the perspective of animals, plants, rivers, oceans worldwide. It's not based on facts or figures. It's an artistic exploration, which brings together three generations of artists to offer compelling ways to reflect and reset our relationship to the major environmental issues of our times.'
Elsewhere in the exhibition, take in interdisciplinary textile sculptor Aluaiy Kaumakan's 'The Axis of Life & Vines' (2018), a large-scale textile installation in hues of red, pink and orange, created using a traditional technique of hooking and weaving, called Lemikalik in Paiwanese (Aluaiy is from the Paiwan Paridrayan tribe of indigenous peoples in Taiwan). Aluaiy's first presentation in the UK – transported here from Taiwan by sea freight to reduce CO2 emissions – it calls back to the devastating impact of Typhoon Morakot in 2009 which displaced the Paridrayan people, but who remained intertwined by their memories and cultural legacies. It stretches across a wall, curving slightly as it approaches a corner, rising like a red wave or colourful mountain peak. It faces portraits created by British artists Ackroyd & Harvey, a 'photographic photosynthesis' newly commissioned for Dear Earth, made from seedling grass. Step back to discern the faces of London activists: Julian Lahai-Taylor (Grow Lewisham), Paul Powlesland (River Roding Trust & Lawyers for Nature), Helene Schulze (London Freedom Seed Bank), Love Ssega (LIVE + BREATHE), Destiny Boka-Batesa (Choked Up). Step close to make out individual blades of grass, from green to yellow, grown here on site. 
In the next room, find a different artistic exploration entirely: Hito Steyerl's 'Green Screen', an LED screen constructed from empty bottles and crates, and backed by a living wall of plants. With each bottle functioning as a pixel, bioelectrical signals from the plants are converted into sounds and images displayed on the LED wall; each LED light, each bubble of sound, is like an effervescent pocket of hope.
'The artworks are a source of inspiration, hope and resilience,' says Rachel. 'The show is not meant to breed despair at all – that's what I didn't want to do; I didn't want to have eco anxiety – but to bring us closer to the subject in ways that can spark active and imaginative responses.'
Rather than anxiety, Dear Earth often instils calm. Despite its inherent harrowing nature, watching Himali Singh Soin's video installation – 'we are opposite like that', which imagines new mythologies for the Antarctic and Arctic poles in this age of catastrophic ice melt – is mesmerising. Two videos sit back to back amid a shallow pool of water, one with an alien figure navigating a polar landscape speckled with coal mines, the other footage of the Arctic spliced with illustrations from 19th-century British journals. The images blur in and out of focus on screen and in the shimmering, lightly rippling water, bending and mirroring as Himali narrates with original poetry. 
Hidden in a room of its own, Cornelia Parker's 'THE FUTURE (Sixes and Sevens)', delights – as children are wont to do. Kids discuss their hopes and fears across two large screens positioned to slightly face each other, creating conversation and connection across the chasm. They're also in conversation with us – the adults – stripping the planet and society back to simplicity: stop driving cars, stop fighting, start doing things that help. The screens themselves were salvaged from a previous exhibition at the Royal Academy of Arts.
It certainly feels hopeful – and is underpinned by measurable efforts by the Hayward to transform hope into action: the catalogue is printed on recycled paper using vegetable inks, the onsite cafe is vegetarian and vegan, installation materials are reused or will be, and any fresh paint on the walls was provided by B Corp certified company COAT, the first climate-positive paint in the world (among many other efforts). Plus, though Paul Pulford and Grounded Ecotherapy's garden, 'Precious Stones', was commissioned for Dear Earth, it will adorn the Queen Elizabeth Hall's roof long after 3 September, when the show concludes – when Agnes Denes's plants are reused elsewhere, when Jenny Kendler's 'Birds Watching III' finds a new permanent home at the Zoological Society of London, and when SUGi's Pocket Forest of 390 trees with continue to take root. (Truly playing the long game, the latter is estimated to give an average carbon sequestration rate of three kilos per square metre per annum, at a total of 405 kilos per annum over the first 20 years of growth.)
'Precious Stones' repurposes stones, tiles, bricks and surplus building materials from around the Southbank Centre to create a mosaic of salvaged materials across a wildflower meadow, bedded using rock mulching (an ancestral water-retention technique of Native American people in southwestern USA) to create a natural drip irrigation system, and to naturally cool the environment amid the baking heat. Dear Earth is not just art and hope, then, but action – little pockets of action embracing heritage, community, and activism. 
VISIT
Dear Earth: Art and Hope in a Time of Crisis runs at the Hayward Gallery from 21 June to 3 September 2023. Tickets are £15 Monday to Friday, and £16 at the weekend. Members can visit for free. southbankcentre.co.uk