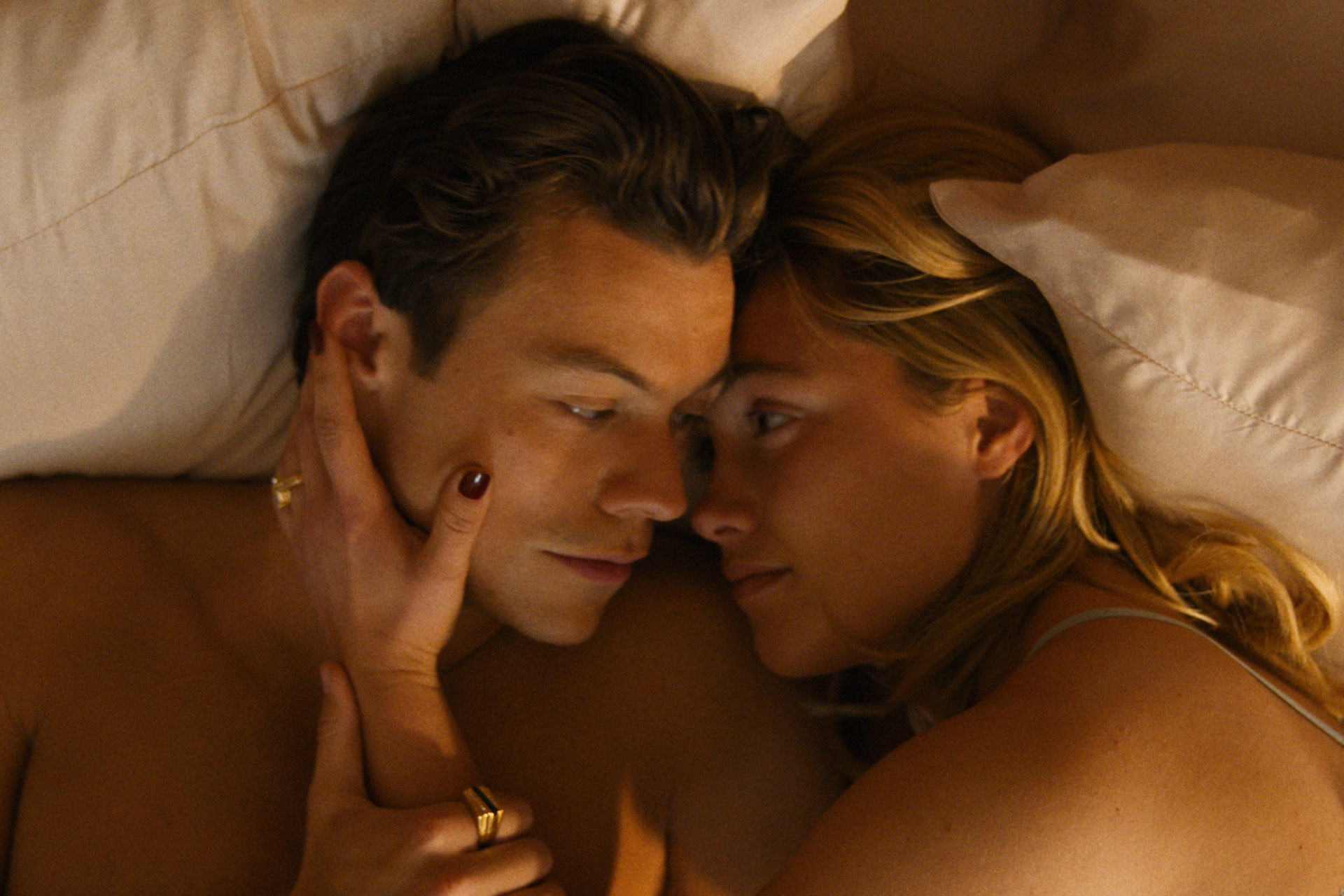 Don't Worry Darling: Everything You Need To Know
---
There's a lot to be excited about in Olivia Wilde's upcoming psychodrama
With Harry Styles and Florence Pugh as the leads, it's no surprise anticipation is sky-high for new film Don't Worry Darling – not to mention the fact it's directed by Styles' real-life girlfriend, Olivia Wilde. The full trailer dropped last month, sending fans into a frenzy with its Slim Aarons-like 50s aesthetic, eerie soundtrack and intriguing plotline.
But that's not the only reason the film has hit the headlines recently. There have also been numerous stories about behind-the-scenes controversies, with rumours of feuds, scenes being cut and differentiating stories about why certain cast members departed the movie. All this is hearsay at the moment, but it's getting people even more hyped for the film release nonetheless. Here's everything we know so far.
Don't Worry Darling: Everything You Need To Know
The Plot
Set in the 1950s, Don't Worry Darling is about a utopian community called Victory, where husband and wife Jack (Styles) and Alice (Pugh) live. A group of men living in the town are taking part in the mysterious Victory Project, led by CEO Frank (Chris Pine). While the husbands spend all their time at the Victory Project HQ working on the 'development of progressive materials', their wives 'get to spend their time enjoying the beauty, luxury and debauchery of their community' (according to Warner Bros' synopsis). It adds: 'but when cracks in their idyllic life begin to appear, exposing flashes of something much more sinister lurking beneath the attractive façade, Alice can't help questioning exactly what they're doing in Victory.'
In an interview with American Vogue, Wilde described it as 'The Feminine Mystique on acid', adding that it will make audiences consider: 'what are you willing to sacrifice in order to do what's right? If you really think about it, are you willing to blow up the system that serves you?'
The Cast
As we all know, the leads are played by Styles and Pugh – but, fun fact, they weren't always cast as the frontrunners. Wilde was originally set to play Alice, but after seeing Pugh in Midsommar, she decided she was perfect for the role, and took on a supporting role instead as fellow Victory Project housewife Bunny. 
Jack's character, meanwhile, was initially cast as Shia LaBeouf, but he later departed the project after reportedly clashing with Wilde. LaBeouf, however, recently told Variety he 'quit the film due to lack of rehearsal time'.
Whatever happened, Styles then stepped up to the plate, with Wilde announcing in an Instagram post: 'Little known fact: most male actors don't want to play supporting roles in female-led films. The industry has raised them to believe it lessens their power (ie financial value) to accept these roles, which is one of the reasons it's so hard to get financing for movies focusing on female stories. No joke, it is hard to find actors who recognise why it might be worth it to allow for a woman to hold the spotlight. Enter: [Harry Styles], our Jack. Not only did he relish the opportunity to allow for the brilliant [Florence Pugh] to hold centre stage as our Alice, but he infused every scene with a nuanced sense of humanity.' After meeting on set, Styles and Wilde began dating, and they've been an item ever since.
Also featuring in the cast are Gemma Chan (Crazy Rich Asians) and KiKi Layne as fellow Victory residents, and Star Trek's Chris Pine as the Victory Project founder. 
The Director
Don't Worry Darling is the second directorial project for Wilde, who made her debut with the 2019 film Booksmart, a high school comedy starring Kaitlyn Dever and Beanie Feldstein. Before then, she was best known for her acting roles, featuring in shows like The OC and House. 
The Trailer
Yes – there are two. The first was released in May, and shows Pugh's character Alice growing increasingly suspicious about the Victory Project. It's all very eerie – but things get a whole lot creepier in the second trailer (which is age-restricted, but you can watch here), where we see Alice hallucinating and wrapping her face in clingfilm. The second clip also gives us more insight into the film's retro, picture-perfect aesthetic, plus the 50s-style costumes created by Once Upon A Time… In Hollywood's Arianne Phillips. Oh, and we get a glimpse of some steamy sex scenes between Styles and Pugh's characters, which will no doubt garner lots of attention. In the same American Vogue interview, Wilde said she was inspired by films like Fatal Attraction and Indecent Proposal, which she described as 'really sexy, in a grown-up way'.
Release Date
We don't have too long to wait – the film will premiere in the UK on 23 September 2022.
Main image: Harry Styles as Jack and Florence Pugh as Alice in New Line Cinema's 'Don't Worry Darling,' a Warner Bros. Pictures release. Courtesy of Warner Bros. Pictures.
MORE MOVIES:
Amsterdam: Cast, Plot, Release Date / Everything You Need To Know About the Blonde Film