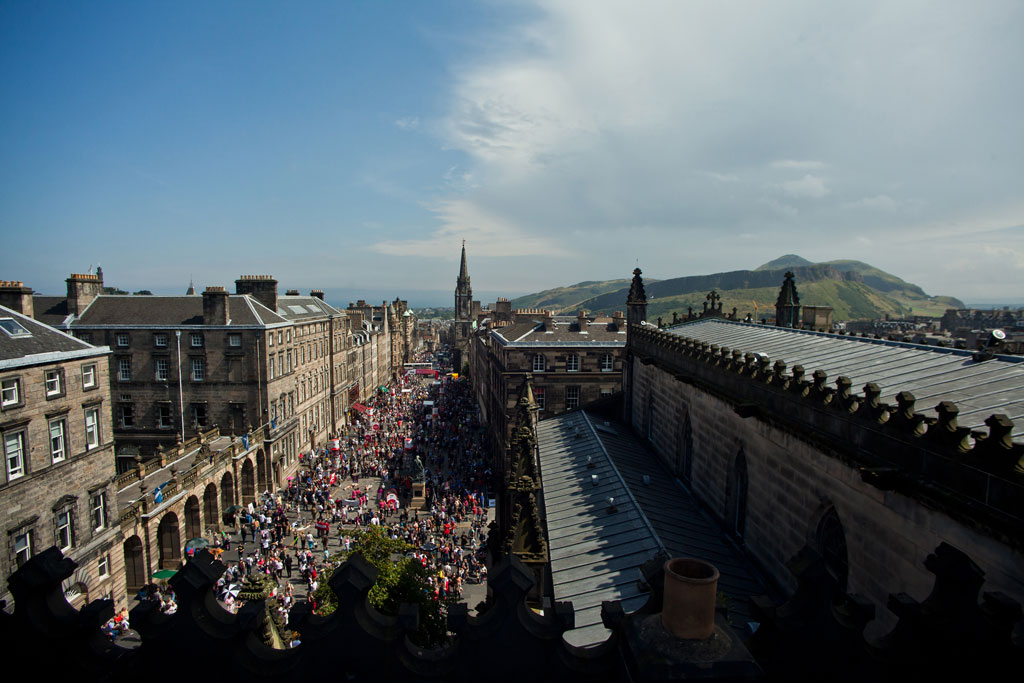 10 Shows to See at the Edinburgh Fringe 2023 (& How To Get Tickets)
Our secret to Fringe frolicking? Advance planning...
The Edinburgh Festival Fringe (3–28 August 2023) is renowned for its diverse and exciting lineup of shows. With over 3,000 performances to choose from, though, it's tricky to know where to start. Maybe you have a friend (or a friend of a friend) presenting something, maybe you like the comedian already, or maybe you've seen a promising review of the show's preview. If any of that doesn't apply, don't get lost in the crowd: here are 10 shows generating buzz to check out in 2023.
10 Shows To See At The Edinburgh Fringe 2023
1. After The Act (A Section 28 Musical)
Where? Traverse Theatre
When? 3, 5, 6, 8–13, 15–20 and 22–27 August
What? From multi award-winning theatre company Breach Theatre (known for their production It's True, It's True, It's True – comes a daring new musical exploring pride, protest, and the impact of Section 28, the landmark piece of legislation that silenced a generation and set a global blueprint for LGBTQ+ oppression.
2. Bodies
Where? Summerhall at Deans Community High School
When? 20 & 26 August 2023
What? This two-day immersive production is a hot ticket, transforming a swimming pool into a new immersive theatre space to explore the essential character of water, its universality, and the importance of collective action in achieving climate justice. Viewers are invited to don their cozzie, float, discover, and move in synchronisation. 
3. Greta Titelman: Exquisite Lies
Where? Pleasance Courtyard
When? 2–13 and 15–27 August
View this post on Instagram
What? American comedian Greta Titelman will take to The Pleasance throughout the Fringe for what she calls, 'A wild rollercoaster ride of intimate stories so we can collectively discover why I am the way I am. You will cringe, laugh and hopefully cry.' Read our full interview with Greta here.
4. Dusk: A Bite-Size Love Story
Where? Greenside @ Infirmary Street
When? 4–12, 14–19 and 21–26 August
View this post on Instagram
What? This Twilight parody musical was created by Morgan Kennedy with music by Daniel Ruffing, and reimagines iconic moments from the pop-culture phenomenon through song, dance, and camp. Think baseball, brooding, sparkles, and more.
5. On Your Bike
Where? Gilded Balloon Patter House
When? 2–13, 15–20 and 22–27 August
View this post on Instagram
What? The winner of Best Musical at the 2021 Fringe is back for another run this summer. A Deliveroo parody with serious heart and incredible rhyming, we follow Gemma and Aidan who deliver food they can't afford for mega-corporation Eatsaroo. But, when their pay gets cut, it muscles in on their budding romance.
6. Freya Parker: It Ain't Easy Being Cheeky
Where? Pleasance Courtyard
When? 2–27 August
View this post on Instagram
What? From 50 percent of sketch duo Lazy Susan comes a solo show all about maintaining lightheartedness while harbouring trauma. Freya summarises, 'It's about trying to stay cheeky and optimistic when the chips are down.' Read our full interview with Freya Parker here.
7. Little Wimmin
Where? ZOO Southside
When? 21–27 August
What? A Horizon Showcase, this iconoclastic retelling of Louisa May Alcott's classic novel from Figs in Wigs promises a wild, irreverent and cosmically comical evening. Using the story as a trojan horse, expect to rethink our obsession with the classics, transforming the story into one of climate change, astrology and the infinite universe.
8. Rod Gilbert: Work in Progress
Where? Gilded Balloon Teviot
When? 21–23 and 25–27 August 2023
What? 15 years after he first performed at the Fringe, Rhod Gilbert is a mainstay on British TV and the comedy circuit. Now he's back with a work-in-progress performance after a cancer-induced break from performing; put simply, 'Expect some dark but funny shit.'
9. Sound Clash: Death in the Arena
Where? Pleasance Courtyard
When? 2–7, 9–20, 22–28 August
What? Conceived by none other than Levi Roots, musical theatre and dancehall get a futuristic makeover in this star-crossed lovers show. In this dystopia, the world is run by MCs, and Ashley and Kazzandra are caught in the middle. Expect dance-offs, lyrical contests, and murder in the dancehall. Sound Clash: Death in the Arena will get its world premiere at the Fringe – and we expect it to go much further.
10. Laura Ramoso: Frances
Where? Pleasance Dome
When? 2–13 August
View this post on Instagram
What? You might know her from TikTok, but Laura Ramoso's stand-up show Frances has been scooping up five-star reviews left, right and centre. Now to the Fringe, where viewers can enjoy her most popular characters, including Italian Dad, German Mom, and the Three Girls Who Just Got Back From Europe.
How To Get Tickets
Book in person: The Fringe Box Office, 180 High Street, EH1 1QS. Open daily 31 July–28 August, 10am–6pm.
Book over the phone: +44 (0)131 226 0000
Book online: tickets.edfringe.com
Book on the app: Download the EdFringe app from the App Store or Google Play. Still not decided what to book? Try the new 'shake and search' function, which provides a random show suggestion when you shake your phone. Learn more at edfringe.com