If you're there, you'd be able to tell it's Edinburgh Festival Fringe without so much as a poster,  flyer or performance – it's the sheer number of bodies packed into the city's narrow streets that are the dead giveaway! From 3-27 August, get your fill of theatrics in the Scottish capital. 
Don't get lost in the crowds. Let us help you plan for the fullest, most frolicsome Festival Fringe. And when you need to stretch your legs after sitting through those shows, you can consult our Weekender Guide: Edinburgh for things to do.
A C&TH Guide to Attending the 2018 Edinburgh Festival Fringe

What's On
'What's not on?' might be a more manageable question. Here's just a taster of the theatrical delicacies on this month's menu.
The Fishermen; Assembly, George Square Studios
In a small Nigerian town, Ben and Obembe, along with their two older brothers, slip away to fish at a forbidden river. Unnoticed and carefree, they continue until one day the prophecy of a madman changes the course of their lives forever. Based on the Man Booker Prize-shortlisted novel by one of Africa's major new voices, New Perspectives, in association with HOME, present Chigozie Obioma's powerful allegory of brotherhood, vengeance and fate in a new adaptation by Fringe First-winning playwright Gbolahan Obisesan.
Austentatious; Underbelly, Bristo Square -McEwan Hall
After sell-out national tours, a West End run and BBC Radio 4 special, Austentatious returns to the Fringe for its seventh glorious year! Every single day an all-star cast (including Cariad Lloyd, Andrew Hunter Murray, Rachel Parris and more) improvise a brand-new Jane Austen novel based entirely on a single suggestion from the audience.
3 Women 3 Myths; C venues – C royale – studio 2
Inspired by Waiting for Godot, this original piece performed by two women of colour brings new meaning to issues of violence and war, poverty, food, deserts, hopelessness and those abandoned in a time of crisis. Their voices and lived experience bring an important message about responsibility in a time when white supremacy is rising in the United States and globally.
360 Allstars; Assembly Hall – Main Hall
A phenomenal physical performance exploring all forms of rotation, 360 Allstars connects street with elite to deliver a radical urban circus. Boasting a stellar international cast including the two-time World Champion BMX Flatlander, two world champion breakdancers, an internationally acclaimed basketball freestyler, and an exceptional roue cyr artist, 360 Allstars is a spectacular fusion of the extraordinary artistry that emerges from street culture.

Venues
From main-stages to parks, classrooms to cafes, it feels like just about every doorway turns into a venue for Edinburgh Festival Fringe. We're recommending the choicest performance spaces below.
Assembly Checkpoint; 3 Bristo Place, EH1 1EY
Assembly Checkpoint is the Fringe's premier venue for cabaret, music and more. The venue is located inside an old church and exudes warmth and charm. There is a bar inside the upstairs venue and further drinking and dining options downstairs.
Bedlam Theatre; 11b Bristo Place, EH1 1EZ
A unique theatre in a converted church in the heart of Edinburgh, Bedlam Theatre returns to the Fringe for its 38th year with another exciting and eclectic programme of theatre and comedy.
Edinburgh Playhouse; 18-22 Greenside Place, EH1 3AA
Edinburgh Playhouse is the largest seated theatre in the UK and the 'favourite stage in Scotland' (Billy Connolly) with a capacity of over 3,000! Over the years the theatre has played host to the world's biggest and most successful musicals, legendary bands, artists and comedians.
Assembly Rooms; 54 George Street, EH2 2LR
This classic space located on George Street in the heart of the city centre is host to some of the finest theatre, comedy and music from around the world. The Assembly Rooms hosts three spaces indoors; the Music Hall, Ballroom and Drawing Room, as well as outdoor performance and exhibition spaces, bars and a mobile cinema. A fantastic festival hub in the New Town.
Just the Tonic at The Caves; Rowantree Bar, EH1 1LG
Best Small Venue in the 2009 Scottish Event Awards combined with Just the Tonic, one of the UK's leading comedy providers. Great shows, reasonable prices, amazing building, outstanding performance areas, great bar. Putting the fun back into the Fringe!

Box Office Information
Book in person: The Fringe Box Office – 180 High Street, EH1 1QS. 31 July – 28 August (daily), 09:00 – 21:00.
Book over the phone: +44 (0)131 226 0000
Book online: tickets.edfringe.com
Listen to Our Podcast Episode with Ben Fogle Discussing Edinburgh and Scottish Travel Tips

Food & Drink
This just in. Michel & Alain Roux Have Launched a Brasserie in Edinburgh. Country & Town House's resident foodie Clementina Jackson took the train up to have her tastebuds tantalised. You can listen to her interview with the legends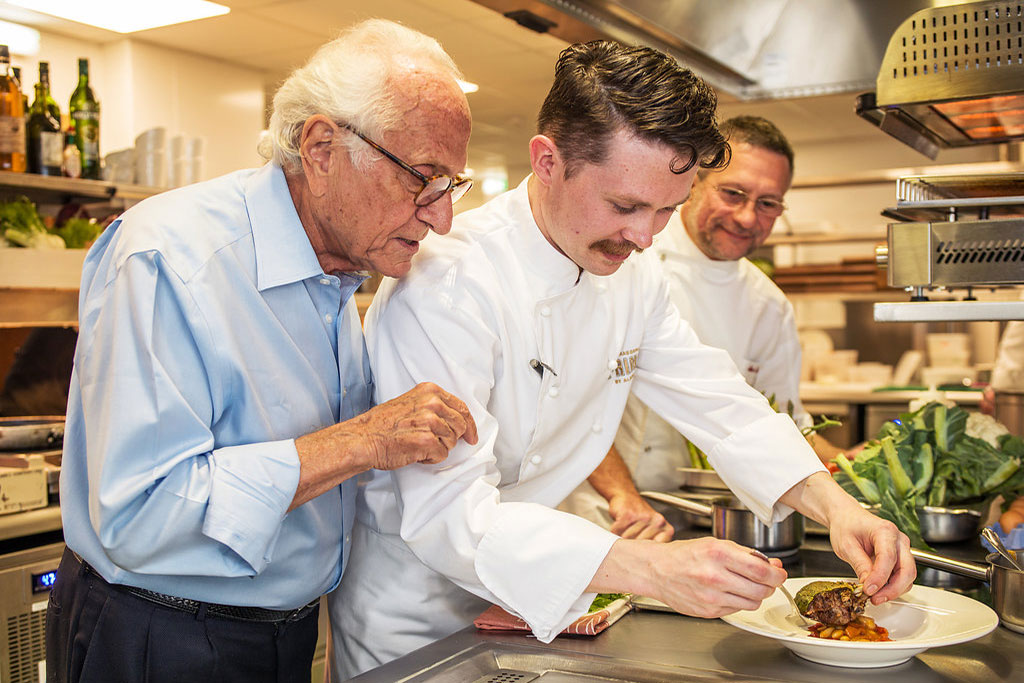 Q: So many atmospheric pubs, but which to choose? A: The Scran & Scallie. A walk through Stockbridge (start all the way in Dean Village and wend your way along the river!) will take you to the doorstep of The Scran & Scallie, and rest assured, they will take it from there. A characterful, knowledgable and witty restaurant staff will make you feel right at home, and the interiors help to this effect. A cozy, brick fire place, fluffy chair throw here and there, plus whimsical wall paper are all homey, stylish and Scottish, too boot. Now is the time to go for pub classics: The Scran & Scallie steak pie is the house favourite. For a special occasion, The Gardener's Cottage offers a communal dining experience just like it says on the tin – in a gardener's cottage (at the foot of Calton Hill – get that walk in!). A plentiful garden surrounding provides much of the produce served for brunch, lunch and most notably, the seven course dinner tasting menu. The offerings change every single day and include local delights such as: Quay Commons sourdough, cultured butter, crudités; Gigha halbut, wild garlic puree, Newhaven lobster, toasted seeds; and Grierson's Organic Lamb loin, neck terrine, asparagus, pink fir apple potatoes, yogurt, groats.
Where to Stay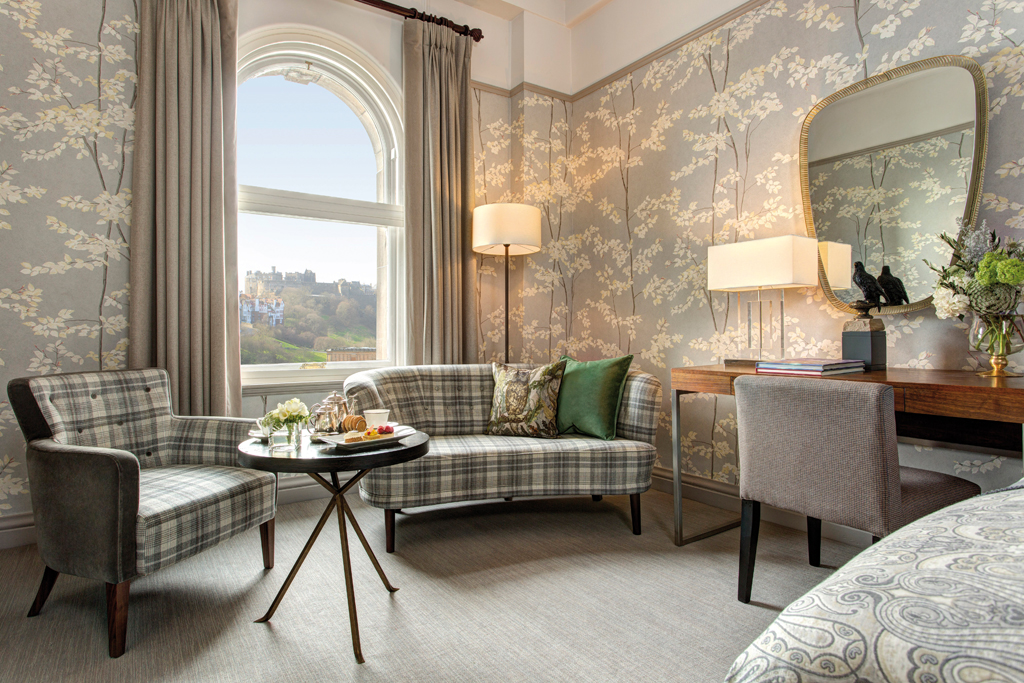 The Balmoral is Rocco Forte's historic Edinburgh landmark. It was built in 1902 in impressive Scottish renaissance style as a railway hotel serving Waverley Station. Pronounced one of the great railway hotels, its iconic clock was set three minutes fast so that guests and locals wouldn't miss their trains. It has turrets at its corners and a central courtyard, occupied by the dazzling glass-domed Palm Court. Exuding a timeless elegance, the bedrooms have been designed by Olga Polizzi, Director of Building & Design for Rocco Forte Hotels, with their castle view rooms framing some of the Scottish capital's most famous vistas. The Balmoral's two restaurants offer guests a choice of fine or brasserie dining. Number One, with its red lacquer walls and dove grey seating, offers a Michelin-starred menu celebrating Scottish produce. Brasserie Prince by Alain Roux meanwhile serves up a new alliance marrying the best of Scottish ingredients with French cooking. The service throughout the hotel is faultless.
Claim to Fame… Celebrity visitors to the hotel have included Sophia Loren, the Queen Mother, J.K. Rowling and Paul and Linda McCartney – to name a few. Doubles from £245; +44 (0)131 556 2414; roccofortehotels.com
---