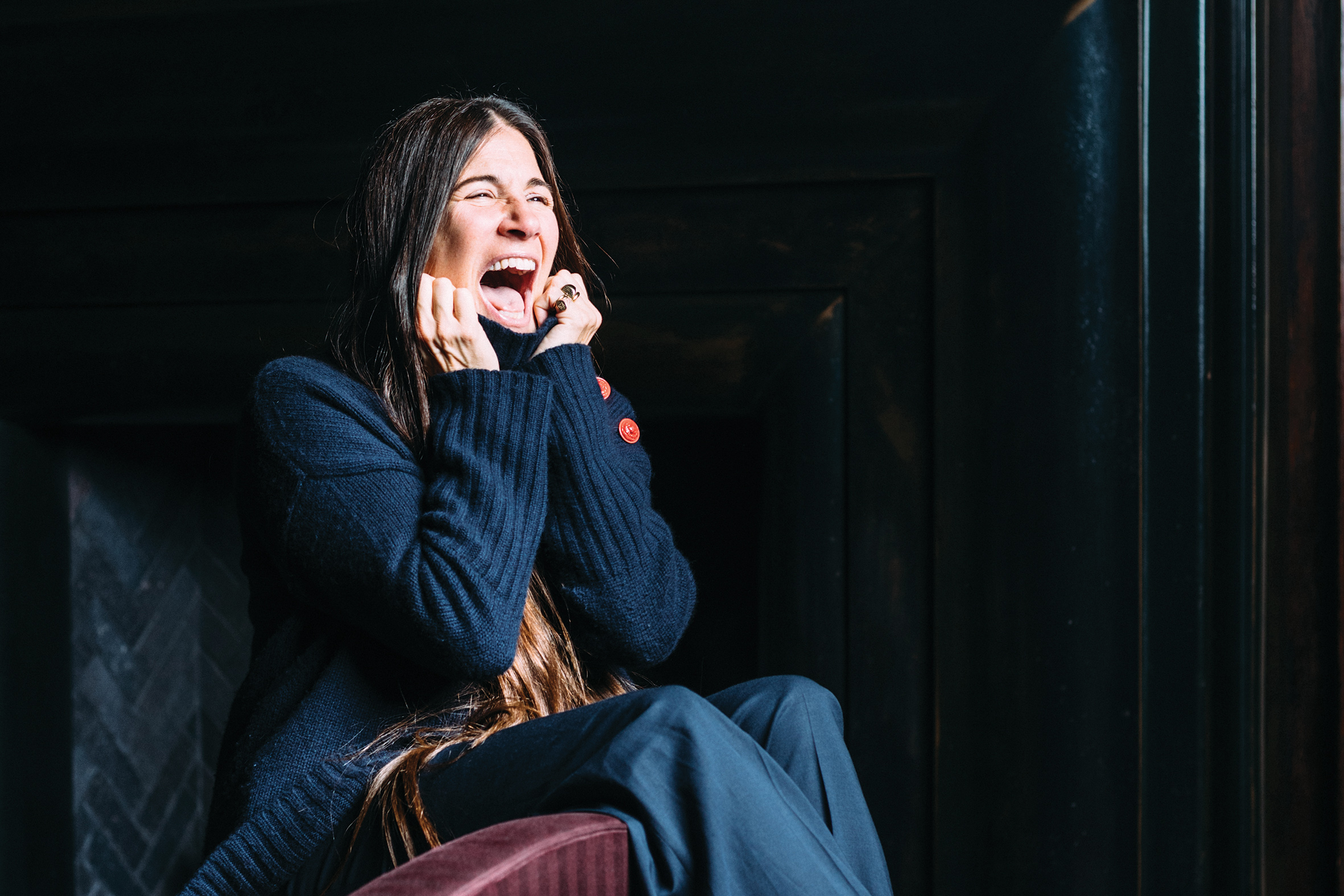 Conversations At Scarfes Bar: Elizabeth Saltzman
Meet Elizabeth Saltzman, the go-to stylist for some of the most famous faces in Hollywood
Celebrity stylist Elizabeth Saltzman has built a starry career with her impeccable taste and infectious personality. Charlotte Metcalf meets her.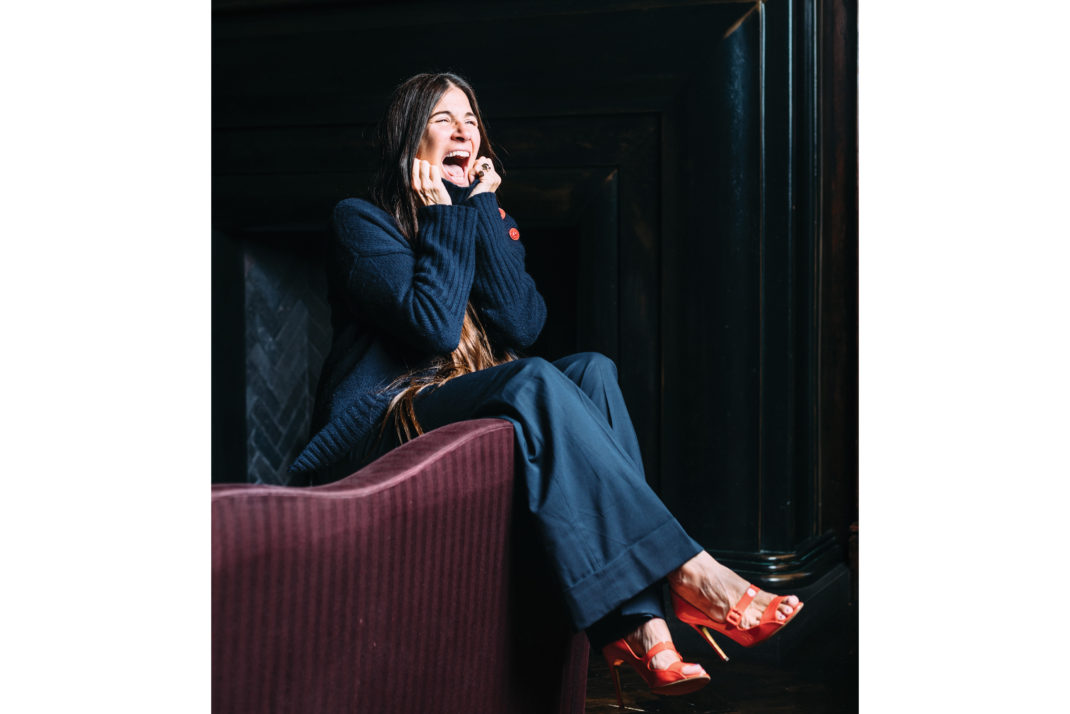 Elizabeth Saltzman dresses A-listers like Gwyneth Paltrow, Uma Thurman, Saoirse Ronan, Sandra Oh, Jodie Comer, Julia Garner, Poppy Delevingne and Gemma Arterton. The Hollywood Reporter has named her one of the 'Most Powerful Stylists of the Year' and she's arriving any minute. I'm anticipating a siren wreathed in haute couture but the woman who walks into Scarfes Bar is wearing a woolly hat and cosy sweater. She looks as natural and wholesome as Ali McGraw in Love Story and almost as young, despite her 55 years.
I admit to Elizabeth that she is not what I expected as the woman with the most glamorous job in the world. She's changing out of her trainers into a pair of scarlet patent heels that she's brought to look Christmassy and she gives me an enormous, warm smile that makes her eyes scrunch up. 'Sure, there's glamour but there's a lot of sleep loss too,' she laughs. 'Being a stylist is bit like being a shrink. I focus on empowering people, getting them to embrace what they like about their bodies. I start by asking how they see their daily uniform and most people say: "Oh, I just need an oversize sweater", so [that means] they're hiding or need comfort. Or they say: "I love a jacket", so they're a fidget and need structure and somewhere for their hands. I find out what people are going through, because for clothes to look good you have to feel good. All of them can act, but boy does it make a difference if they feel great on that red carpet. With positive energy you can wear a paper bag and you'll be voted Best Dressed. And people have got to feel comfortable. No killer heels! The only person I'd ever torture is Gwyneth' – Elizabeth roars with laughter – 'Gwyneth can handle it as she knows it can make for a better photo.'
Elizabeth grew up in Manhattan in a close, loving family. Her father was an interior designer and her mother was the fashion director at Saks 5th Avenue and Bergdorf Goodman. 'Mum would turn up at school in an Yves Saint Laurent power suit when all the other mums were in Lilly Pulitzer. It was excruciating at the time but she made me feel secure enough to break the mould and not to care what others thought. I wasn't afraid to wear a bathing suit with a leather jacket or a blue wig and pyjamas.'
In her teens Elizabeth was a regular at Area, a downtown Manhattan nightclub. It was here that Gabriella Forte spotted her style and offered her a job at Giorgio Armani. Elizabeth was disappointed to find she'd been relegated to the stockroom but she worked hard: 'I was first to arrive, last to leave. I lured my friends into the store. I befriended the sales assistants, who could sell a sofa as a dress.' It wasn't long before Elizabeth was Senior Fashion Editor at Vogue and she hasn't stopped since.
'You must work countless hours a day,' I say. 'Oh yeah,' she sighs, 'hours and hours and hours.' We discuss juggling a family (husband and two teenage sons) with a job that demands she fly back and forth across the Atlantic from her London home. She tells me about the 11 suitcases that Fedex lost when she was in the middle of a shoot in California. Thousands of pounds worth of stuff went missing, including one-off outfits lent by top designers, priceless jewellery and Elizabeth's own irreplaceable vintage pieces collected over 40 years.
She's now firmly assigned these hectic, stressful dramas to the past, having reappraised her life during lockdown, which she spent in Southampton, New York, with her family. 'I had time to sleep, read and think. I had the luxury of re-establishing my passion for the earth and realised I'd always hidden behind my work. I'd been pleasing a lot of people without rewarding myself. Growing up I had the luxury of being healthy, having food and hot water and love. Call me Jewish but that gave me guilt! I've always been trying to prove myself, spreading myself thin to give enough back. When I took a good look at myself in lockdown I didn't like what I saw – an empty-nester in a country falling to bits and facing inevitable climate change. Now I know where I'm headed. There's no reason for me ever to fly to LA for a two-hour fitting again, I will stay the night. I love building confidence and helping designers but I've understood that other people's problems aren't solely mine, so I'm going to focus on what I can change and try to not be everywhere all of the time.'
Elizabeth's undoubted skill, on top of her obvious unerring eye for style, is making people feel good. I feel buoyed up after just an hour with her. No wonder she's so in demand. I wonder how on earth she'll ever manage to turn clients away if the pandemic eases and the time comes for them to clamour for her services again.
READ MORE
Conversations At Scarfes Bar: Helen Browning / Conversations at Scarfes Bar: Ed Vaizey / Great Scot: Interview With Karen Gillan