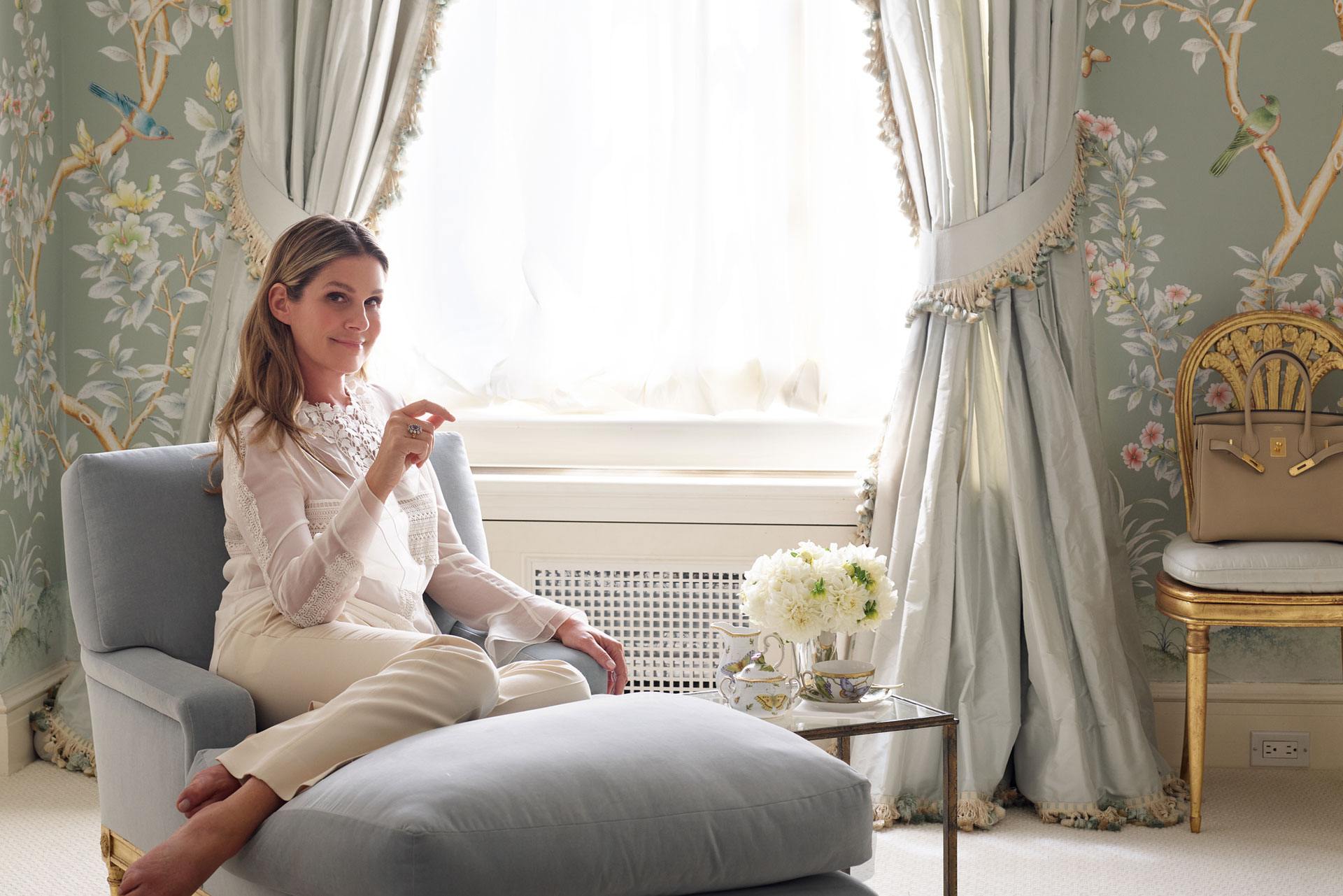 How To Entertain At Home, According To Aerin Lauder
---
Host in style with a little help from the Lauder family
As Thanksgiving and Christmas approach, Sarah Hyde gets some fabulous entertaining tips from Aerin Lauder
Love a tablescape or want ideas on how to use your glassware and crockery most effectively? American heiress and businesswoman Aerin Lauder makes entertaining look so easy, but we can all learn a few of her secrets with the publication of her new book Entertaining Beautifully, which covers a year of all sorts of different events, the text littered with charming anecdotes that revealing the reasons for her choices.
Top tips have been passed to her from her grandmother, Estée, mother Jo Carole Lauder and her close friends, Daniel Ramualdez, Caroline Sieber von Westenholz and Maria Hummer Tuttle. These range from laying the table and arranging the flowers the day before a party, to having a few moments to herself on her chaise with a cup of tea to ease the transition from busy working mother back to serene and charming hostess back in the city.
A particularly striking setting is the intimate dinner for four in front of the 18th-century Beauvais Tapestry in her New York apartment. It is a stroke of interior decorating genius, as Aerin cleverly uses green glasses and candles to draw the diner into the tapestry, giving the charming effect of feasting within a mythical European landscape, while actually remaining in New York City.
Below, we talking entertaining with Aerin Lauder:
Was Thanksgiving a big event for you growing up and where will you be celebrating this year?
Thanksgiving has always been a very special holiday for our family. It's really all about coming together and tradition. Typically, we have Thanksgiving at my parents' home in Long Island. It's a big dinner with 60-70 people, including friends and family. This year, the holiday will look quite different as we will celebrate with just our immediate family although in the same rustic, country setting.
I love everything about Thanksgiving from the people, to the delicious food and, of course, the décor. It's one of my favourite times to entertain because it's the perfect opportunity to really embrace autumn and incorporate seasonal elements into the table. I absolutely love rustic hues and a table that is filled with pumpkins, gourds, fruits, nuts, and of course, flowers.
In your family, beauty and style have a special importance, your grandmother was the legendary Estée Lauder and your father Ronald was the American Ambassador In Vienna and later established the Neue Gallery. You must have grown up surrounded by beautiful things and elegant and fascinating characters. Were you actively encouraged to develop a sense of style the table and entertain when you were a child?
I have honestly loved to entertain for as long as I can remember. Even as a child, my doll's house was always my favourite toy. My Barbie dolls would 'host' parties and invite the others to attend. I would even plan their outfits and what food would be served. I think this stems from the fact that I grew up surrounded by enchanting parties and dinners that inspire me to this day. I learned to entertain from my grandmother Estée and my mother. Both were such amazing hostesses, however with very different styles. Estée used to entertain in a very formal way, while my mother still entertains with a much more classic, American approach. In my opinion, my entertaining style is the perfect mix of both.
At what point did you realise that your sense of style was going to be the basis to of your business?
After working at Estée Lauder for many years, I felt there was an opportunity in the marketplace for a lifestyle brand based on feminine, modern and effortless products with strong heritage and storytelling. I also realised when the modern woman thinks about beauty, she sees it as an extension of herself, her home, her wardrobe and her travels. People were always saying to me, 'What's in your makeup bag?' so I had this idea of creating an edited capsule collection of products based on that concept. The first collection was all about weekend and weekday, which was not necessarily based on fashion trends, rather it was more of a lifestyle. When I decided to launch AERIN, I expanded the whole concept of beauty to make it part of the way we live today. We did this with the items I love most – beauty and accessories for the home.
Your website reveals elements of your own taste and personality from virtual tours of Monet's House, to watercolour sets from The Metropolitan Museum, English Tea and children's sequin masks. Do you choose everything yourself?
I am very hands on about all aspects of the business, especially these edits that are curated with the AERIN woman in mind. Our stores, our website and our brand are all about surprise and delight. It's important that what we offer feels authentic to me, as well as who we are as a brand. This is why you often see the items we sell on my Instagram and in my home. I'm excited about these products and always want them for myself too.
The AERIN home line is available at Matches, Amara and Luxdeco. AERIN Beauty is available online from Estée Lauder.
Image credits: Entertaining Beautifully by Aerin Lauder is published by Rizzoli.