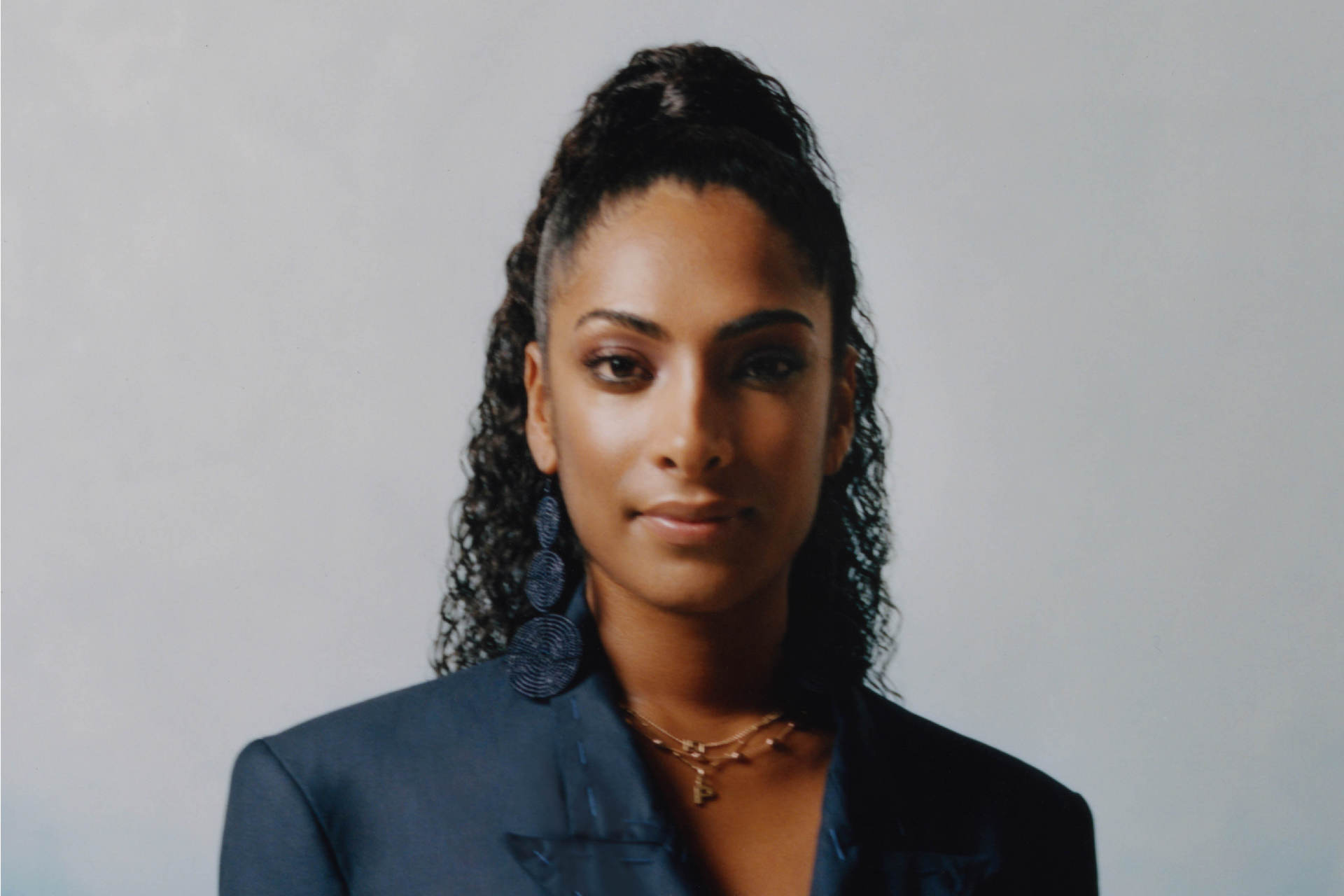 All The Latest News From Our Favourite British Brands
Stay up-to-date with our most talented home-grown names
British brands are world-leading in terms of their innovation, craftsmanship and resilience. Here's just some of their most exciting new launches and updates.
Great British Brands
Priya Ahluwalia Receives the Queen Elizabeth II Award for British Design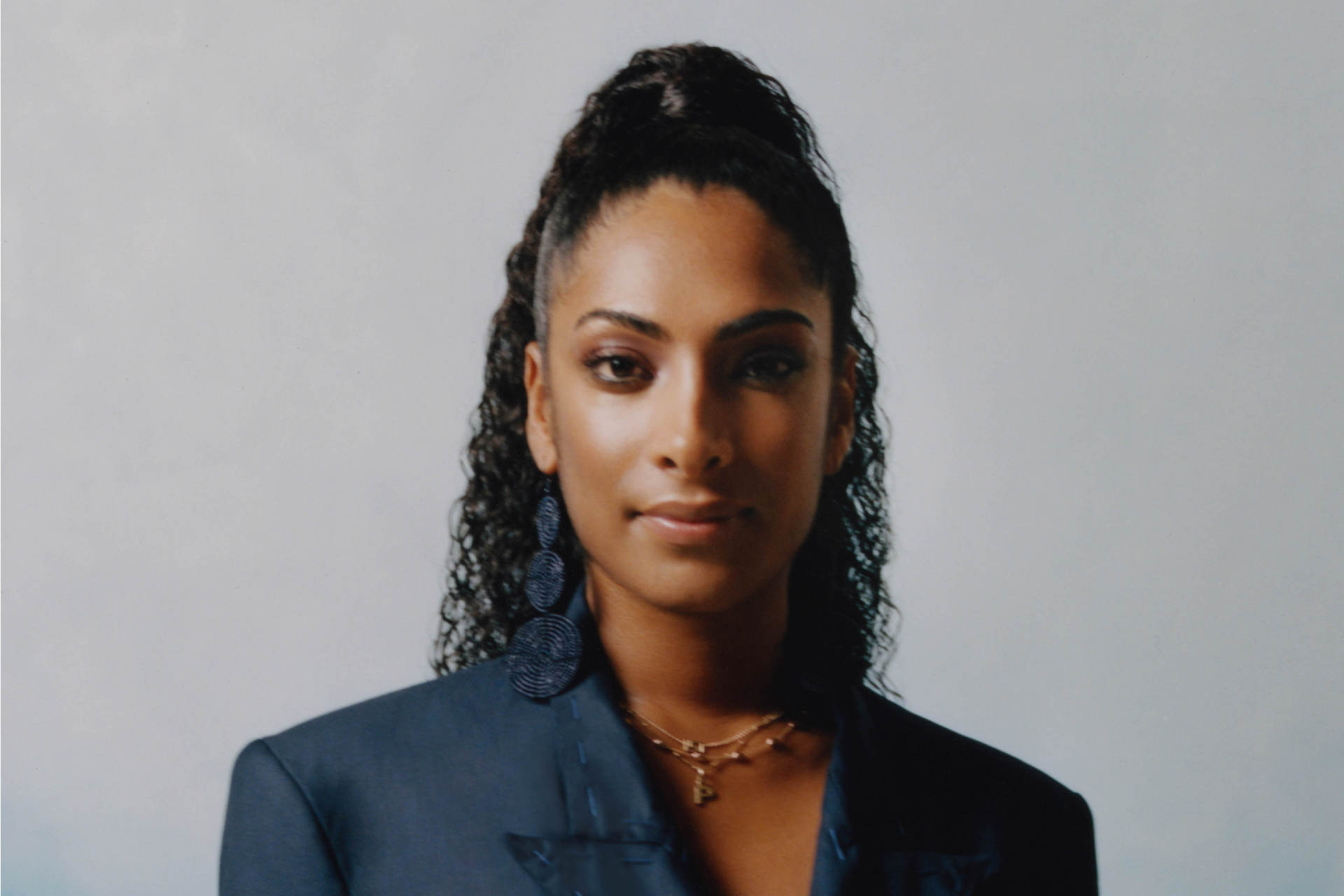 Menswear designer Priya Ahluwalia, known for her sustainable collections made from dead stock and repurposed vintage materials, is the recipient of the Queen Elizabeth II Award for British Design 2021, the British Fashion Council (BFC) announced during London Fashion Week.
The award was presented by HRH The Countess of Wessex, on behalf of HM The Queen, during a virtual event. Ahluwalia is recognised for her active contribution to changing the industry for the better, her work in pioneering responsible sourcing and manufacturing techniques, while telling the stories of those who make her clothes and the communities she works with.
A rising star of the fashion world, Ahluwalia, who launched her label in 2018, has previous won the H&M Design Award 2019 and was one of eight brands to win the LVMH Prize 2020. She was also noted on the Forbes 30 under 30 on the European Arts and Culture List. Her menswear collections combine influences from her Nigerian and Indian heritage, and she uses her platform to raise awareness for Black Lives Matter.
'We are delighted to announce Priya Ahluwalia as the fourth recipient of the Queen Elizabeth II Award for British Design,' says Caroline Rush CBE, Chief Executive of the BFC. 'Ahluwalia's unique and ethical design process combined with her ability and passion to give back to communities around London and the globe make her an inspiration for many young British designers. We are incredibly proud to recognise Priya and look forward to seeing her business grow.'
Vivienne Westwood Calls For Public to SWITCH to Green Energy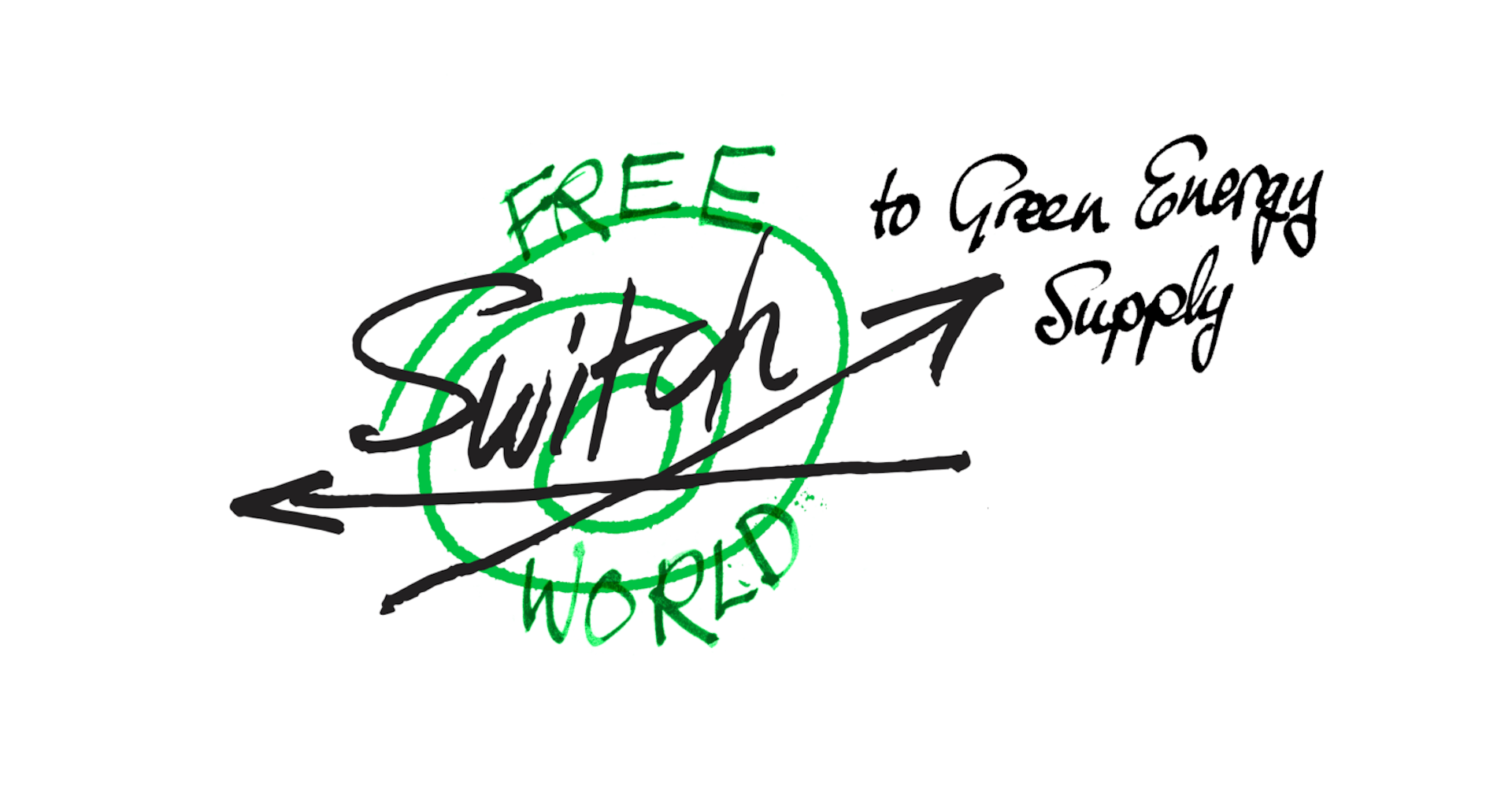 Iconic fashion designer and climate activist Vivienne Westwood has joined forces with WePresent, the editorial platform of WeTransfer, to call on the public to switch to renewable green energy today. She joins the platform's Groundwork series, which documents behind-the-scenes research into artists' new works for Back to Earth, Serpentine's environmental programme.
Westwood has launched a new campaign called SWITCH for Groundwork, which builds on the designer's 2017 Fashion Switch to Green cause and No Man's Land manifesto. Both artwork and environmental resource, SWITCH comprises a series of images on playing cards emblazoned with powerful etchings, including 'what's good for the planet is good for the economy' and 'uninhabitable land'. Above all, SWITCH hopes to convince individuals and businesses to change to renewable energy sources.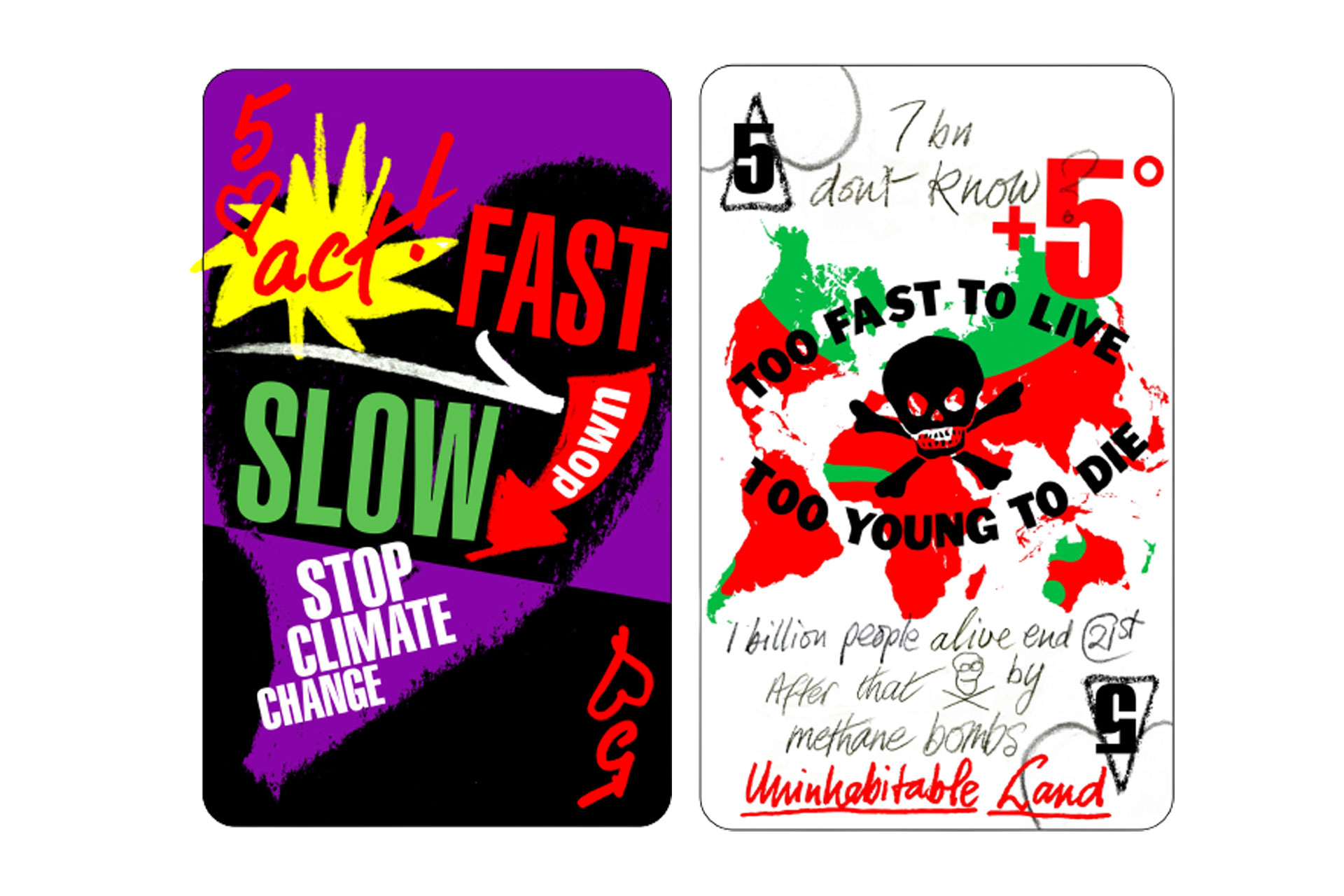 'First step to save the environment: SWITCH to green energy,' says Westwood. 'We must rely on cooperation and collaboration to maximise our impact and we must act now! What's good for the planet is good for the economy.'
Find out more about SWITCH here. viviennewestwood.com
The Restory Partners with FarFetch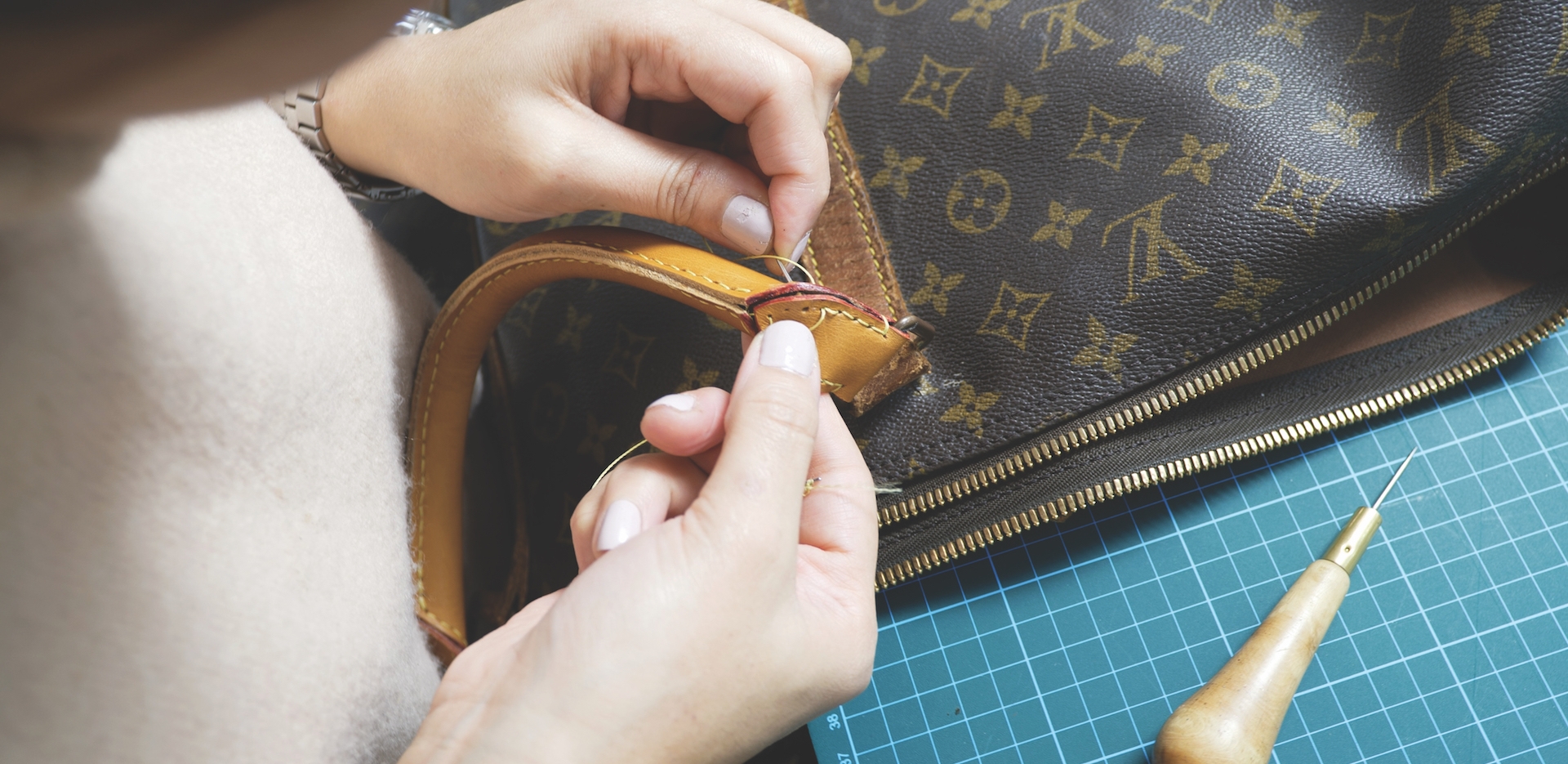 Luxury restoration service and Great British brand The Restory has announced its partnership with global platform FarFetch for a new service called FarFetch Fix. The service will offer aftercare services to customers from The Restory, who have developed a wide range of innovative techniques to repair and restore shoes, bags and leather goods. Customers can book a collection for the items they want restored on the FarFetch website and, after a quote is agreed, The Restory will make the repairs in its London-based atelier.
'We've long drawn inspiration from FarFetch's mix of excellence, purpose and boldness,' says Vanessa Jacobs, founder and CEO of The Restory. 'To power the new FarFetch Fix platform, and further the mission of more thoughtful consumption on this scale, is the culmination of years of hard work. I'm so proud of this partnership and of my team. FarFetch will help a global community of luxury enthusiasts fall in love with their favourites all over again.'
The partnership comes as part of FarFetch's 2030 sustainability goals, for which it has committed to becoming 'more circular than linear by 2030'.
Johnstons of Elgin Reveals Its AW21 Collection, 'Tartans, Textures & Twists'
Today (23 February) heritage Scottish brand Johnstons of Elgin revealed its new collection for autumn/winter '21 at London Fashion Week. Described by creative director Alan Scott as 'a sensory journey back to Johnstons of Elgin's textile roots', the collection features sumptuous cashmere and merino wool cardigans and dresses in vibrant colour blocked hues, as well as chunky knitted jumpers and a maxi-length cardigan that reimagines classic tartan in a new 'exploded' design. Come autumn, this is all that we're going to want to wear.
Silverlining Furniture Launches New Provenance Collection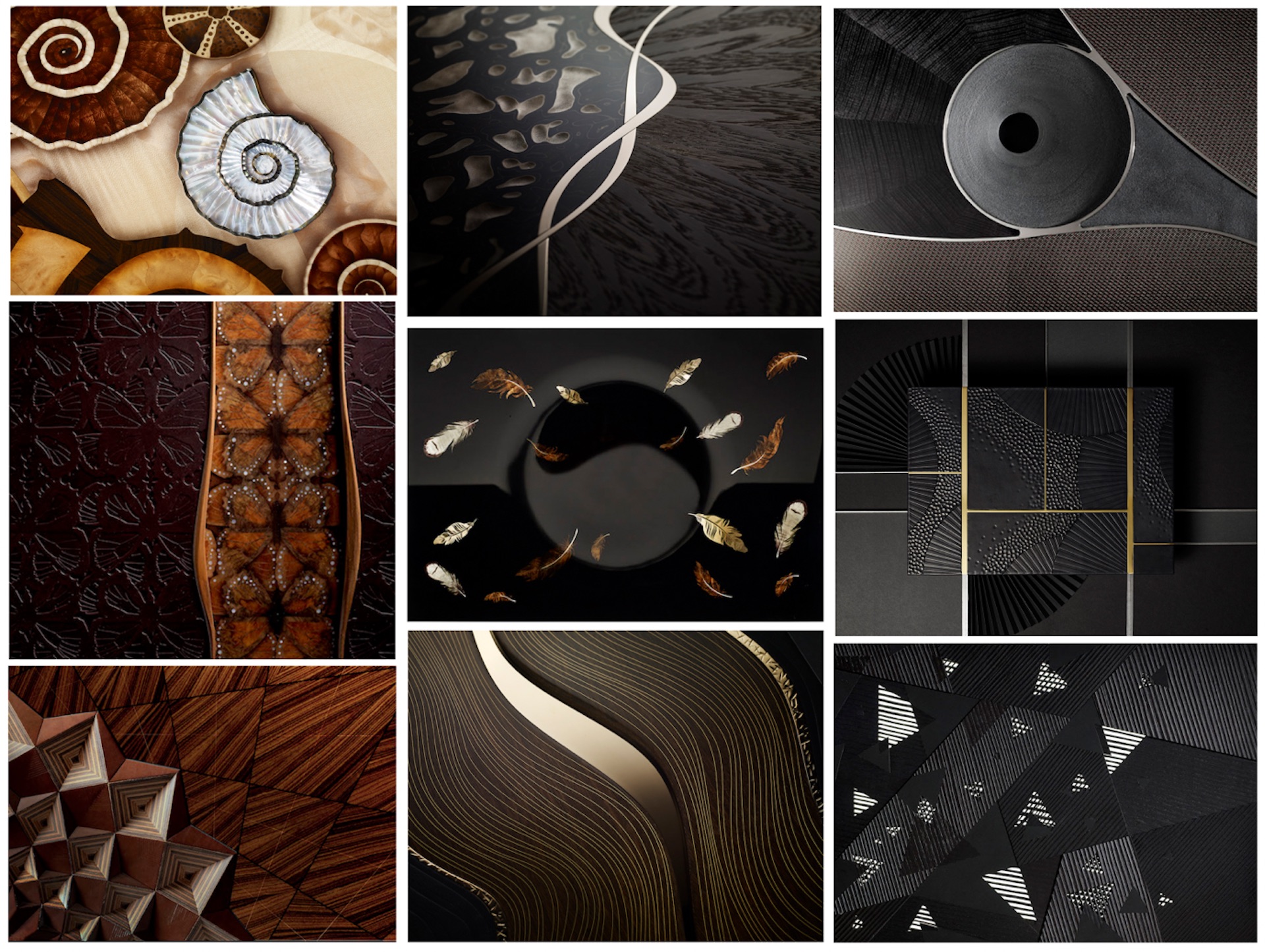 For Silverlining, furniture will always be so much more than just a practical purchase. This is more than evident in its new Provenance collection, which takes inspiration from natural phenomena, cultural heritage and iconic design movements around the world. Provenance features ten new designs in total, including Ammonite Shore, which combines traditional marquetry and 3D mother of pearl detailing; Molton Helix, inspired by the 2018 Hawaiian Kilauea volcano eruption and using polished urushi lacquer, gold metal inlays and bog oak veneer; Slate Pool, which is machined to reveal its metamorphic layers; and Monarch Migration, which is inspired by the annual 2,500-mile migration of millions of Monarch butterflies from their summer breeding grounds to spend the winter in south west Mexico.
Silverlining's progressive design ethos is combined with traditional, time-honoured craftsmanship techniques, as well as the very latest technologies, to create heirloom furniture for palaces, galleries, yachts, private jets and homes around the world.
See the full collection at silverliningfurniture.com
Joro Experiences Achieves B Corp Status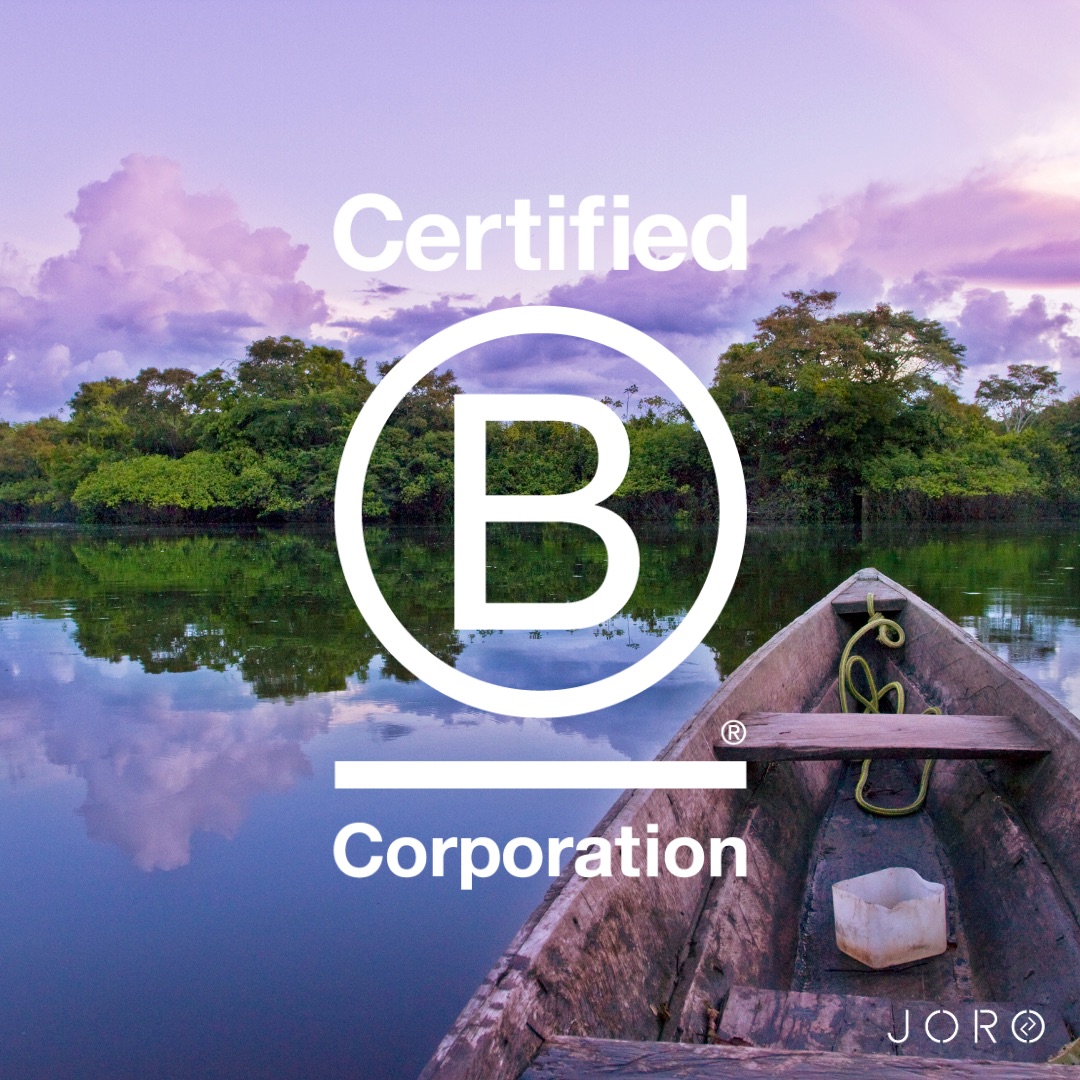 Boutique British travel company Joro Experiences has become the first small luxury adventure travel company in the UK to achieve coveted B Corp status. Certified B Corporations are 'businesses that meet the highest standards of verified social and environmental performance, public transparency, and legal accountability to balance profit and purpose,' according to the B Corp website. 
Joro Experiences accomplished this significant achievement (B Corp is rigorous and lengthy in its checks) by demonstrating its commitment to reducing its carbon output and working with responsible partners and suppliers. Importantly, the certification also means that customers looking to make responsible holiday choices can be confident of Joro's social and environmental credentials.
Louise Bradley Celebrates 30 Years in Interior Design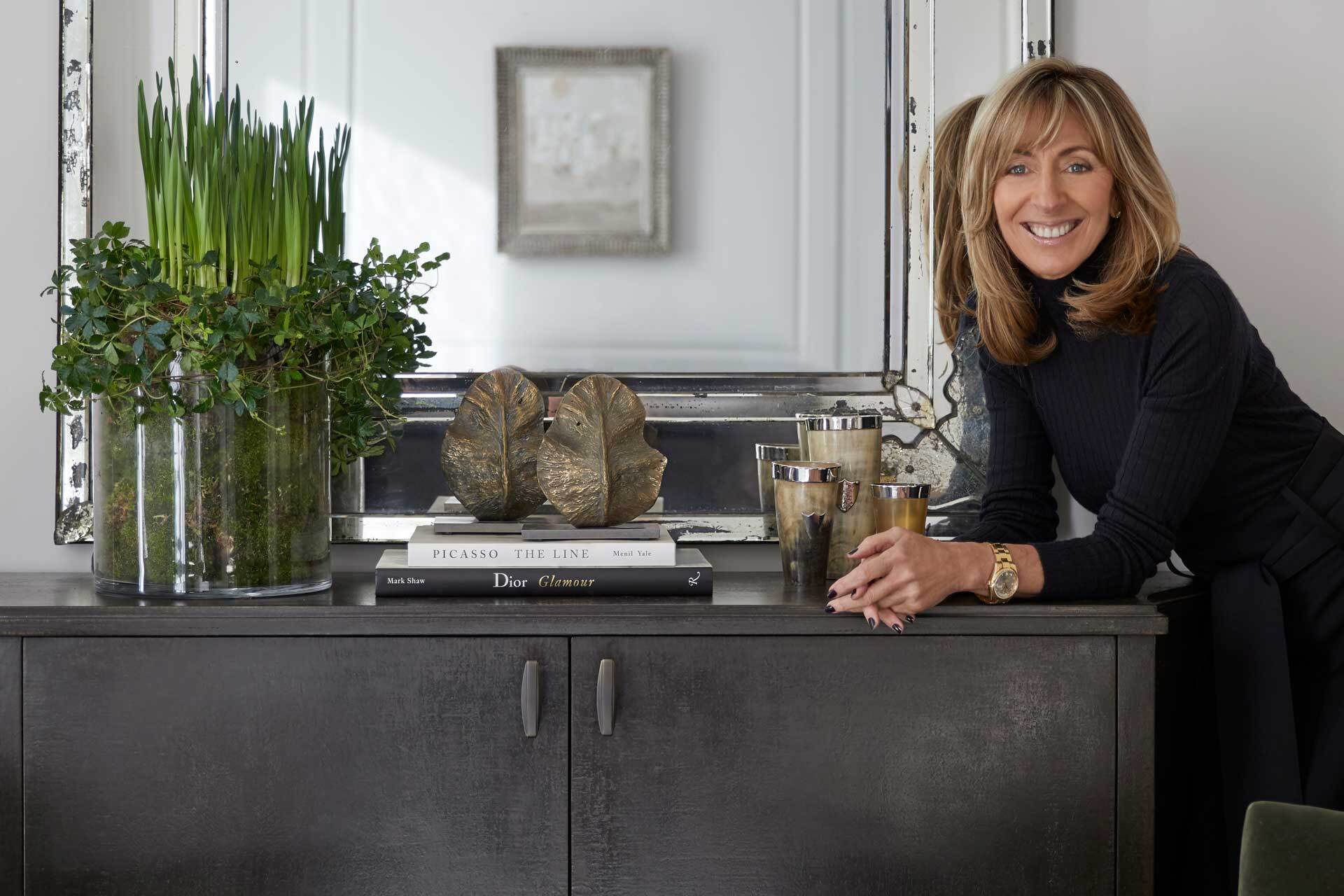 British interior designer Louise Bradley, renowned for her classic-meets-contemporary interiors, marks 30 decades at the helm of her eponymous design studio this year. Entirely self-taught, Louise kicked off her career and passion helping in her father's Hampstead interiors boutique. Since then, her work has taken her across the globe, working on projects that range from Kuwait villas to Swiss chalets.
'My interiors are timeless and elegant, yet full of life, with detail, textures, subtle tones and careful layering of bespoke finishes and accessories. They combine classic elements such as period interior architecture, the love of symmetry and antique pieces of furniture, with clean contemporary lines and modern functionalities, which are home essentials. The classic contemporary interiors also provide ample opportunities to reflect owners' tastes and preferences and make the spaces truly personal,' says Louise.
She is marking the anniversary with a brand-new residential project in Mayfair for an Asian client who wanted to infuse oriental craftsmanship in a timeless style. Louise is also giving her own home a modern refresh, and launching a book in the autumn, which will explore three decades of Louise's signature style from some of Louise's most-loved projects.
The Knightsbridge Estate Unveils First Look at One Hooper's Court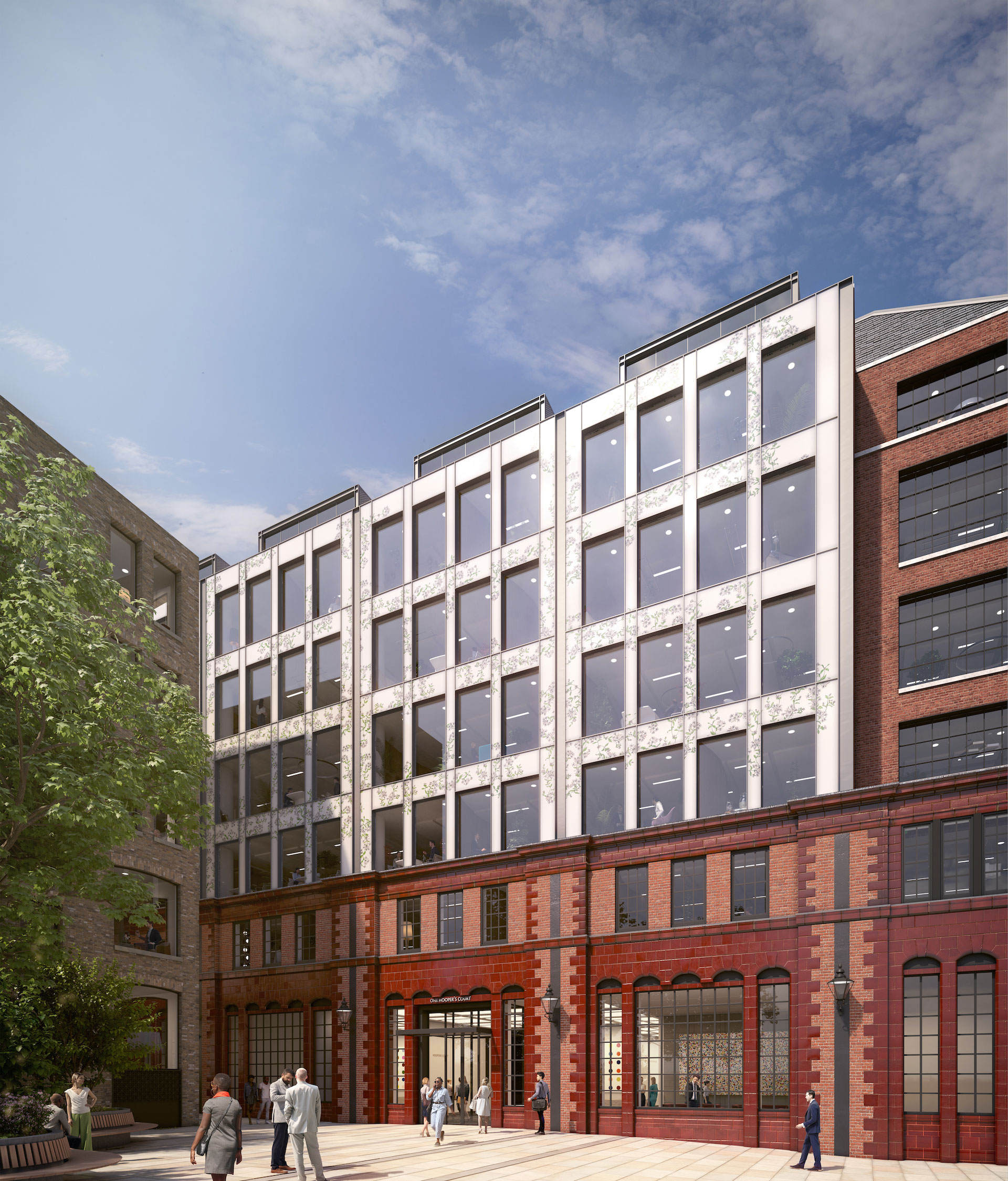 There's a slick new addition to the Knightsbridge Estate. One Hooper's Court will be an office building on a magnificent 67,000 sq ft island site in Knightsbridge, elegantly sandwiched between Harvey Nichols and Harrods and bounded by Brompton Road, Sloane Street, Basil Street and Hans Crescent.
'One Hooper's Court is without doubt one of the most prestigious, exciting and interesting commercial opportunities to come to the market,' says Sarah Waller, Senior Asset Manager of The Knightsbridge Estate. 'Its location, design and state-of-the art-facilities make this an unparalleled choice for any business looking to be located in this desirable London postcode and brings with it all the advantages of the newly revitalised Knightsbridge Estate.'
The six-storey office building will have a private roof terrace and accommodate in excess of 700 employees. The eye-catching design by Fletcher Priest Architects will feature a delicate honeysuckle motif on its façade in reference to John Hooper, the 18th-century market gardener who originally laid out Hooper's Court, as well as being a nod to the oxblood red tiles of the original 1930s underground station nearby. The building is set to open in summer 2021.
Garrard Celebrates Colour and Life with New Fanfare Collection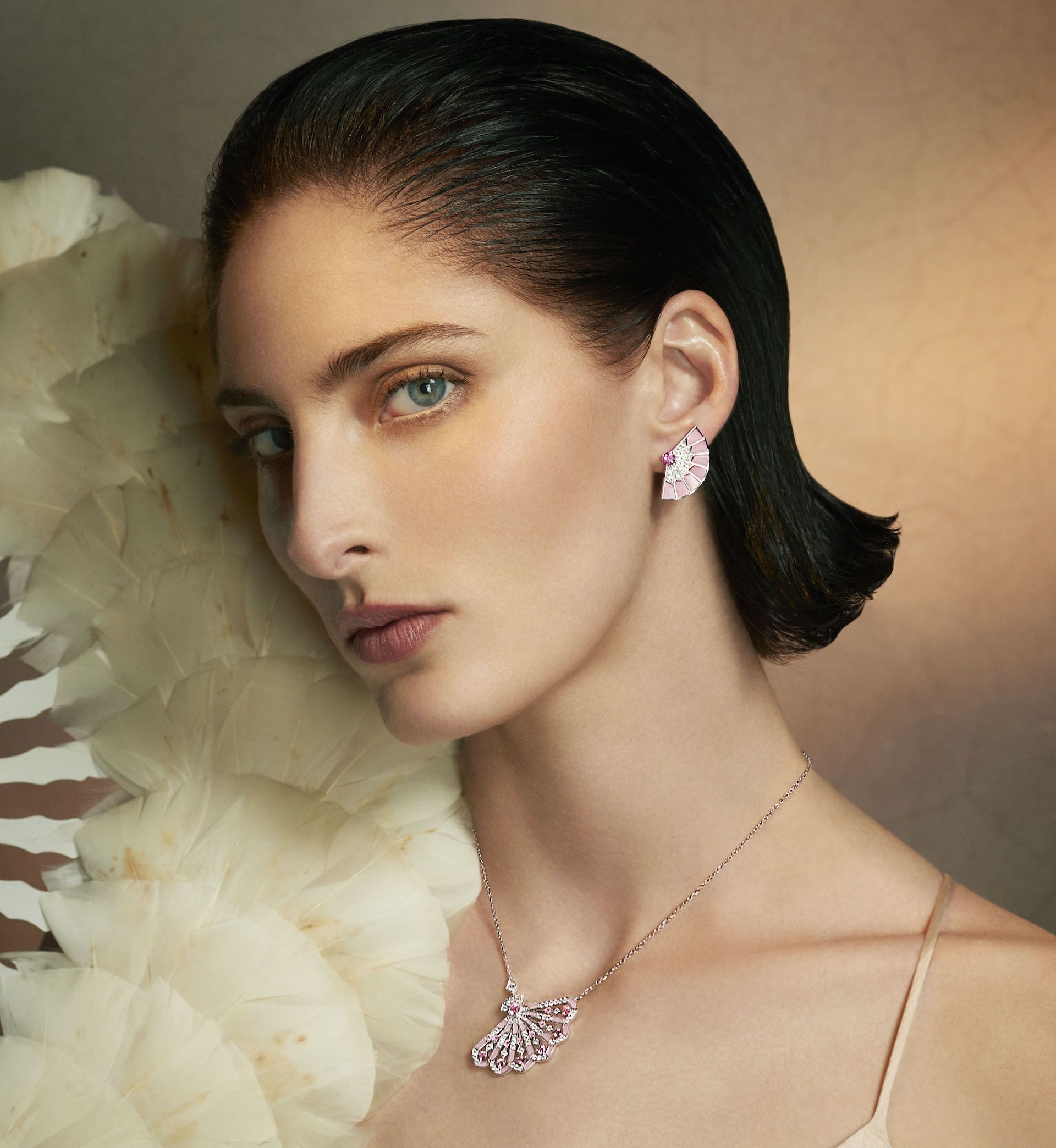 Finally, a welcome antidote to the gloom of winter days. British jewellery Garrard has just launched its new Fanfare Symphony collection, an extension of its beloved Fanfare range. This was originally inspired by the precious fans carried by guests at the opera masquerades that were the height of fashion in London's theatre district when Garrard opened its first boutique in 1735. In turn, Fanfare Symphony is meant to evoke the vibrant colour unleashed as ladies swirled around the ballrooms in their extravagant gowns.
The collection – comprising more than 40 pieces in total – contrasts the opacity of hardstones with the fieriness of gemstones, in doing so accentuating the primary hue of each jewel: pink tourmaline is combined with pink opal; emerald with malachite; sapphire with lapis lazuli; aquamarine with turquoise; yellow sapphire with cachalong; ruby with hematite; and white diamond with mother-of-pearl. Let's just hope we can all get back to the ballroom soon, and do these jewels justice.
Available now, prices start from £4,200. garrard.com
Wedgwood Teams Up with Interior Designer Rachel Chudley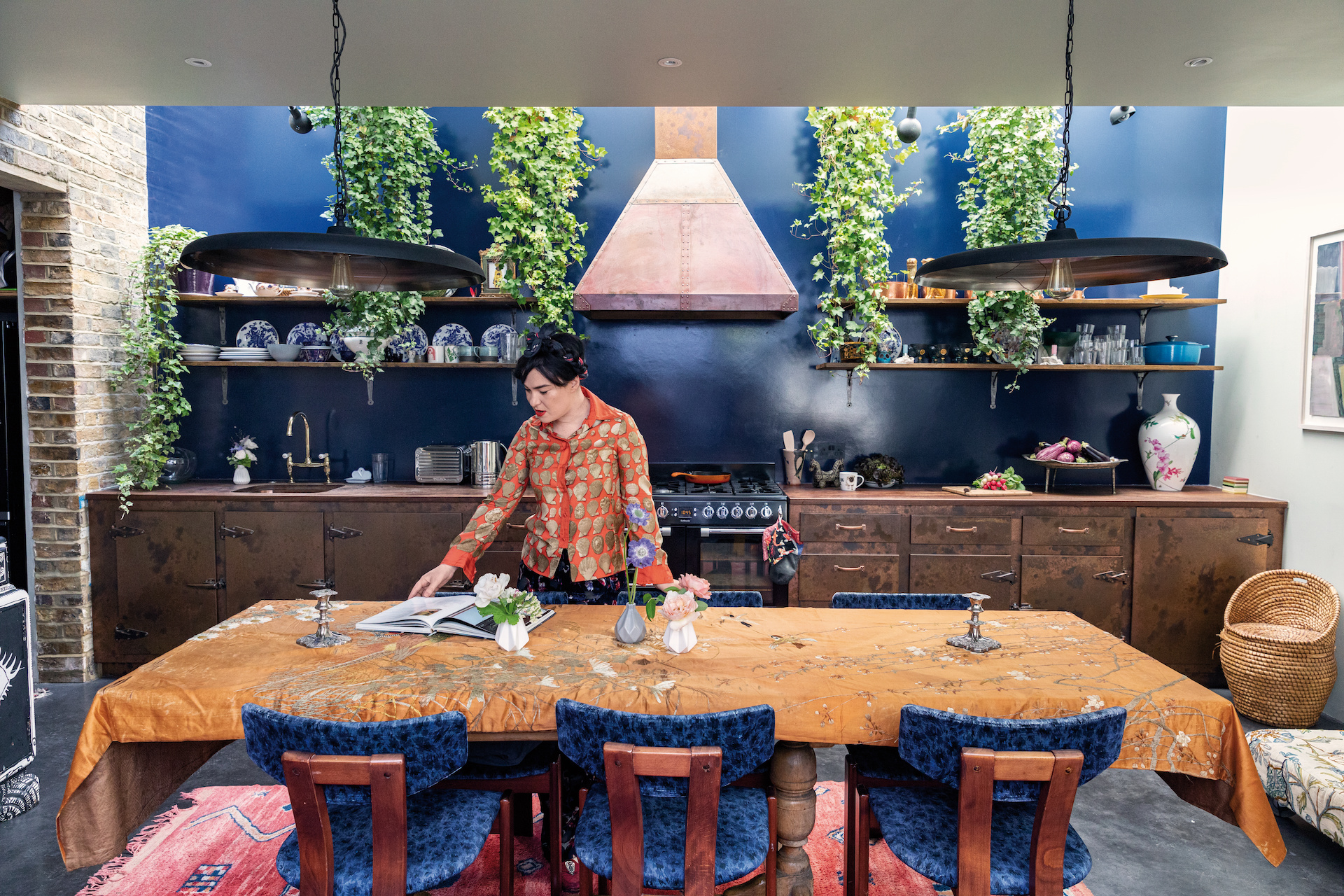 Ceramics house Wedgwood has named interior designer Rachel Chudley as its latest Tastemaker, using her eclectic east London home as the perfect foil for its colourful new collection of classically inspired vases, which feature an intricate hand painted hummingbird design and come decorated with 22 carat gold detailing.
'I am known for my use of colour, but really I like to respond with fresh eyes on each new project. I am inspired by architecture and the people involved in every one of my projects,' explains Chudley, who also welcomes a range of creatives, artists and designers into her nearby studio to work alongside her. This ethos and passion for creativity is mirrored in the new Wedgwood collection, which is a celebration of artistry and craftsmanship, with the hummingbird motif a symbol of joy, playfulness and creative inspiration. 'Creativity to me is everything,' she says. 'I believe ideas are out there, although I am not sure what it is to be truly original as ideas are made up from a lifetime of creative inspiration. I can't pinpoint where my ideas come from, but I am sure they are influenced from many disparate elements.'
As someone who encourages us to embrace the unconventional and allow our interiors to express our personal style, Chudley is the perfect inspiration for a more creative, fulfilling year ahead.
Celtic & Co Receive Second Queen's Award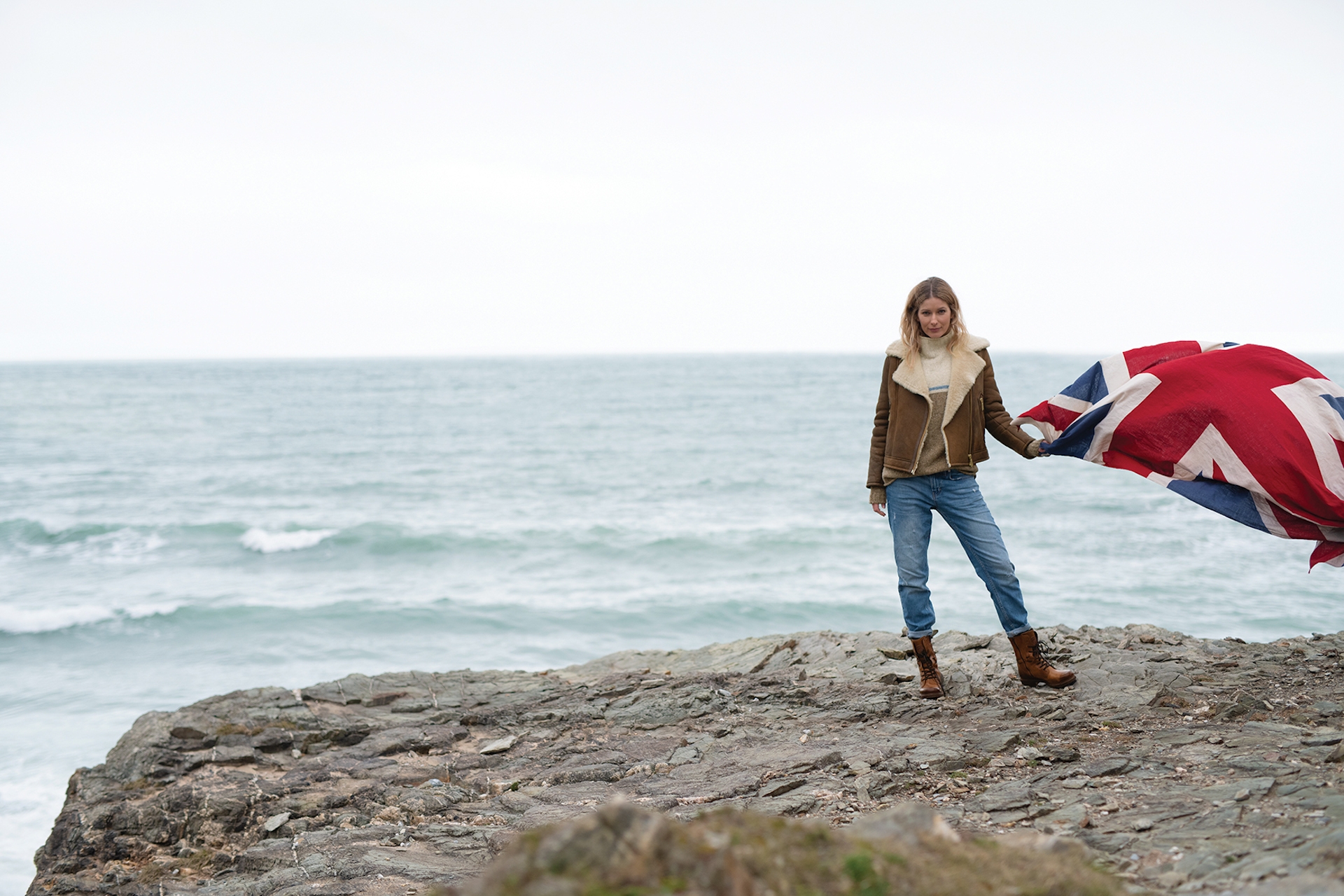 Cornwall-based sheepskin clothing and lifestyle brand Celtic & Co has received a second Queen's Award for Enterprise in International Trade, which was awarded in a small, socially distanced ceremony at its headquarters in Newquay on 17 December. This year, the brand's 30th anniversary, saw sales soar by 60%, an impressive achievement in such a difficult time.
'We're excited by the potential to grow our brand internationally and are seeing a really strong response to the sustainable, British-made ethos that encapsulates our products,' says co-founder Kath Whitworth. 'We're looking to grow in countries where we see established groups of consumers who are influenced by the impact their clothing has on the world around them and understand how best to reduce the environmental footprint of their clothing purchases.' The brand is confident that its growth will continue into 2021 as more and more people discover its products.
Duke + Dexter Debut New City Sneakers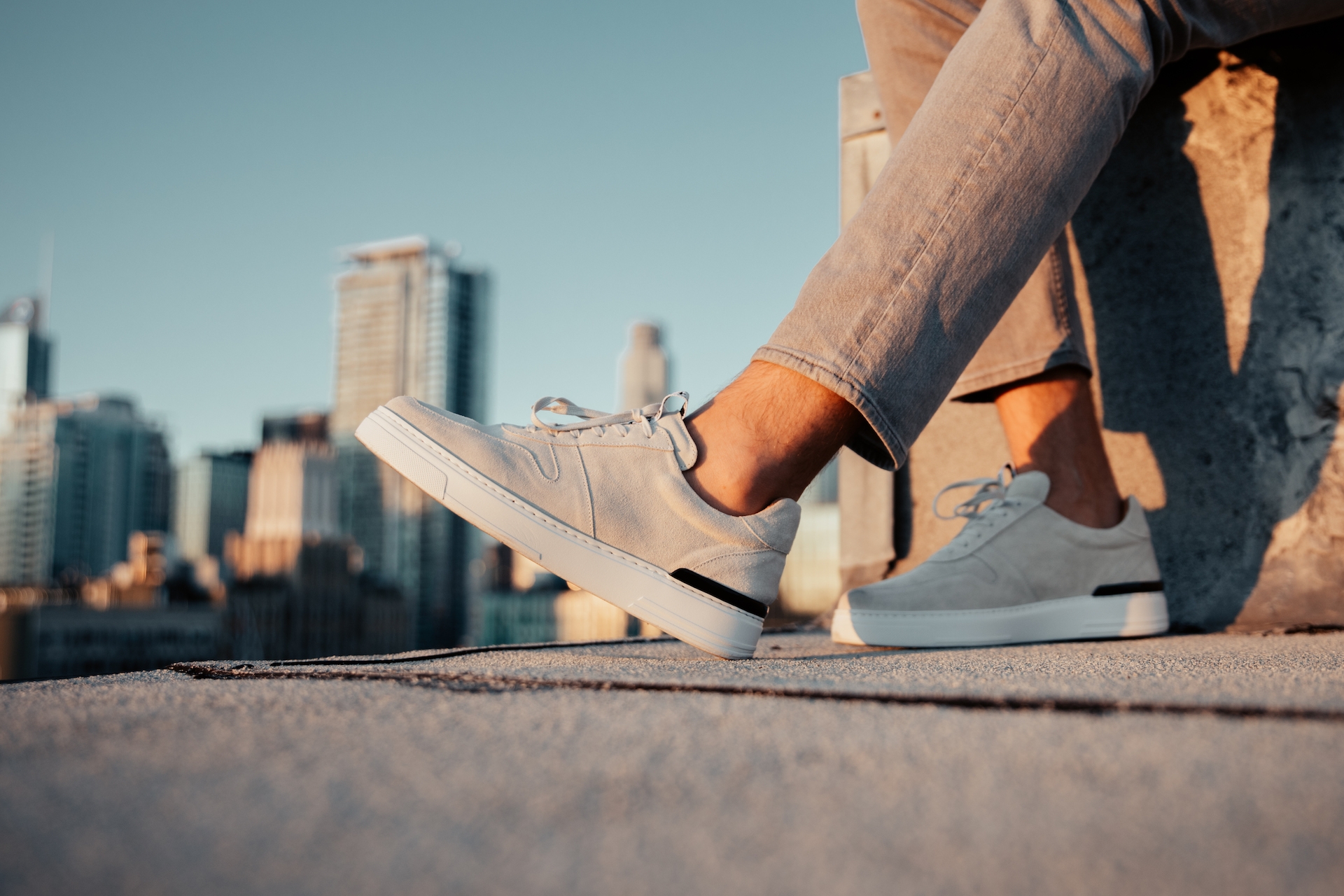 Looking for cool new kicks with a conscience? British brand Duke + Dexter has you sorted with its new Ritchie sneakers. Handmade in England, the sneakers are made from sustainably sourced materials and boast a specially designed sole unit and extra padding in the heel for ultimate comfort when you're strolling the city streets. With no flashy logos or garish colours, these sneakers are made for men of style and substance who want to walk, not run.
£220, dukeanddexter.com
Artist Deborah Brett Launches New Collection with Bertioli by Thyme
Your Christmas tablescape, sorted. Ceramic artist Deborah Brett has teamed up with aspirational lifestyle brand Thyme to create a unique collection of beautiful tableware. Responding to the hand-painted foliage and striped stem designs of the Bertioli by Thyme linens, Deborah produced a collection of free form stoneware bowls, platters and porcelain serviette rings in rich tones of red and green, edged with 24-carat gold. Her richly glazed pumpkins add a joyful and quirky touch. 'I wanted to take Caryn's rich hues of green and red and hand paint them onto my fluted bowls, platters and napkin rings,' explains Deborah. 'The perfect accompaniment to her great sense of capturing nature.'
Made in Britain with JW Anderson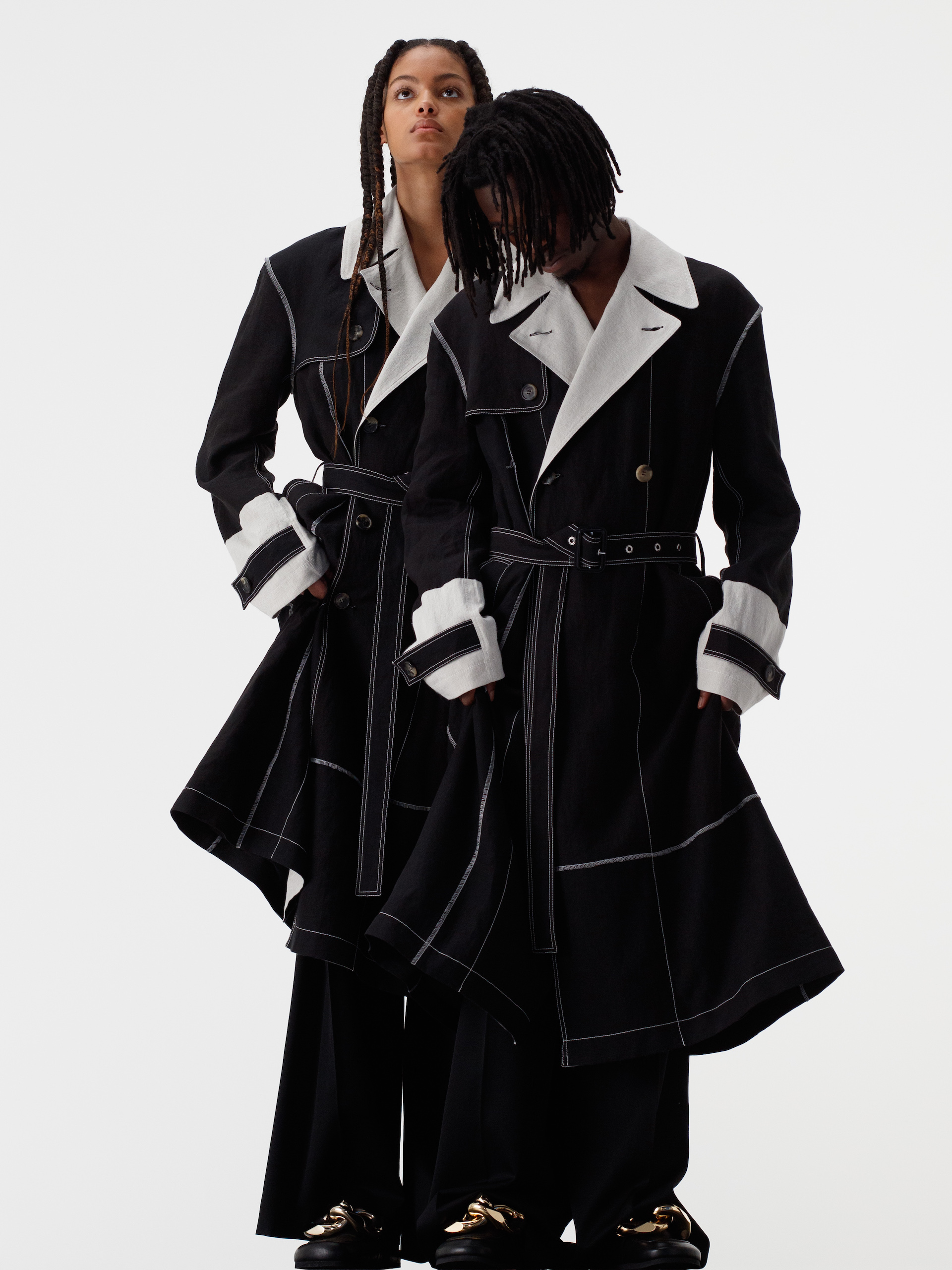 Fashion world-favourite JW Anderson has just launched a new Made in Britain collection, a limited-edition, eco-conscious capsule. It's all made in UK-based factories using surplus fabrics and trims from previous seasons. For the range Anderson reimagined some of his brand's signature designs, including oversized shirts and a trench, with techniques he's also become known for: patchwork, reverse stitching and raw seams.
'It is really important for me that we become more eco-conscious and sustainable even as a relatively small brand. The idea with Made in Britain was to create something new but be resourceful with materials we already have and keep the production local,'  said Anderson. 'We've also started using recycled materials in our canvas totes and backpacks. These are beginning steps but I want them to be real and concrete as we work to become more sustainable every year.'
Available exclusively at JW Anderson's London Soho flagship store and online. jwanderson.com
Travel the World with A JING Tea Subscription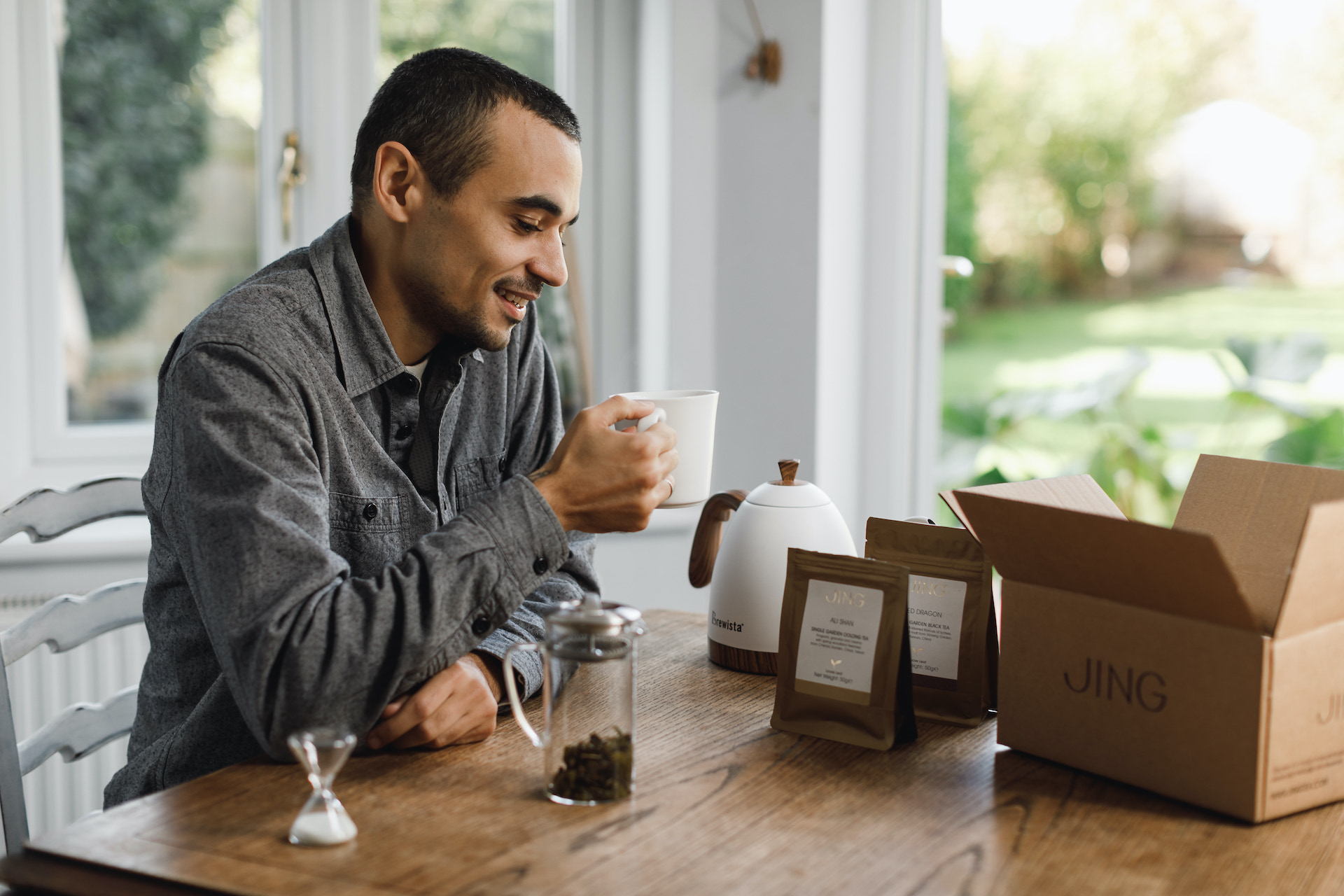 British tea connoisseur JING tea has just launched two new tea subscriptions, ideal for expanding both palates and horizons in lockdown. The Explorer subscription is for those who are new to single garden tea, and features a selection of teas based on the seasons, covering the key types, tastes and origins. The Adventurer is for tea drinkers who want access to the rarest teas – the ones that are only ever made in small batches and not usually found outside the places they're grown. Available for subscriptions of three or six months, each delivery will include two specially picked single garden teas, as well as an invitation to join a guided online tasting lead by one of JING's tea gurus. From £75.
Browns Celebrates 50 Years 
Believe it or not, Mrs B – the one and only Joan Burstein – founded Browns 50 years ago this October. 'Fifty glorious years and I've loved every minute of it! When I started Browns, my aim was to establish a boutique that created an atmosphere that would capture our customers' imaginations and bring joy when they shopped with us,' says Burnstein herself.
To mark the occasion, and to celebrate its incredible fashion legacy supporting new designers, the store has collaborated with brands like Givenchy, Off-White, Manolo Blahnik and Pucci to create an exclusive capsule collection. For this, Browns asked the designers to look back into their archives and design an exclusive collection of pieces drawn from their personal 'Height Of Fashion' moments. The result? Pom-pom pumps from Aquazzura; the ultimate pinstripe trousers from Jil Sander; a Pepto-pink or baby blue smocked tulle dress from Molly Goddard that Villanelle would be happy to wear. Happy shopping…
Stella McCartney's Spring '21 Collection is a Green Manifesto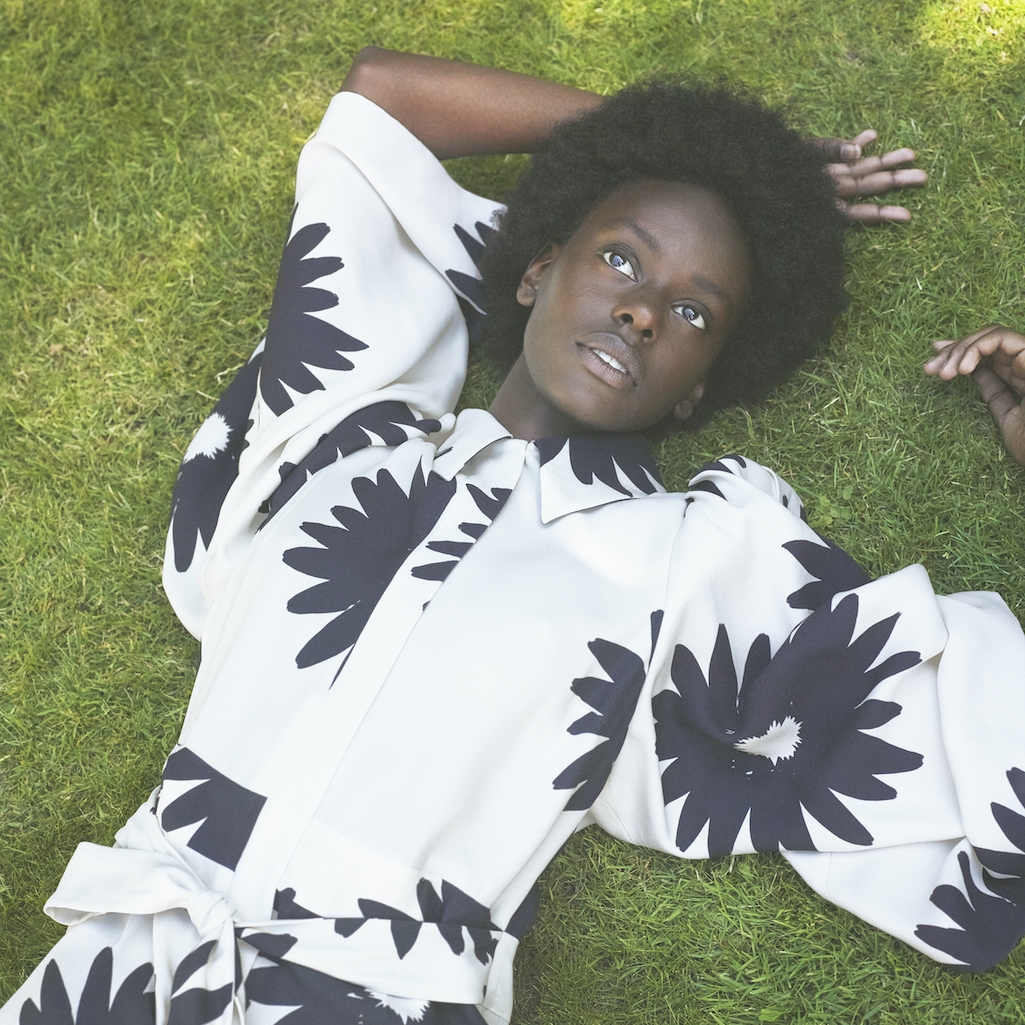 In October, Stella McCartney launched her 'McCartney A to Z Manifesto', a blueprint for her brand's values and future intentions thought up during lockdown. This November the designer is launching her Spring '21 collection, with every look coinciding with a letter from the manifesto. The collection centres around a palette of neutrals, bursting with energetic reds and golds; a monochromatic floral print breaks through. As always, sustainability and the environment are at the heart of McCartney's collection, with two zero-waste dresses made from repurposed silk and forest-friendly viscose, biodegradable stretch denim in the form of jeans and a jumpsuit and limited-edition pieces resourcefully made from old-stock fabrics.
Bentley Unveils Three New Fragrances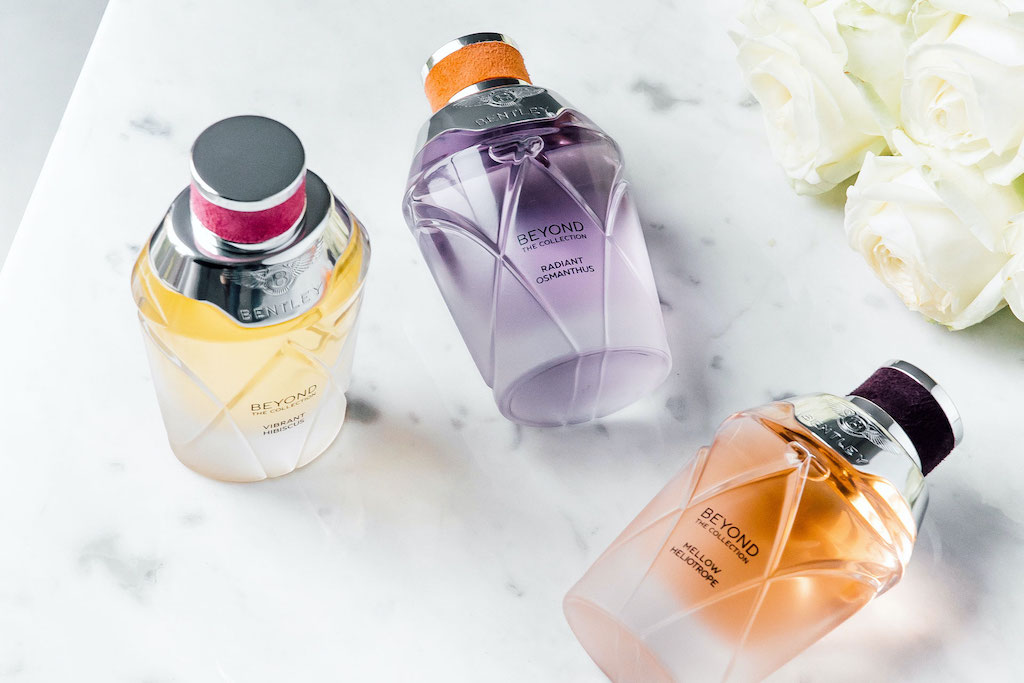 Travel has always been part and parcel of Bentley Motors' identity. Now, it's expanded its Bentley Beyond fragrance collection with three new scents inspired by extraordinary landscapes around the world: Radiant Osmanthus by Kyoto, Japan, with top notes of mandarin and orange blossom; Mellow Heliotrope by Lima, Peru, with essence of heliotrope, blackcurrant, vanilla, praline and strawberry; Vibrant Hibiscus by Seoul, South Korea with a floral touch of scarlet peony, crimson Turkish rose and pink hibiscus. Each are totally individual, and embody the unique characteristics of joy, tenderness and passion, respectively.
£165 each. shop.bentleymotors.com
Shoes Inspired by James Bond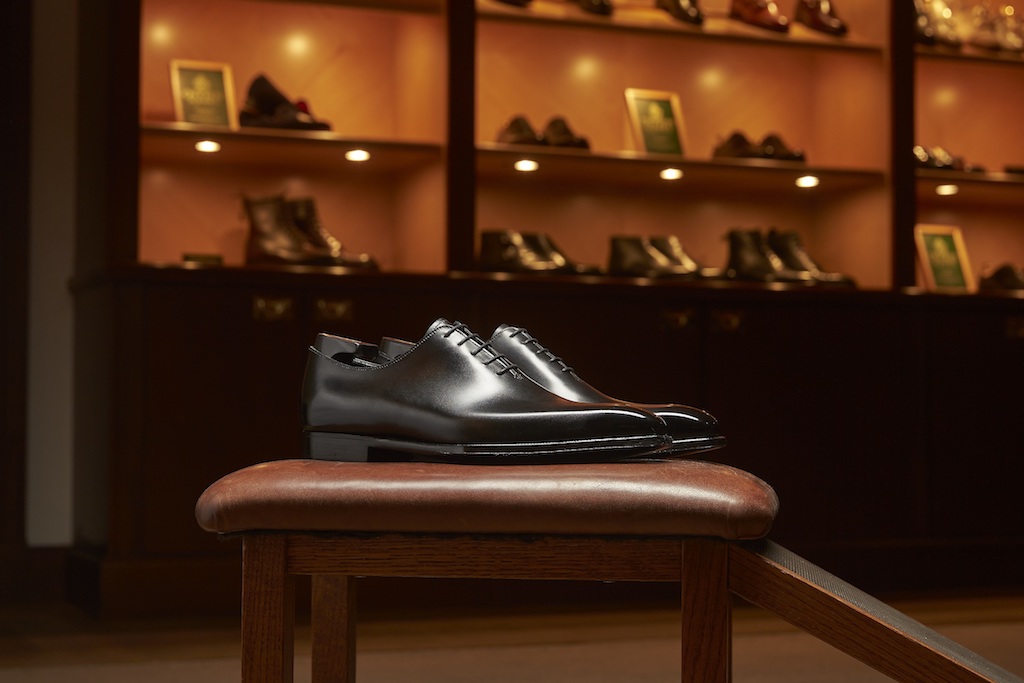 With No Time to Die finally coming out in November, Crockett & Jones is underpinning its British appeal by turning to our ultimate British hero James Bond for inspiration –teaming up with 007 film-maker EON Productions to create the limited-edition, 'James' shoe in black box calf, inspired by James Bond's tuxedo.
ENO Breathe – How Singing Can Help Covid-19 Patients Recover
Ever innovative English National Opera, which just brought us La Bohème as a fabulously creative and fun 'Drive and Live' performance at Alexandra Palace, has just launched ENO Breathe. ENO has teamed up with London's Imperial College Healthcare NHS Trust to help Covid-19 patients get back to respiratory health and overcome breathing anxiety – by singing. The programme focuses on lullabies, manageable even to the least confident singers, tapping into breathing and singing techniques that can help people back to wellness.
Browse our Great British Brands 2020 here, or buy a print copy of Great British Brands 2020, here.