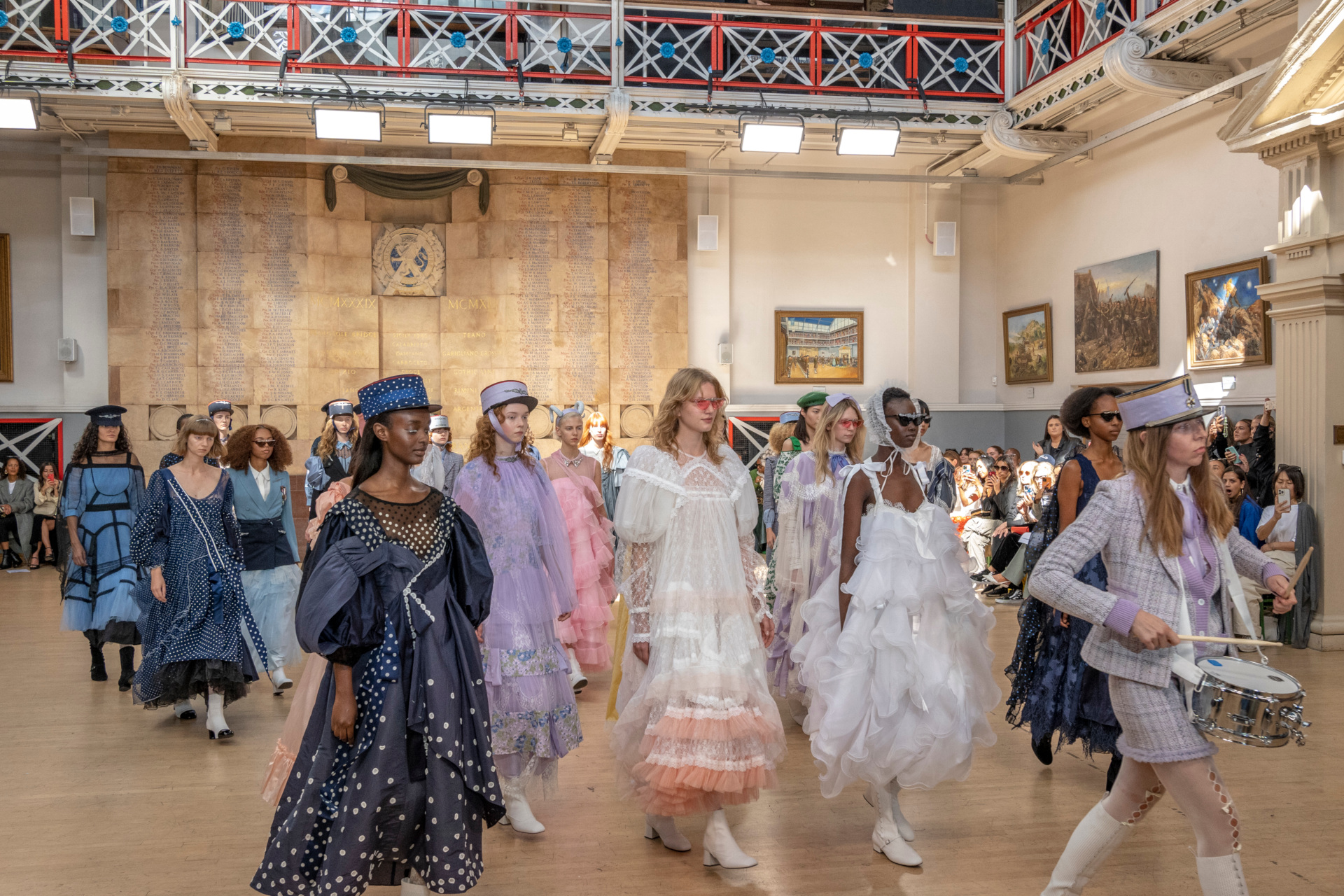 The Designers to Watch at London Fashion Week AW23
---
From Bora Aksu to Molly Goddard, these are the designers you won't want to miss...
The world's fashion elite are about to descend on the UK capital for another edition of London Fashion Week. Back with a bang after several seasons under COVID restrictions, LFW sets the stage for groundbreaking presentations, Insta-worthy runways and glamorous after-parties. Here, we've rounded up the brands we're excited to see…
The Designers to Watch at London Fashion Week February 2023
If there's one thing British designer Bora Aksu knows how to do, it's how to tell a story with his collections. A public favourite since his Central Saint Martins graduate show in 2002, the designer creates whimsically romantic designs that are hyper-feminine and gloriously colourful. Think dainty lace, bejewelled collars, flowing skirts and a sugary colour palette. Inspired by the past, many of Bora Aksu's collections feature historical notes – from opera gloves and lace-up heeled boots to extravagant bows and lace lapels.
When: Friday 17 February 2023 at 11am
Born and raised in London, Molly Goddard is one of the rising stars of UK fashion design. Her designs combine large flowing shapes and excesses of fabric with an emphasis of volume, creating stunning silhouettes that maximise the wearer's presence. Signature looks emphasise tulle, taffeta, organza and silk, in vibrant colours and shapes. By manipulating fabric, whether through hand-smocking, shirring or layering, Goddard has created a name for herself as a designer that can handle bold dramaticism while still being stylish and contemporary.
When: Saturday 18 February 2023 at 2pm
Puffed sleeves, romantic silhouettes and feminine designs lie at the heart of Simone Rocha's unique style. Already established as an internationally award-winning brand, Simone Rocha has three stand-alone stores in London, New York and Hong Kong. The Irish designer has been showing her collections as part of London Fashion Week since 2010, and continues to impress with collections that bring fashion into the realm of fine art. Be sure follow the brand on Instagram for dreamy crisp colour palettes and embroidered fabrics.
When: Sunday 19 February at 6pm
London womenswear brand yuhan wang launched in 2018, and has since become associated with celebrations of femininity under the lens of romantic nostalgia. The brand brings to life an aesthetic inspired by whimsical elegance, playing with hyper-femininity and understated beauty. In doing so, the brand also subversively de-constructs the traditional notions of female fragility and sensitivity. More broadly, the brand explores founder yuhan wang's interest in the flux between the idea of traditional Chinese femininity and its connections to Western culture.
When: Sunday 19 February 2023 at 7pm
RIXO is a brand born from a love of vintage clothing, and centres itself around the principles of timelessness and cyclicality. Designs therefore don't adhere to trends or seasons, instead simply relying on the things we like and will wear over and over again. Founded in 2015 by Henrietta Rix and Orlagh McCloskey, RIXO has reached a global audience with its messages of reuse and preservation and has earned the recognition of a brand to watch. The brand has tallied up an impressive amount of awards since its conception, including the British Fashion Council in October 2017 and Premium Brand of the Year at Drapers Awards in November 2018.
When: Monday 20 February 2023 at 3.30pm
Burberry
We don't know about you, but one of the first designer labels that comes to mind when we think of fashion is Burberry. The brand, which is a Royal Warrant holder, is one of the most recognisable in the world and has a rich history attached to it. Founded in 1856, the brand is famed for its classic trench (which has been revived and reworked over the years) as well as its signature plaid. When it comes to London Fashion Week, expect expertly tailored clothing, strong silhouettes and lots of layering. We're more excited than ever to see Burberry take to the runway for London Fashion Week, as last season the luxury brand delayed its show by a week following the sad passing of Queen Elizabeth II.
When: Monday 20 February 2023 at 6pm
WATCH
You can see the full lineup for London Fashion Week AW23 via londonfashionweek.co.uk
Featured image: Bora Aksu SS23 (c) Stefan Knauer