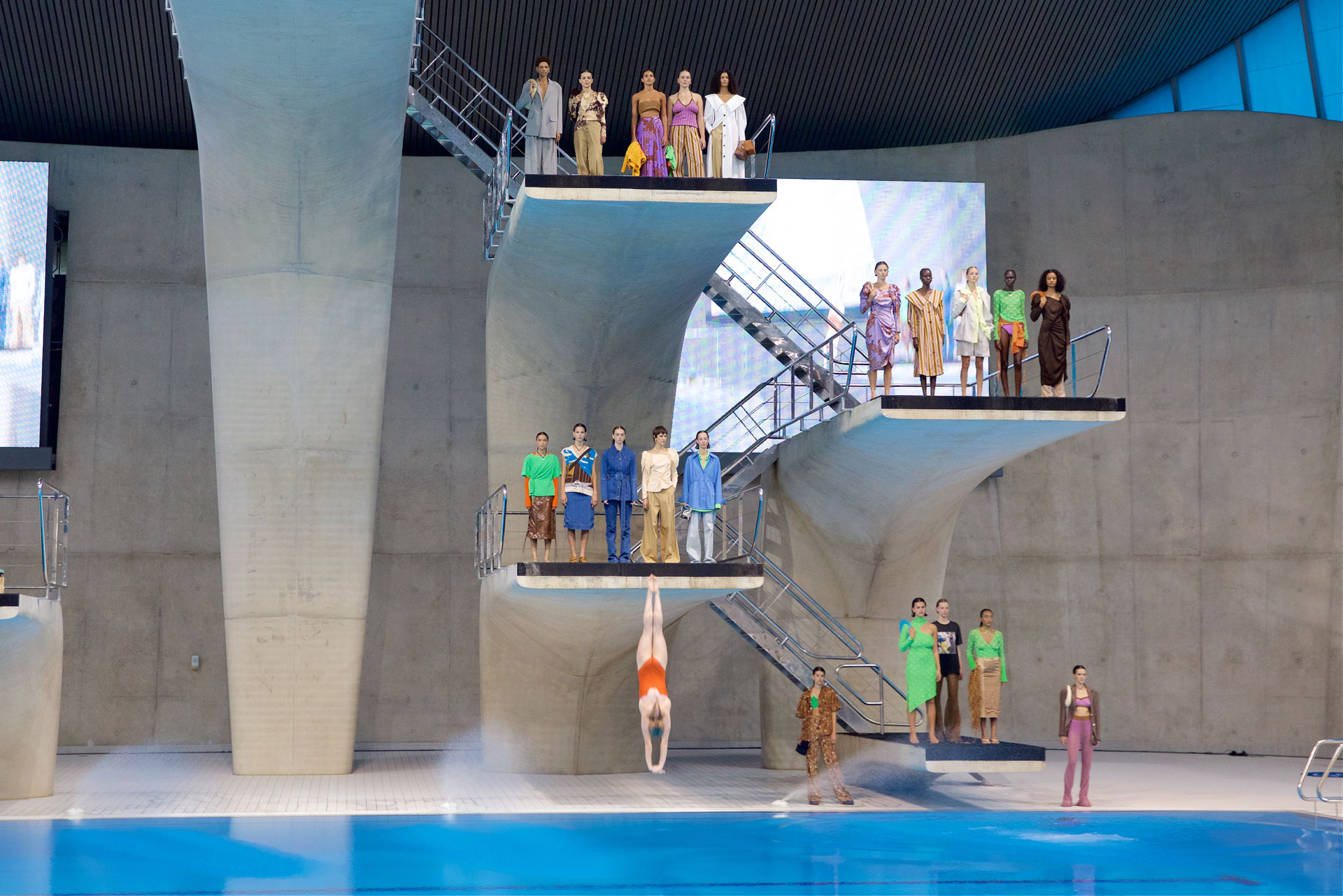 The Designers to Watch at London Fashion Week
---
From Supriya Lele to Molly Goddard, these are the designers you won't want to miss...
Brace yourselves; London Fashion Week is near – and this time, we'll get to see a hybrid of digital and in-person events. With over 100 brands taking to the runway (virtual or no), we can expect to see collections that will break boundaries, stun audiences, and leave us wanting more. Here, we've rounded up the brands we're excited to see. From fresh-faced newcomers to firm favourites, these are the designers to watch…
The Designers to Watch at London Fashion Week February 2022
RIXO is a brand born from a love of vintage clothing, and centres itself around the principles of timelessness and cyclicality. Designs therefore don't adhere to trends or seasons, instead simply relying on the things we like and will wear over and over again. Founded in 2015 by Henrietta Rix and Orlagh McCloskey, RIXO has reached a global audience with its messages of reuse and preservation and has earned the recognition of a brand to watch. The brand has tallied up an impressive amount of awards since its conception, including the British Fashion Council in October 2017 and Premium Brand of the Year at Drapers Awards in November 2018. As parts of its SS22 showcase, RIXO took over the Barbican Conservatory to showcase its holiday-themed 'Bon Voyage' collection – but where will the brand take us next? RIXO will take to the runway on Friday 18 February 2022.
Born and raised in London, Molly Goddard is one of the rising stars of UK fashion design. Her designs combine large flowing shapes and excesses of fabric with an emphasis of volume, creating stunning silhouettes that maximise the wearer's presence. Signature looks emphasise tulle, taffeta, organdy and silk, in vibrant colours and shapes. By manipulating fabric, whether through hand-smocking, shirring or layering, Goddard has created a name for herself as a designer that can handle bold dramaticism while still being stylish and contemporary. Molly Goddard's last LFW offering saw her blow up the dresses she wore as a child to adult size, creating nostalgic and youthful visuals in a spectrum of vibrant colour. Molly Goddard will take to the runway on Saturday 19 February 2022.
Daniel w. Fletcher rose to fame after appearing on Netflix's Next in Fashion, where he turned heads for designs that played on the boundaries between masculinity and femininity – all while keeping each of his garments structured and chic. Fletcher's eponymous unisex brand has since gained a huge following, with the likes of Dua Lipa, Harry Styles and Josh O'Connor all spotted wearing Daniel w. Fletcher designs. The former Central Saint Martins graduate has also been the recipient of multiple awards, most recently the title of Breakthrough Designer of The Year by British GQ. For SS22, Daniel w. Fletcher presented 'North by Northwest', a menswear collection that highlighted the brand's signature attention to details and construction. Daniel w. Fletcher will take to the runway on Saturday 19 February 2022.
London womenswear brand yuhan wang launched in 2018, and has since become associated with celebrations of femininity under the lens of romantic nostalgia. The brand brings to life an aesthetic inspired by whimsical elegance, playing with hyper-femininity and understated beauty. In doing so, the brand also subversively de-constructs the traditional notions of female fragility and sensitivity. More broadly, the brand explores founder yuhan wang's interest in the flux between the idea of traditional Chinese femininity and its connections to Western culture. For its SS22 showcase, yuhan wang set up a feminist dialogue in response to the spike in violent attacks on women in the UK. The collection featured feminine patterns and silhouette, as well as references strong female figures throughout history – from American ranchers to Victorian adventurers. yuhan wang will be featured on the NEWGEN Catwalk Space on Sunday 20 February 2022 and will also be showing on the digital runway on Tuesday 22 February 2022.
Puffed sleeves, romantic silhouettes and feminine designs lie at the heart of Simone Rocha's unique style. Already established as an internationally award-winning brand, Simone Rocha has three stand-alone stores in London, New York and Hong Kong. The Irish designer has been showing her collections as part of London Fashion Week since 2010, and continues to impress with collections that bring fashion into the realm of fine art. Be sure follow the brand on Instagram for dreamy crisp colour palettes and embroidered fabrics. Staying true to the brand's aesthetic, Simone Rocha's SS22 offering was comprised of frilled dresses, laced tiers, oversized peasant collars, strings of pearls, leather corsets and harnesses. Simone Rocha will take to the runway on Sunday 20 February 2022.
Supriya Lele has risen up in recent years as one to watch when it comes to the runway. Her eponymous brand was launched after she was selected to showcase her work as part of Fashion East, debuting at London Fashion Week in 2017 with a presentation in the Tate Modern. In 2020, she was awarded a portion of the LVMH Prize fund which was split across all eight finalists for the first time ever. Some of the world's most famous women have donned clothing from Supriya Lele, including Ariana Grande, Rhianna and Olivia Rodrigo. Inspired by her Indian heritage and British cultural idenity, Lele uses her work to explore how the two come together. Supriya Lele will be featured on the NEWGEN Catwalk Space on Monday 21 February 2022.
London-based fashion brand Rejina Pyo has been steadily making waves since its founding in 2014, clocking up an impressive clientele that includes the likes of Megan Markle, Leandra Medine and Eva Chen. Accessibility and inclusion lies at the heart of the brand's ethos, exploring 'dressing as an everyday phenomenon, both mundane and extraordinary, for women all over the world'. Rejina Pyo turned heads with its SS22 offering, when it took over the London Aquatics Centre to showcase a summery collection featuring Team GB divers. We wonder how the designer will make a splash this year? Rejina Pyo will take to the runway on Monday 21 February 2022.
One of the most-loved designers in London fashion history is Vivienne Westwood, who has been designing alongside her partner Malcolm McLaren since 1971. Considered a symbol of the British avant-garde movement, Westwood continues to inspire designers all over to world to challenge perceptions of normalcy and break down aesthetic barriers. Now one of the last global fashion companies in the world, Vivienne Westwood is one of the leading brands at London Fashion Week. For SS22, the brand created a collection that was comprised of 98 per cent low impact and cruelty free materials, following a nautical theme that reimagined the brand's own 'Tied to the Mast' 1998 show. Vivienne Westwood will take to the digital runway on Monday 21 February 2022.
UK-based label VeniceW was founded in 2018 by Parsons graduate Venice Wanakornkul, kicking things off with a collection inspired by paper and tissues. Texture and material form a huge part of the brand's aesthetic, with Wanakornkul considering herself a member of the #FlaxGang (her love for linen is apparent in every corner of her work). When combined with organic shapes and silhouettes, VeniceW is able to create garments that are both chic and edgy, rough around the edges but sleek. You can tell this is a designer who has fun manipulating the materials she holds dear. VeniceW's SS22 collection was yet another love letter to linen, comprised of knitted looks that hit the 'EggSpoon Runway'. VeniceW will be featured on DiscoveryLAB's digital runway on Tuesday 22 February 2022.
Featured image: Rejina Pyo SS22 Presentation
READ MORE
The Must-See Fashion Exhibitions of 2022 / Must-Watch Films & Documentaries for Fashion Fans