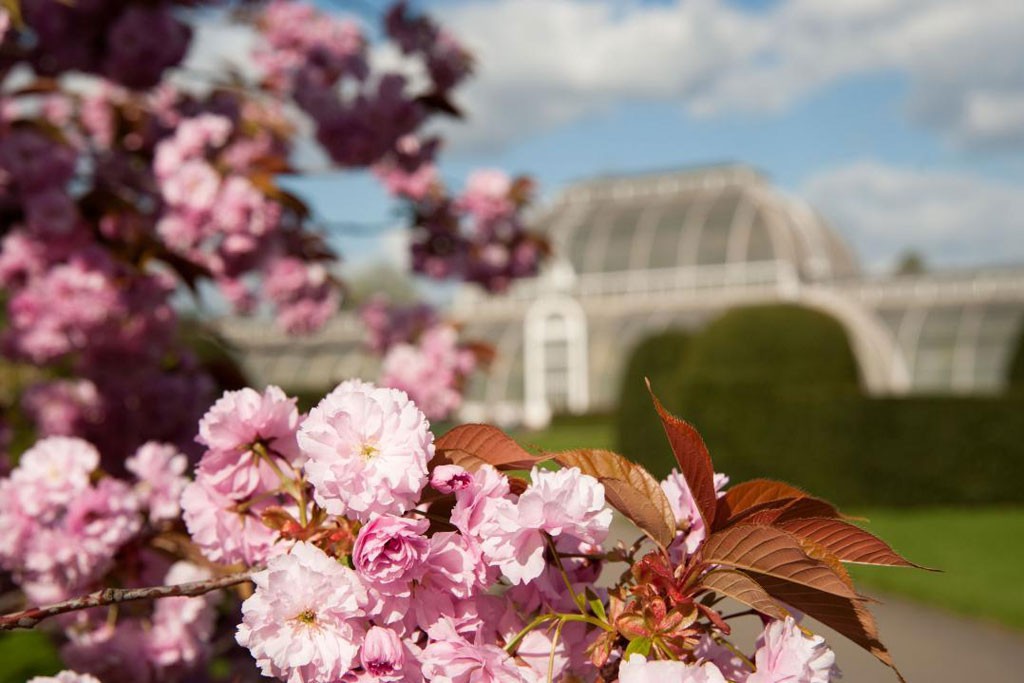 The C&TH Guide to Kew Gardens
---
Make the most of your visit to the Royal Botanic Gardens
Nothing beats a day out at Kew Gardens. The 300-acre Royal Botanic park, dedicated to the vital exploration of plants and fungi, has so much to offer (including more than 50,000 living plants) – and you don't have to be a green-fingered enthusiast to soak it all up. No surprise it was voted the people's favourite garden in a study by Flying Flowers. From the world's largest Victorian glasshouse to the Treetop Walkway, here's our guide to Kew Gardens.
The C&TH Guide to Kew Gardens
If you're not afraid of heights, then you'll love the view from Kew's Treetop Walkway; an 18-metre pathway elevated amongst the treetops which offers unrivalled panoramic views of the greenery below.
What once provided members of the royal family at Kew Palace with fresh fruit and vegetables is now a place in which to explore for yourself. The Kitchen Garden at Kew is a haven for foodies who love discovering homegrown produce, filled with an array of crops – from pumpkins to pears – which are utilised by the garden's resident restaurants.
The closest you'll get to a rainforest in Britain, Palm House at Kew comprises hundreds of tropical plants – many of which are sadly in decline. Located nearby the garden's Victoria Gate and beside the Palm House pond, you'll find the likes of ancient cycads and the world's oldest pot plant in this jungle-like hothouse.
Branded a 'glassy wonderland', Kew's Princess of Wales Conservatory accommodates an incredible array of ecosystems. It is here that you'll find carnivorous plants such as Venus flytraps, plus succulents, orchids, Victoria amazonica (a spectacularly large waterlily) and more. It is also here that Sir David Attenborough buried a time capsule in 1985 comprising of seeds for food crops and endangered species which will potentially be extinct upon its planned opening in 2085.
Make a return to the 17th century with a visit to the Queen's Garden; a tranquil oasis nestled beside Kew Palace and comprising a number of plant species grown in, or before, the 1600s. Walk beneath the laburnum pergola (best visited in summer when the fragrant flower chains are at their best and brightest), and discover some of the oldest sculptures at Kew, including an impression of Verrocchio's 'Boy with a Dolphin'.
The perfect spot for a picnic, delight in 170 species of rose in the Rose Garden at Kew, perhaps the prettiest spot in the entire park. Designed by British landscape architect William Nesfield in 1848, the garden features an abundance of fragrant and prepossessing florals from the pink Rosa 'Princess Anne' to the apricot-coloured Rosa 'Lady of Shalott'.
A trip to Kew can't be had without a visit to Temperate House, the largest Victorian glasshouse in the world. You'll find 1,500 plants species housed in this enormous greenhouse, many of which are now under threat of extinction. Here, you can also explore Kew's history and discover the many ways in which the garden is restoring rare and extinct plants from across the world.
With all that there is to uncover at Kew, you're bound to need a break. Luckily, the gardens are home to a number of restaurants and cafés, from the Pavilion Bar and Grill where you can enjoy a spot of al fresco dining (weather permitting), to the Victoria Gate Café (ideal for stocking up on picnic snacks). There's also The Botanical which serves up delicious garden-inspired afternoon tea, and The Orangery which offers a BBQ throughout the summer. You'll be spoiled for choice.
READ MORE: 
The C&TH Guide to Gardening in London / Sustainable Gardening: A Guide