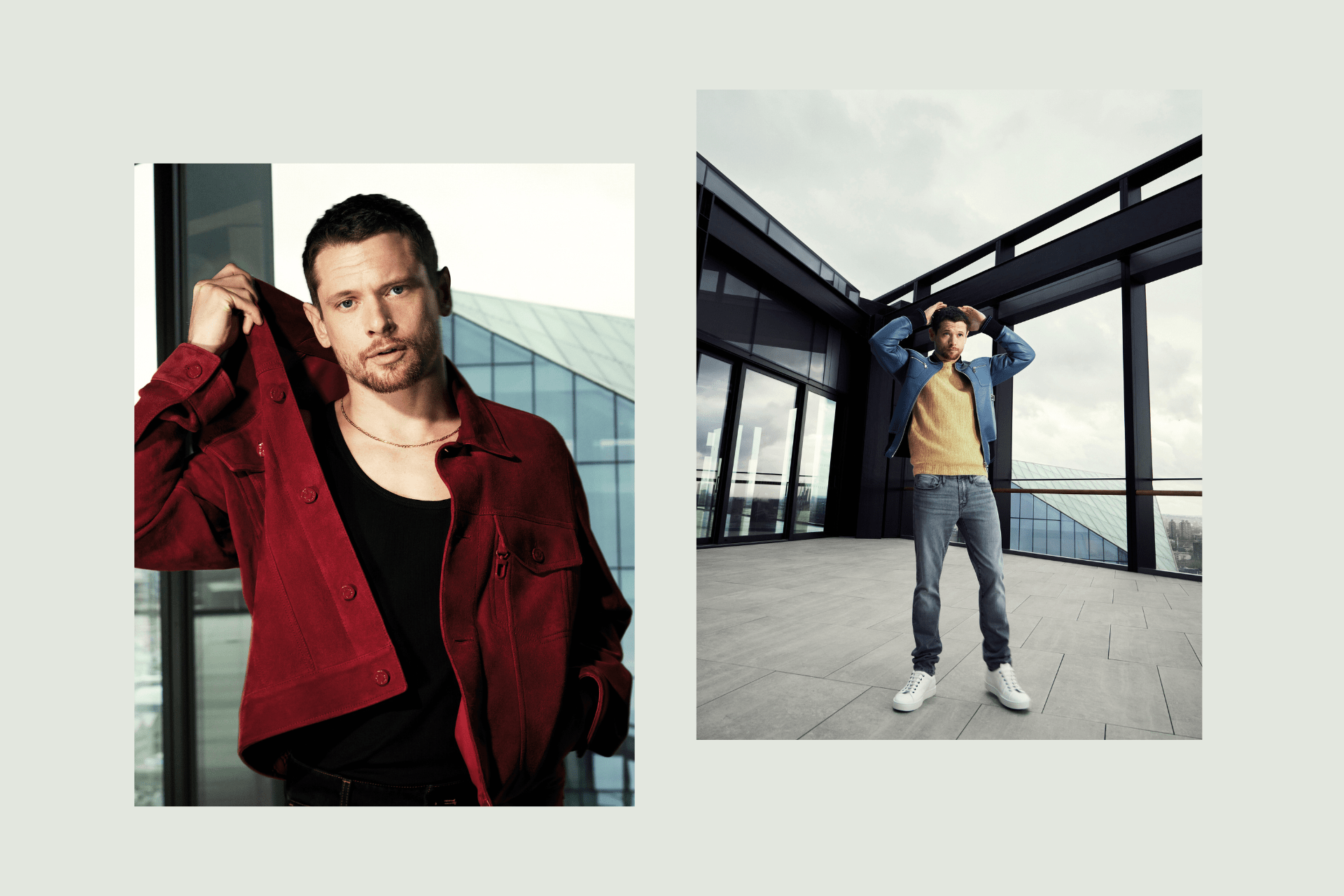 Gentleman Jack: Exclusive Interview with Jack O'Connell
Meet our Jan/Feb cover star and Netflix lead, Jack O'Connell
By Benji Wilson | 10 months ago
Typecast Jack O'Connell at your peril. He may have risen through the acting ranks playing angry, damaged young men, but he is destined to be one of the greats, says Benji Wilson.
Getting Under Jack O'Connell's Skin
Keeping It Lowkey
In the last few years, Jack O'Connell has found himself frozen stiff inside the Arctic Circle, surfing the sand dunes of the Moroccan Sahara and, most recently, careering around the Ferrari autodrome in Modena, Italy. He's spent time falling off boats (for the BBC's The North Water), jumping out of planes (for SAS: Rogue Heroes) and crashing cars (for Michael Mann's forthcoming film Ferrari).
So you can see why, on the rare occasion he makes it home to the UK, he likes to take things down a notch. 'I've got a nice little motorhome that I zip about in,' he says, speaking from his house in north London. 'I bought it because I like to go to Glastonbury and I was doing a few music festivals at the time. It just sort of appeared to be one of the best ways to do it.'
From musical beginnings the O'Connell festival bus has become something of a holiday staple. 'I've managed to get a good bit of mileage on the clock. I've done a bit of Ireland, France; I've got down to Spain – it's just a real nice way to go on holiday. No airport stress and you feel like you're a bit more in charge. There are other stresses, don't get me wrong – like emptying the shit tanks. But it's good. It's the best money I've ever spent.'
There can't be that many other film stars who spend their time pootling about in a camper van, but then Jack O'Connell is not like other film stars. His upbringing in Derbyshire is well documented, to the point where he doesn't want to go over the troubles at school and the run-ins with police again. But they're all a part of him and his hometown evidently still means a lot: when he talks about how he came to be cast in Netflix's recent Lady Chatterley's Lover alongside Emma Corrin, for example, he still sees the world from a local boy's perspective.
Becoming Lady Chatterley's Lover
'I was in Morocco, we were just finishing Rogue Heroes, it had been exhausting and then the last thing I wanted to do after that job was another job. But then it [Lady Chatterley] came in, I read the script and I discovered that DH Lawrence was based down the road from me [the author grew up ten miles from Derby]. So this was an opportunity to do some local literature on a pretty big stage.'
After Lady Chatterley he went on to film Ferrari, a biopic of Enzo Ferrari with Adam Driver in the title role. With Heat's director Michael Mann at the helm, lots of fast cars and two of Hollywood's brightest driving them, Ferrari has the makings of an instant boys'-own blockbuster. Jack plays the English racing driver Peter Collins, who raced for Scuderia Ferrari in the mid-Fifties.
Behind The Wheel Of Classic Cars
'We shot the whole thing in Modena which is where the Ferrari garage has always been based,' he says. 'I was behind the wheel for most of the time and the cars we used, we had to destroy. Because they were replicas of classic cars that go for millions and Ferrari can't afford to have replicas in circulation. So by the time we finished with them they had to be scrapped.' Trashing Ferraris made sense in script terms – Peter Collins was killed in a crash in the 1958 German Grand Prix.
It's not as if Jack hasn't appeared in major Hollywood features before – he starred in Angelina Jolie's directorial debut Unbroken in 2014 and he's been recognised as a powerhouse performer ever since he was spotted by Shane Meadows and cast in 2006's This is England. That led to a defining role as the tearaway Cook in Channel 4's classic Skins and then leading film roles in 2013's Starred Up and the superb Northern Ireland army drama '71 the next year. He is, and always has been, a one-off talent. 
Imposter Syndrome
But working with Hollywood royalty like Michael Mann still felt like another step up. 'The imposter syndrome thing is chilling out a little bit these days,' he says, before adding, 'but yeah, I always do still shit a brick when I first step on set. And that's magnified when there are big names and people you've grown up watching on screen, and then suddenly you're being asked to work with them.'
Playing The Angry Young Man
The challenge for Jack is that some of his early work was so striking that he is repeatedly offered more of the same – angry, damaged young men pushed to boiling point and beyond. That's one reason why his role in The North Water, as a bookish 19th century army surgeon stuck on a ship crewed by thugs, was such a revelation. 'There's a question mark over the kind of roles I get offered compared to the kind of roles that I have to chase. Fortunately, Andrew Haigh [director] wanted to cast me as Patrick Sumner. Another director would probably see it another way. That's where I have to count my lucky chickens – it offered me an opportunity to do something very different. And that's always the goal.'
Settling Down A Bit
These days Jack lives between north London and the West Country, far from where he grew up in Derbyshire. 'I'm definitely at home down here. The life that this work has offered me is beyond anything I could have expected as a kid and I just feel hugely grateful. Particularly in the last few years I've been able to lay down a few roots, and that's definitely helped in downtime from work. Because otherwise, you do just feel like you live a gypsy lifestyle. I mean it's great to follow the work but it's nice to settle.'
Settling for Jack means trips to the local fishmonger, staying fit ('but not gym. I can't get with that sort of thing') and random doses of culture depending on how the mood takes him. 'I saw Only Fools and Horses at the theatre last night. It was good, class. And then that stemmed into a bit of The Young Ones on the telly, which I was too young to fully appreciate at the time, so I imagine watching all of that's going to become a bit of a rabbit hole. And Withnail and I is on my list too – it's been a while since I've seen that one.'
His nan still lives in Derby, however, 'and there's Derby County [football club], too, they're not going anywhere,' so Jack won't forget his roots. He talks most fondly about his time at Nottingham-based drama school The Television Workshop, where alongside alumni Vicky McClure and Aisling Loftus (and a few years before, Samantha Morton), a whole generation of instinctive performers has been schooled. Jack notes that when he enrolled it was free. Cuts in arts funding mean that now it isn't.
'I don't want to get into politics but it starts from a government level, and I grew up under Labour. The sad fact is that back then they had the funding, which meant that kids from anywhere could be there. You didn't have to pay, you got in there on your own merit. I certainly haven't seen any progression in that particular area, of making arts accessible within communities.'
What's Next?
This means the next Jack O'Connell might end up doing what the current one nearly did – 'I went to army cadets as a kid, and it was basically if nothing happens with the football then it's army. But then acting happened and it was like – well, if nothing happens with acting, then it's army…'. The acting happened, and the army's loss is our gain: Jack O'Connell marches on.
Lady Chatterley's Lover is available on Netflix, SAS Rogue Heroes is on BBC iPlayer and Ferrari is coming soon.
The team behind the shoot:
Fashion Director: Nicole Smallwood
Photographer: Rachell Smith
Grooming: Lesley Vye using Charlotte Tilbury & Bumble and Bumble.
Photographer's assistants: Kate Whelan and Cam Smith
Fashion assistants: April McCarthy and Alice Hare 
Shot on location at Arbor in Bankside Yards.