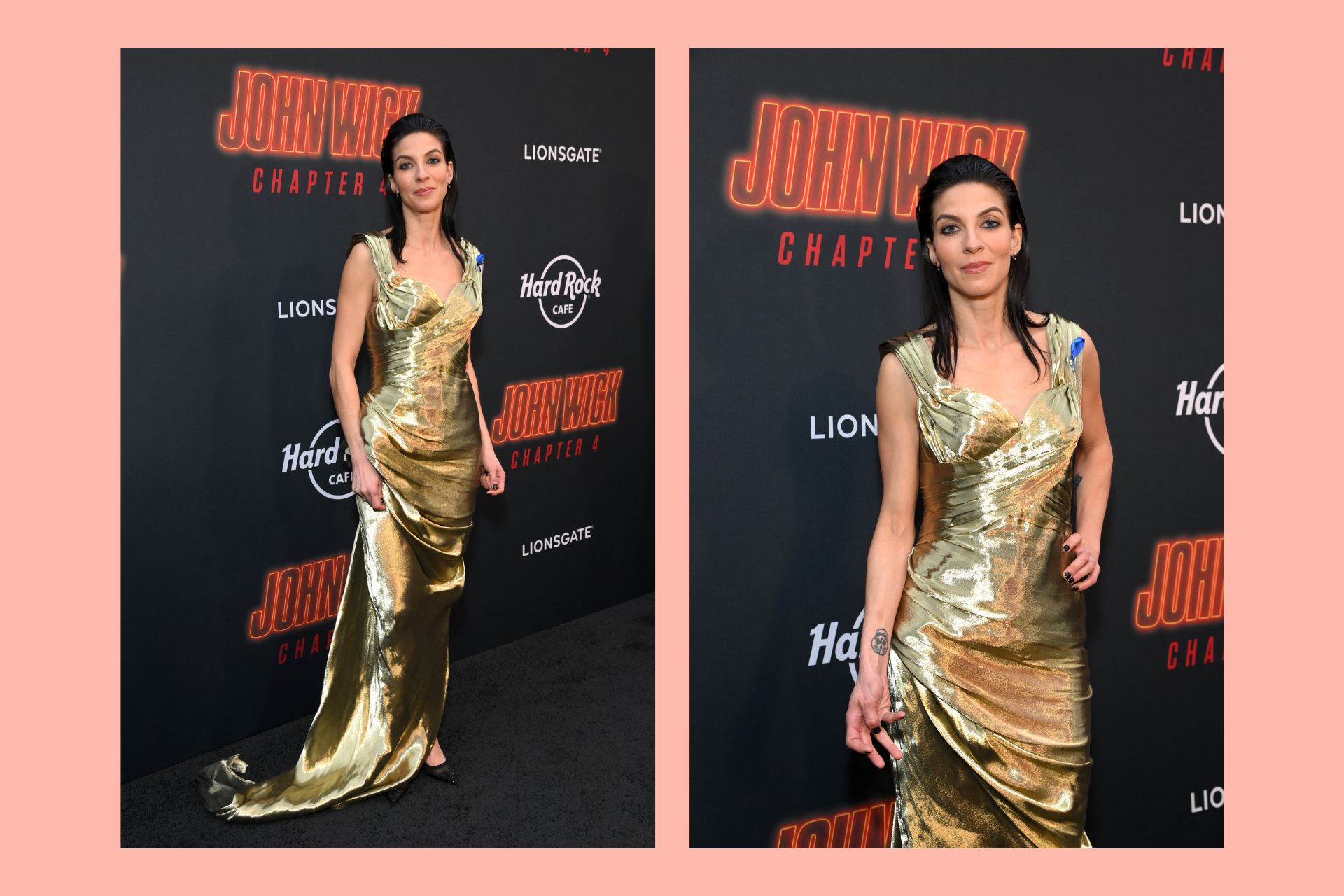 Natalia Tena On John Wick, Game of Thrones, And Hating The Cold – Interview
John Wick: Chapter 4 is in cinemas now
From Game of Thrones to Vardy v Rooney: A Courtroom Drama, Harry Potter to The Mandalorian, Natalia Tena has starred in blockbusters, indie classics, huge franchises and global hits. You name it, she's done it – and that's without mentioning her Spanish-language projects. Next up: an action film by the name of John Wick: Chapter 4, out today (24 March 2023) – playing, as Natalia puts it, 'a matriarch of the underworld'. She doesn't throw any punches, though she'd like to get her hands dirty in the future, she tells C&TH: 'I'd love to more of the jumping out of a helicopter, attacking a flying shark kind of thing.' We sat down with Natalia to chat all things John Wick and living on a boat, and to reminisce on Game of Thrones.
Interview With Natalia Tena
You're about to appear as Katia in John Wick: Chapter 4. Can you give our readers an elevator pitch for anyone who has not seen the first three films, and to share with fans how the fourth one is going to progress things?
I actually sent this to a friend of mine who hadn't seen any of them. In a nutshell: Man (Keanu) taps out of Mafia hit squad (The High Table) for love. His wife dies. She leaves him a puppy. Russian mafia (Alfie Allen) kills dog. Keanu does not stop killing people.
How would you describe Katia? Does she feel similar or different to yourself?
She is a matriarch of the underworld, which is quite nice to see – you know, a character like that played by a woman. She's clearly very ruthless, and I'd say pretty loyal as well. Family comes above everything else, which I suppose I have in common with her! But she just happens to dish out a lot of punishment.
How did you find rehearsals and filming?
Unfortunately, I didn't get much rehearsal. Unfortunately, I don't get to do any proper action stuff. I don't think that's a spoiler… We filmed mid-pandemic in 2021. I had to stay in Madrid in a hotel room for 10 days because Germany wasn't letting people in from the UK. My rehearsal process was more about learning Russian. [laughs] I was in my hotel room, and there was this awesome accent coach they got me from New York, and I tried to practise a lot. I was very nervous about getting it right, because people are going to watch the film who are Russian or can speak Russian, and I didn't want to sound terrible!
What was the team dynamic like?
These are people that work together repeatedly. Sometimes, when you enter as an outsider to jobs that are already established – when you are a guest lead in something, or you enter a big film franchise – it's not that people are dismissive but, especially when you're a minor character, you know, they give you a bit of time, but everyone's just trying to do their job. But on John Wick, I felt so welcomed. Chad [Stahelski, the director] was an absolute gentleman. When I arrived, he took it upon himself to show me all around the studios, and look after me all day. And I got to play with the dogs. It was so lovely. I felt so welcomed into that family. It was amazing.
How do you get into character?
Costume and makeup are both the things that really tipped me over the edge. You can be practising accents and physicality and everything, and then on the day, it all comes together – hopefully – with the hair and makeup. Her outfit, as soon as I put it on, I was like, 'Ahhh, this is who she is!'. And little mannerisms started coming out of me in the fitting. And then I also got my hair cut and dyed, and it immediately makes you feel and look different to yourself – that's such a good platform to spring off.
When you're on set, do you have any demands? Or something that makes you feel comfortable?
I always do cross stitching. When I was younger, I used to do a lot of reading – I love reading more than anything – but I found I would actually get pissed off when I was called into a scene because I was halfway through a chapter… That's not a good place to be when you're working! Whereas cross stitching, you can be sat in a chair gabbing away with the crew or running lines with someone. Your hands are busy, but you're present at the same time.
View this post on Instagram
Speaking of books then, what are your top three favourite books ever?
That's an impossible question! I love Isabella Allende, House of the Spirits – that's the one of the two books I've got both in Spanish and English. I love Ben Aaronovitch's Rivers of London. I love that series – it makes me really happy. Actually, when I read his first book, it inspired me to write a song called 'Neon Lights' with my band. I was really into Twitter at the time, and I tweeted him, and he actually came to my gig! It made me so happy. And, she's timeless for me, I think because I read a lot of her when I was a little girl, but Agatha Christie. I love her. I know some of it is very dated. You know, you read it and you're like, 'Hmm, this is definitely racist and misogynistic…'. But when I read her, it's like getting a warm childhood hug.
So recently, you starred in Vardy v Rooney – how did filming feel?
I didn't really have time to feel anything much other than anxiety! Basically, I didn't know who this person was, or anything about the case. As I just told you, I love Agatha Christie. When I got the email from my agent, I was like 'Wagatha Christie…?' I was just with some mates drinking wine on my boat in summer. And I was like, 'Oh my god, I've been telling her for ages I want to be in something Agatha Christie!' And my friends were like, 'You're an idiot! Literally, where have you been the last few months?' 
So I got into it and I did the audition, but it was starting on 29 August and I was like, 'well they haven't picked me, clearly' – and then they offered it to me on 22 August. So I only had a week to prepare for someone that I had no idea who they were. So for me, it was a week of that. And then two weeks of filming. It felt like this whirl of madness. And cramming. Learning to wear fake nails and learning her accent. I lived this woman. I mean, I didn't stop watching her face. Constantly. She was always in my ears. I was looking at interviews, watching the same ones on repeat. So yeah, it felt very crammy. I like to have a bit more space. But the people, every time I panicked, I looked around me and everyone else was like, 'Don't worry, you're good'. So that helped me get through it.
You've previously starred in a whole host of iconic projects, including Harry Potter and Game of Thrones – what has been your favourite project to work on?
My first Spanish film, called 10,000 km, by director Carlos Marqués-Marcet. This film is very special to my heart because, usually when you do a film or project, you might, if you're lucky, take away one friend. Our lives are so chaotic. But with this film, I gained a whole family that is in Barcelona. I just went for one of their birthdays this weekend in Barcelona. I'd never done a film in Spanish before; even though I am Spanish speaking, I'd never learned the script in Spanish – it was very different. The director had never done a feature. And the other actor, David Verdaguer, who is incredible, had only ever done theatre and stand-up. So we were all in this boat of like, 'don't worry, you've got this!' We laughed so much. It's a bit of a sad story, but I laughed so much during this. I was crying with laughter every day. And we loved working with each other so much that we did another film a few years later – and, this year, hopefully we'll do another one. So it's that film that keeps on giving because of the people I met.
What has been your proudest moment so far?
I always surprise myself every time I get a job! I know it sounds silly, but there's not one moment. It's all the little moments. Like every time I get a job, I'm like, 'Oh, thank god I'm employed and I've got this amazing job!'. It makes you feel like you still 'have it'. 
I have to ask: what was it like filming Game of Thrones?
That was another really amazing project because we were all on location, and that made us bond. Especially the first season, everyone was in Belfast. We were all in two hotels – all of us crammed in. So that was a really fun bonding moment. I had a lot of fun. That city… you know, we tore that city up! [laughs] It was really fun. But, on set, there were so many great bits. The hardest bit for me was the cold. That's something I will remember forever. It was so cold. I got so jealous as more and more people were going to Croatia with each season. I was like, 'Are you actually joking?'. And I was back in the forest.
Are you still in touch with any of your co-stars?
Yes! In fact, one of them lives with one of my best friends. There's loads of them that pop up in my life a lot. I made some very good friends from that one, as well.
Do you have a standout memory from filming?
This is going to sound really silly, but Ellie Kendrick, who I worked with a lot, she and I got really obsessed with watching The Killing. We'd get in the car on the way to work at six in the morning. Lots of actors would fall asleep but we were like, 'Let's watch The Killing!' There was something about it that made me really excited to go to work. And it woke me up. We laughed a lot, too. All of the drivers were like, 'these people have a problem…' But it gave me a really good balance in the mornings.
Which character that you have played in the past do you relate to the most in your own life?
I feel like when you do an audition, if you did that audition maybe a month before, a month later, or at a different time in your life, you wouldn't get it. It's almost like there's this parallel thing. I mean, obviously, the standard art imitating life thing – but it does kind of happen that way. For me, there are elements where it's like, 'yep, I need to be doing that role at that point, right at that moment.'
What's your dream role?
I love all action stuff – I'd love to more of the jumping out of a helicopter, attacking a flying shark kind of thing. But I'd also loved to play a queen – specifically a Spanish queen, Juana la Loca. Maybe I'm too old to play her now, but she's a great one. She was imprisoned by her dad, but wasn't actually crazy… I can imagine that being quite a cool film. I also love Hugh Howey's books – anything of his would be great. And just general comic books. I love comics. I collect them and I'm 38! I'm a child. I love Transmetropolitan – if they ever made that into something, I'd love to play one of the filthy assistants, which will make sense if you read it!
What's a role you'd never take?
I would love to put into a contract that my character should never feel cold. If I was reading a script and it said 'she comes out of a freezing lake' – no!
Any roles in the pipeline that you're excited about? 
I've got a Spanish film I'm doing – a sequel to one that has already happened. I'm very excited to have a job – yay! – but also to be filming in Bilbao in the summer. The food, the wine, the people… It's going to be very fun.
How do you find the mix of doing English and Spanish projects? 
I love it! I love the difference when you go somewhere else – it adds another layer of memory to the job. I love trying to think in Spanish a bit more – my Spanish gets so much better so quickly. In my house growing up, everyone spoke Spanish, but if you're not educated in the language, it's not the same. So I love going back and remembering that side of myself. And I love the food. Catering in Spain is always great on film sets.
Who is an actor you learned a lot from?
There's two of them: David Verdaguer from 10,000 km, and Michelle Butterly. She was in the first play I ever did, called Shared Experience. She is a Liverpudlian actress, mainly theatre I think, and she guided me through my first ever theatre job. I didn't go to drama school, so I think that was my drama school. She just gave me so much time and love and guidance. 
Among all of your amazing work, do you get to spend much time at home?
Yeah! Especially after the pandemic. I did John Wick in 2021 and Vardy in 2022, but then there was a massive gap, and that's the longest I've ever not worked. I've got my band, and admin in my house, and a few other business bits on the side, so it's great to concentrate on all of that, but I'm really ready now to get back onto a film set.
You live in the UK?
Yes – I live in a boat on the canal in London, with my dog, my two stupid cats and my fella.
What's your interior design style? And how do you express that on a boat?
Well, when we got it, it was empty, and I was like, 'oh no, I'm so bad at this stuff!'. I'd seen some tiles in LA when I was filming, so I brought them back in the suitcase. That was a heavy suitcase! So I knew I had these beautiful Latin-vibe tiles, but the rest of it, I was like, 'what do we do?'. It was just an empty hull. And I was thinking thinking thinking. We didn't even have a light! 
My boyfriend's mum lent us a lamp. The when we finished furnishing, I was like, 'Oh god… We've designed the house based on the lamp!' It was sage, wood, white and copper, and that's literally our house. The bathroom is a bit different, though. I wanted it to be like I'm in the jungle in Brazil. I got some really cool wallpaper from House of Hackney, and then I wanted a sink that Arial or Ursula would drink out of. It's a big shell. 
How can we all live life a little bit better? 
Recycle. Altogether beat racism and the patriarchy and all of those things. On a smaller level, just be kind.
Quick Fire
What I'm reading… The Second Worst Restaurant in France by Alexander McCall Smith
The last thing I watched was… The Whale. Although I also had Shotgun Wedding on when I was cleaning the house this morning!
What I'm most looking forward to seeing… I need to catch up on all the Oscar nominated stuff!
Favourite film of all time… The Sound of Music – nuns, nazis, really nostalgic. And full of wisdom.
Band/singer I always have on repeat… Etta James
My ultimate cultural recommendation… I'm a big foodie, so markets! Or the pub. Love a gastropub.
John Wick: Chapter 4 is in cinemas now. Watch the trailer below.
Featured image: Natalia Tena at Lionsgate's LA Premiere of John Wick: Chapter 4, Los Angeles, CA, USA – 20 Mar 2023