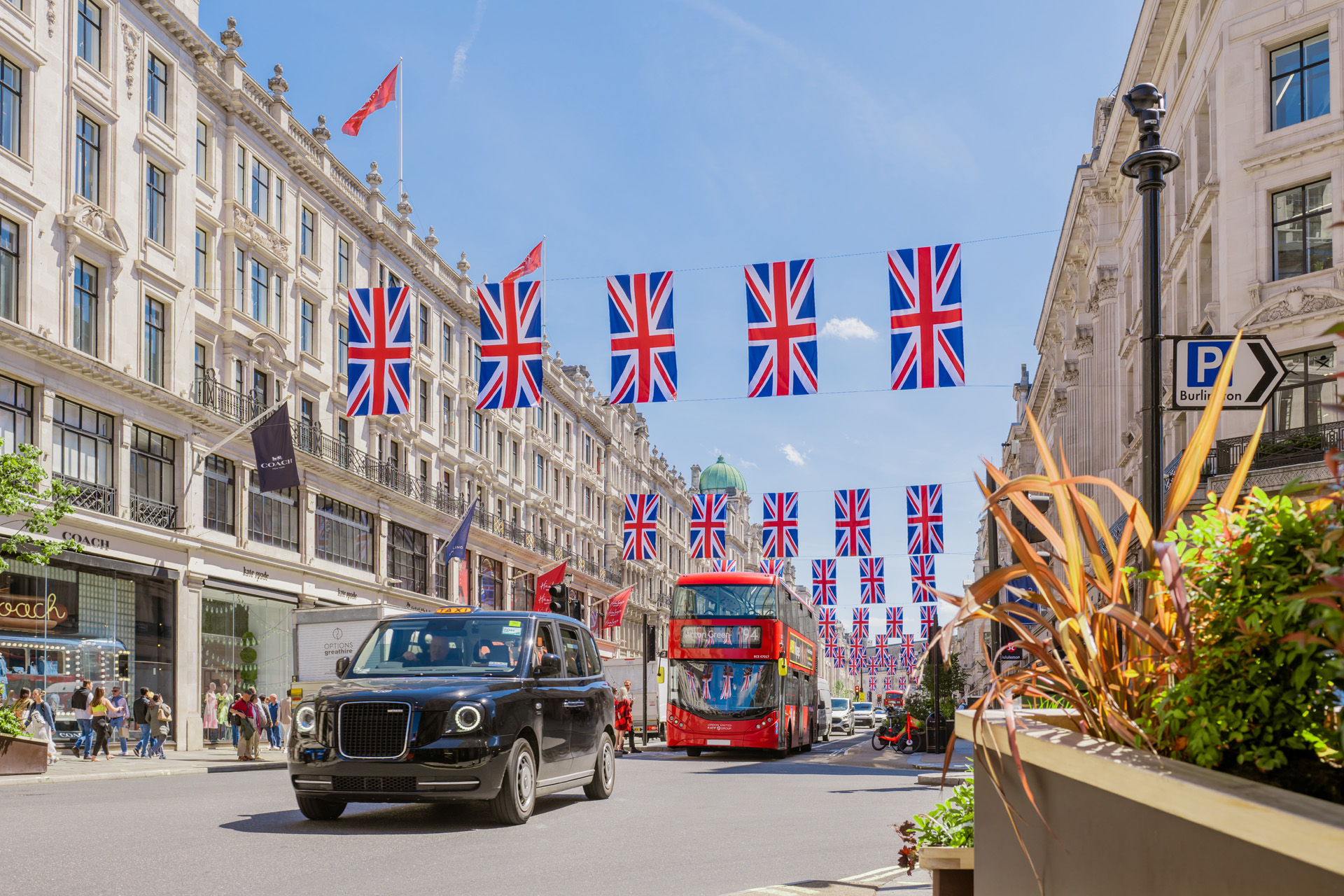 How To Celebrate The Coronation In London
Regal activities across the capital
On 6 May 2023, King Charles III will be officially crowned King of the United Kingdom, ascending to the throne alongside his wife, Queen Camilla. But how to make the most of this very special occasion – for some, a once in a lifetime experience? Here are the best ways to celebrate the Coronation in London, from street parties to afternoon tea.
How To Celebrate The Coronation In London
Watch The King's Procession
6 May 2023
Feeling confident? Venture to the Mall and set up camp with the hopes of glimpsing 'The King's Procession' in person, where their Majesties The King and The Queen Consort will journey from Buckingham Palace to Westminster Abbey – and back again in 'The Coronation Procession'. If you'd rather not punish your feet and legs so extremely, watch all of the action live on BBC One.
Watch On A Big Screen
If heading down to the Mall sounds a bit intense, try picnicking with a big screen, instead. Here are the top spots in London to watch the Coronation.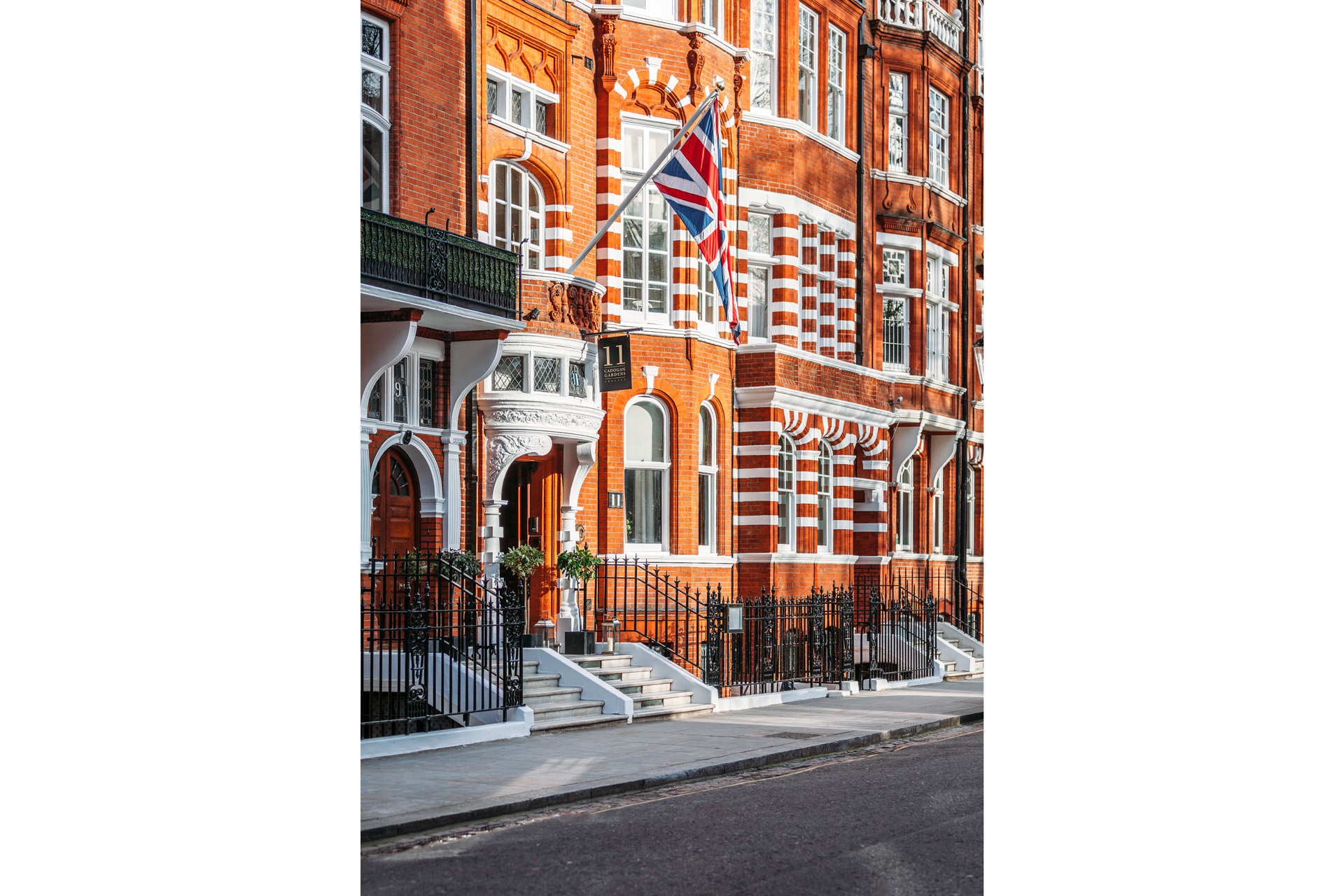 Live Like A King At 11 Cadogan Gardens
Available 11 March–31 December 2023
Really indulge at Chelsea's 11 Cadogan Gardens, Relais & Châteaux's only London hotel. The 'Live Like A King' package includes chauffeur transfers, personalised VIP amenities and gifts, and traditional royal experiences such as afternoon tea. There's also champagne cocktails at The Chelsea Bar, and you're a stone's throw from Buckingham Palace, as well as Pavilion Road with its artisanal shops and food suppliers. 11cadogangardens.com
Mayfair's Coronation Garden Party
6–7 May 2023
Head to Grosvenor Square on the Saturday or Sunday of the Coronation weekend to experience an enchanting urban garden wonderland with world class entertainment and dining, with big screen streaming of the main event, too. mayfairldn.com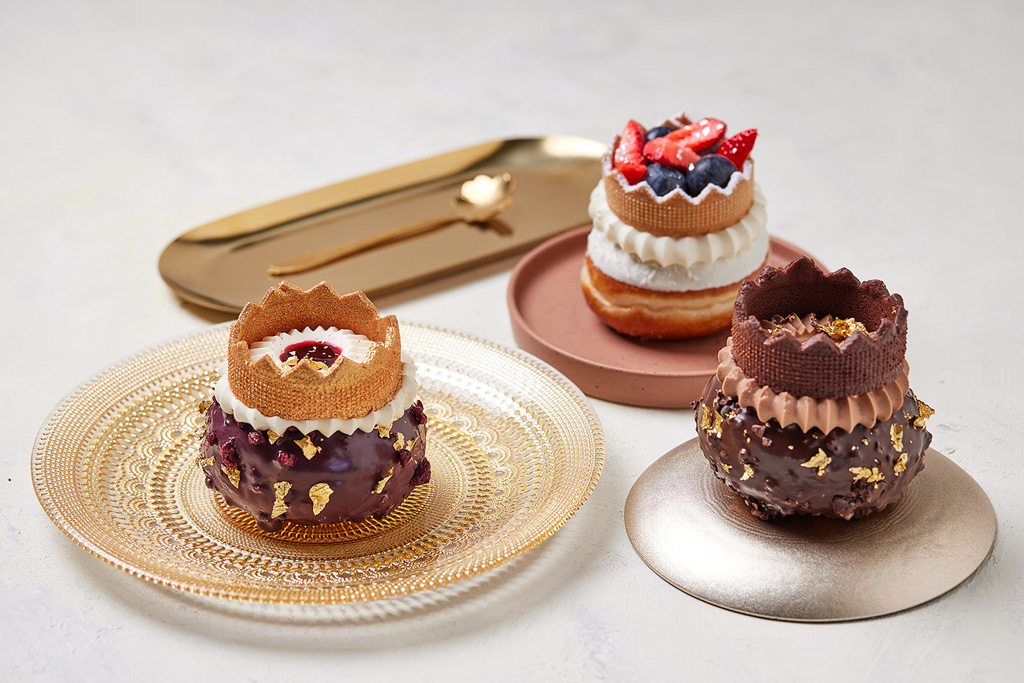 Coronation Doughnuts From Donutelier
The Coronation is, at its heart, a celebration of food (side note: learn how to make King Charles' Coronation Quiche here). Available to enjoy in store or ordering for collection via email or over the phone between 26 April–10 May, head to Covent Garden's iconic Donutelier for limited edition Coronation doughnuts, filled with delicious flavours (choose between Majestic Praline, Royal Violet and White Coconut Jewel) and decorated with biscuit crowns and gold leaf. donutelier.co.uk
Wembley Park Coronation Celebration
6 May 2023
With the iconic Wembley Way renamed 'King's Way' in honour of Charles' Coronation, head to Wembley Park on Saturday 6 May for large ceremonial Union Jack banners, free paper crowns, top hats and flags, a live screening of the Coronation accompanied by deck chairs, street food, artisan food trailers, giant board games, and a family zone with face painters, magicians and stilt walkers. wembleypark.com 
Coronation Street Party At The Stafford
6 May 2023
On the day of the Coronation, The Stafford London will be welcoming guests to The American Bar's courtyard, where decorations, music, outdoor games, and elevated British party food will all await. Located in St James's, close to Buckingham Palace, the RAF flypast will pass right over the courtyard, making it the ideal spot to ring in our new King. 
BOOK IT: £135 per person, including all food and entertainment, and a glass of Hundred Hills English sparkling wine on arrival. Two sittings: 12pm and 3.30pm. thestaffordlondon.com 
Battersea Power Station Street Party
6–7 May 2023
For a free alternative, head down to the all-new Battersea Power Station for its very British street party. Proceedings of the Coronation itself will be broadcast live on a big screen in the Power Station's six acre park from 11 am across the weekend so visitors can keep up with all the royal action as it happens. Expect also plenty of street food, family-friendly stations, ping-pong tables from Bounce, live music and much more. batterseapowerstation.co.uk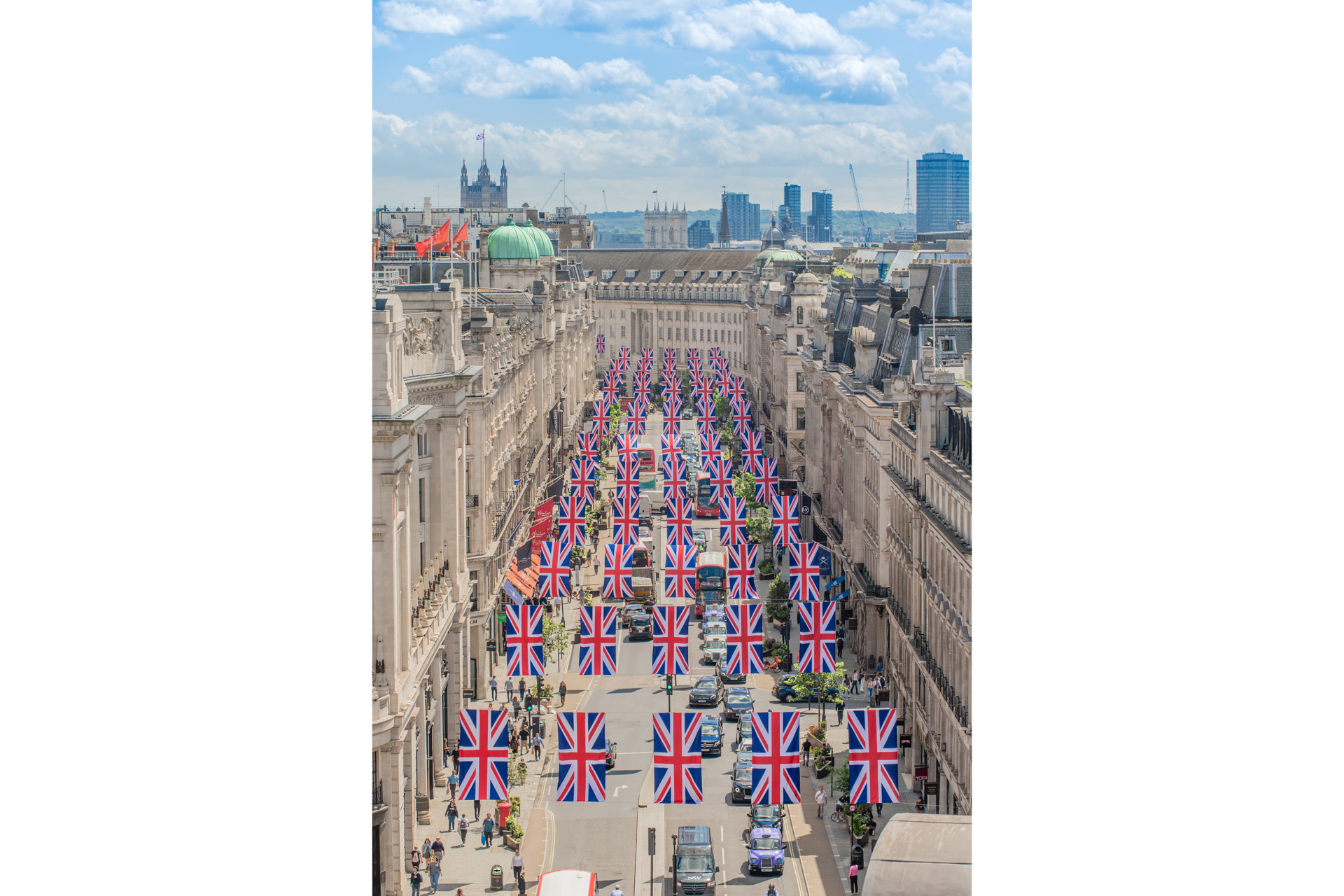 Spot The Street Installations
Just like at Christmas, London will be home to a plethora of street installations to celebrate Charles' Coronation. Head to Regent Street, for example, where lines of Union Jack flags will be bookended by the coronation emblem. Or visit Marylebone Village, where Union Jacks and bunting will flutter along the streets.
Or pop by Carnaby: home to London's best street installations year-round, it's only right to glance up and snap a pick with the shimmering Union Jack over the Coronation weekend. Better still, with live street music on the day of the Coronation, there will be a special Coronation-themed installation, and the lights on Ganton Street will shine red, white and blue.
There are also plenty of individual installations to see, including Fortnum & Mason's special coronation façade in St James's and The Ivy West Street's magnificent floral display crowned by a giant regal lion's head. Step inside for new delicious bespoke menu additions fit for a King.
Visit Ally Pally's Summer Terrace
Opening to coincide with the Bank Holiday weekend and the Coronation, head to Alexandra Palace to enjoy The Terrace, with its stunning views over London, refreshing beer, tasty cocktails, and, on 6 and 7 May, Greek street food from Greece Lightning, fried chicken from Firebird, Cornish pasties on the Pasty Wagon, ice cream from the Ice Cream Cab, and lots more. alexandrapalace.com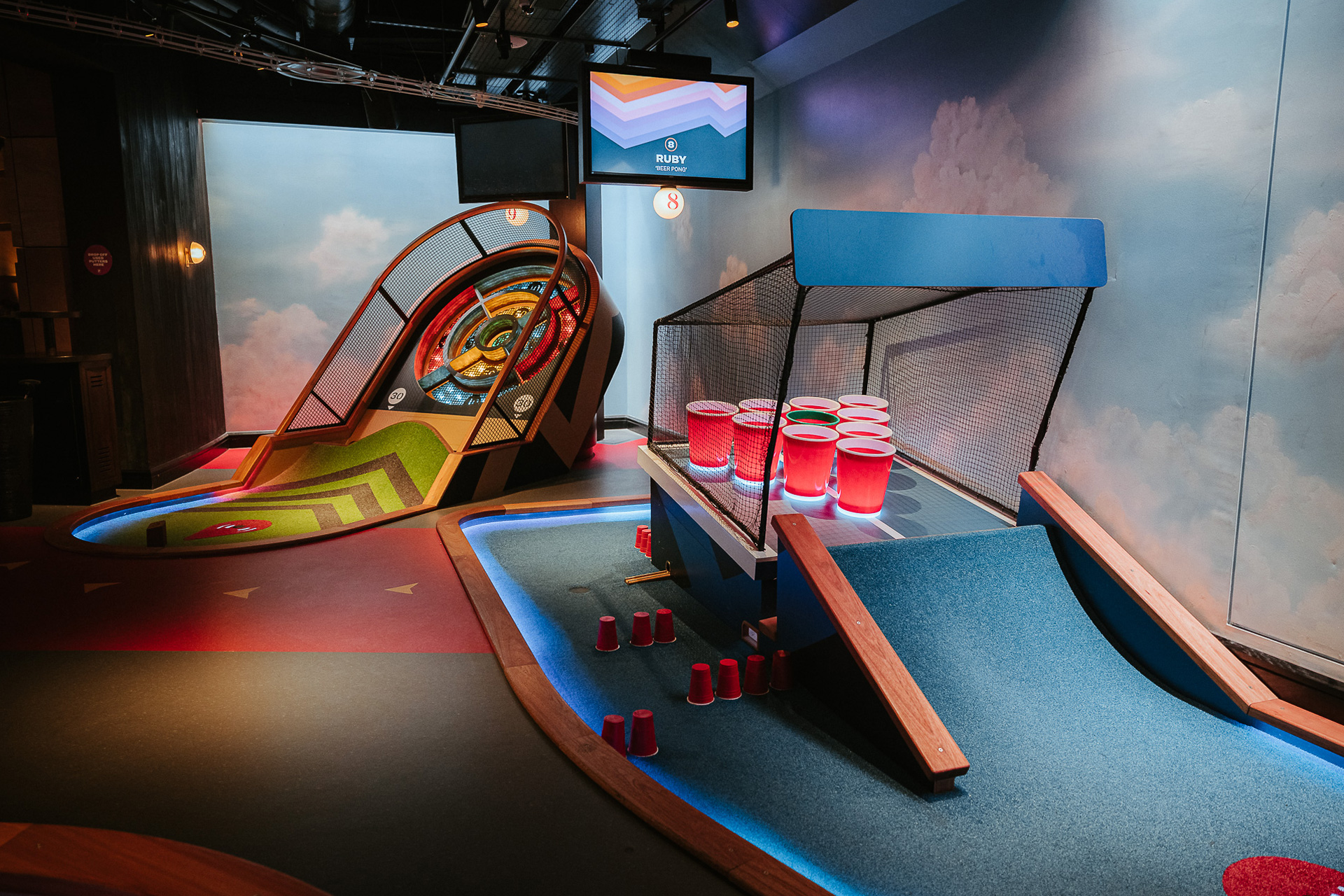 Play Golf at Puttshack
How about a round of mini golf to toast to the new King? Head to Puttshack over the Bank Holiday weekend to take part in a game or two – and if you visit on 7 May, there's a special brunch on offer complete with unlimited fizz for 75 minutes. Better still, all players will have the chance to win a complimentary round of mini-golf for five friends alongside £200 to spend on food and drinks.
BOOK IT: £45 for a 2 course meal, golf, and bottomless bubbles. puttshack.com
Coronation Afternoon Tea At The Goring
24 April–28 May 2023
The closest luxury hotel to Buckingham Palace, and the only hotel with a Royal Warrant, The Goring will be serving up a special Coronation afternoon tea overlooking The Goring Garden and The Royal Border, home to a selection of The Royal Family's favourite plants and flowers. Expect an exquisite menu of King Charles' favourite sandwiches filled with produce from other Royal Warrant providers and tasty cakes adorned with the CRIII insignia, carriages and crowns. 
BOOK IT: £75 per person, including a glass of Bollinger champagne. thegoring.com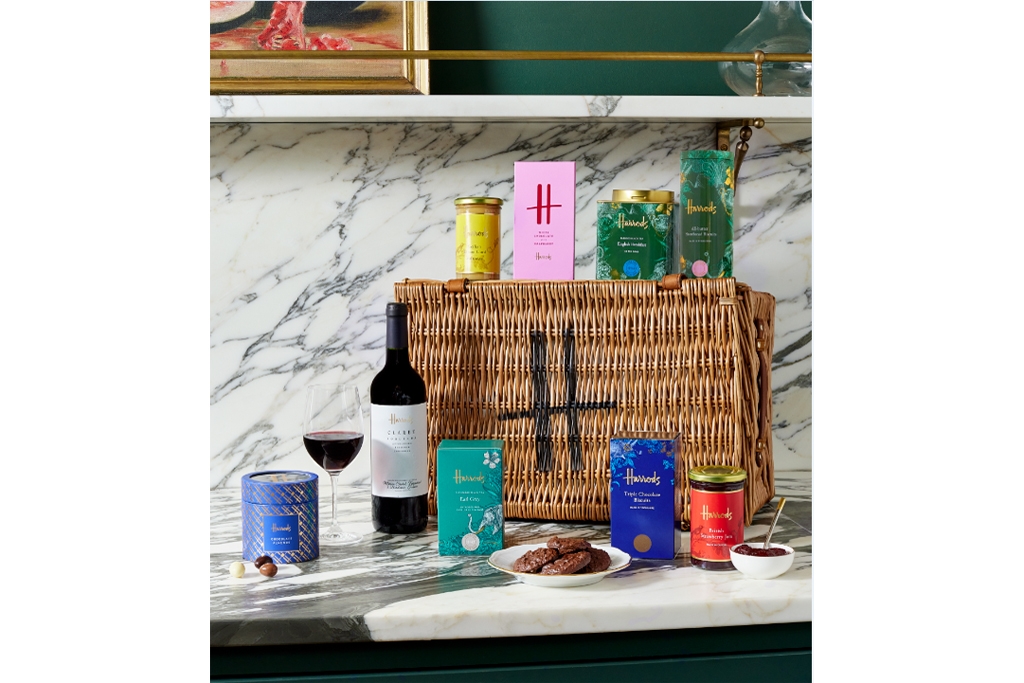 A Royal Stay At The Adria
1 April–31 May 2023
Book a staycation in the Royal Borough of Kensington and Chelsea this Coronation season. The Adria's 'A Royal Stay' package includes an expertly crafted Harrods picnic hamper and a guided walking tour through the borough with local guides brimming with fun royal facts. 
BOOK IT: Prices from £1,500 for a two night stay including breakfast, afternoon tea, a Harrods picnic hamper including sweet and savoury treats and a bottle of champagne, and a two hour guided walking tour. theadria.com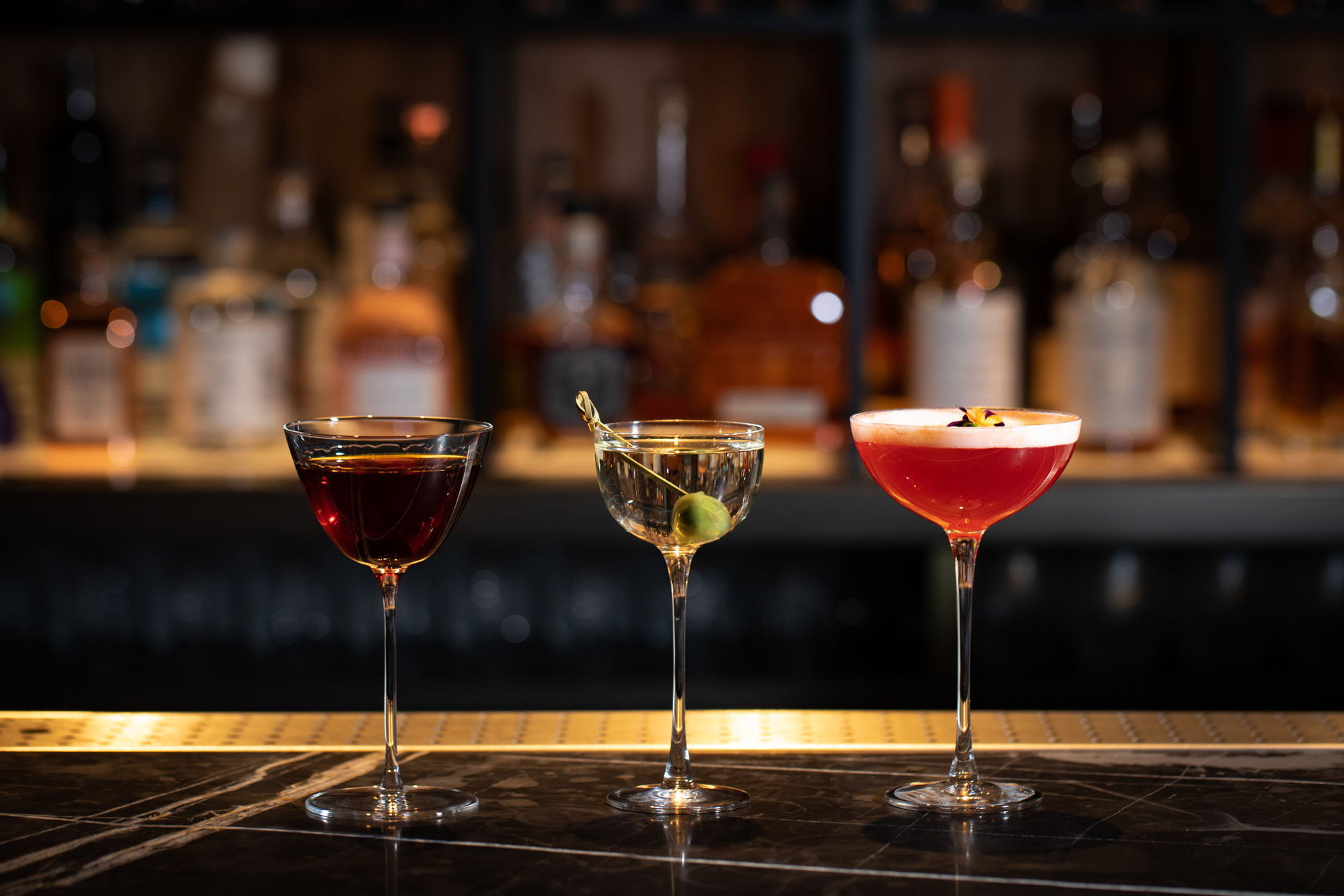 Pop-Up Martini Bar At The Londoner
20 April–18 May 2023
Looking for a sophisticated way to celebrate the Coronation in London? Raise a glass to the new King at The Stage, The Londoner's luxury bar, which is celebrating the Coronation with a pop-up bar honouring our new monarch's favourite tipple. Three iterations of the martini will be available: His Majesty (a classic, pre-dinner martini elevated with Belvedere vodka, Noilly Prat Dry and Veuve Clicquot), Le Français (a French martini with a Champagne a tea twist), and Homage (a twist on the late Queen Elizabeth II's favourite drink, Gin & Dubonnet).
BOOK IT: Buy two martinis and two Fine de Claire oysters for £40. thelondoner.com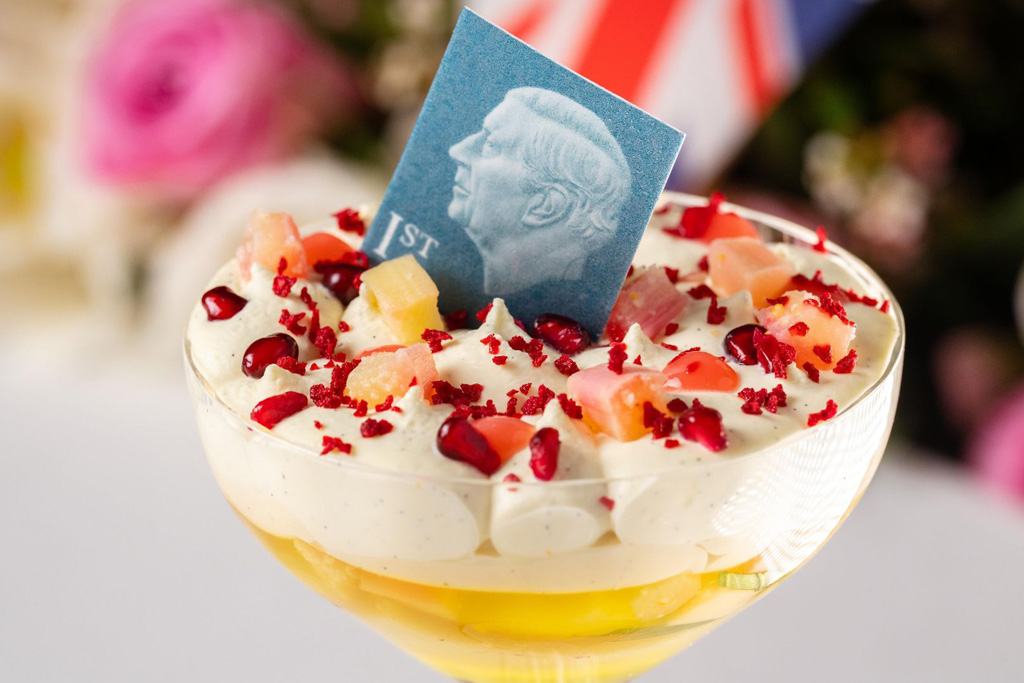 Regal Concert With A Side Of Tea
6 May 2023
Celebrate the Coronation at 116 Pall Mall, where there will be an exclusive performance from the esteemed London Chamber Orchestra (LCO) – led by composer and vocalist Aga Serugo-Lugo and inspired by the new King's favourite pieces – paired with decadent, regal afternoon tea. 116pallmall.com
BOOK IT: Concert tickets are £30 per person, or £75 with afternoon tea.
Featured image: Union Jacks on Regent Street.